Why do weekends always fly by so quickly?
Each Monday I always hope for one more day!
I spent a lot of this weekend working Twin Stripe projects and indulging in some much-needed rest and relaxation.
I also had a great workout at the gym and making a healthy breakfast smoothie.
While I didn't make specific New Year's resolutions, I'm working to be more mindful of healthy decisions.
Last Christmas my brother gave me an immersion blender that I planned to use to make soups and smoothies.
Instead it got put away in a drawer and I forgot about it until a few weeks ago when I was inspired by blogger Meg Biram to make a smoothie for breakfast.
She posted an Instagram of her smoothie and I recreated my own version below. This smoothie is filled with antioxidants, protein, omega-3s, vitamin C and more. It makes a filling breakfast or a tasty snack.
Berry Banana Spinach Smoothie
Ingredients
1/3 cup plain Greek yogurt
1/2 cup coconut water (or plain water)
1 cup frozen mixed berries (I prefer blackberries, raspberries, and blueberries)
1 banana
1/4 tsp cinnamon
1 tsb chia seeds
Juice of half a lemon
1 – 2 cups loosely packed spinach
When I make this recipe, I typically eyeball the ingredients, these measurements are my approximations.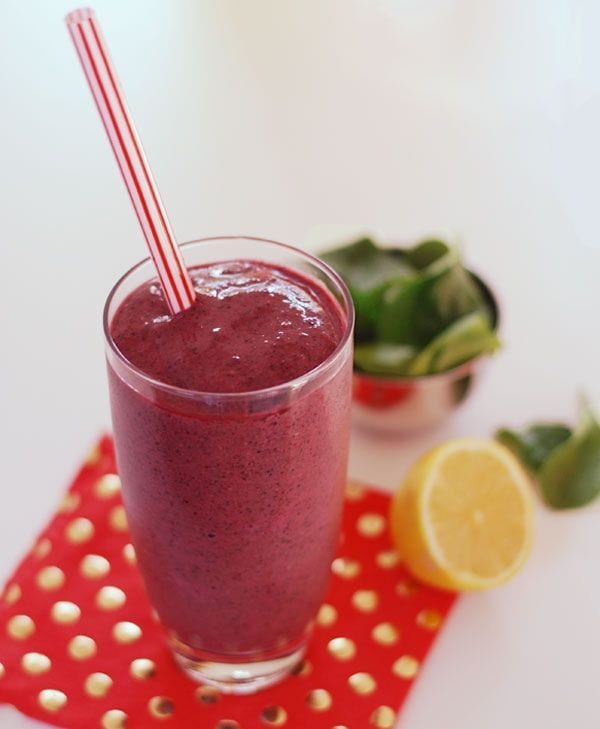 Feel free to add more or less of what you like. I put the yogurt and coconut water in the bottom and then add the berries, banana and other ingredients on top. I typically add the spinach in last, after I have blended everything else up.
I put a few large handfuls of spinach in my smoothie and don't taste it. If you are nervous about trying the spinach, start small and add more in as you get comfortable.
If you are looking for a few more ideas, I have rounded up a few more energizing smoothies for your breakfast or snacking pleasure.
1. Skinny Tropical Protein Smoothie, Skinny Mom |
2. Green Smoothie, Boulder Locavore |
3. Blueberry Peach Smoothie, Confessions of a Bright Eyed-Baker |
4. Pumpkin Smoothie, The Pioneer Woman |
5. Chocolate Almond Oatmeal Smoothie, Something Swanky |
6. Tropical Papaya Batido, Skinny Taste
A healthy breakfast is a great way to start your day. I find a breakfast smoothie gives me great energy throughout the day.
Do you have any favorite smoothie or breakfast recipes?