After our Styled. Magazine feature and Katie's neon post this week, I decided to finish out the week with this fun neon polka dot pillowcase DIY.
For this DIY I drew inspiration from Hrrrthrrr's DIY heart tote and these cute polka dot pillowcases found on Oh Joy's blog.
Materials
Pillowcase
Freezer paper
Hole punch or exacto knife – I used Martha Stewart's "Punch Around the Page" punch
Iron
Fabric paint
Foam paint brush
Cardboard or brown paper bag
Punch or cut holes in a random pattern on a piece of freezer paper that is the same size as your pillowcase. Then iron the freezer paper onto the pillowcase, shiny side down.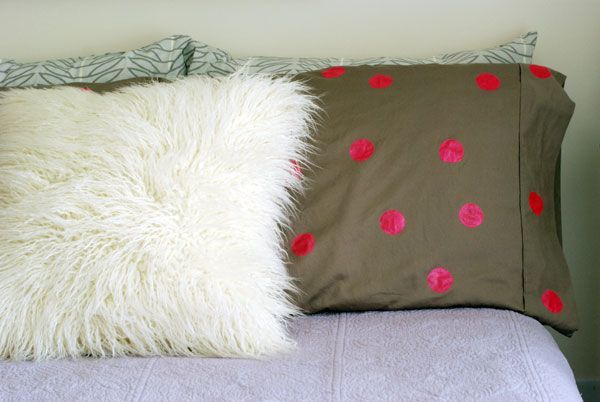 Next, brush the fabric paint onto the pillowcase. (Place the cardboard or paper bag inside the pillowcase so the paint doesn't bleed through.) I used Hrrrthrrr's advice and painted from the edge inwards, as not to push paint under the stencil. Follow the directions on the paint for drying time and washing instructions.
Voila! You have cute pillowcases for under $10. I love the ones from Castle, but since I'm in grad school and don't have any extra cash, I wanted to figure out a way to get the same look for less. Here's to graduating in May and getting a paycheck again!