Chips and salsa are the perfect summertime snack. Chad and love sampling salsa at the local Mexican joint and picking up new varieties at Trader Joe's.
With so much basil in my garden and the farmers' market filled to the brim with gallons of strawberries, I wanted to find a way to meld the flavors, and so I created a strawberry basil salsa.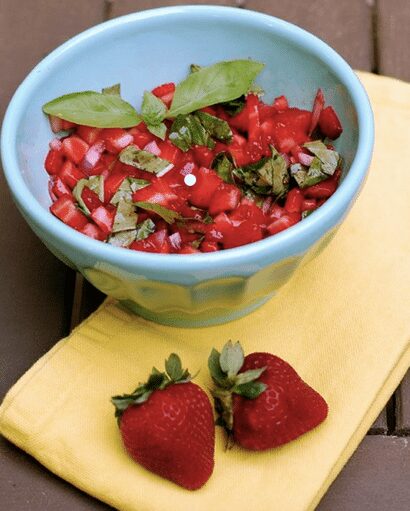 This salsa is simple and light, perfect for an evening of relaxing the your backyard. We've been enjoying a snack of chips and salsa each night before we take Hobbes for a neighborhood walk. I'm also looking forward to topping grilled fish and chicken and salads with this flavorful salsa.
Ingredients –
Serves 3 – 4
10 medium strawberries chopped into small piece
4 – 5 medium basil leaves
2 tablespoons red onion
Juice of half of a lime
Sea salt
Pepper
Mix all ingredients in a small bowl and let it sit on the counter for at least 15 minutes. Serve the salsa with tortilla chips or on top of your favorite grilled meat. You can give your salsa an extra kick by adding a small chopped jalapeño.
This salsa is the best of both worlds, it is packed with nutrients and goes perfect with Mexican food.
Do you like to make your own salsas?
What is your favorite recipe?