How was everyone's weekend? Chad and I had a cocktail party on Saturday night, it was a blast. I of course served a cheese plate and a selection of seasonal beers. I also tested out a few new recipes, including bacon wrapped dates and brown buttered sage crostini. I highly recommend both for your next holiday gathering. And now it's time for a simple Christmas DIY!
When Chad and I spend Christmas in Omaha, we always celebrate Christmas eve with his extended family feasting on homemade tamales, exchanging white elephant gifts and sharing holiday cards. His family has a tradition of giving out Christmas cards that evening. While I don't have time to make homemade cards for everyone, I do like to make them for Chad's family. This year I will be passing out fun washi tape tree cards!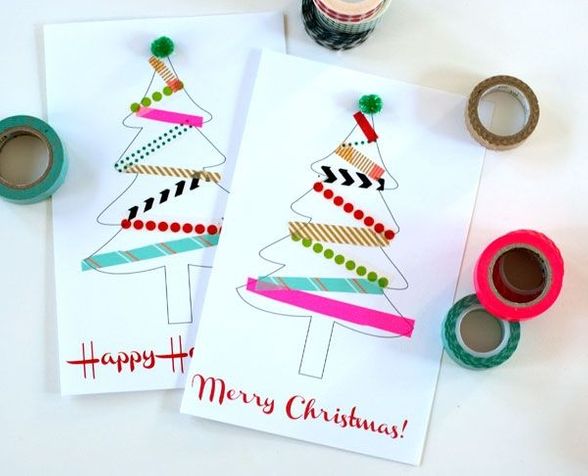 These cards are easy to make. Start by printing out the card template and fold in half. There are two different templates sizes, one for regular 8.5″ x 11″ paper or one for 10″ x 7″ blank greeting card.
Templates: Happy Holidays 8.5″ x 11″ or 10″ x 7″ | Merry Christmas 8.5″ x 11″ or 10″ x 7″
Next, I use tacky glue to secure a pom pom to the top of the tree, like a star. And here comes the fun part, decorating your tree. I typically cut my washi tape in half or thirds and tape it on the tree like garland. I like to get crazy with color, but you could use one color scheme for a more sophisticated look.
Grab a few Christmas cookies and a glass of hot cocoa and whip up a few colorful holiday cards!