When it comes to dessert, especially in the summer, there is nothing better than a scoop of ice cream. If you are a fellow ice cream lover like myself, I have great news for you – it's ice cream week!
I've teamed up with 18 other bloggers to bring you some delicious ice cream recipes. And let me tell you, they sound amazing. So far there has been every thing from boozy stracciatella and raspberry gelato to lavender honey ice cream and we're only half way through the week. Keep on reading to learn about my favorite ice cream shop in Chicago (since it is travel month), my take on a banana split and an a exciting ice cream giveaway.
Chicago is filled with so many wonderful restaurants and bars, but on a hot summer night, my girlfriends and I love to hangout at Margie's Candy and Ice Cream Parlor. All of the candy and ice cream you get at Margie's is homemade and they serve all of your favorite old fashioned treats, from a hot fudge sundae to a banana spilt. Most desserts are served in kitschy shell bowls that are perfect for sharing.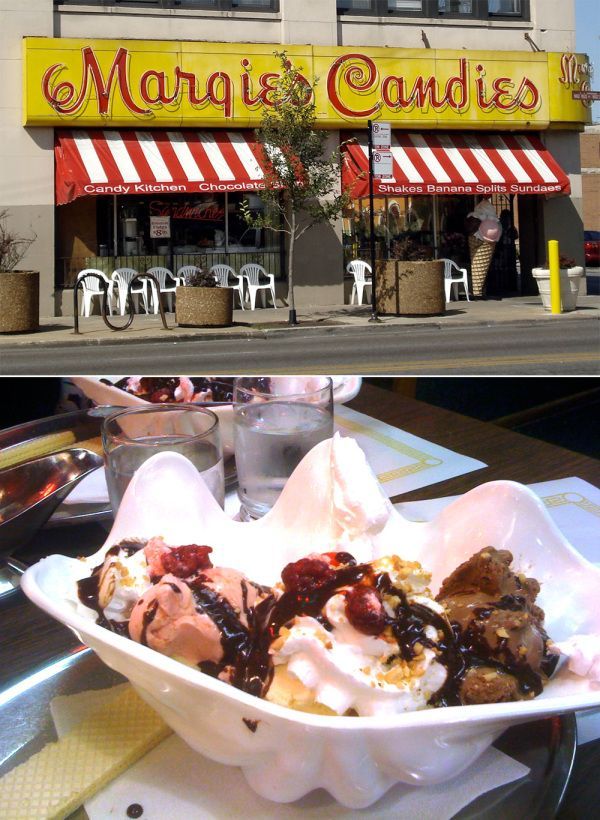 As I was reminiscing about Margie's delightful treats, I decided to put my own take on a banana split. I dipped bananas in dark chocolate and sprinkled them with nuts and then added a scoop of my favorite salted caramel ice cream. I topped the ice cream with a sweet strawberry sauce and some whipped cream and dug in. I was in paradise! It brought me right back to my trips to Margie's (minus the shell bowls).
Ingredients
1 banana
4 oz dark chocolate
1/4 cup chopped pecans (or favorite nut)
salted caramel ice cream
strawberry sauce
whipped cream
fresh strawberries
Instructions
To make this twisted banana split, start by cutting your banana into sized pieces. Melt the chocolate in the microwave in 30-second intervals, stirring each time. When the chocolate is mostly melted, remove it from the microwave and stir until all of the chocolate melts.
Dip the tops of the banana slices into the chocolate to coat. Place the pieces, chocolate side up, on a baking sheet covered parchment paper. Sprinkle pecans on top. When you have dipped all of the banana slices, place the tray in the freezer for at least 30 minutes.
While your bananas are freezing, if you feel ambitious, you can make your own strawberry sauce. I love the Pioneer's Woman's recipe. Store-bought sauce works well too.
When the bananas are frozen and the sauce is ready to go, it's time to assemble the banana splits. At the bottom of your ice cream bowl, place a few banana bites at the bottom. Cover with a scoop (or two) of salted caramel ice cream and top with strawberry sauce, whipped cream and a strawberry. Dig in!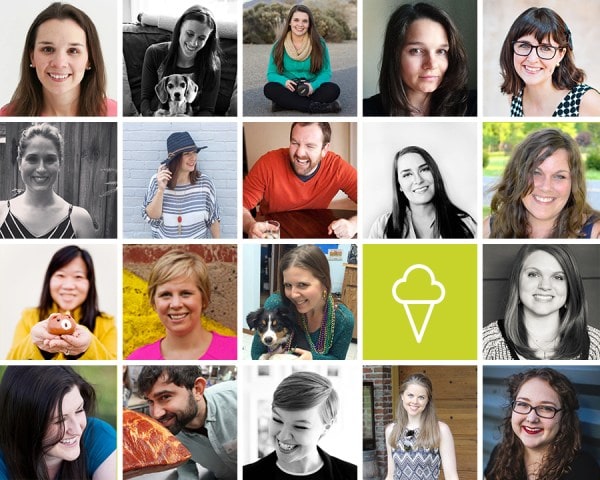 Follow the hashtag #weekofsundaes on social media to see the innovative recipes my blog friends have created. If you want even more, be sure to stop by everyone's blog for the recipe and more:
Ashley at Spoonful of Flavor // Ashley at Cookie Monster Cooking // Madison at Wetherills Say I Do // Erin at The Speckled Palate // Julia at Tag & Tibby // LeAndra at Love & Flour // Molly at Hey There Sunshine // Nick at Macheesmo // Meredith at Meredith Noelle // Heather at Sugar Dish Me // Linda at Brunch with Joy // Katie at Twin Stripe // Erica at Crumby Cupcake // Beth at bethcakes // Meghan at Cake 'n Knife // Dan at The Food in my Beard // Bethany at Bethany Grow // Cate at Chez CateyLou // Susannah at Feast + West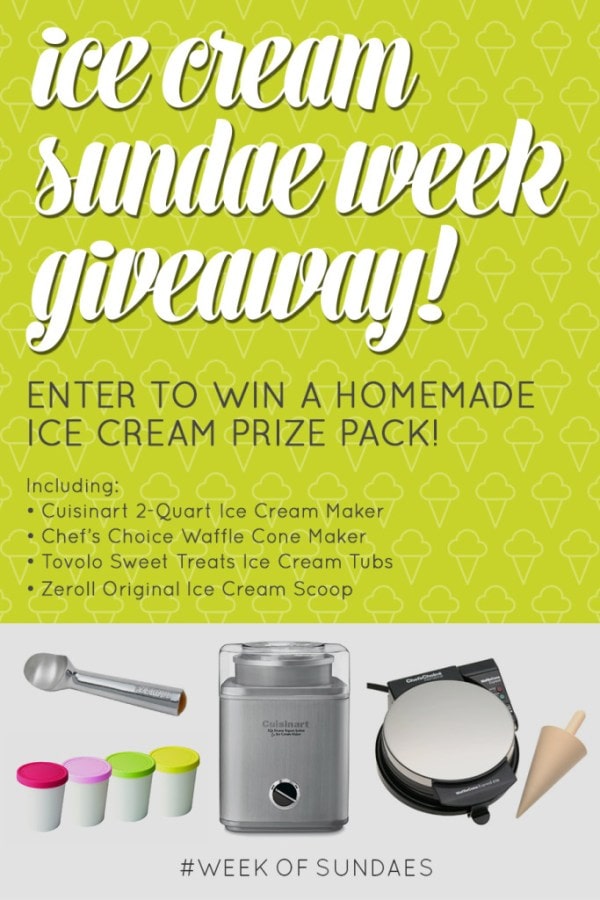 And, don't forget to enter this homemade ice cream prize pack. One lucky winner will get this BIG ice cream making prize pack that's worth more than $265! See the Rafflecopter below to enter to win this tasty set. The prize pack includes:
Giveaway rules:
Enter the giveaway through the Rafflecopter widget below. Everyone gets a free entry! You can enter multiple times, up to 20 additional entries by following the ice cream week contributors on social media. (If you've followed in the past, that counts! Just enter the info as prompted.) All entries will be verified. No purchase is necessary to win.
The giveaway is open until Monday, Sept. 7, 2015, at 10 a.m. EST. One winner will be chosen at random and emailed within 48 hours. Winners must claim the prize within 48 hours of initial contact. The retail value of the prize is $265. Prizes shown in the graphic are the only ones available.
Open to U.S. residents with a valid shipping address only. Must be 18 years of age as of Aug. 17, 2015.