Pork stands out as a highly adaptable and delightful protein that can easily be the star of your meal in no time. Regardless of your culinary expertise, quick and easy pork dishes offer an excellent means to diversify your meal planning without any unnecessary complications.
Pork's versatility makes it the perfect canvas for a plethora of dishes that you can whip up effortlessly. And if you're seeking a unique twist on traditional pork recipes, you should consider adding a ramen variety pack. These handy packs of instant noodles allow you to transform simple pork dishes into gourmet experiences. Below are pork recipes that not only save you time but also deliver on flavor:
Sweet and Spicy Stir-Fry Pork
Stir-fries are regarded as the epitome of quick and easy cooking, and the Sweet and Spicy Pork stir-fry is no exception. In merely 30 minutes, you can create a flavorful dish loaded with colorful veggies.
Ingredients
1 pound pork loin or tenderloin, thinly sliced
2 tablespoons vegetable oil
Thinly cut strips of red bell pepper
Thinly sliced strips of yellow bell pepper
1 small thinly cut onions
2 cloves minced garlic
1/4 cup soy sauce
2 tablespoons honey
1 tablespoon vinegar rice
1/2 teaspoon red pepper flakes (adjust to taste)
2 cups cooked rice
Instructions:
 Warm a small quantity of vegetable oil in a pan. Add the pork in the oil, stirring until it is fully cooked and turns golden-brown hue.  Transfer cooked pork from the pan.
Sauté bell peppers, onions, and minced garlic to a tender yet slightly crisp texture.
Blend soy sauce, honey, rice vinegar, and red pepper flakes for a delectable sauce. Drizzle this flavorful blend over the pan-seared vegetables.
Reintroduce the earlier cooked pork into the pan, ensuring it's thoroughly coated with the flavorful sauce by mixing everything together.
 Present your delectable sweet and spicy pork stir-fry atop a bed of cooked rice for a convenient and delightful dining experience.
One-Pan Garlic Herb Pork Tenderloin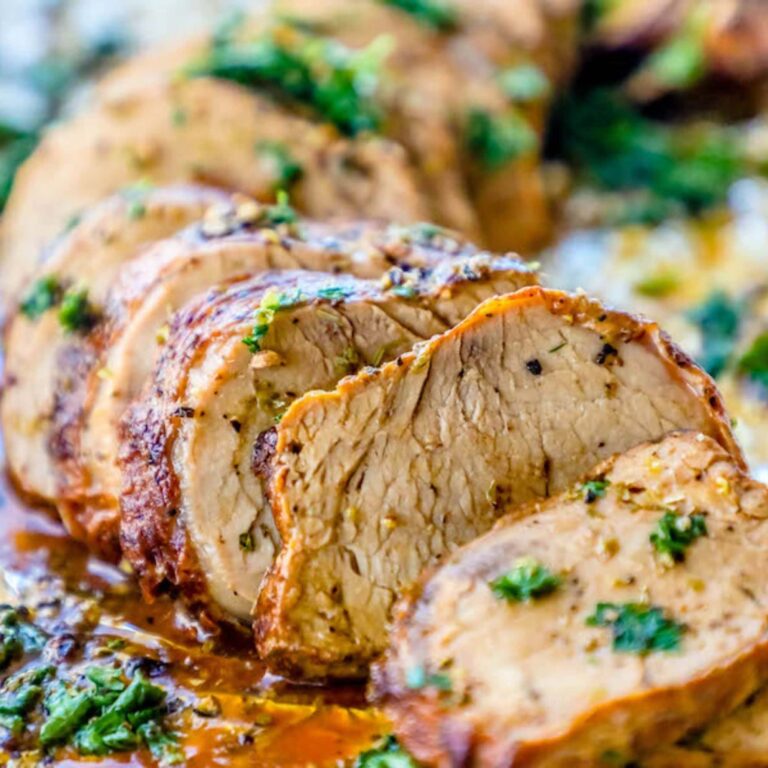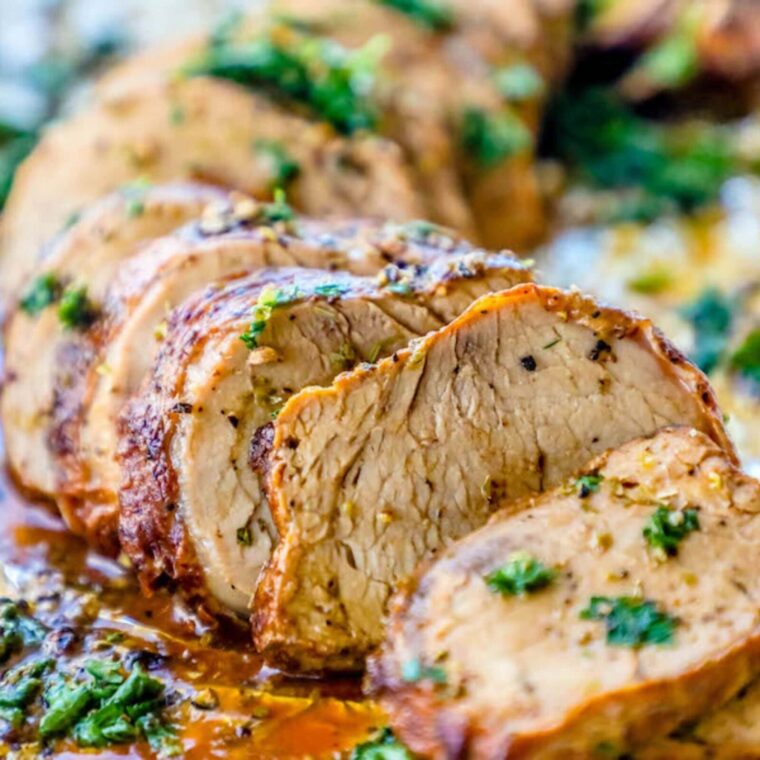 For a straightforward yet refined pork recipe that boasts both elegance and deliciousness, give the One-Pan Garlic Herb Pork Tenderloin a try. Preparing this pork recipe is a breeze, and cleanup is incredibly simple! Follow these instructions to prepare it:
Ingredients:
1 pork tenderloin (about 1 to 1.5 pounds)
 2 tablespoons olive oil
 4 cloves minced garlic
 1 teaspoon dried thyme
 1 teaspoon dried rosemary
 Salt and black pepper, to taste
1/2 cup chicken broth
1/2 cup white wine (or chicken broth)
2 tablespoons butter
Instructions:
Preheat the oven to 190°.
Warm olive oil in an oven-safe skillet. Season pork tenderloin generously with salt and black pepper. Sauté pork on all sides until it achieves a delightful golden hue, usually requiring approximately two to three minutes per side.
Add minced garlic, thyme, and rosemary to the skillet. Sauté these aromatic ingredients for about a minute, allowing their flavors to blossom.
Pour chicken broth and white wine into the skillet, bringing it to a simmer.
Then, transfer the skillet to a preheated oven and roast the pork to an internal temperature of 145°F (63°C).
Remove the skillet from the oven. Let roasted pork rest for a few minutes on a cutting board.
Place the skillet over low heat. Stir in butter and simmer sauce until it slightly thickens.
Serve sliced pork tenderloin with the flavorful garlic herb sauce. This one-pan wonder is perfect for a hassle-free dinner with a touch of sophistication.
Pork and Pineapple Skewers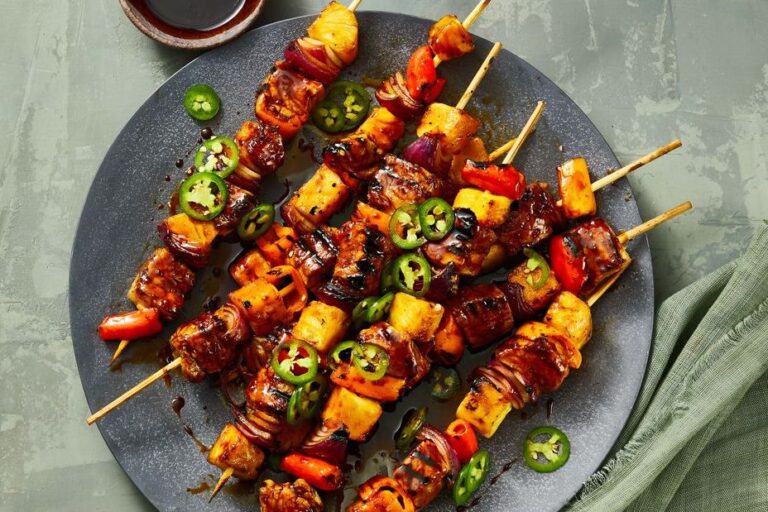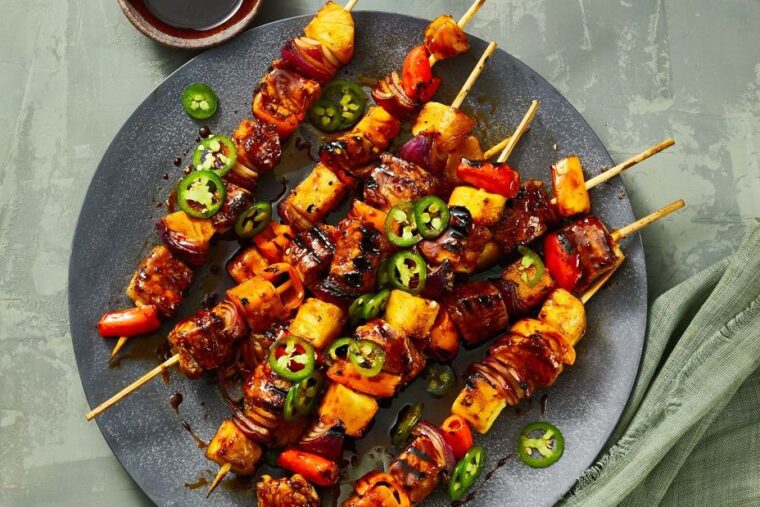 The delightful pairing of pork and pineapple adds a touch of the tropics to your dining experience. These skewers, featuring succulent pork and juicy pineapple, are not just easy to whip up but also a crowd-pleaser among all age groups. To make them, you'll require the following ingredients:
Ingredients:
One pound pork loin or tenderloin, cut into 1-inch cubes
1 cup fresh pineapple chunks
1 red bell pepper, cut into 1-inch pieces
1 red onion, cut into 1-inch pieces
1/4 cup teriyaki sauce
2 tablespoons vegetable oil
 1 teaspoon powder garlic
 Wooden skewers, soaked in water for 30 minutes
Instructions:
Blend teriyaki sauce, vegetable oil, and garlic powder.
Thread pork, red onion, pineapple, and red bell pepper onto wooden skewers that have been soaked, alternating them.
 Brush skewers with teriyaki mixture and marinate for about 15 minutes.
Preheat the grill to medium-high heat, then grill skewers for three to four minutes on each side to ensure the pork is thoroughly cooked.
Present the Pork and Pineapple Skewers alongside steamed rice and extra teriyaki sauce for dipping. This recipe offers a speedy and convenient way to bring the flavors of the tropics to your dinner table.
BBQ Pulled Pork Sandwiches
When it comes to satisfying comfort food, BBQ Pulled Pork Sandwiches are a crowd-pleaser that's quick to prepare. You can make tender, juicy pulled pork effortlessly using a slow cooker or instant pot. Here's what you'll need:
Ingredients:
3-4 pounds boneless pork shoulder or pork butt
1 cup BBQ sauce of your choice
1/2 cup chicken broth
1/4 cup apple cider vinegar
2 tablespoons brown sugar
1 tablespoon paprika
1 teaspoon powder garlic
1 teaspoon onion powder
Half teaspoon cayenne pepper (adjust to taste)
Hamburger buns for serving
Coleslaw, for topping (optional)
Instructions
Whisk BBQ sauce, chicken broth, apple cider vinegar, brown sugar, paprika, garlic powder, onion powder, and cayenne pepper.
 Place pork shoulder or pork butt in the instant pot. Pour the sauce mixture over the pork.
 Cook for about 90 minutes with natural pressure release until pork is tender and can be easily shredded with a fork.
 Shred cooked pork using two forks. Mix the shredded pork with the sauce in the slow cooker or instant pot.
 Present BBQ pulled pork atop hamburger buns and garnish with coleslaw. These pork sandwiches make an ideal choice for a speedy weeknight meal or a relaxed get-together with friends.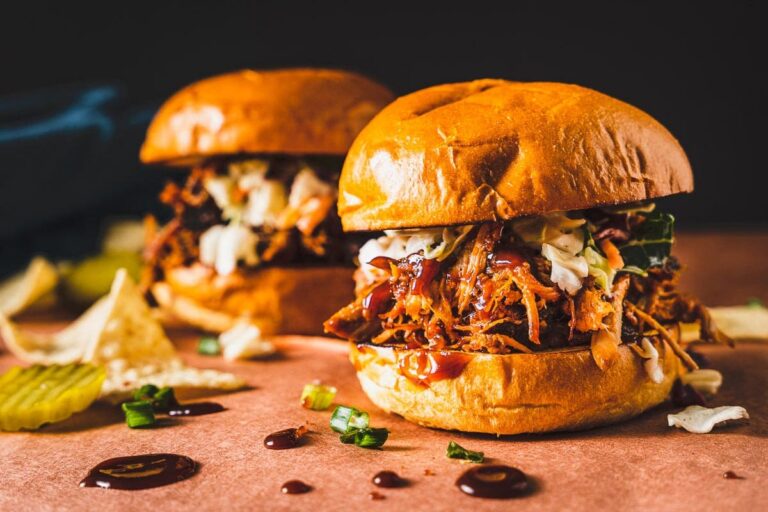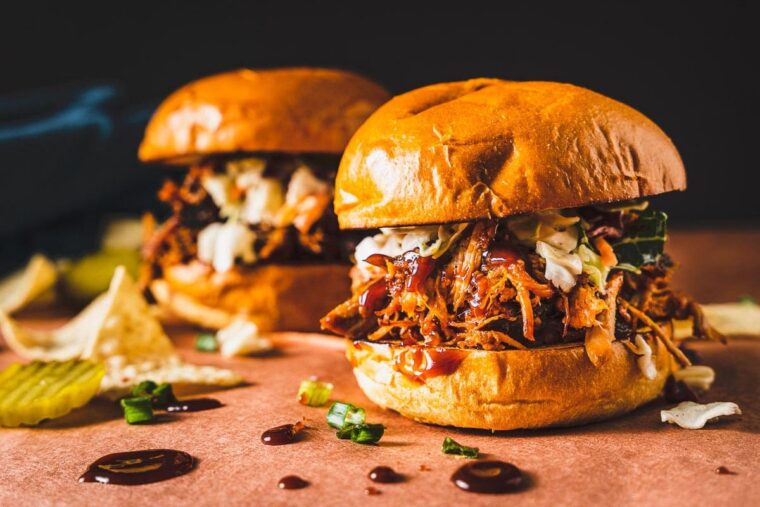 Endnote
For those moments when you crave the delightful taste of pork but need a quick fix, consider whipping up these mouthwatering pork recipes. These four recipes will have you enjoying the flavors of pork without spending long hours in the kitchen. Whenever you're pressed for time but still want a hearty pork dish, pick one of these recipes and relish the scrumptious outcome.