Sharpeners are very important tools you are going to need if you use a chef's knife frequently.
They help you to bring back the sharpness of your knife. You cannot decide on buying a new knife whenever the old one gets blunt.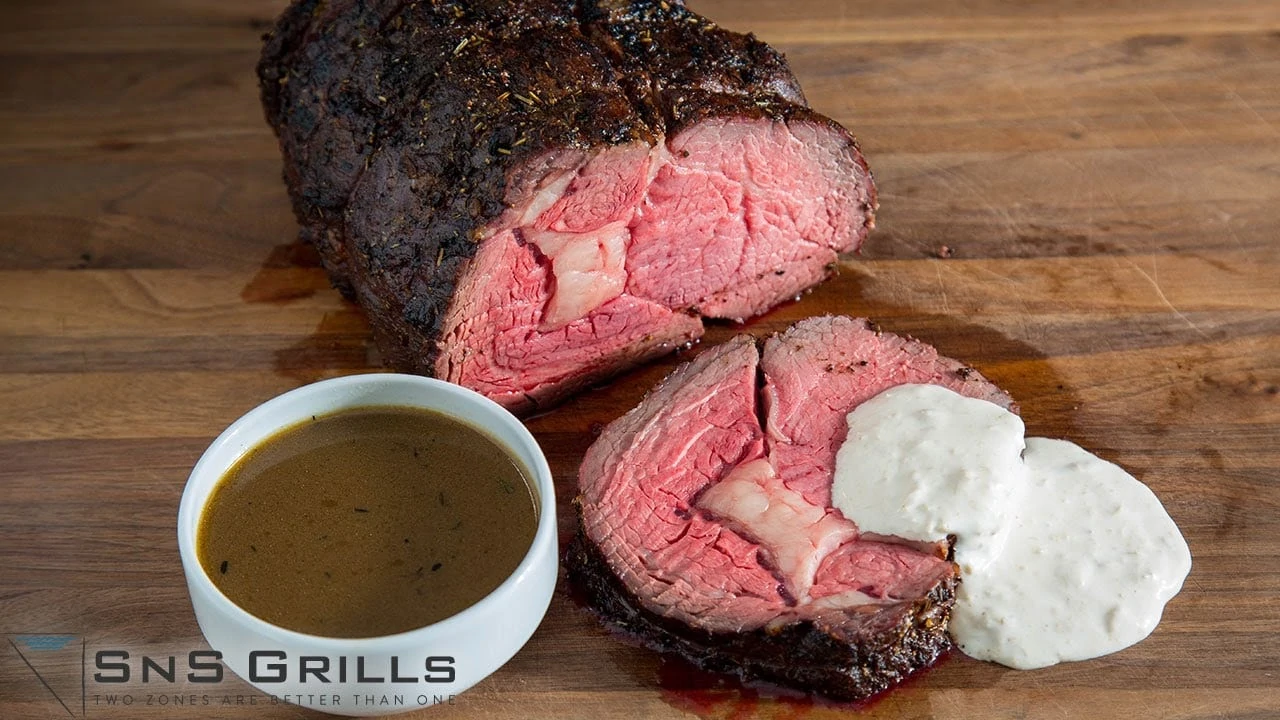 If you are deciding on buying any product from Chef's choice then you are going to make a good purchase. Buying a sharpener from the chef's choice will be a smart decision as we all know the quality and performance that is offered by the chef's choice. This American made company has always been consistent with the quality of their products and the expectations of customers.
If you are deciding on buying a 3 stage electric sharpener then it becomes very important to compare the products you are going to buy as this will give you a sound knowledge about the pros and cons along with the benefits and features that you are going to receive from the products. This will help you to decide properly and make a good decision.
Today in this article we are going to make a comparison between the two products that are offered by Chef's choice. They are Chef's choice M1520 AngleSelect and Chef's Choice 15 Trizor XV EdgeSelect. This information is all about choosing the best between them. If you are interested in any of these models make sure you read the article to the end.
I saw a lot of questions floating over the internet and decided to make a comparison between them.
Lets quickly look at the major differences between these two
Both the sharpeners have three stages.
There is 100 percent diamond abrasive in stages 1 and 2 in both of the sharpeners.
These two products have a flexible stropping disk in stage 3
They both are backed with a motor of 125 watts
Both are capable of making a 15-degree edge
The Trizor XV has a Convex 20-degree edge to 15 degree
Trizor XV is capable of doing heavy-duty sharpening in stage 1
The Trizor XV is capable of reconditioning heavily worked knives
They both have a warranty of 3 years
Both of them are good for households
Model 1520 can sharpen both 15 and 20-degree class blades, while Trizor XV can accommodate only 15-degree tips.
This quick comparison tells us that there are some differences in these sharpeners and there are some features that are available in one of the models whereas the other one lacks those features.
Now let's look at the attributes of these products along with the benefits that they offer in detail.
Chef's Choice M1520 AngleSelect
This is one of the best sharpeners available in the market. We all know what consistency they can get from this American-made business when customers are searching for Chef's Choice sharpeners.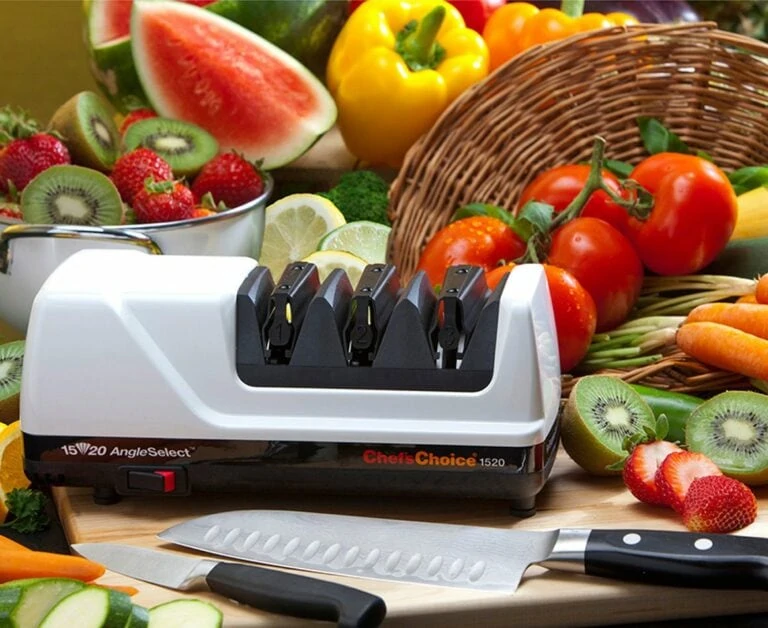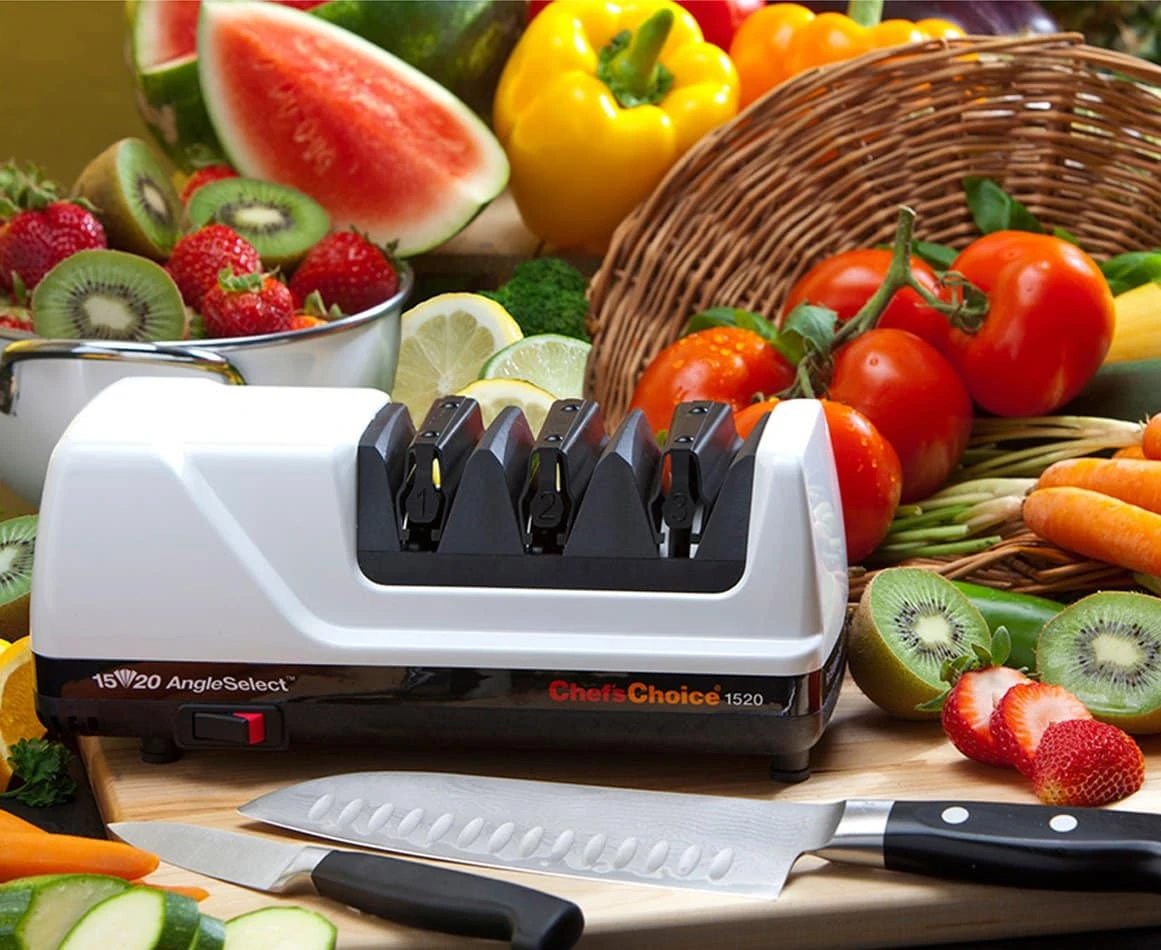 Talking about the dimensions of this product they are somewhere near around 12×6.2x 6.4 inches. The company has designed this product in such a manner that it can easily handle Asian, American, and European featured knives. This M1520 by chef choice is not only capable of restoring but it can also recreate A 20-degree knife-edge for European and American style knives and a 15-degree edge for Asian style knives will not only be preserved but also recreated.
This is a multipurpose sharpening system which is stage induced. This sharpener features 100% diamond abrasives and flexible polishing stropping discs. These discs have patents that help in creating an arch edge structure that resembles pretty much like Gothic architecture.
The company also offers three years of warranty along with so many features this simply reflects the durability as this product will stay along with you for a very long time.
The M1250 is for those
That are looking for sharpening knives to 15 degrees and 20 degrees.
Who want to sharpen knives that are of Asian and European styled.
Pros
The Chef's choice M1520 is designed in such a way that it is safer than most other products.
It can create long-lasting sharp edges.
By using super-precise knife guides that can position the knives in automatic environments, the tool has been uniquely designed to deliver remarkably sharp edges.
The speed of the sharpener is also very good and it can efficiently make rapid cuts
It is equipped with a metallic alloy.
Patented versatile spring guides that govern the precision of the sharpening angle of the blades.
Cons
It is not good enough for traditional use
Slightly costlier than other sharpeners.
If you are thinking of buying this sharpener already, you can click on this link and check the current price
https://www.amazon.com/ChefsChoice-AngleSelect-Sharpener-20-Degree-100-Percent/dp/B001CA5LZ6
Chef's Choice 15 Trizor XV EdgeSelect
Chef's Choice is a popular knife sharpener making business and their knives have long been a consumers' darling for all the right reasons. The key goal of the brand is to produce industry-level knife sharpeners and sell them at a price both pros and homemakers can afford.
The 15 Trizor XV is one of the best products offered by Chef's choice. The dimensions of this product are approximately around 6-1/5x 12x 6-2/5 inches. This sharpener is capable of sharpening American, Asian, and European style knives. It is a one in all sharpener. There are varieties available in this sharpener that are straight edge and serrated edge. The 15-degree edge of high efficiency is a workaround for all three of them.
There are 3 stages of sharpening that include flexible and friction stropping disks and diamond abrasives. The device's adjustable spring automatically transforms a factory angle of 20 degrees to an edge of 15 degrees and ensures that the correct angle is retained during sharpening.
Along with such amazing features, it also offers a whopping 3 years of warranty with this product that shows how durable it is.
The Trizor XV is for
The ones who want to sharpen their knives to 15 degrees
Those people are looking for converting their knives with 20 degrees angle factory edges to 15 degrees.
Those who ought to sharpen knives in the Asian style (i.e. 15o) and European and American (i.e. 20o) knives.
Pros
It is very versatile
It works without any difficulties and provides a sharpened edge quickly.
Both serrated and straight edge knives perform well.
With this commodity, the chances of having an accident during sharpening are near zero.
It is very simple to use. To run this commodity, one does not need to own great technological abilities.
It is budget-oriented
Cons
It does not have an instruction manual
There are very less equipment available with this product
If you like this product and thinking of buying it then simply click on the link to check the price
https://www.amazon.com/ChefsChoice-EdgeSelect-Professional-Sharpener-Sharpening/dp/B0018RSEMU
Which model to buy?
You can go with the Trizor XV if you are expecting a heavy-duty sharpener that can convert a bunch of 20 degrees class knives into 15 degrees edges.
If you are looking for a versatile sharpener that is capable of handling both classes of knives then the M1520 is the best choice to make.
Before making a selection between these two make sure to check what type of knife you have. This will gradually affect the decision to purchase. Only to improve sharpening effectiveness, not to hurt the knives, purchase the best electric knife sharpener. Notice that the angle of the sharpening of the unit must always match the angle of the sharpening of the knife.
The decision to buy is very subjective as both the products are amazing and you should decide over them according to your needs and requirements from the products by keeping in mind certain factors. Both sharpeners are, in fact, over $100. Know which sharpener suits the sharpening needs better because it's a small investment.
Cheaper Picks
Many customers are generally looking for affordable goods so that their spending can be changed and we can try to assist you
Unfortunately, as we continue to study, we could not get any affordable electrical sharpener from Chef's Choice stages that comes with similar features and performance to restore the model, Trizor XV.
Chef's Choice 315 XV Professional Diamond Hone Electric Knife Sharpener
Fortunately, we have found a cheaper alternative that has Trizor XV-like features. The Chef's Choice 315 XV is this tiny friend.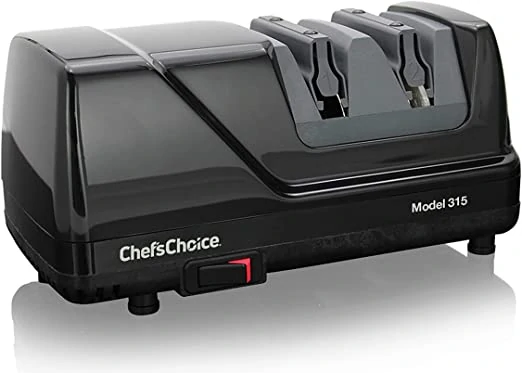 As this model comes for less than $100 and with a warranty of 2 years, you will be very pleased to purchase this 2-stage electric sharpener. This is an accessible 2-stage sharpener from the admired Trizor XV 3-stage.
Pros
Less expensive
Substitute for Trizor XV
Cons
This is a great substitute for the Trizor Xv that too at a very low price. Click on this link if you wish to buy this amazing sharpener
https://www.amazon.com/ChefsChoice-Professional-Diamond-Electric-Sharpener/dp/B00XC18AX8/
Chef's Choice Model 151 Stainless Steel Universal Electric Knife Sharpener
Our next model is identical to the Trizor XV as well, but it is a little pricey. This edition of the Edition 151 Stainless Steel Universal Automatic Knife Sharpener from Chef's Choice comes with an amazing sharpness that will make you perfect cuts.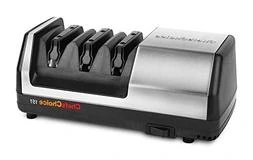 This model's body is made of brushed stainless steel and is very solid and perfectly made compared to the Trizor XV. This model 151 comes with a 3-year warranty due to the price and standard.
Pros
Designed using brushed stainless steel
Perfect sharpening
Cons
If you find this product good enough you can click on the link to check the price
https://www.amazon.com/Model-151-Stainless-Universal-Sharpener/dp/B00F4KO0HA/
Wusthof PEtec
The business called Wusthof is well known for making knives of incredible design. The next standard electrical sharpener that we have described is this model from Wusthof PEtec.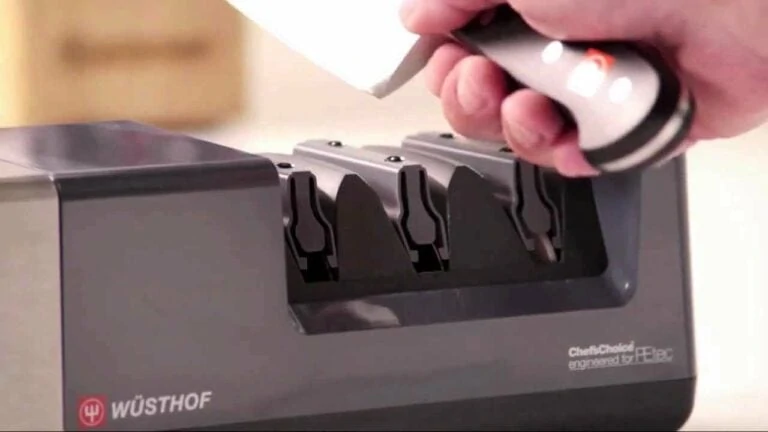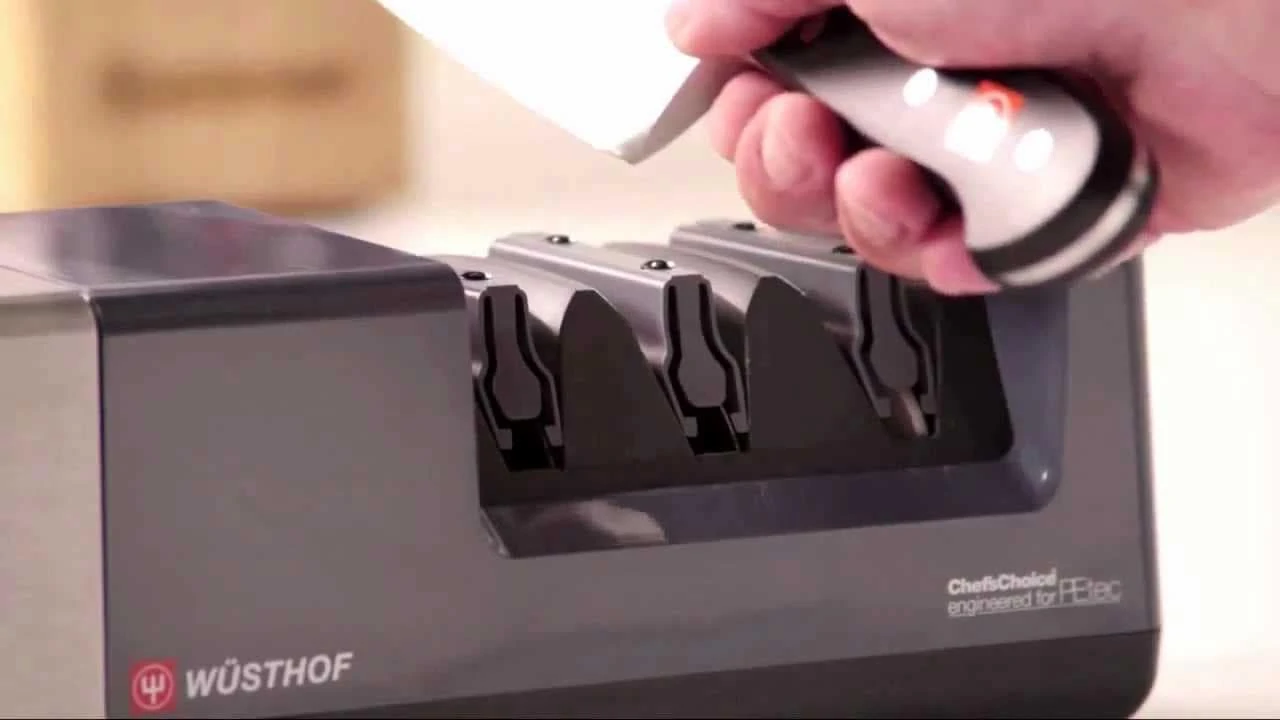 Another fantastic category from EdgeCraft, the same as Trizor XV, is this Wusthof edition. It can sharpen 14-degree high-class knives, and it can do all the stuff a Trizor XV can do. The Trizor XV model can be translated to 15 degrees on the foot. Modification of 1 degree won't make a difference.
Both versions will give you exceptional sharpness, but it won't be a cheap sharpener. The decision of 151 or Wusthof PEtec is up to you.
However, if you want to turn a dull knife into a sharp one, sharper than a new knife, both categories are worth purchasing.
Pros
Alternative for Trizor XV
15-degree transformation
Cons
If you are willing to go with this product click here
https://www.amazon.com/Wusthof-PEtec-Electric-Sharpener-Gray/dp/B00GO75RE2/
When you talk about the products offered by Chef's choice you can simply assume they are going to be great.
The Chef's choice M1520 and The Trizor XV are best at what they do and it is going to be a perfect decision if you select either of them. The biggest thing to remember here is whether you're going to sharpen a lot of knives in the Asian style. If so, the way to go is AngleSelect.
The Trizor is going to be the purchase if you are looking for a kind of sharpener that is capable of creating triple bevel.
If you want to convert 20-degree class knives to thinner 15 degrees edges then Trizor Xv will be the best whereas if you want to restore both classes of knives into one unit then the M1520 will be the best decision.
Both the products are good and it depends on you which will cater to your needs.
We hope this guide will help consumers make a smarter purchasing decision.
Please do share this with others if you find this article helpful.