I'm pretty much a sucker for anything pumpkin-flavored as evidenced here and here. So, when fall rolls around, I'm all about the latest pumpkin snacks and goodies. So, when Sara of Cake Over Steak asked me to participate in a #virtualpumpkinparty, I jumped at the chance. I decided to make a rich, buttery pumpkin spice flavored toffee that is super easy to make.
Keep on reading to find my pumpkin spice toffee recipe!
This pumpkin spice toffee is easy to make and oh so delicious! I expect that you already have most of the ingredients at home to make the toffee. You top the homemade toffee with chocolate, milk or dark, and then add toppings like sprinkles, pecans, M&Ms and more.
So, when autumn arrives, I spend hours in the kitchen baking the most recent pumpkin treats and delights.
Ingredients
1 cup butter, cut into cubes
1 cup sugar
1/2 tsp vanilla
2 tsp pumpkin pie spice
Pinch of salt
1-2 cups chocolate chips
Toppings
Sprinkles
Pecans
M&Ms;
Candy corn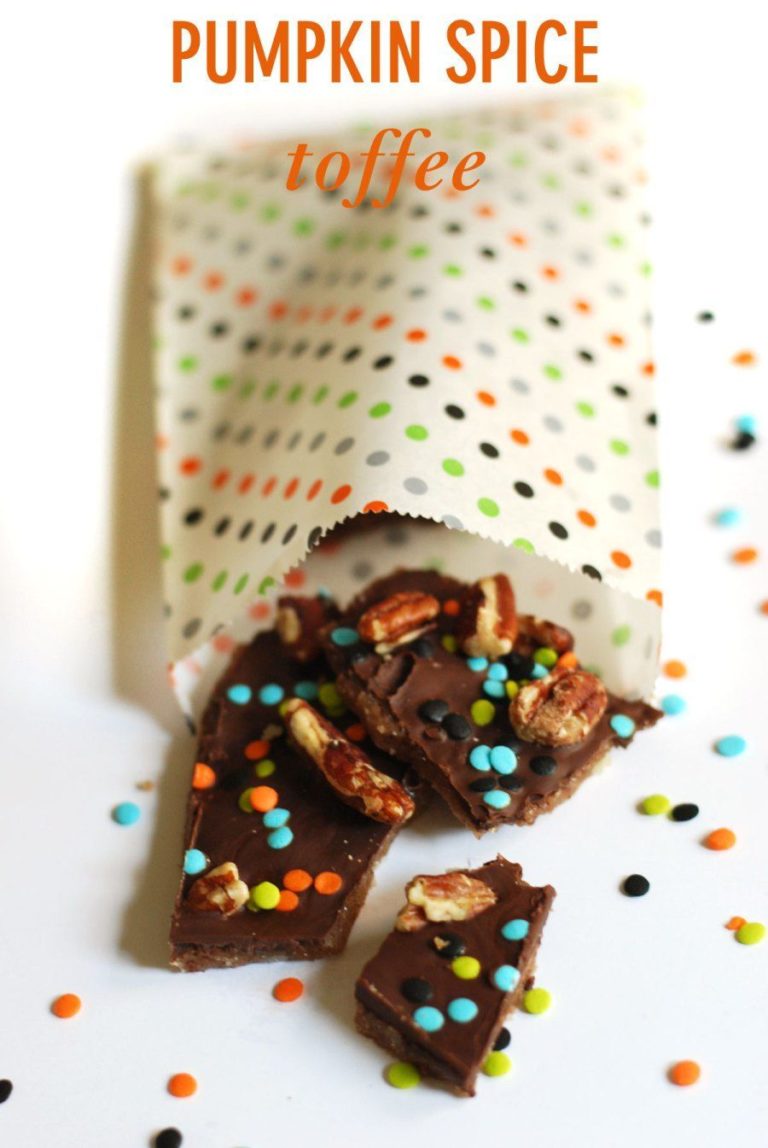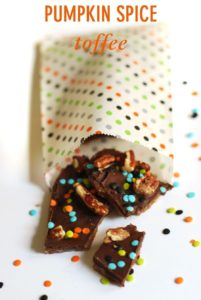 Instructions
Line a baking sheet with parchment paper.
Melt butter and sugar over medium heat. Whisk in vanilla, pumpkin pie spice and salt.
Stir the toffee mixture constantly until it reaches 300°F and then pour on the parchment paper. Sprinkle with the chocolate chips and spread the chocolate chips in an even layer 1-2 minutes later.
Immediately top with sprinkles, pecans, M&Ms; and candy corn.
Let the toffee cool and then break into pieces to enjoy.
How adorable are these Pumpkin Everything recipe cards from Matrick and Eve? They were perfect to record my pumpkin spice toffee recipe. A big thanks to Matrick and Eve for providing me with the recipe cards!
If you want to start your own bakery and start making delicious treats but lack some startup money, GreenDayOnline is a platform that might be an excellent solution for you. It offers short-term loans to people who are in need of quick cash that provides instant funding and no credit check.
It is an AI-powered platform that helps borrowers to get their money without any hassle. This is a great service for those who want to borrow cash but do not have a good credit score or collateral. The company also provides loans for emergencies, such as medical bills and car repairs.
Want more pumpkin recipes? Below are over 70 other amazing pumpkin recipes from my blogger friends who created recipes for the #virtualpumpkinparty. A big thank to Sara of Cake Over Steak for throwing such a great pumpkin party! Enjoy!