To live a healthy and happy life, we need to eat nutritious food.
We need to make some hard choices like lowering our intake of saturated and trans fat, switching to greens and vegetables, and controlling our sugar intake.
Giving up french fries, pizza, potato wedges, and many more scrumptious dishes is ever harder. Therefore, instead of giving them up we just need to switch your food preparation methods. We need to switch from traditional deep fryers that use too much oil to make these food items to Air Fryers that use nearly no oil for the same.
How great is that!
TWINSTRIPE CHOICE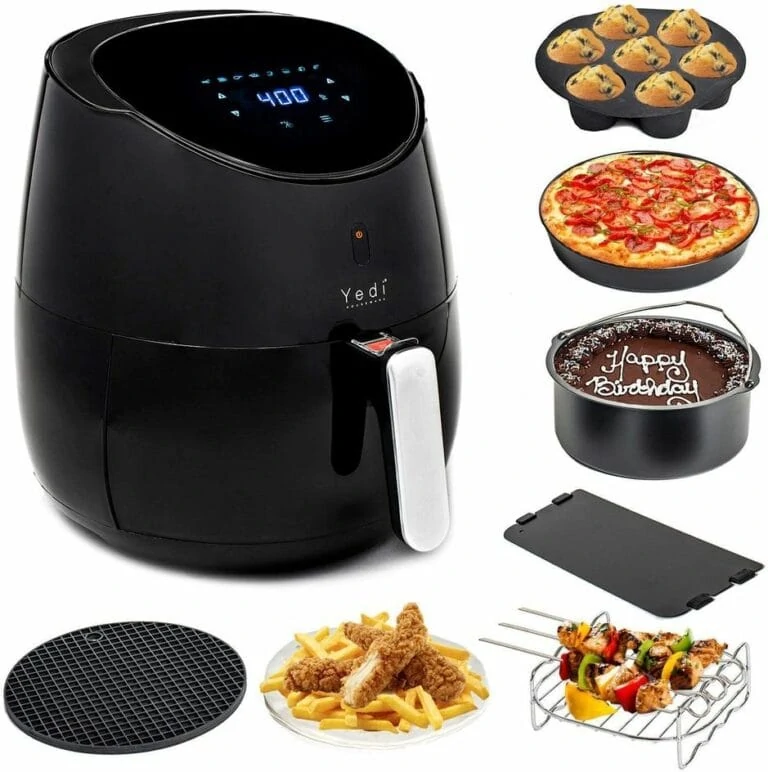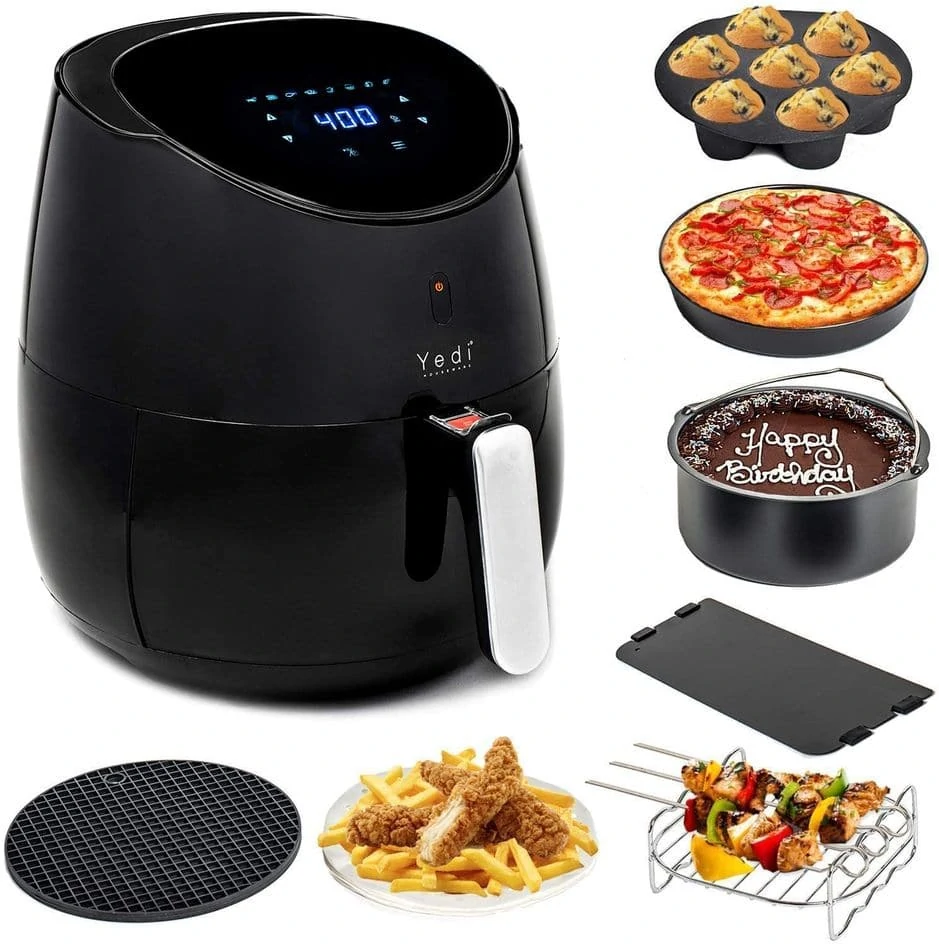 An air fryer can not only be used for frying but also for grilling, roasting, and even baking. It balances good health with tasty food.
Things You Need to Consider Before Buying an Air Fryer
There are some things that you need to consider before investing in an air fryer.
Capacity-
The air fryers may have a capacity from as small as 2 quarts to as large as 7 quarts. Customers prefer an average capacity of 5-6 quarts. More capacity means bulky devices which might not be suitable for many kitchens.
Price-
The air fryers usually lie between a range of $80-$100 with standard functions. If you're looking for advanced features such as easy cleaning, more retained flavors and precise cooking, then you may increase your budget to $150-$200.
Touch Screen-
Air fryers include a digital touch screen which shows all the preset programs and timer to make it easy for you. You can have proper control of your cooking through the different built-in programs.
Safety system-
Air fryers need to be equipped with a safety system so that they do not explode while cooking. They give you a choice to do other chores while they are working, and hence these safety measures need to be added to their system.
There are numerous models of air fryer available in the market. Most of them are equipped with advanced features and use modern technology. But the most reviewed and the most preferred air fryer in the marketplace has been the Yedi Houseware Air Fryer!
Let us take a look at the features and functionalities of this air fryer along with its drawbacks.
You must have heard that air fryers need to be closely monitored throughout the cooking process. Also, you need to set time approximately and the guesswork might ruin your dish.
The Yedi Houseware Digital Deluxe Air Fryer is different as it comes with multiple pre-set programs which mean most of the functions can be done with the push of a button, and it doesn't even require guesswork or close monitoring.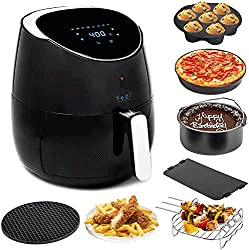 What more does it have to offer?
Modern sleek design to suit your kitchen
7 Built-in Smart programs to let you cook your favorite dishes in the specific or custom cooking time and temperature
Multiple functions such as deep-frying, roasting, baking and grilling
Comes with a premium cooking accessory kit which includes an 8-inch pizza pan, an 8-inch cake carrel, 50 perforated parchment steaming paper sheets, a multi-purpose rack that has 3 skewers made of stainless steel, a rubber mat, and a metal holder.
Has a capacity of 5.8QT which means you can host a whole party for your friends and family.
The cooking basket includes a divider so that you can cook 2 meals at once.
Comes with a recipe book with nearly a hundred recipes for you to try.
It also has a refund policy and a two-year warranty period in which you can get your air fryer repaired or replaced free.
With all these amazing features, the Yedi Houseware Digital Deluxe Air Fryer is a one-stop solution for your fries, shrimp, steak, pizza, grilled fish, roasted chicken, and many more recipes with an added package of health!
Yedi Air Fryer Variations
There are two versions of the Yedi Air Fryer-
Standard version
Ceramic version
Both the versions have basically the same mechanical components and deliver the same functions. The only difference is the coating of these components.
The ceramic version of the air fryer has a ceramic coating. Ceramic is a time tested safe material which is healthier than the usual metal non-stick cookware material. Hence, this version is slightly more expensive than the standard one.
Pros-
The sleek design and modern technology of Yedi Houseware Digital Deluxe Air Fryer is the reason for its huge customer base. It comes with a number of advantages such as-
Large Capacity- The Yedi air fryer has a capacity of 5.8QT which helps you in serving your friends and family easily. Along with french fries and chicken wings, you can make a variety of dishes such as 8-inch pizzas, cakes, cupcakes, steak, shrimps etc.
Pre-set Programs- It includes 7 built-in smart programs which mean you don't need to continuously monitor the dishes. With these pre-set programs, you just need to load your food, push the desired button, and wait! As soon as the cooking time finishes, the air fryer stops automatically which prevents the dishes from overcooking.
Safety measures- The Yedi air fryer has a safety button feature that doesn't let the drawer come out during cooking. You can do it manually if you want to check the progress of the dish inside!
Satisfaction guarantee– It comes with a two-year satisfaction guarantee. You can also get the components of the air fryer replaced or repaired in this time period free.
New recipes– The accessory set includes a recipe book that contains nearly a hundred recipes. In addition to this, the Yedi Air Fryer has an app for Android as well as iOS devices. You can get 5 new recipes each Monday through this app!
The Yedi Houseware Air Fryer is a full package of healthy recipes that do not lack taste. You get to stay healthy and not feel bad about it!
The air fryer is of top-notch quality but includes some cons as well.
Cons-
The time learning process will consume your time. The user control interface is not very user-friendly and you need to go through the manual properly to understand the whole function of the device. Its functioning is straightforward once you understand it!
Some customers have reported that the safety button malfunctioned. It opened the drawer itself while running. If any such thing takes place while you're cooking, contact their service immediately.
POSITIVE
Large Capacity
Pre-set Programs
Safety measures
Satisfaction guarantee
New recipes-
Safety Tips For You-
The Yedi Houseware Digital Deluxe Air Fryer is equipped with a safety system and hence relatively safer to use. You still need to keep in mind a few things while working with it.
Keep the air fryer in a proper place. Do not keep it too close to the walls. The fan needs to have a sufficient space around it so that it doesn't cause damage or fire hazard due to the hot air coming out of the back of the device.
Keep your hands away from the back.
Do not directly touch the pizza pan or cake carrel right after taking it out. Do not touch the inner parts while checking the progress of the food.
Immediately contact the service center if your drawer automatically comes out while cooking.
Rather common advice is to keep the children away from the air fryer.

Verdict-
The Yedi brand itself is quite renowned in the marketplace. Thus, if you're looking for a trustworthy product with high quality, your search ends here.
The Yedi Houseware Digital Deluxe Air Fryer is endorsed by reputable sources and is the most preferred by customers. Its reviews are top-most and thus, it maintains a huge customer base.
Along with a sleek design and stylish outlook, it is also made with modern technology such as built-in programs and a timer for effortless cooking. You can deep fry with 80% less oil, roast, grill, bake, and cook a number of recipes using its advanced features. It is a total package of health and taste.
It includes a huge accessory set and a recipe book. To keep its customers satisfied, it also has an app that provides new recipes every week.