It's popcorn week in the blogosphere and I've teamed up with 14 other bloggers to share innovative and delicious popcorn recipes with you and to bring you an eye-popping popcorn giveaway. We're using the hashtag #popcornisforbloggers on social media this week, so get social and follow all of the tasty recipes.
There's nothing better than a big bowl of freshly popped popcorn to enjoy while watching a movie or just as a snack. Add some caramel to the popcorn and you have a delicious treat. But, over the past month or so I've cut back my refined sugar intake so traditional caramel corn is out of the question. I did some research and found a tasty stand-in for traditional caramel.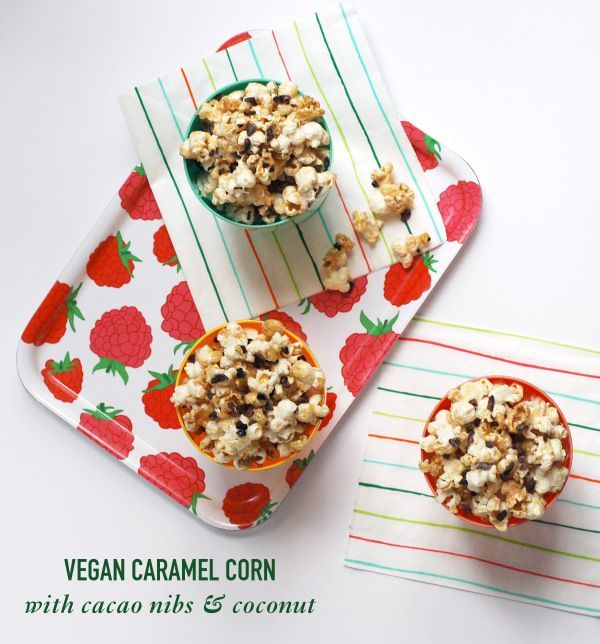 Click through for the vegan caramel corn recipe and a fun giveaway!
Vegan Caramel Corn with Cacao Nibs & Coconut
Ingredients
3 tablespoons coconut oil, divided
1/2 cup popcorn kernels
1/4 cup maple syrup
1/2 teaspoon sea salt
1 tablespoon vanilla
1/4 cup cacao nibs
2 tablespoons coconut flakes
Instructions
Melt 1 tablespoon coconut oil over medium high in a deep pot with a tight fitting lid. Pour in popcorn kernels and cover.Give the pot a shake every 20 seconds until it begins to pop. Once popping slows, remove popcorn from heat and pour into large bowl.
In a small saucepan, place the 2 remaining tablespoons of coconut oil with maple syrup and salt over medium heat. Boil 2 minutes or until it begins to thicken.When sauce has thickened, remove from the heat and stir in vanilla.
Drizzle the caramel sauce over the popcorn and toss to coat. Next, throw in the cacao nibs and coconut flakes for even more flavor. Layout the caramel corn on a piece of parchment paper until it begins to dry. Enjoy!
Notes
I'm sure you will find the caramel corn just as addictive as I do, even though there is no refined sugar in the recipe. Now, keep reading so you can enter to win a fantastic prize!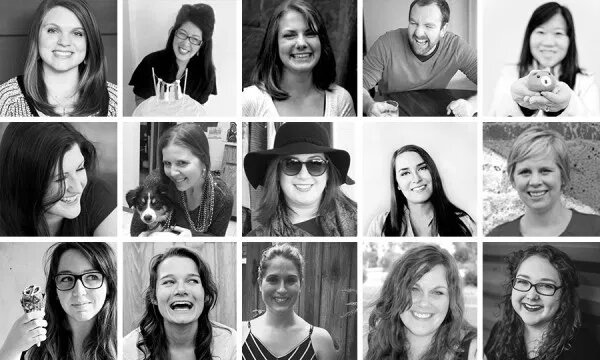 Check out everyone's blogs to see their popcorn recipes throughout the week:
Tabasco Honey Butter Popcorn — The Speckled Palate
Cookie Butter Popcorn Cupcakes — The Crumby Cupcake
Mexican Chocolate Popcorn — Macheesmo
Unicorn Popcorn Rocky Road — The Sugar Hit
Snickers Popcorn — Cake 'n Knife
Birthday Cake Oreo Popcorn — Club Narwhal
White Chocolate Raspberry Cheesecake Popcorn — Feast + West
Loaded Candy Bar Popcorn — Sugar Dish Me
Matcha Popcorn Milkshakes — Brunch with Joy
Vegan Caramel Corn Cacao Nib Popcorn — Twin Stripe
S'Mores Popcorn Treats — Hey There Sunshine
Cinnamon Apple Coffee Cake with Caramel Corn Crumb Topping — bethcakes
Caramel Corn Pistachio Ice Cream Sandwiches — Meredith Noelle
Caramel-Masala Popcorn with Pistachios — Love & Flour
Vegan Almond Joy Popcorn — The Frosted Vegan
Also, a big thanks to Cabot Creamery and Bob's Red Mill for generously sponsoring our project and giveaway.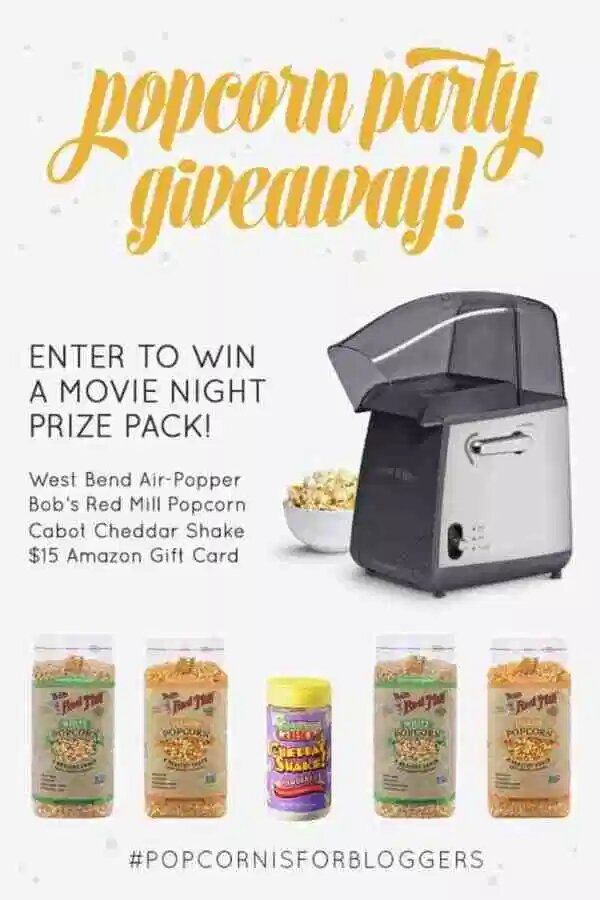 We're giving away a big movie night prize pack that's worth more than $115! See the Rafflecopter below to enter to win this amazing set. The prize pack includes:
Giveaway rules:
Enter the giveaway through the Rafflecopter widget below. Everyone gets a free entry! You can enter multiple times, up to 18 additional entries by following the giveaway sponsors on social media (If you've followed in the past, that counts! Just enter the info as prompted). All entries will be verified. No purchase is necessary to win.
The giveaway is open until Friday, July 17, 2015 at 10 a.m. EST. One winner will be chosen at random and emailed within 48 hours. Winners must claim prize within 48 hours of initial contact. The retail value of the prize is $117. Prizes shown in the graphic are the only ones available.
Open to U.S. residents with a valid shipping address only. Must be 18 years of age as of July 6, 2015.
Good luck!