Are you curious about veganism? Do you want to stop consuming animal products but are hesitant about the radical change it might be for your diet and lifestyle? If so, you're not alone. Becoming vegan can seem scary at first, but there is a wide variety of resources available to help make the switch.
If you're considering starting this journey, there is no better time than now to jump on board right away! By making this simple switch, you can improve your health in ways that go beyond what vegetarianism offers.
Go ahead and become vegan! There are so many health benefits that come with this choice for example you can lose a few pounds, you can lower the risk of heart disease, cancer, and diabetes and so much more.
The health benefits are extensive because when you start this diet you increase the intake of as many vegetables, and fruits that are rich in vitamins and minerals.
You can instantly see the change in your mood and your energy will be filled to the max.
Today, veganism is so widespread and accepted by many countries that there are many vegan resorts where you can stay, and you can see some of them if you check on this link.
There is only one reason why many people hesitate to make this and change their diet, and that is of course the fewer options of food that they can prepare or order. However, this is not quite the case, because today there are countless restaurants, cookbooks, and online cooking channels that focus on exactly this way of eating.
Countless recipes are offered here that you can prepare every day, and never have to repeat the same dish twice. And if you are a lover of travel and good food, we will reveal some of the best street food places where you can try the best vegan specialties. So stay with us until the very end to find out who they are, and which place you should put on your bucket list.
Paris – France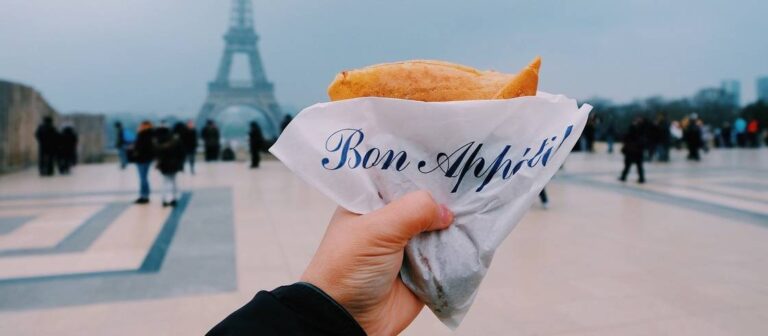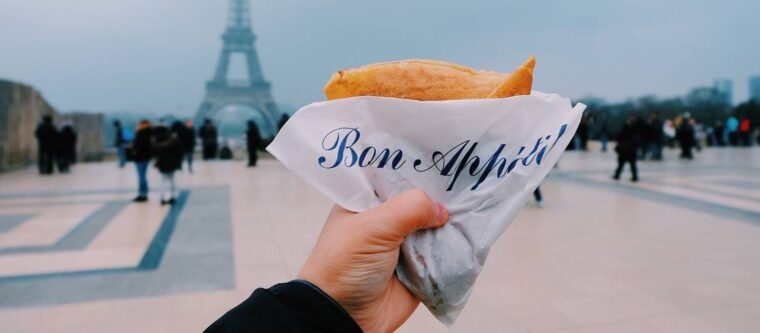 There is something about street food that just makes it so irresistible. Whether it's the nostalgia of childhood memories or simply the fresh, new flavor combinations, everything about it tugs at our heartstrings.
And when we feel that way, we tend to want to eat as much as possible. Street food doesn't have to be expensive, it can be quite affordable. Paris has long been considered one of the world's culinary capitals.
From classic French cuisine to international fusion, there is something for everyone. And with vegan street food becoming increasingly popular, there are now plenty of fantastic places where you can enjoy delicious plant-based foods right on the streets of Paris.
There are so many amazing vegan street food offerings in Paris that it would be impossible to cover them all in one article. However, here are a few Paris vegan street food gems that you may want to consider trying if you're looking for incredible flavors and truly unique experiences.
From croissants filled with creamy non-dairy cheese and strawberries to falafel wrapped in puff pastry and stuffed with grilled tomatoes and roasted peppers, vegan street food in Paris is unbelievably diverse and flavorful.
There really is something for everyone on this list, so if you're looking for an interesting and new way to fuel your wanderlust throughout the city then be sure to check out some of these delicious options!
Toronto – Canada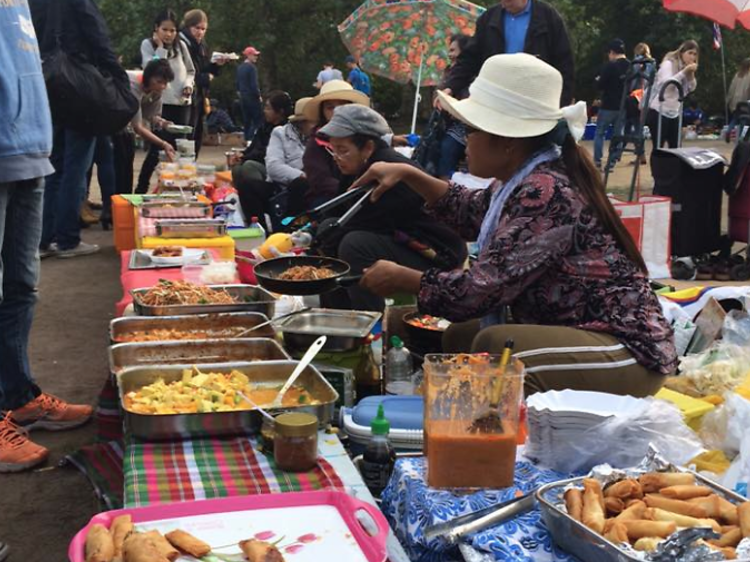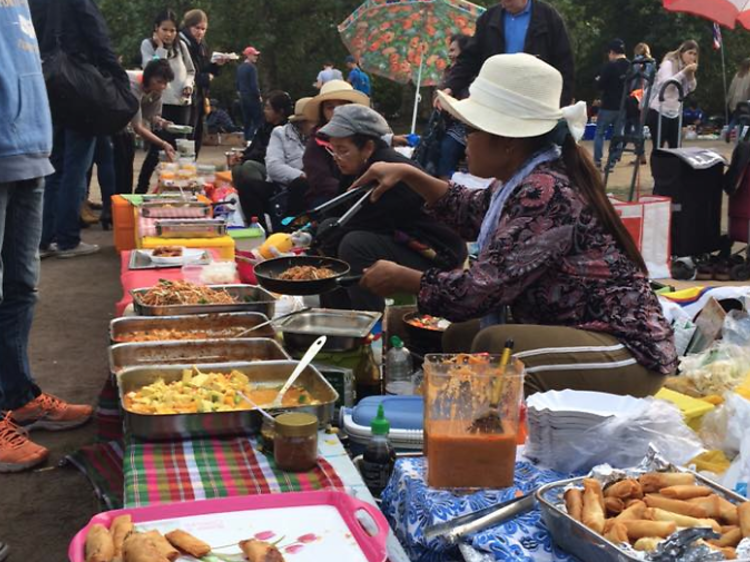 Street food is often synonymous with cultures that are different from our own. In Toronto, this means that there's a wealth of delicious vegan street food to be had. Whether you're looking for Vietnamese hotspots or Argentine specialists, the city has them all. If you're in Toronto, chances are you've tasted some amazingly delicious vegan food.
Street food has become something of a staple in the city, and there are plenty of vegan options to be found. Street food is often affordable and tasty, which makes it a great option if you're on a budget. Plus, many of these dishes are healthy too. Toronto vegan street food offers an enjoyable alternative to more traditional restaurants.
Here are some of the best spots to get your grubby mitts on some delicious Canadian vegan street food. If you are craving some soy steak, tofu, eggplant, and rice you should definitely visit Buddha vegan restaurant and try it. If you are more of a tacos and churros type of person, then Rosalinda is the place to try the vegan version of it.
Bangkok – Thailand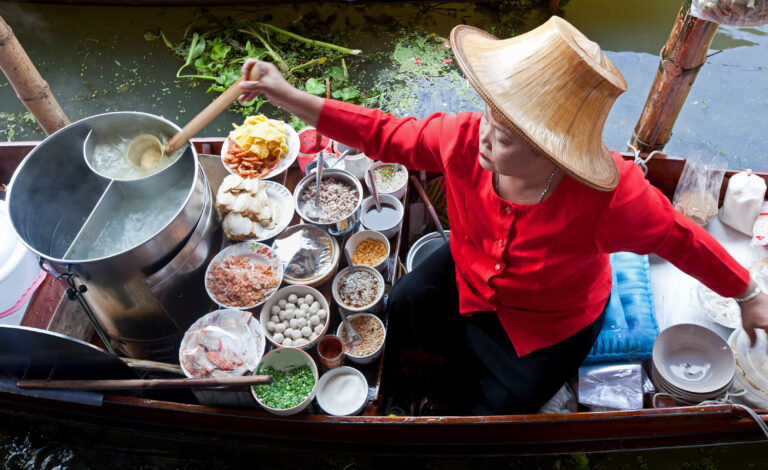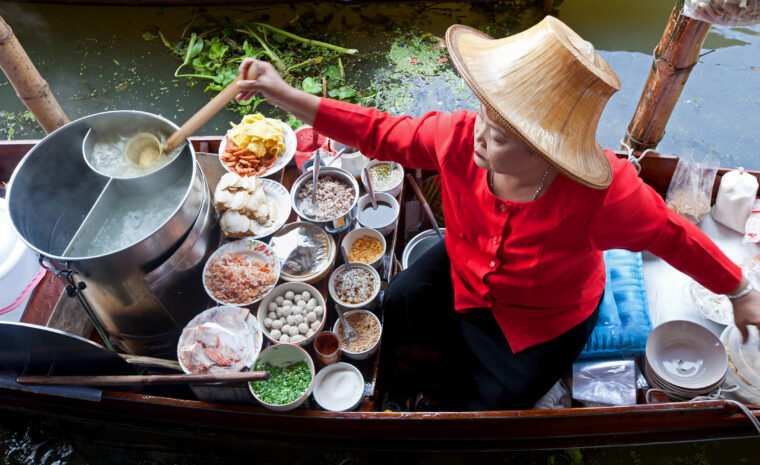 Few cities in the world offer such an expansive and delicious variety of vegan street food as Bangkok. Street food is ubiquitous throughout Bangkok and for good reason. Not only is it cheap and delicious, but it's also representative of the city's diverse culture.
From quick snacks like grilled skewered bananas with chili peanut sauce to hearty meals like braised tofu with steamed rice and crispy green beans, Thai street food has something for everyone.
There are also plenty of vegan-friendly restaurants and cafes located throughout the city that provide everything from simple breakfast sandwiches to Southeast Asian masterpieces like Warua – steamed rice topped with crispy fried tofu and chili sauce, pad Thai, mango sticky rice, tikka masala – roasted cauliflower in spices and so on. Every single vegan dish is finger-licking good.
Street food is a popular way to experience different countries and cultures. But what about vegan street food? This type of food offers an exciting, cruelty-free way to enjoy all types of unique flavors without having to worry about animal products.
It's a great way to sample different flavors without having to worry about the origins of the ingredients. In some cases, this kind of food can be more affordable than restaurant dining.
It's also a cruelty-free option that can be enjoyed by anyone, regardless of their dietary preferences. If you are a lover of traveling and experiencing new things, and at the same time you are a vegan, then these three locations are a must-try at least once in your life, and try authentic food that you will fall in love with.