Food is my therapy, apart from the cuisine.
It might sound insane, but as of my opinion, food has powers to heal.
Whenever I feel low, I will grab some food of my choice and switch on my favorite TV show and will sit back. It is worth a shot.
Food can drive me crazy, let it be a starter, main course, or a dessert. I guess some you feel the way I feel. It is proven that food can help reduce stress and anxiety.
Foods like herbal tea, avocados, dark chocolate, fish, milk, nuts, etc., will help in fighting off your depression and stress.
So, I prefer food when I am alone and tired, it seriously helps me.
Today we are going to talk about a specific food, it really plays a vital role in almost every cuisine.
This important food strives to hand completion in every possible dish.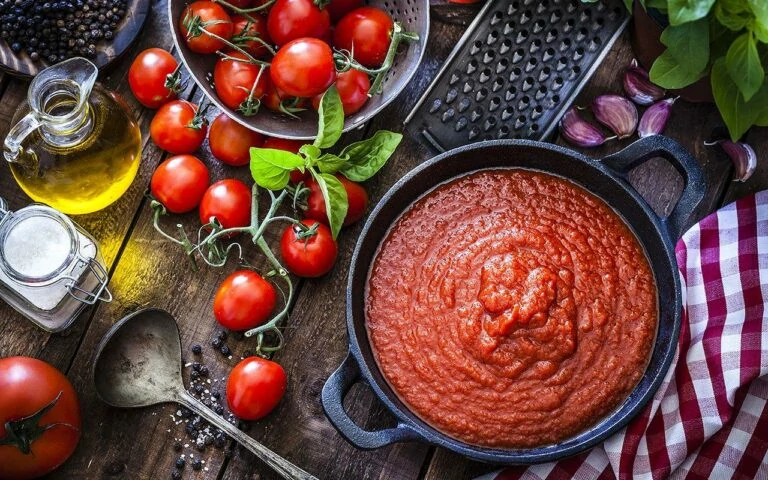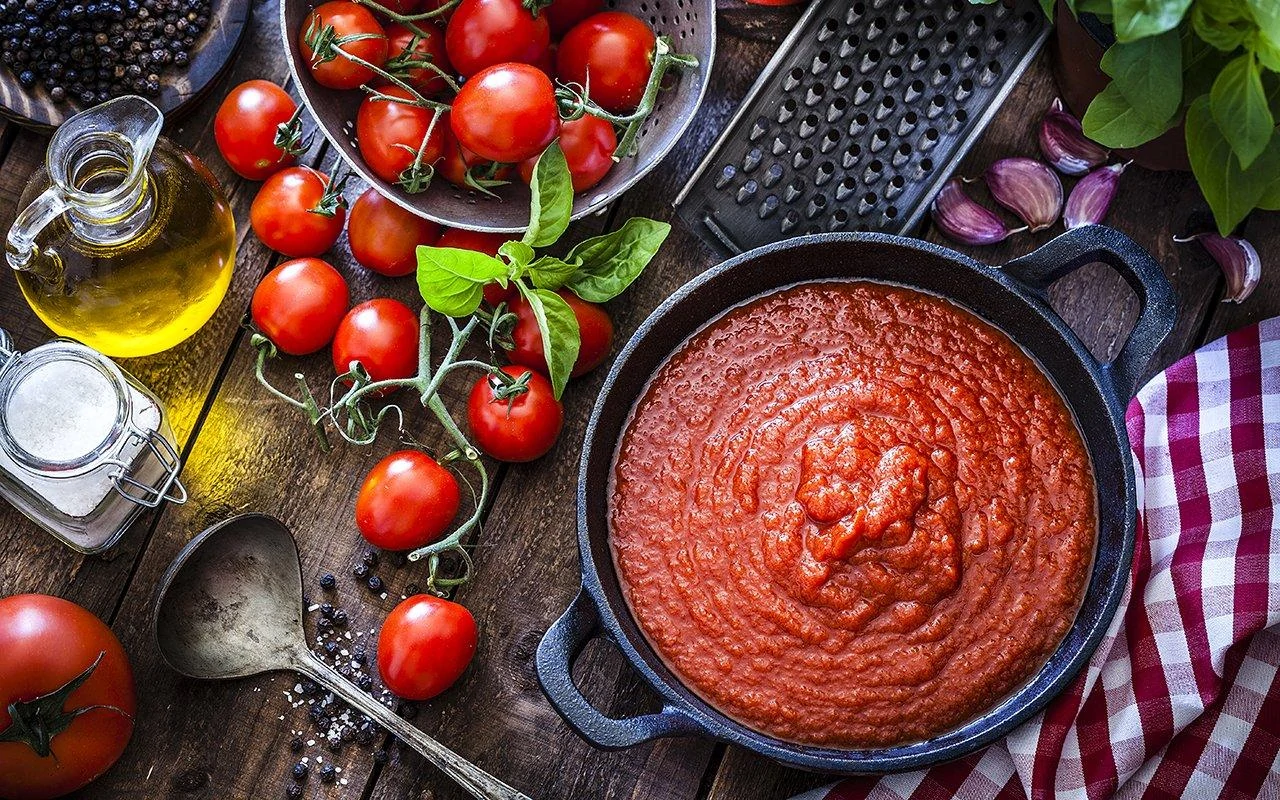 I am talking about sauces. Aren't they life-savers?
They will make your eating process easier.
A sauce is a liquid, cream, or semi-solid food served or used in preparing dishes.
The sauce is a French word taken from Latin salsa called salted.
A sauces' flavor will intensify the taste and make the dish better with its amazing flavors. They do not just add the flavor, but they will add moisture, color, nutrients to the dishes. Sauces will also bind all the ingredients together and will entice the dish visually.
There are various types of sauces made with distinct types of ingredients.
Marinara Sauce and Spaghetti Sauce are our heroes today. We are going to discuss both the sauces, the origins, the preparation, the ingredients, the texture, and what not everything. We can also clear the mere bewilderment left in every mind between marinara sauce and spaghetti sauce.
What Is Marinara Sauce?
Marinara sauce is one of the delicious sauces in the world.
Marinara sauce is originated in Naples, Italy. Marinara sauce, the name is very unusual, right?
'Marinara', don't you think this name is related to sea or something?
Yes, it is, kind of.
The term marinara in the marinara sauce comes from an Italian word called maranai or mariners'.
This was named like this because fishermen from the sea often used to put this type of sauce when cooking their fresh catch. This sauce is initially used for eating seafood. Marinara sauce can be used for making many dishes.
People assume that marinara sauce is all tied up pasta.
But the truth is it can be used in the preparation of many delicious dishes.
The marinara sauce has it's origin in Italy, but it is well used in Spanish and Filpino dishes too. Filpino classics like afritada, and menudo use the marinara sauce in preparation. It can also be used in a bowl of soup, one such is creamy tomato soup. Marinara is also placed in meatballs, shakshuka, pizza, minestrone, ratatouille, mozzarella sticks, and also in some fish dishes too.
What Is Spaghetti Sauce?
Spaghetti sauce is originated in Mexico. Spaghetti comes to our mind when we hear this.
Spaghetti is a staple food of Italian cuisine. It is a solid, thin, and long cylindrical shaped noodle pasta. Many consider calling spaghetti as past, instead of giving the particular name.
But spaghetti is different from pasta, it is just a type of pasta.
Pasta is an Italian dish for a category of food made from water and flour whereas spaghetti is long noodles like we discussed earlier. Spaghetti sauce can serve as a substitute for tomato sauce. Just some changes in tomato sauce and spices proportion would do.
Spaghetti sauce can be used in a countless number of dishes.
It can be used in meatloaf, muffin pizza, mussels marinara, simple ratatouille, chicken wings, salsa, eggs, veg noodles, quesadilla, cocktail sauce, etc. Sauces are incredible, they will lend their hand in every possible way.
It is preferable to make spaghetti sauce at home rather than bringing it in a closed container from a store. As preparing spaghetti sauce will not ask more of your efforts. Spaghetti can be eaten with alfredo, bolognese, marinara, and olive oil too.
Spaghetti sauce is often confused with many red sauces. Well! There is no surprise in that though. We can call it universal because it happens to everyone.
Today we are going to contemplate two delicious existing sauces. We are going to talk in what cases do they differ. This is a common problem faced by everyone, let's clear this out.
Marinara Sauce Vs Spaghetti Sauce: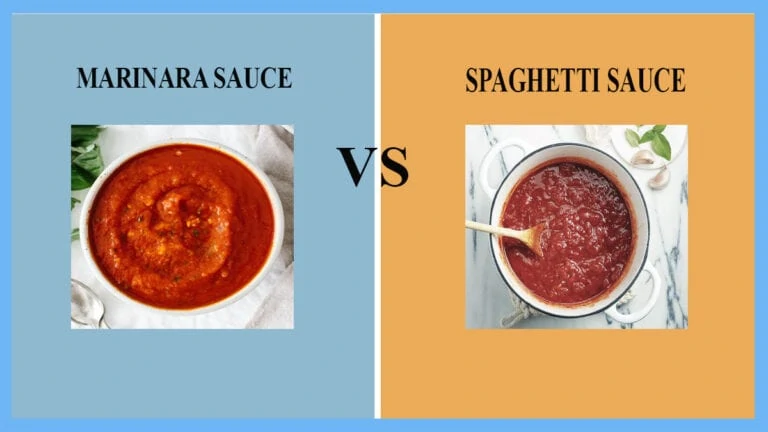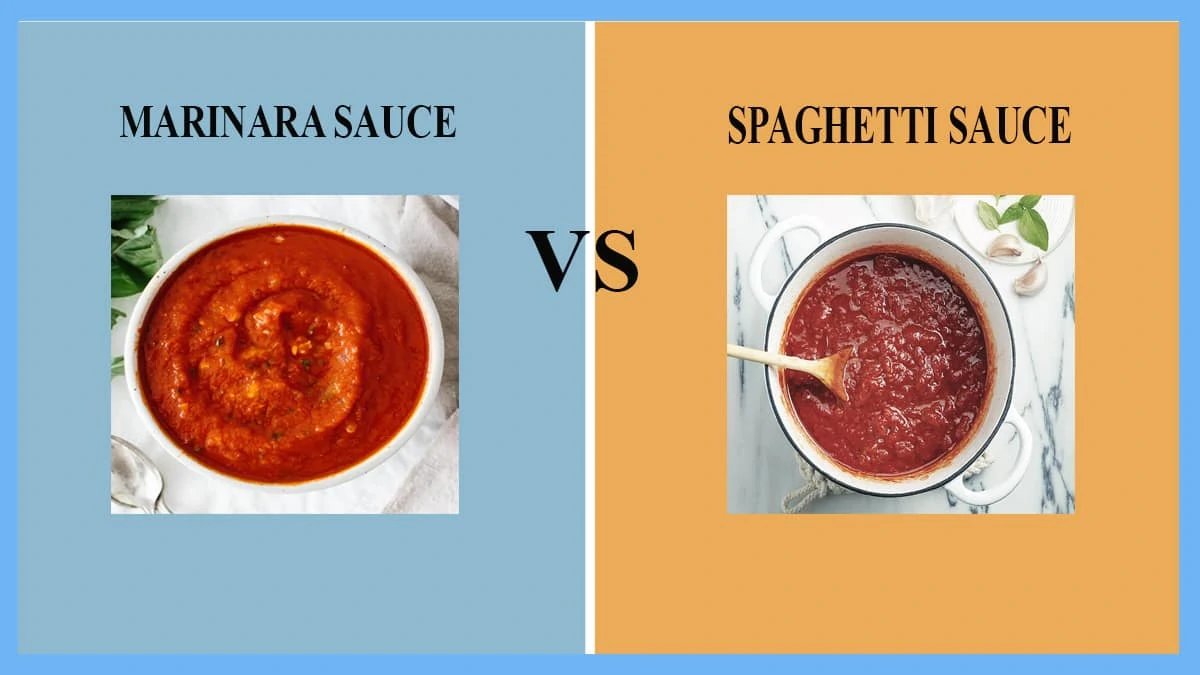 Marinara sauce and spaghetti sauce are of American-Italian cuisine. The marinara sauce is one of the most authentic dishes of Italian-American cooking.
These are referred to as interchangeable sauces in the United States. This happens because the marinara sauce and spaghetti sauce are pretty similar.
When brought from a store it is extremely tough to distinguish both. When made at home it is easy because we will the ingredients we used.
Some people are stuck in a dilemma when it comes to choosing one.
Marinara or Spaghetti?
Both seem the same, right?
But, they are not. It takes time but when you gaze your focus perfectly on every element, you will be able to figure out a solution.
If you dig deep down into the ingredients, preparation, texture, flavor, and profile of both marinara sauce and spaghetti sauce you will definitely be able to choose what you want to pick up.
The dish you are going to match the sauce with also matters, the flavor should be in proportion and the texture should be customary.
We can list out the ingredients, preparation, texture, flavor, and profile of both marinara and spaghetti sauce, then spotting the differences can be done at ease.
Ingredients:
Marinara Sauce and Spaghetti Sauce mostly comprise of the same ingredients.
The main ingredients of marinara sauce are tomatoes, tomatoes, tomato juice, garlic, onions, oregano, olive oil, and herbs like basil or thyme.
The marinara sauce will not have any anchovies, meat, or cheese involved in it.
Different ingredients are added to marinara in different places.
Chilli flakes and pepper are added in some places. Sour ingredients like wine, capers, or olives are added to marinara in some regions of Italy.
Marinara stays marinara when meat is not added.
Spaghetti Sauce has meat in it, whereas marinara doesn't.
Except for meat, all other ingredients are the same for marinara sauce and spaghetti sauce.
Preparation:
Marinara sauce and spaghetti sauce are quite different when it comes to the way of preparing and the time required for preparation.
Spaghetti sauce starts with chopping onions and garlic. They should be sauteed with olive oil and then comes adding the meat. It can be beef, neck bones, or meatballs.
On the other hand, the marinara sauce doesn't require any meat flavorings.
Spices and herbs like basil, oregano, and thyme can be added to spaghetti sauce.
Spaghetti sauce needs to be simmered for a long time as all the spices should combine well.
Spaghetti sauce needs more time to be ready than marinara sauce.
So, if you are looking for something simpler and quicker, the marinara sauce would be the one.
Flavor:
In the case of flavor, marinara sauce and spaghetti sauce are different.
As spaghetti sauce includes meat, the flavor will be mostly meatier.
Spaghetti sauce is the finest choice for creating flavor to a dish.
The marinara sauce helps in accenting a flavor and other flavors.
When you are going with some seafood pasta dishes or meat, choose a marinara sauce.
For delicate dishes use a smooth marinara sauce.
Texture:
Textures are quite confusing when it comes to both.
Marinara sauce can be thicker or thinner.
The traditional Italian marinara sauce has a thin consistency.
The Americanized version of marinara sauce is thicker.
American spaghetti sauce has a thicker consistency when compared to the traditional version of marinara sauce.
The meat, cream, cheese, and vegetables in the spaghetti sauce make it thicker.
This makes the traditional Italian marinara sauce versatile.
It can be either used for preparing dishes, dipping, and coating.
Thicker and reduced versions of both marinara sauce and spaghetti sauce are good for cooking dense and comfort foods.
These are the main elements that are present to show up the difference between marinara sauce and spaghetti sauce. Marinara sauce first originated in Italy has made it way to the United Nations.
Many changes were made there. In the United States, marinara sauce is called as a vegetarian style tomato sauce with Italian influence on it.
Marinara sauce serves as a base for many red sauces.
Spaghetti sauce is also served with the red or marinara sauce as the base, with meat and cheese on it. But it is not compulsory for a base to be present in spaghetti sauce.
Technically it can also be made without red or a tomato base. That is why they say that the marinara sauce can be a spaghetti sauce while spaghetti sauce cannot be a marinara.
So these can be used correspondingly.