You might be aware of the term '' if you can't stand the heat, then get out of the kitchen,'' aren't you? As it is so certain that cooking on high heat has provided us with a lot of recipes that contain some of the best tastes.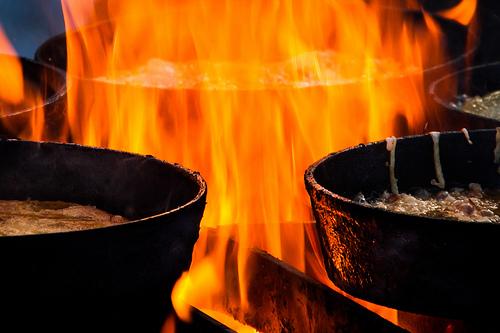 If you are a food lover and you frequently love to cook your food on high heat then you need cookwares that are capable of withstanding the high amount of heat. There are many dishes extremely delicious that are made on high heat, it adds flavor and that touch to the meals. In general, if you have heard people say "excessive temperatures cooking," they mean techniques such as stir-frying, sauteing, and searing meat.
When you cook your food items at an extreme temperature it tends to evaporate its natural moisture, this allows and makes it possible to shape the nutrients and proteins into a savory healthy browned surface.
Cooking at high heats comes with a lot of advantages but only when you have the right set of cookware available, otherwise it will be very dangerous. Ensure that the cookware that you use is capable of handling the heat. Having the right set of materials is always very important to carry out any tasks.
Today we are going to look at the cookware that can withstand high heat.
Cast Iron
As we all know the benefits of seasoned cast iron are so good at high heat cooking and also they are extremely durable. These types of cookware are to be used regularly so that they will stay with you for a very long time.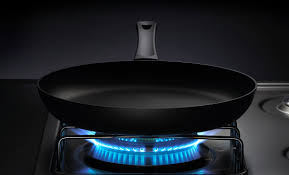 In most kitchens, cast iron is found and it can easily fit into the kitchen. This is due to its unbelievable heat-retaining potential and its versatility. Using an iron cast cookware on an oven, stovetop, grill, or directly over the open fire is safe and you can cook food with extreme versatility.
Undoubtedly seasoned cast iron cookware is the best for high heat cooking. They need a little amount of maintenance as it needs to be seasoned with a thin coating of oil after every use. On the other hand, they are also very inexpensive and durable which provides the value of the money paid. It's perfect cookware for high heat cooking.
Carbon steel
Carbon steel is a budget-oriented mid-range cookware material one can use for high heat cooking and it also provides us with the great performance so you can blindly rely on its capability and high heat cooking.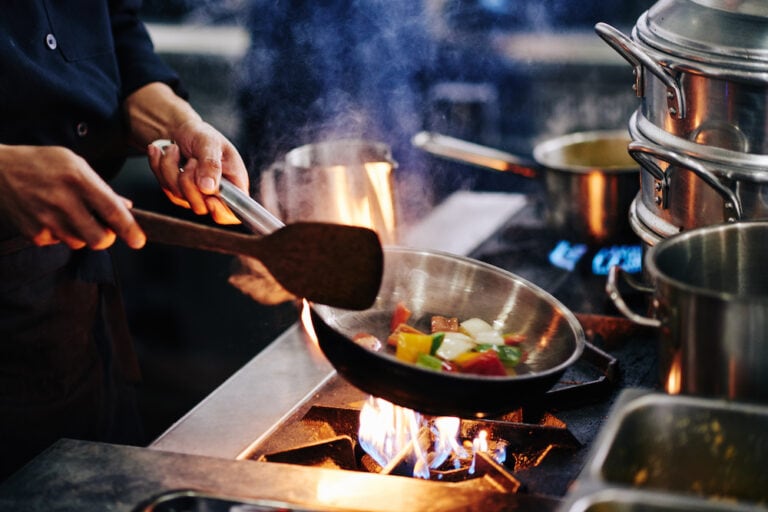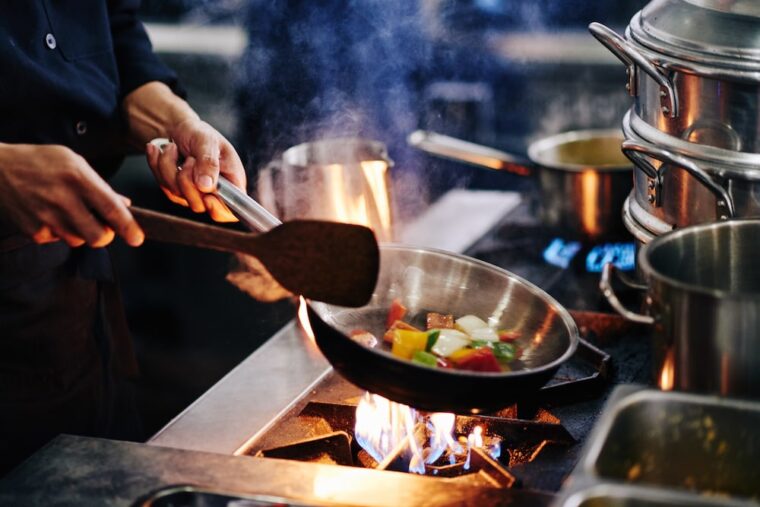 It can be a good compromise to stainless steel and cast iron. These types of cookware are lighter than cast iron and also slightly heavier than aluminum, stainless steel, or copper.
It can offer the same high heat benefits just like the cast iron and also requires seasoning just as iron does. If you are looking for mid-ground between the cast-iron compressive strength and stainless steel insulation then you can also go with carbon steel.
Enameled Cast Iron
Enameled cast iron is better than cast iron as it takes one step ahead by taking out the need for seasoning. These materials can cook at a very high temperature and can easily withstand high heat without any issues or difficulties.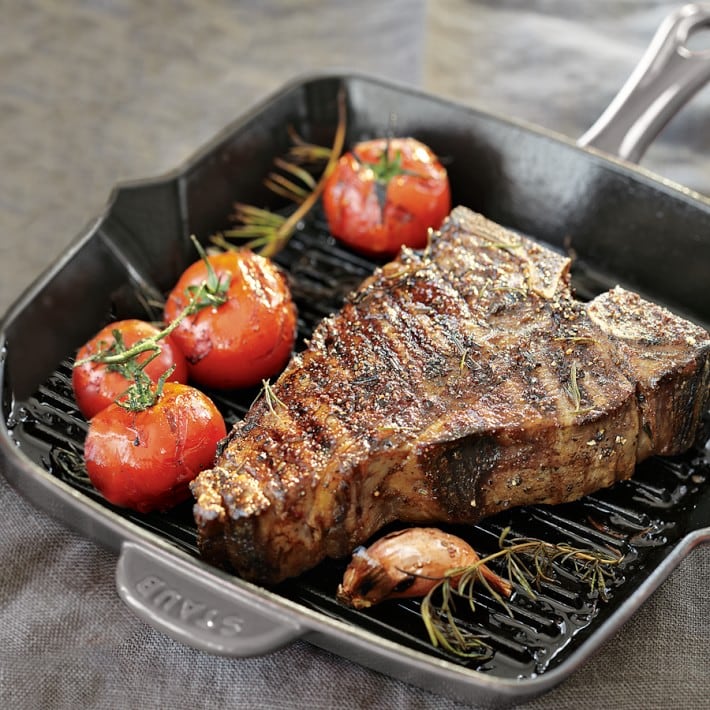 The cast iron base along with a ceramic enamel cooking surface is something that this cookware possesses. This helps the cookware to get added superior heat conductivity while you are preparing food at high temperatures. The cast iron cannot do this.
The only issue here is enamel cast iron does not have a natural non-stick ability as the cast iron has and the cost of enamel cast iron materials is also greater than regular cast iron. But if you are still searching for an equal distribution of high heat, the best thing to consider is enameled cast iron.
Stainless Steel Combinations
Stainless steel and its abilities are known to everyone, these types of cookware come with a good sleek design and amazing look. They are other cookware materials that can defend high heat cooking and can carry out high heat cooking temperatures with ease.
According to professionals, they are also more aesthetically pleasing and along with this, they are very durable. Stainless steel is very easy to clean as they are also dishwasher safe, so you can keep them neat and tidy after use.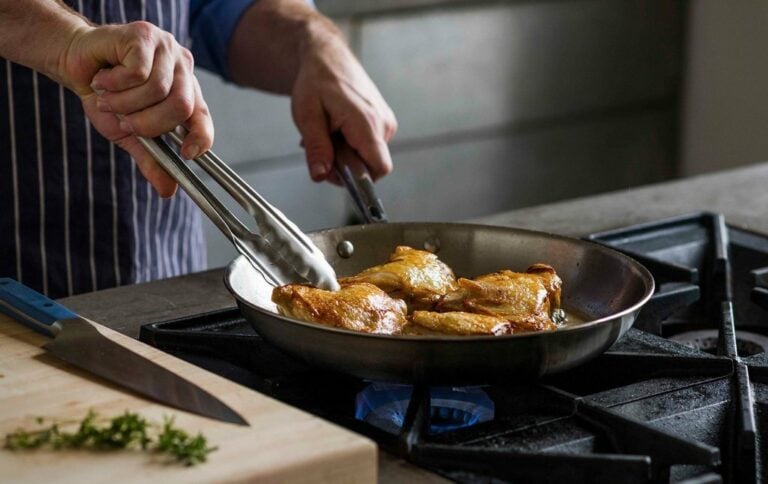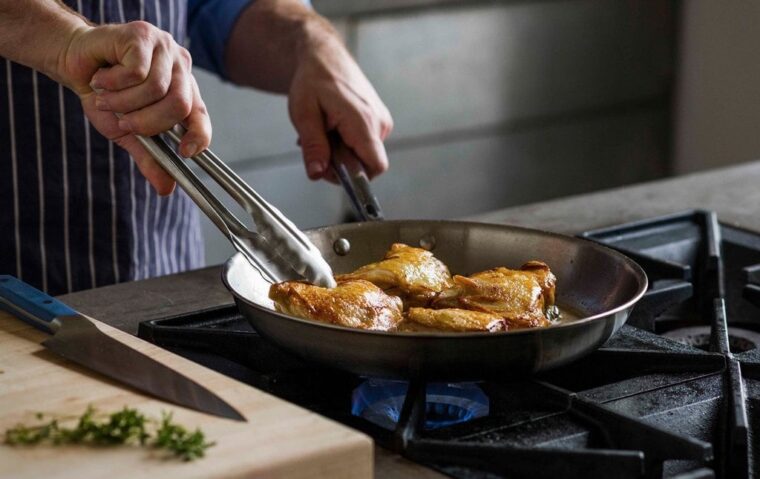 In terms of heat conductivity or resistance, they aren't the best choice to be made and this is the main reason for combining stainless steel with some other materials in high heat cookwares to get maximum usage.
Along with the heat power of other lighter materials, the insulation of stainless steel makes this hybrid cookware ideal for even, stable high heat cooking. Stainless steel cookware is also budget-friendly as copper or aluminum cookware is more expensive than stainless steel.
These are some of the products that can be used for high heat cooking
Lodge 12 Inch Seasoned Carbon Steel Skillet
If you require cookware that is light in weight, then this 12 Inch seasoned carbon steel skillet from Lodge is the right option for you. This cookware heats up quickly and it also distributes the heat equally for good cooking.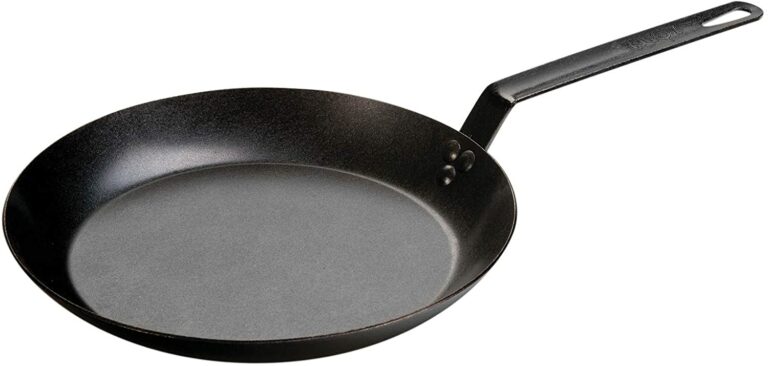 This cookware is cheap and it also offers good quality performance in high heat. It can be used in any cooktops that comes with a stovetop.
The handles offer secured handling as they are attached to the cookware with 3 rivets.
Pros
These skillets are available in various sizes.
It can be heated up quickly.
Cons
Its surface may be a little rough.
If you are thinking of buying this then you can click on the link to check the price
https://www.amazon.com/Lodge-Seasoned-Cast-Iron-Skillet/dp/B00006JSUB/
Lodge 10 Inch Cast Iron Chef Skillet Pre-Seasoned Cast Iron Pan
This cookware from Lodge has hundreds of customers ratings on Amazon that ensures stability, adaptability, and performance. This cast-iron skillet has outstanding heat retention and heat distribution system.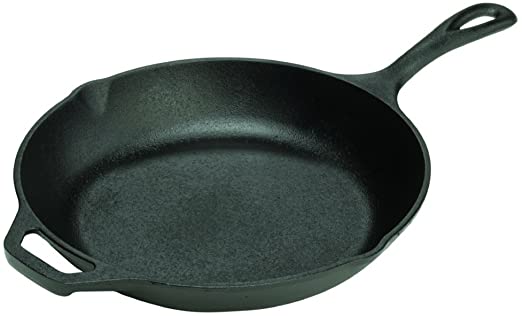 You can start cooking as soon as you buy it as it appears with a pre-seasoned coating. This 10 inches cast iron from Lodge can be suited with any cooktops that include induction.
This is the perfect cookware for you to cook your best-loved searing, baking, sauteing, roasting, braising, and even frying meals.
The sides of the cookware come with sloped sides and have a teardrop-shaped handle. It includes adequate space for cooking several meals.
Pros
Very sturdy.
Can be used for various cooking methods.
Reasonable price.
Amazing heat retention and heat distribution.
Cons
Requires a lot of maintenance.
Very heavy as it weighs up to 4.5 pounds.
If you are thinking of buying this then you can click on the link to check the price
https://www.amazon.com/Lodge-Skillet-Pre-Seasoned-Sloped-Sautes/dp/B00008GKDJ
Lodge 3.6 Quart Enamel Cast Iron Casserole Dish With Lid ( Caribbean Blue)
This is an enameled cast iron from Lodge which has the capacity of unparalleled heat retention and equal heating. As it includes a smooth surface of the glass, it does not require seasoning.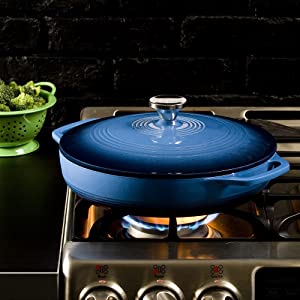 This cast iron allows you to bake, broil, braise, fry, saute, simmer, and roast up to 500 degrees Fahrenheit. You can also use it for marinating, refrigerating, and serve delicious meals.
This cookware from Lodge is safe to be washed with a dishwasher but it is recommended to use handwashing for an enduring surfacing.
This cookware offers a reasonable price and allows you to cook at high temperatures and prepare mouth-watering meals for you and your family members. This cast iron dish is sturdy and also comes with a guarantee for many years.
Pros
This cookware does not require seasoning.
Powerful and sturdy.
Can be used with any type of cooktops.
Cons
As this cookware is not nonstick it can make the surface rough.
If you are thinking of buying this then you can click on the link to check the price
https://www.amazon.com/Lodge-Casserole-Enamel-Handles-Carribbean/dp/B000N4UX4Q
Conclusion
Having the right set of tools or products is a very important thing to carry out any task, yes you heard that right! Even for cooking, you need the right set of cookwares to get the best results.
The best cookware for high heat cooking is given by the four styles of cookware materials. You'll end up with one of these, depending on the conditions you like the most. Talking about cast iron and enameled cast iron, they are generally expensive but also have value for the money as they are very useful.
Stainless steel has a good price for tight budgets. The iron cast is best for high heat cooking and non-stick features along with great durability. I would recommend going with cast iron.
Today we explored the cookwares that are capable of high heat cooking and also reviewed some products. If you want to shop for cookware that is high heat resistant then you can go with the products on the list as all of them are reliable.