A lot has happened in a few short years. We went from asking, does weed cause seizures to creating top-of-the-range recipes using the finest weed now that it is legal to use in several parts of the country. Hopefully, more is yet to come, and people are becoming more creative when cooking with cannabis. Gone are the days when the only edible anyone could think of was a firecracker.
So, we curated a few recipes that you can try with your marijuana if you want to take the edibles experience to the next level.
Recipe 1 – Cannabis Gummy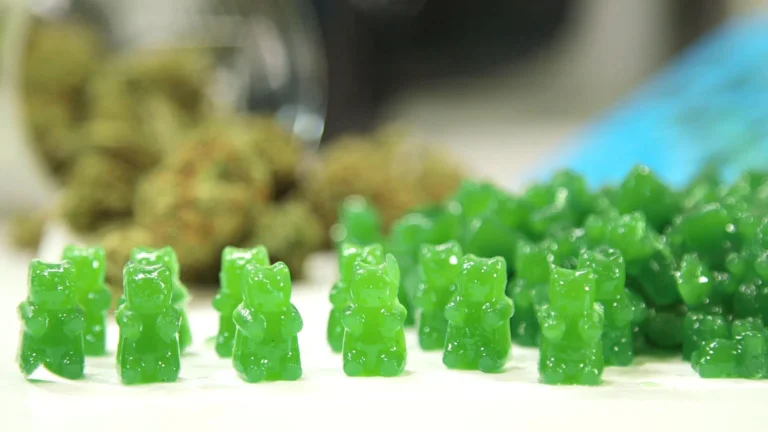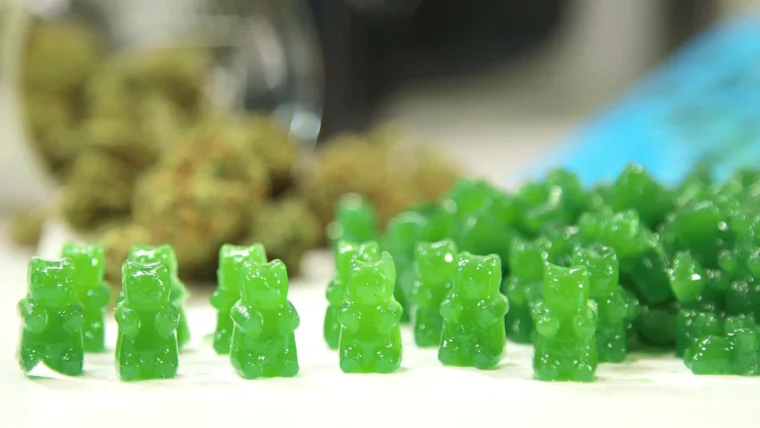 One of the most popular edibles has to be gummies! You may want to store them safely if you have kids in the house, as they could easily mistake them for the regular store-bought gummies. Anyone can try this cannabis gummy recipe as it is easy to follow and the ingredients easy to find.
Ingredients
1/2 cup cannabis oil
1 packet of Jello (this will be 85 grams)
2 tablespoons unflavored gelatin
1/2 cup water
1/2 teaspoon soy or sunflower lecithin.
How to Make It
Add the water, lecithin, and canna oil to a saucepan, then place it on the stove to heat up. The heat should be as low as possible so as not to rush the process.
Whisk this mix while still on low heat until the gelatin dissolves. This usually takes about 15 minutes, so be prepared.
As soon as the mixture is fully consistent, start putting it in your moulds, a step you want to get to quickly before it hardens. You want to stir as you fill the moulds for the perfect results. Place them in the fridge for 25 minutes or until they harden properly.
You can then transfer them into airtight containers for storage. They keep fresh for longer in the freezer, so you may want to transfer them there if you don't intend to finish the batch.
Recipe 2 – Marijuana Brownie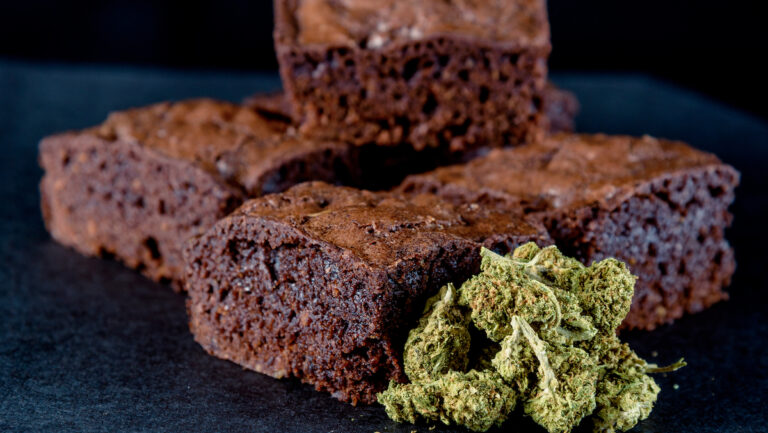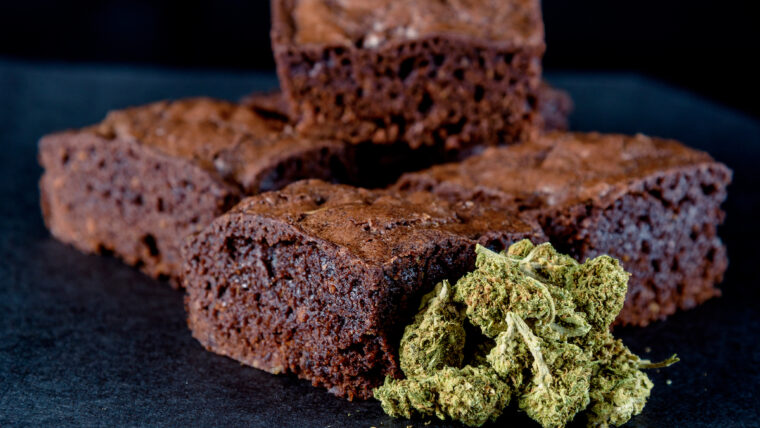 Pot brownies are all the rage and a timeless classic, but how about switching things up a little? You can add a few ingredients that aren't all that common in many cannabis recipes to make it better. We will add some caramel fudge and cannabutter to our weed brownie recipe for the extra kick.
Ingredients
For the Caramel:
1 1/4 cups white sugar
3/4 cup heavy cream
3.5 tablespoons water
1.5 teaspoons sea salt
4 tablespoons of butter – unsalted.
For the Brownies:
1.5 cups unsalted butter
2 tablespoons Premium Cannabutter
280 grams finely chopped dark chocolate
1.5 cups regular sugar
1/4 cup cocoa powder or cocoa nibs – unsweetened
2 teaspoons vanilla extract
1/2 teaspoon salt
3 large eggs
1 cup all-purpose flour.
How to Make It
To Make the Caramel:
Cook the sugar in low heat in a saucepan with water, swirling the pan till the dark ambers of caramel form.
Add the butter and the cream, then the butter, and start whisking slowly to mix it all properly.
Add your salt, whisk some more, and then set it aside.
Transfer your caramel into a bowl and place it in the fridge to cool for at least two hours.
Now the Brownies That Are a Hit When Cooking With Weed:
Preheat the oven to 325°, then butter the baking tin for the mixture.
Melt the butter and the cannabutter in a bowl, add your cocoa, chopped dark chocolate, sugar, vanilla extract, and salt, and stir until perfectly smooth. To melt the butter, keep going while the bowl with the mixture is submerged in a saucepan with hot water.
Remove the bowl from the water and whisk in those eggs.
Add the flour and fold until everything is fully incorporated.
Transfer the batter into a lined baking tin and bake for 40 minutes.
Insert a tester to check for readiness – it should be moist with some crumbs attached to the tester.
Note: The brownies can keep in the freezer for up to one month and three days in the fridge. Caramel is good for another two weeks in the fridge. Enjoy!
Recipe 3 – Weed Butter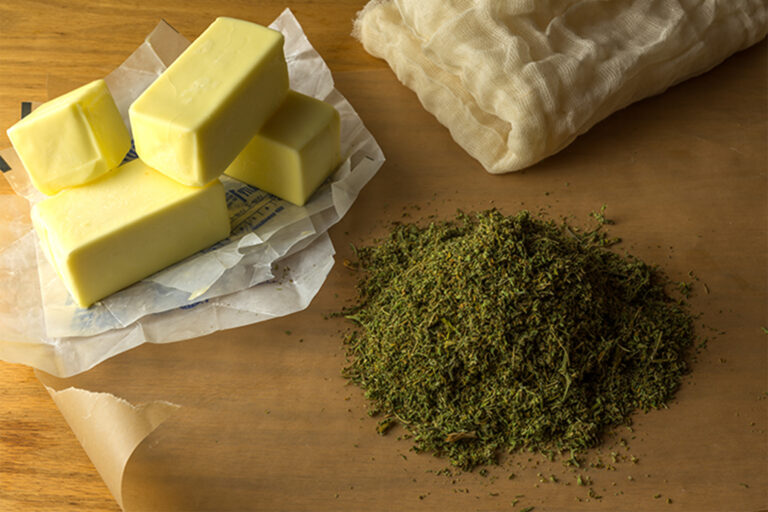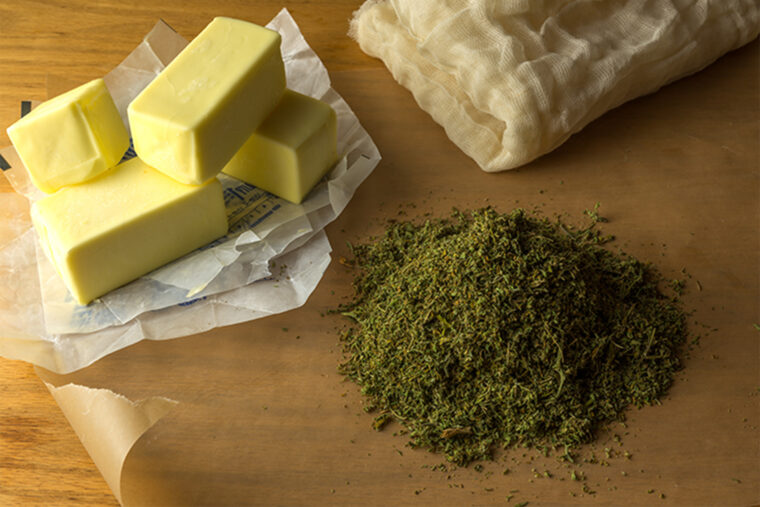 Cannabutter is the ideal ingredient for weed edibles because it contains fat that binds perfectly with THC. It is also delicious and versatile and can be used in a ton of recipes. Cannabutter is not hard to make, as we will show you in this recipe below.
Ingredients
The ratio for cannabis to butter is 1:1, but you can reduce the amount of weed if you prefer it milder. Why use decarboxylated weed? Because this process converts the THCA in the product into THC, that has a better effect on the mind. You will experience a high with THC that you wouldn't with undecarbed weed. You decarboxylate your weed by heating it in the oven before adding it to your other ingredients.
How to Make It
Place a parchment paper on a baking sheet and place it in the oven to preheat at 245ºF. Place loose bits of weed on the baking tin and leave it there for 30-40 minutes. You can turn it gently halfway through to ensure all sides receive the same treatment.
Grind the dried-up cannabis using a grinder or hands. After that, melt the butter in a saucepan, add water to prevent burning up, and add the decarbed cannabis to the fully melted butter. Leave it to simmer in the oven at 160-200ºF for about three hours. You want to avoid heat higher than this as it would kill the cannabinoids, and you will want to stir regularly to ensure it doesn't come to a full boil. The idea is to cook the mixture consistently in low heat.
Use a mesh strainer or cheesecloth to eliminate the plant product in the oil that you will store in a jar. You do not want to squeeze the cloth as the strained product could add chlorophyll into your butter, which isn't a pleasant taste. Refrigerate overnight.
Growing Marijuana as an Alternative
Growing your own marijuana is an exciting alternative for enhancing your cannabis cooking experience. By growing your own cannabis, you can have a fresh and personalized supply of marijuana for all your culinary experiments. Start by obtaining marijuana seeds from reputable seed banks like Zamnesia. After germinating the seeds, transfer them to a suitable growing medium and provide the necessary light, temperature, and humidity. During the flowering stage, the plants develop cannabinoid-rich buds that can be used in your recipes. Harvest the mature buds, dry them, and cure them to enhance flavor and potency.
Conclusion
These are only three of our top recipes, but you can be as creative as you wish with your cannabis since cooking with it can be quite versatile. The sky's the limit for your creativity and cooking genius!
As we always advise with edibles, start slow to get the best results. You want to give your edible 45-60 minutes for the high to kick in before indulging in more. Only after this time can you tell whether your body is ready for another bit. You can learn more on AskGrowers.