When the question comes about sharpening a Japanese knife, everyone panics. It is common as; the delicate structure of every Japanese knife should be kept in mind. Usually consumers or the users prefer to use stones to sharpen this delicate knife. However, Japanese knives have their unique charm. You might find yourself very much privileged when using a Japanese knife. It will surely provide you a fantastic experience while cooking.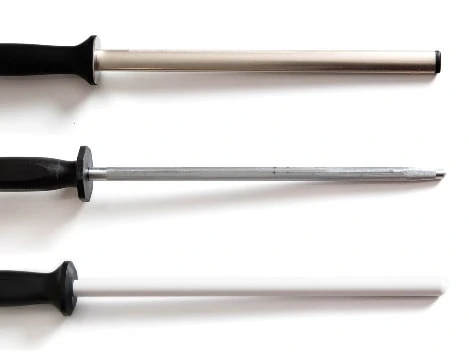 The most important and precious element inside your kitchen are the knives. You will not like it dull or blunt. It is always your job to sharpen your knives in a right way.
If you are still wondering how to sharpen your Japanese knife or knives, I will help you with it. Let's see what we should not be doing while sharpening your delicate and pretty Japanese knife.
Can I use steel for Japanese Knives?
Earlier people preferred stones to sharpen their knives, even today some consumers prefers stone but not all. They go for steels when it comes to sharpening. It is advised that never to use steel when comes to sharpening of Japanese knives. Single bevelled knives, such as, Deba, Usuba and Yanagiba which are also known as Kataba blade. These knives should completely be avoided from steel.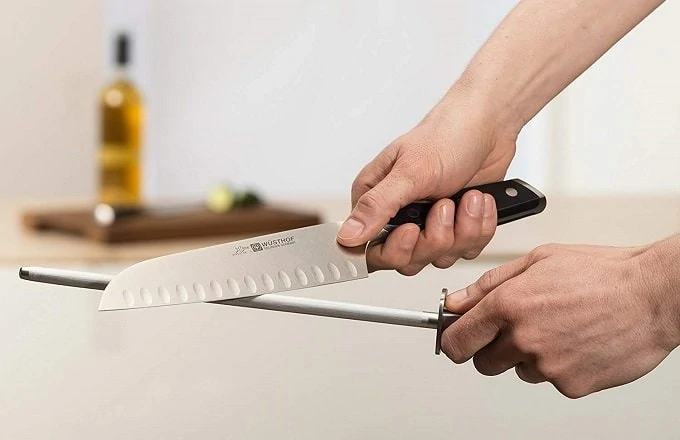 On the other hand, utility knives or knives used by chefs i.e. Ryoba blades can have a slight tone up on steel. You must be extra careful when doing this task.
However, when it comes to honing steel, it does remove a small part of metal and re-align the burr to a straight line. This helps with the cutting ability. It is not entirely true that honing rods are nor good for Japanese knives. Everything varies from region to region. It is you to pick the suitable honing rod for your knife.
There are main steels you will come across.
Stainless steel honing steel
Ceramic steel
Never Buy Honing rod of this steel.
There is a steel which is not recommended for sharpening of your Japanese Knife. Diamond steel is the worst choice when it comes to sharpen Japanese knife. It is the steel you should not buy, as this might damage your blade to a great extent. In a very short time, it will remove a great amount of steel from the edge of your blade. Many mishaps can happen if you tend to apply a little extra pressure while honing your blade.
Stainless Steel honing can be coarse for your Japanese knife. You might search for a smooth and fine-tooth honing rod, but it is hard to find it in the market and it might cost a lot.
Let's come where you will be making a right decision for a Honing rod.
How to use a Honing Steel?
If you are a professional, you will know a few things to keep in mind when it comes to honing rod. Nevertheless, being an armature, you need to keep some rules in mind. The honing rod should be longer than your knife. A few inches long will also help. You just must make sure, to use the knife on the honing rod easily and comfortably. This will give the knife a sharp and smooth end.
Secondly, you must keep in mind the quality of honing steel that you are using. Not every quality steel goes on with your Japanese knife. You must make sure that the honing Rod is harder than your Knife. It should be made up of metal, ceramic or other harder materials. It is advised to use harder materials because it will prevent your knife from damage.
You need to keep in account that a sharp knife is a safe knife. Honing is important to keep it sharp and textured. What does a honing rod do? Many come up with this question. Well, honing helps in the alignment of your knife whereas, a sharping stone removes the materials on the knife. Most of us fear, damaging our precious Japanese knife, if used on honing steel rod. But, on the hand, sharpening on the stone will fail to align it.
In case, the honing steel is made up of any harder material than that of the knife, you can easily use your Japanese knife on the honing steel with care. It will sharpen as well as give an alignment to your knife.
It is a fact that the hardness of the Japanese knives is not comparable enough. They are too hard. The only type of honing steel rod used for Japanese knives are made up of Ceramics and not with steel. Most of these slightly act as a whetstone, this will remove microscopic materials from your knife giving it a sharp edge removing the burrs along with re-alignment.
Do I really need a Honing steel?
It is very much vital to have a honing steel for your knife, and especially for your Japanese knife. As the saying goes, sharp knife is a safe knife. Your kitchen will need this product for sure because you will not want your food to taste a bit awkward because the cutting wasn't right. You don't really want to degrade your food quality. On the other hand, you can prevent yourself from hurting by a blunt knife. If the knife isn't sharp, a high possibility always arises of slipping of the blade and end up cutting yourself.
If you think, honing rod is still of no use, let me tell you one thing, this is the only tool on which you can calmly align your knife and as well as sharpen it. Without it, it hard for you to take care for your delicate knife. To keep your blade in optimal condition, it is better to use this fast and super easy process of honing a knife. You will definitely not find any trouble learning this new skill, of using a honing steel with a very little practice.
And, lastly, you definitely need a honing steel for your precious Japanese knife.
How often do I use Honing Steel?
If I talk about other knives, those are soft, like European Knives, it is recommended to sharpen it frequently. You will understand the need of honing steel at that moment when your knife is not being able to cut the soft vegetables clearly. In case of a Japanese knife you will surely not need to sharpen it on a honing steel frequently. The knife will be on verge of damage and might loose its ability.
If you find that the knife has lost its sharpness and you are finding hard to even cut a tomato into pieces than it's the best time to sharpen the knife.
There are some prevailing models of honing steel in the market that you will surely love to have a look at.
Mac Knives Ceramic Honing Rod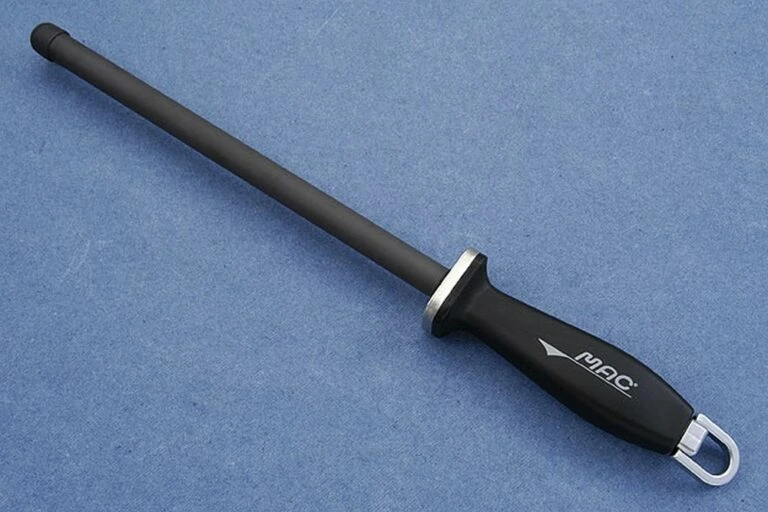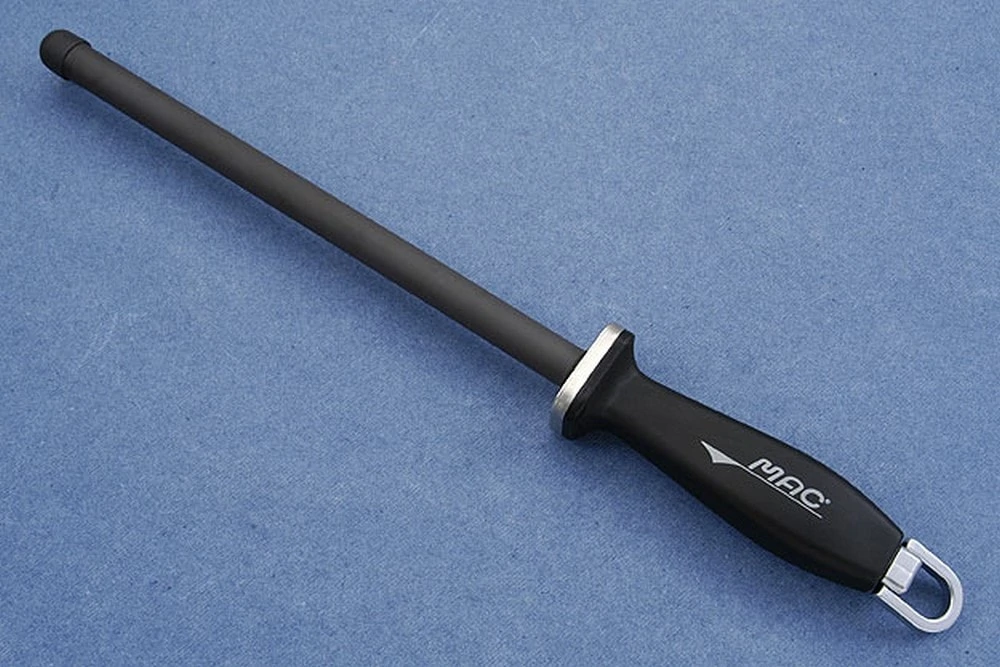 Firstly, this product will grab you by your eyes. This beautiful honing ceramic is 10.5-inch-long and is one of the longest honing steels in the market. It is very much suitable for your 9-inch-long blade. It excels in its job. This product is highly rated for its hardness on the Rockwell hardness scale.  It has a 2000 grit edge and will not remove material from your knife. It will just hone and realign your blade's edge, and not sharpen it like stones or diamond coated products will. This rod is available for all professional and non-professional kitchens. Though you might find it to be a little pricy, it can stay as a long-time investment. This product can run over two decades and more. However, keep in mind not to drop or bang this rod around, this might shorten its lifespan and will also damage its ability. It can be the best product to use for your Japanese knife.
DMT CS2 12-Inch Ceramic Steel
Another yet more efficient honing rod for your Japanese knife is DMT CS2 12-Inch Ceramic Steel. It is easy for you to get the polished and super refined knife without any worry. It has an excellent grip and can be controllable. This may not be as long as 10 inches just like the previous product but its long enough for your blade. The smooth and textured knife is now easily achievable with this rod. It takes care of your blade sharpening and the quality is also very good. The DMT uses industrial-grade ceramic that is just abrasive enough to help sharpen the blade as you use it. This also have a good lifespan if taken care properly.
Although its not that cheap in the market, but an investment for long term is suitable enough for your blade to work in good condition.
Mac Knives Ceramic Sharpener
Mac Knives Ceramic Sharpener is something unique to find in the market. It has a beautiful look and is good enough for your Japanese Knives. It has a ceramic rod which is again helpful for your knives to get polished. Although it is made up of a wooden handle for its great looks, many might not like or won't be fond of the handle. But the it excels in its main job.
However, this works well on all the Japanese knives present in your kitchen.
Work Sharp Culinary M3 Kitchen Knife Sharpener
The fourth option on the list is Work Sharp Culinary M3 Kitchen Knife Sharpener. This product is something that is known to every beginner in the kitchen. It has its own abilities and uniqueness. This has turned out to be one of the favourites of the users and viewers.
Let me tell you something about this product. It has the ability to interchange the honing rods and more specifically it comes with two rods, i.e. a ceramic and a diamond rod. In this way you can not only sharpen your Japanese knives but also other knives present in your kitchen. Another awesome added ability this has is the ability to sharpen serrated blades.
Let's add more features to this tool. Another great feature lies in its handle. There is something called a "micro forge" tool present in the handles by which you can hone and sharpen both the edges of your knife at the same time. However, this shouldn't be used with the Japanese knives, you are free to use in on your ceramic blades. It is very much comfortable and easy to grasp in no time.
Messermeister Ceramic Rod Knife Sharpener
The next product is yet another high-quality ceramic rod, needed in every kitchen. You will be happy to hear that it is cheaper than the above-mentioned products. This doesn't mean that it will lose the ability to hon your knife. It combines industrial-strength ceramic with honing steel to create one of the best preventive maintenance tools on the market. The quality of steel is very hard and comes up with 1200 grits, the ceramic comes up with an abrasive property which helps to sharpen and align. This rod will not damage your blade as it has this damage preventive ability in it.
Zwilling J.A. Henckels Twin Pro S
This product helps with awesome grip to it. There is a loop at the bottom of the handle and the finger stop looks more like a sword hilt than a finger stops. This makes it a really unique design. However, you will be surprised to know that this rod is not made up of ceramic but harder steel. Don't fear to use it as the quality is very hard and won't damage your knife. It will surely readjust and align your blade back to normal.
However, many users might not prefer this tool as they find it uncomfortable to use it due to the hinderance caused by grooves. As this something for frequent use you wouldn't want it to be uncomfortable. I'm not entirely sure how well the finger stop is going to actually STOP your fingers because it only covers two sides of the tool, you should be careful while using this while sharpening.
Wusthof 4455 10-Inch Sharpening Steel
Be it a chef or not you must have heard of this brand Wusthof. This company is always refereed when it comes to cutlery or a honing rod or any other kitchen utensils. It gives the best quality product at a bearable cost. You will be happy to know that the body of the rod is made up of durable ceramic material. You can trust this product with your eyes closed. Wusthof really thinks about the way you would handle the rod and the blades, the reason the grip is made much more comfortable enough for you to use. It has a slip-resistant plastic handle which will give a good grip. If you're out of drawer space, the end loop is ideal for creative storage solutions.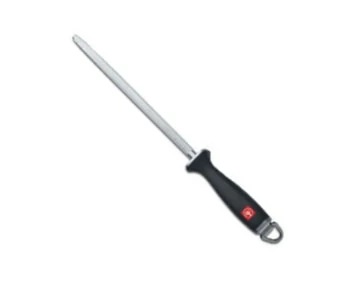 Let's make one thing clear, as this product is made up of durable ceramic material that means it is hard enough for soft knives. It is best for your Japanese knives as it will give it a perfect sharpen and polished edges. Make sure you don't use it on your softer knives as it will severely damage your blade. To clean, just wipe the rod off with a damp cloth after each sharpening session.
A quick guide for your Japanese blade and honing rod. If you are using these products on a regular basis you've to take care of both the rods and your blades. It is for sure using the rod on your Japanese knife frequently will keep it sharpen. With proper care and maintenance, a Japanese knife can run over a lifetime. You should not cut down the maintenance and regret later on.
Another way you can prolong the life of your knife, and the honing rod itself is to periodically treat the honing rod with mineral oil. This, however, isn't really necessary, but at the very least it will keep your rod from oxidizing before its time.
Using a Honing Rod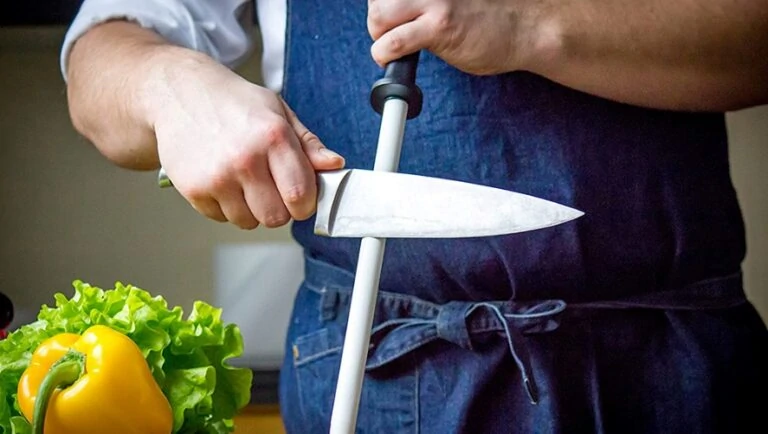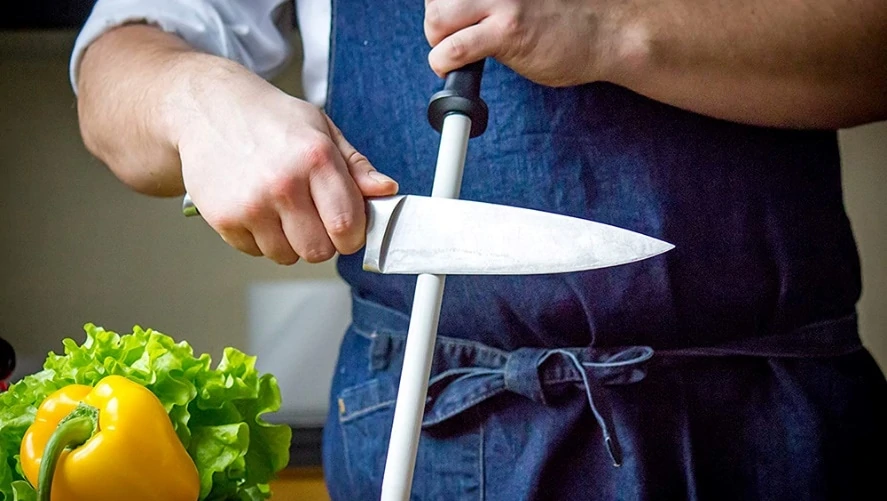 You don't need to have to study rocket science neither do you require professional skills to learn this ability. Using a honing rod is not difficult, you can learn it with a very little practice. With the daily use you will seem to be a professional in using it.
Rest the rod at a comfortable angle and it should sit vertically.
It is advisable to keep the rod at the correct angle throughout the process.
Starting at the base of the knife, slide the length of the blade down the rod. Swipe 3 or 4 times per side.
Do not press hard against the steel. Light pressure will do the job just fine. If you don't notice any improvement, check the angle before attempting to increase the pressure.
It is also good to hone your knife before and after use.
Never use a dull knife to chop your vegetables or fruits. A dull knife can ruin the flavours and edgy cuts might not seem to be presentable enough. However, it will bruise the herbs and make it taste different.
Having a sharp knife will lessen your time and chores. The meat and vegetables will chop off clean. Second, and more important it can be very dangerous if you are having to force the knife to cut the meat by pushing down on it. Pushing on the meat results in jagged cuts and increase the likely hood of an injury.
A fast knife will make your life and food both easier and simple.
As by now, you've come to know that a Japanese is delicate and precious enough to take care of. You would definitely want your Japanese knife to work for a lifetime. You've to keep in mind a few things.
You should avoid cutting that is frozen and too hard to cut. Or else you will see that your blade has developed Knicks.
Stick to wooden boards and not any other material board such as metal or glass. It will destroy your blade.
Never put your blade into a dishwasher. It will fail to clean itself properly and might scratch other utensils. Stick to hand wash. And do not immerse it into water for long.
Right after giving it a good wash dry it properly so that it doesn't oxidize and starts rusting.
Never leave the knife on the sink with piles of dishes on it. However, strong the knife maybe it might get bent or damage its structure.
For sharpening it is preferred to use Japanese waterstone. For honing a good durable ceramic material rod is required.
Japanese blades differ from those used in western countries. The blades are much harder and stronger. Japanese blades are delicate and can soft compared to those in the western countries. So, you've to careful when choosing the honing rod. Remember the rod should be stronger enough than the blade so it doesn't damage the knife.