If you have limited storage or are tight on budget, then mini freezers is your best choice.
Offering limited storage space for your food, they are suitable for a smaller and compact space like an office or a college dorm. And you have my word, that it will keep your food fresh and cool.
If you are unsure of which mini freezer, you should invest in, then you are in the right place.
In this article, I am gonna walk you through ten different models, explaining about the features, benefits and why you should pick a certain model. and though each model is top rated, I have also mentioned some practical issues that you might face in future in a particular model.
The link to an online portal through which you can purchase a model is also linked with each product, you can also see for the price.
If you are a first time buyer, I would suggest you to begin by taking a look at our comparison table below. The table consists of three columns, first belongs to the name of model reviewed, then the capacity of model, followed by features of the model.
There are four
Things to keep in mind if you are considering buying a mini freezer:
1. Budget:
There is a high chance that if you are considering purchasing a mini freezer, you are not ready to spent a lot on your refrigerator.
Now I am not judging, and wanna just help you find a freezer that is suitable for your budget.
Different models have a different price based on the style and the kind of features they offer. You can decide at the features you want according to your budget.
2. Capacity:
In simple term, the capacity of a fridge is the usable volume or basically how much food you can keep in it. Usually the capacity of a freezer is measured in cubic feet.
I will be honest with you, these compact sized freezers provide limited storage hence while investing into a specific model you might keep in mind, the purpose you are buying the freezer for.
Also remember that two models can have the same dimensions but different capacity, this is because every manufacture use their own way of minimising the floor space, which can be done by arranging the shelves and providing number of bins attached to the door.
3. Size:
The basis difference between size and capacity is when I use the term "capacity" I am referring to the space provided inside the fridge for your food, while the term "size" refers to the space the freezer takes in your kitchen. As compared to a full sized refrigerators, they take up less space and are ideal if you have limited space in your home or office. They come with drawers and adjustable shelvers.
From my experience, there are two things that you should know about size:
Firstly, there is a compressor at the back of the fridge, which is responsible for the cooling, however it tends to get heat up, and needs proper ventilation, so my advice is to not stick your freezer to the wall and shall add up a few inches to your measurements, Secondly, your measurements must allow the swinging of the door, thankfully most of the models reviewed below come with reversible doors.
4. Energy Usage:
As mentioned above, the compressor on the back of the freezer releases heat, which result in unnecessary waste of energy.
It is recommended that you invest in a model which is Energy Star rated as they are energy efficient and better for the environment.
It will also help you save a lot of money and have shown better results in the long run.
Different Styles Available
People who say that "looks don't matter" have never seen beautifully styled appliance, if you are like me who not only goes for the features of a kitchen appliance but also likes to have a beautiful kitchen then you are in luck, because these compact freezers come in different styles:
Cube
Living up to its name, this style comes in a form of cube and is the commonly used styled, as it can hold up ore stuff irrespective of its size and is easy to fit in small area. Though they are comparatively cheaper, they are not well insulated.
Midsize
Having size between 80 to 96 litres, this style is slightly bigger then cube fridge. They are expensive as compared to cube sized but they can hold more goods and come in with locks and reversible doors.
Under the Counter
Providing a large storage between 3.5 to 4.5 cubic feet, these are the biggest compact freezer and hence are expensive. They come with features like canned drink dispenser, locks and separate crispers.
Beverage Fridge
As the name suggests, these freezers are specifically designed to stored beverages. They provide certain temperature appropriate for drinks.
If you are wine fan, then this fridge is your best choice, as some models are specifically made for storing wines, they provide appropriate temperature and come with tinted doors to prevent UV rays to enter and spoil the taste and quality of your wine.
Things to remember before investing in a mini- freezer
Now before I suggest you some of the top rated models, I would like to share some of my personal tips, which you must keep in mind while investing in a mini freezer, these are-
If you are gonna keep perishable items in your fridge like meat, you would really like to keep your distance from models that use superconductor or thermoelectric.
Always opt for models which come with glass shelving as they are easier to maintain. Most of the models come with adjustable shelves which you can set according to your need.
Have a clear idea of the features you want from your fridge, which can be determined by determining the purpose you are gonna use your fridge for. The features can include- reversible doors, defrost, temperature control, etc.
Look for two door models for your frozen foods, as it will provide just the right temperature. Such models contain two separate doors for the fridge and freezer, and hence you can only open the fridge door for general use without spoiling your frozen food.
You should also compare models having similar features, you might end up with a freezer with similar features for less price.
Do not forget to inquire about the warranty of the model as they come handy in case of return, replace and repair. The warranty may vary from 90 days or 3 months to one year.
Best 10 Mini Freezer of 2023
Below is a list of 10 top rated mini freezers, each freezer has a brief review, explaining you their features and why you should invest in a particular model.
Daewoo Retro Compact Refrigerator (Model FR044RCNW)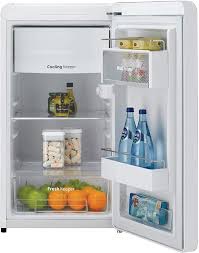 This compact 4.4 cubic feet freezer is perfect if you are looking for a stylish addition to your office or bedroom. This retro styled freezer showcasing state of art technology, is made of polished metal and is rust free, which makes it easy to maintain.
It offers great storage for such a compact model, and you can thank the adjustable glass shelves for it, as well as the two bins attached to the door, for your tall bottles. The LED lighting makes it energy efficient and its frost free feature again makes it easy to maintain.
It also comes with a tabletop feature which allows you to place things just as a microwave oven on top of it, without any worry. Energy star rated and build with CFC- free materials, this freezer is sure to win your heart.
Features
This is retro styled with no welding curved design is available in colours like white, red, mint beige, blue, etc, and comes with a 4.4 Cu. ft storage. Model no: FR-044RCNW, comes with the dimensions of 22.8*19.2*36.1 inches. With glass shelves, it includes LED lighting, metal decoration, and real wire bin.
Daewoo understand that efficiency and functionality are very important. With an energy Star rating, this unit meets most University dorm room standards.
Also features a Multi function tabletop that will unlock many new uses, including placing your retro microwave on top of it!
What I don't like about this model is that it comes without a freezer, yes, you heard me right. The label inside specifically states "This product is only for refrigeration. Do not store frozen foods, like ice cream" What a disappointment!!!
Size: 4.4 Cu Ft
Style: Retro
Model info: FR-044RCNW
Product Dimensions: 22.8*19.2*36.1 inches
Special Feature: LED lighting, metal decoration, real wire bin
Defrost: Manual
Shelf Type: Glass
Batteries Required?: No
Pro
It comes with soft dial and easy control, which makes it highly accessible
Low noise level, you don't have to worry about weird sounds coming from your fridge anymore.
The interior is lighted with bright LED lighting
Adjustable glass shelves makes it easy to maintain and organise your fridge. The shelves can also be adjusted in order to store large or small food items.
The model also include a sliding drawer to keep your vegetables and fruits fresh and crisp.
It is also Energy star rated, making it efficient.
Cons
Door is not reversible, which means you will have to provide space for the door to open.
It comes with no lock. Locks are important especially if you have a child in your home and you wanna control them from opening the fridge without supervision.
One of the biggest drawback of this model is that it comes with no freezer.
2. Danby Designer DCR044A2BDD Compact Refrigerator
Keeping up with the name of the company, this beauty is sure gonna steal your attention. It is available in various finishes such as black, white and spotless steel , etc, suiting to the interiors of your house. What makes it more attractive is it features.
Starting with its reversible door, it can hold up tall bottles and about 8 cans of beverage. It also comes with a beverage dispenser, which in my opinion is quiet rare for compact fridges, so now you can have your drink in a blink of eye. With three glass shelves and an ice tray, it comes with semi automatic defrost system.
It uses eco friendly, natural R600a refrigerant and is energy star rated which makes it eco friendly and power saving. With an easy to understand manual and a warranty upto 18months, this model is everything you will need if you are looking for a counter high refrigerator with large storage area.
Technical Features
The model comes with a thermostat push button, for controlling the temperature inside the refrigerator. Turn the motor on as soon as the temperature rises above the desired level.
There is a separate freezer compartment with freezer door. It also comes with magnetic gasket to tightly seal the door to keep all the cooling power locked inside and door liner that can hold 335 ml cans of juice or beer. It additionally comes with glass shelves, drip tray and egg tray.
Size: 4.4 cu.ft
Colour: Black
Model info: DCR044A2BDD-3
Product Dimension: 20.9*20.7*32.7 inches
Voltage: 120 volts
Door Hinges: Reversible
Batteries Required?: No
Pros
It is one of the biggest mini freezer reviewed in this article with a 4.4 cu.ft capacity, it provides a lot of room for your food item as well as your beverages.
It has a full width freezer, so if you are a fan of ice cream, this is your deal.
One of the unique feature that it has is its beverage dispenser, which is quiet rare in mini freezers. Now you can have your chilled beverage quickly.
Thanks to its reversible door, it can be opened from either side.
It comes with 18 months of warranty, which include repair and replacement in case of defect.
It is Eco friendly, making it good for the environment.
Cons
This model doesn't come with a lock
Generally all the models have a bright interiors but not this compact freezer, customers have argued that the interior is not bright enough, however you can deal with this problem by changing the light
Personal Tip
This appliance must be grounded as it reduces the risk of electrical shock in case of short circuit. Use an exclusive wall outlet for plugging in the freezer. It is advisable to not connect your refrigerator to extension cords or together with any other appliance in the same wall outlet.
There is a risk of fire if the refrigerant tubing is punctured, so avoid using sharp objects to aid in defrost and keep flammable materials and vapours away from the refrigerator.
To avoid personal injury to yourself and/or property, it is recommended to have someone assist you during the door reversal process.
Defrosting of your refrigerator should take place whenever ice build-up inside the freezer compartment reach 6mm thick.
Never place hot and spoiled foods in the refrigerator.
3. Midea WHD-113FB Compact Reversible Double Door Refrigerator and Freezer
Do not be tricked by its compact size as it works just like a large refrigerator. This two door model, with separate refrigerator and freezer provides large storage space to store your snacks and beverages. With a comparatively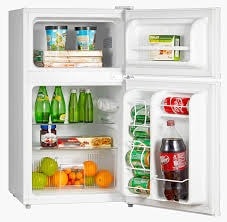 bigger freezer of 0.92 cubic foot, it is build in with proper ventilation.
The door, made of stainless steel which can store tall bottles and severable cans of your favourite beverage. It comes with two adjustable glass shelves and a vegetable crisper and is rustproof and hence easy to maintain.
If you are still not convinced, then let me inform you this model comes with one year warranty and is energy star rated. Seems like a good deal to me.
Features
This compact and versatile compact freezer can be used to complement any space. With proper ventilation the Midea compact refrigerator-freezer can be tucked under a counter and it can be built into a cabinet or piece of furniture for a customised look.
The model is designed to offer a whisper-quiet compressor that is virtually undetectable when it cycles on and off. This compact fridge is perfect for your home, office, dorm etc, that requires silence.
Other features include- temperature control, interior light., glass shelves, reversible doors, crisper drawer for fruits, vegetables and cheese and built-in beverage holders.
Style: Double door
Model info: WHD-113Fb1
Item Weight: 52.2 pounds
Product Dimension: 18.5*19.4*33 inches
Capacity: 3.1 cubic feet
Freezer Capacity: 0.92 cubic feet
Voltage: 115 volts
Defrost: None
Door Hinges: Reversible
Batteries Required?:No
Pros
The temperature range of the fridge can be adjusted according to your need.
Thanks to its reversible door, it can be opened from either side.
It comes with one year of warranty, which include repair and replacement in case of defect.
It provides separate fruit and vegetable drawer
It has a silent operation, saving you from disturbance through noise generated through fridge.
Cons
It does not come with a lock
It does not have a separate door for fridge and freezer due to which energy is wasted
4. Keystone KSTRC312CB Compact 2-Door Refrigerator/ Freezer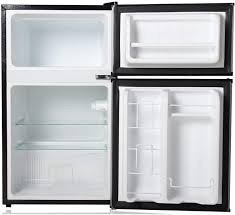 Many of you might have not heard about this brand, however the model is definitely worth a thought. Don't be fooled by its low price, because this two door model offers 3.1 cubic feet storage.
With a well lit interior, the freezer offers a storage of 0.9 cubic feet while the bottom offers 2.2 cubic feet storage. It comes with a mechanical thermostat.
The legs are adjustable and the door is reversible, allowing it to stand even on uneven surface. It has two adjustable glass shelves and a vegetable crisper drawer.
Features
This 3.1 cubic feet model offers fridge storage of 2.2 cu. ft and freezer storage of 0.9 cu. ft. This stylish black model is ideal for dorm room and mini bar and the reversible door and adjustable legs makes sure it fits like a glove.
It comes with a separate top mount freezer with storage on freezer door, the fridge door provides storage for canned beverages and two litre bottle. It also comes with manual defrost and mechanical temperature control.
The temperature control box is located in the refrigerator on the upper right side and it comes with one year warranty on parts and labour.
Colour: Black
Model Info: KSTRC312CB
Item Weight: 0.16 ounces
Product Dimensions: 20*18.5*33.2 inches
Voltage: 120 volts
Door Hinges: Reversible
Certification: Energy Star
Material: Steel
Batteries Required: No
Pros
It is a two door model, meaning it provides two separate doors for the fridge and freezer.
It has adjustable legs, hence it can stand straight on uneven ground.
Easily adjustable temperature according to your need.
It is Energy star rated, making is safe for environment.
Cons
It does not come with locks
Manual defrost
Personal Experience
I loved this model. It is quieter than the other ones and holds a good deal. Gallons of milk would have to be laid on their side.
A half gallon fits on the door plus a 20oz bottle of soda. The freezer holds about a weeks worth of food for two people. It is deep enough to hold full size ice cube trays but only comes with a tiny little 8 cube ice tray.
It seems sturdy and keeps things cold without having to crank it up the entire way.
A family member liked it so much he is thinking of purchasing one. It was on the pricey side but I was willing to pay for the separate fridge/freezer and the reversible swing door. If this holds out I will most likely purchase another someday. The outside is textured so the black doesn't show finger prints.
5. EdgeStar CRF321 3.1 Cu. Ft Dorm Sized Energy Star Compact Fridge
This two door compact refrigerator provides features which can give a strong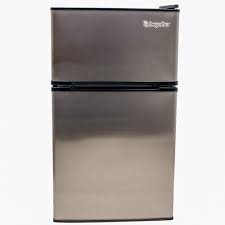 competition to any full sized fridge. This mid price model has separate doors and compartment for the fridge and freezer. The temperature can be manually controlled which allows you to receive fresh fruits and vegetables.
The separate doors for the fridge and freezers helps you in saving ton of electricity.
With a decent storage capacity of 3.1 cubic feet, this model is bigger as compared to mini freezers.
I can bet you are surely to fall in love with its wide freezer having the storage space of 1 cubic feet. Other feature that makes it worthy is its zero degree feature, in case you want to freeze your items and want them to stay frozen. It comes with auto defrost, so you don't have to worry about removing ice.
Features
This black stainless steel is perfect to increase the grace of your kitchen.
This model include one adjustable wire shelf, one glass shelf and one crisper drawer for you to store your vegetable. The door of the fridge provides storage bins for holding small as well as tall bottles.
It also includes a soda can dispenser to quickly provide a drink, it can hold upto 8 cans of any beverage. Additionally it has reversible doors and is energy star rated making it good for the environment.
Colour: Stainless Steel
Product Dimensions: 19.8*18.8*33.5 inches
Model no.: CRF321SS
Wattage: 80.00
Batteries Required?: No
Pros
It has separate refrigerator and freezer, so if you want to use it to stock up food items as well as ice cream, then it is a perfect deal for you.
It has zero degree temperature, for you to freeze your good, and you don't have to worry about removing ice as it comes with auto defrost feature
It has reversible door
The wired as well as the glass shelf is adjustable according to your need
The door of fridge as well as the freezer provides good storage space.
Cons
6. RCA- igloo 3.2 Cubic Foot 2 Door Fridgee and Freezer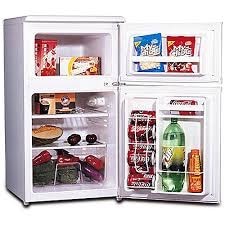 If you are a little tight on budget then this model from RCA-lgloo is a match made in heaven for you. One of the most affordable model on the list.
This compact size freezer can be used as a secondary fridge, for stocking up your drinks and is suitable to be kept in you apartment or office if you are short on space.
Without wasting any time, let me tell you some quick features of the model.
With a capacity of 3.2 Cu. Ft, it is also one of the most compact size that is reviewed in this article. If you like storing ice cream or like your beer chilled, then you are in luck as this model comes with quiet spacious freezer.
What makes it worthy is the separate door that separates the freezer and the fridge.
This is beneficial for you as you will save ton of energy as you will not be opening the freezer every time you open the fridge.
Personally I like the models which comes with two separate doors as they are more efficient in the long run and also they give you the feeling that you own a big sized refrigerator just in compact size. The temperature of the thermostat can be varied, which gives you the liberty to set the temperature according to your need.
Lets now get to the interior of the fridge. It has bright light and contains glass shelves which makes it easy to maintain and organise food.
You are guaranteed to get fresh vegetable as it comes with a vegetable drawer.
You can also store large as well as small items in the bins attached with the door. Personally it is one of my favourite models available in the market.
Features
This 3. 2 cu. ft. refrigerator is a compact yet spacious refrigerator that can fit almost anywhere. The 2-door fridge and freezer combo features an ice cube tray, vegetable drawer with glass shelf and slide out shelves for easy access and cleaning. It also features a built-in can holder and bottle holder that can hold 2 Litres bottle in the door.
With an adjustable thermostat, it keeps your food cool irrespective of the temperature outside, this CFC-free fridge offers an design that helps saves a lot of energy and hence is reduces your electric bill. Ideal for a college dorm room, office, bed room or anywhere you need a high quality fridge with freezer space.
Product Dimensions: 22.8*25.8*35.2 inches
Manufacturer: Curtis International Ltd
Item model no: FR8321-E-White
Capacity: 3.2 Cu. Ft
Pros
The separate freezer and refrigerator helps you to save energy and makes the model efficient, as it helps in avoiding wastage of energy.
We all hate noisy appliances, good thing, this model has a quiet operation.
The glass shelves make it easy to maintain and help you keep an organised fridge.
It comes with a soda can dispenser, so now you can have your beverage quickly.
Just when it couldn't get better, this model is also made with CFC- free material, making it good for the environment.
Cons
The door is not reversible so while purchasing this model, you must remember to provide space for the doors to open in your house.
It doesn't come with any locks
This model is worth your time and is value for money, as it is energy efficient due to separate doors for freezer and fridge, made of CFC – free material, with easily adjustable temperature, providing quiet spacious freezer and silent operation and that too at a cheap price.
7. Nostalgia CRF 170COKE Coca-Cola 1.7 Cubic Foot Refrigerator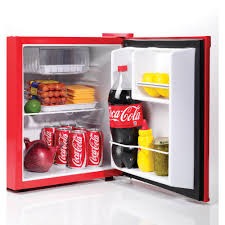 This model is sure to take you down a memory lane and for all right reasons. Retro inspired, this Coca Cola designed compact freezer is sure to make you fall in love with it.
However it has a capacity of 1.7Cu. Ft, which is very less storage space as compared with other compact freezers, so I would advise if you are planning to use a mini freezer for storing food then this model is not your cup of tea.
However if you plan to keep a fridge stocked up with beverages in perhaps a game room or office or just wanna have a mini bar, then this model is suitable for you, as it provides ample of space for containing your cans and bottles. It can also hold your 2 litres tall bottles and comes with an ice tray. One of the features which makes this model worthy is its thermostat dial which helps you to adjust the temperature according to your needs.
Inspite its capacity, the interiors provide quiet some space, as the shelves can be removed, allowing you to store bigger items, however I must mentioned that the shelves are wired and not made of glass, which is alright for the model, as it focuses on storing beverages rather then food items.
It also has two levelling legs which allows it to stand straight on uneven surface. It comes with a warranty of only 90 days though.
Features
This 1.7 cu ft model comes with a adjustable thermostat dial for you to control the temperature according to your need.
With a 2 litre bottle storage space and the wire coated shelves that slides out, provides all the room you will need to store your beverages.
What surprises me is the ice cube tray and a easy to view freezer compartment and that too for an amazing price.
Product Dimension: 17.5*18.6*19.6 inches
Item weight: 10 pounds
Manufacturer: EMG East, Inc.
Item model number: CRF170COKE
Pros
It comes with adjustable wire shelf which can slid out for extra storage space
I am in love with its sleek and retro design
With a compact size, it is suitable for putting up in a corner if you are short on space.
Levelling legs make it easy for it to stand straight on even ground.
Even with less storage it provides a ice tray
Cons
It offers less storage capacity as compared to the mini freezer
Not suitable for storing food items
The door is not reversible and hence you need to provide space for the door to swing open
There are no locks
The warranty period is less.
The smallest fridge reviewed in this article, it sure provide quiet some impressive features, mean while taking us down a nostalgic trip with its Coca Cola drink.
The recessed door handles contributes to its sleek design and allows easy opening. I would recommend this model for storing your beverages in your game room, bar or dorm.
I had got this for my self to take to my dorm to collage, works great and gets very cold.
This is a real fridge, not like a lot of the "novelty" fridges with the Coke emblems.
The only real negatives are the stickers are more like contact paper, and if you are not careful unpacking it, the tape holding the doors will start to peel the stickers off when you remove it, the other thing is the packaging is not real obvious how to open the box, remove the straps and cut the tape along the bottom and the top just lifts off. All in all it's a great purchase.
8. Magic Chef MCAR320B2 All Refrigerator, 3.2 Cubic Feet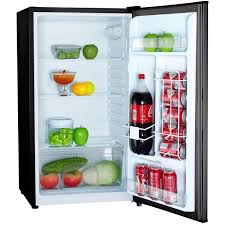 Opposite to the last model I reviewed, which was suitable for keeping beverages, this model comes without in build freezer is used mainly for storing food items.
This model comes in three styles, black, white and stainless and is perfect to complement your kitchen.
For a mini freezer, it offers quiet space for your items and has a capacity of 3.2 Cu. Ft. It has multiple adjustable shelves and a crisper drawer to keep your vegetable fresh.
The three shelves it offers are made of glass and can be adjusted according to your need, which makes this model, easily maintainable and spacious.
Talking about the space provided by the main compartment, lets not forget that the door also provides space for you to store bottles.
Also one feature that really caught my attention was that it has racks on either side, the right rack can hold up to five cans , while the left rack can hold your 2 litres bottles, providing you ample of space for your beverages.
The temperature can be adjusted accordingly and been a Energy star rated product, it is efficient and saves a lot of money on electricity bill. The reversible doors and frost free feature is sure worth your money.
Features
This fridge having the dimensions of 17.5*18.7*33.4 offers storage of 3.2 Cu Ft and provides multiple glass shelves that can be adjusted. The door contains two racks, increasing the space for your bottles and can. It is Energy star rated, and is available in various colours.
Model Info: MCAR320B2
Product Dimensions: 17.5*18.7*33.4
Capacity: 3.2 cubic feet
Form Factor: Stand Alone
Voltage: 120 volts
Defrost: Frost Free
Door Hinges: Reversible
Connector Type: Water Line and Drain
Crisper/Drawers: 3
Batteries Required?: No
Pros
It offers three adjustable glass shelves
The fridge offers amazing storage for its compact size, I mean it got three shelves and a crisper drawer to fit in
The door can be opened from either side, as it has reversible hinges.
Cons
The model though offering a lot of room for your food items, does not come with a freezer
It does not come with a lock
It is simple to say that it is one of my favourite models in the list, I mean who doesn't like having multiple shelves and racks in the main compartment as well the door, its like having the benefits of a full sized fridge.
However no one is perfect, the lack of freezer is something that can concern some people, but if you are not one of them, then you must have a look at this model.
The lack of separate freezer is made up by providing multiple shelves, adjustable temperature, defrost function, and reversible door. No doubt this particular model is so popular in the market right now.
9. Haier HC27SW20RV 2.7 Cu Ft Refrigerator
Finally I am gonna get to review a model from Haier.
Slightly bigger as compared to other models of this company, it has a capacity of 2.7 cubic feet. It offers a wide freezer however there isn't a separate door for it, due which you might waste energy. The freezer comes with an ice tray.
It comes with adjustable thermostat which gives you the liability of controlling the temperature of the fridge as per your convenience. It is one of the cheapest model available in the market. Despite its price, this fridges shall surprise you with how many beverages and food items it can hold.
The door comes with storage space for several cans, 2 litres bottle and small items. The main compartment consists of two wired shelves which can be adjusted.
It also comes with levelling legs, so that it can stand straight on uneven ground. The flat back design offers greater space to your fridge. Additionally it comes with manual defrost feature.
This size is ideal for you if you are tight on budget as well as the price.
Features
The company with headquarters in America is a wholly owned subsidiary of Haier Group, which is one of the world's major appliance brand.
The 2.7 Cubic Feet compact refrigerator/freezer features door space to hold 3. 2 litre of tall storage bottles as well as cans. It comes with two full-width glass shelves.
The refrigerator is easy to position with its adjustable legs that can level it up on uneven ground and has a flat-back design to help save space. Your refrigerator will automatically maintain the temperature level you select between 0-7, with 1 been the lowest while 7 been the highest temperature.
Model Info: HC27SF22RB
Product Dimension: 17.9*26.1*18.9 inches
Capacity: 2.7 cubic feet
Installation Type: Free Standing
Voltage: 120 volts
Door Hinges: Reversible
Shelf Type: Wire
Material Type: Stainless- Steel
Batteries Required? : No
Pros
It has a wide freezer
The shelves are adjustable, which gives you the option of shuffling the shelves according to your need.
The door offers great storage and can hold upto six cans and a two litres bottle.
It provides on year of warranty which includes repair and labour
The freezer comes with an ice tray
Cons
No separate door for freezer, which results in wastage of energy.
The shelves are wired, which makes it difficult to clean.
The door is not reversible, so while taking the measurement of the space you are gonna keep the fridge, you must remember to add some inches for opening the door
It doesn't come with any lock
Negative Review
Customers have complained that after they purchased this modeI and as soon they plugged it in, it immediately started making a strange "woosh" sound. Sort of like the sound a jet plane make when flying by overhead, only softer and every time the compressor turns on. Every visitor started complaining by saying "What in the world is that sound?". It can also be described as the sound of water running. Needless to say, VERY distracting and annoying. Also, the door is not reversible as described.
10. EdgeStar CRF 150SS-1 1.1 Cu. Ft Convertible Refrigerator or Freezer
The last but not the least, this model from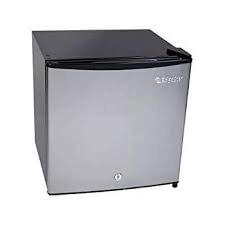 EdgeStar, is one of my personal favourites. Do not be tricked by its compact size as it provides some of
the top features, available in the market. To begin with it is a convertible fridge, which means its either all freezer or all fridge. Yes thats correct, you can set the temperature of the freezer to zero degree or adjust the temperature for the fridge using the manual thermostat control.
This stylish model is made with stainless Euro style door which is both stain and rust protected, and hence complimenting your house. One of the only model to have a lock on its reversible door. It offers a storage of 1.1 cu. ft, which might sound less as compared to other models, but due to its easily adjustable shelves you can store enough food in it.
It makes an ideal choice as a secondary fridge at a reasonable price, which can be used as a fridge or freezer as per your choice. Lastly its Energy Star rated making it a eco friendly choice.
Feature
The EdgeStar Compact fridge / freezer is perfect to keep your food preserved and frozen with the EdgeStar 1.1 Cu. Ft. Stainless Steel Freezer w/ Lock (CRF150SS-1).
This stainless steel convertible freezer is one of the smallest zero degree freezers available, which is great for storage and placing the freezer in small areas in the kitchen, game room, and even offices or dorm rooms.
What truly sets apart the versatile CRF150SS-1 is its full range thermostat giving you the freedom to use it as a refrigerator or a freezer.
Stainless Steel Finish: The clean-looking stainless steel finish of this freezer can match even the most modern kitchen or room decor full range thermostat.
To free up more space, the compact, versatile freezer can be used as a fridge or freezer.
The factory-installed door lock helps to keep your contents safe, adding an extra layer of security to your food and with its reversible door, change the door swing to suit your needs in a matter of minutes. The factory installed lock keeps the contents of the unit safe Specifications & Manuals Back to Top Model: CRF150SS-1 Brand: EdgeStar Converts from freezer to a refrigerator True stainless steel door Reversible door Recessed handle Comes complete with lock and two (2) keys Full range temperature control Warranty: 1 year parts; 90 days labor EdgeStar 1.1 Cu. Ft. Stainless Steel Freezer w/ Lock Modern euro-style door Energy-saving manual defrost UL listed Input voltage: 115 V/60 Hz Power: 138 W/1
Model Info: CRF150-1
Product Dimensions: 17.8*18.5*19.2 inches
Capacity: 1.1 cubic feet
Installation Type: Free Standing
Part Number: CRF 150-1
Door Hinges: Reversible
Batteries Required?: No
Pros
One of the best feature of this model is its ability to convert in either a fridge or freezer.
It offers true zero degree temperature for the freezer.
Finally a model with reversible door with a lock.
It provides adjustable racks, for you to shift according to your needs.
It comes with one year of warranty
For the type of features it offer, it sure is available at an affordable price, you can check the price of model on the link provided below
Cons
You can use it like a freezer or refrigerator but not both at once.
It offers less storage as compare to other models
The door has no storage compartment for your bottles or small items
It does not come with a vegetable crisper
Conclusion
I could just like to tell you that it is very simple to pick of the model, as long as you know what kinds of features and requirement you need.
Also it would be advisable at you have a pre decided budget, compact fridges aren't as costly as a full sized fridge, however it is solely dependent on the features a model offers.
In this article, I have tried to incorporate the top rated models, each model reviewed is different from other in some way or other and are unique in there own way.
Some models are ideal to work as mini bar while some make a stylist addition to your kitchen.
In the end I would just like to conclude by telling you the top features that is offered by each model, according to me:
Daewoo Retro Compact Refrigerator (Model FR044RCNW)- Retro styled, stylish induction in your room.
Danby Designer DCR044A2BDD Compact Refrigerator- Large storage space of 4.4 cu. ft
Midea WHD-113FB1 Compact Reversible Double Door Refrigerator and Freezer- separate door for fridge and freezer
Keystone KSTRC312CB Compact 2-Door Refrigerator/ Freezer- adjustable legs
EdgeStar CRF321 3.1 Cu. Ft Dorm Sized Energy Star Compact Fridge- most versatile fridge of them all
RCA- igloo 3.2 Cubic Foot 2 Door Fridge and Freezer- the affordable price
Nostalgia CRF 170COKE Coca-Cola 1.7 Cubic Foot Refrigerator- the nostalgic coca cola design
Magic Chef MCAR320B2 All Refrigerator, 3.2 Cubic Feet- the storage provided on the door
Haier HC27SW20RV 2.7 Cu Ft Refrigerator- wide freezer
EdgeStar CRF 150SS-1 1.1 Cu. Ft Convertible Refrigerator or Freezer- its ability to convert into a fridge or freezer