Before I introduce you to the list of best 12V refrigerators – 2023, I would like to ask you a question.
Why do we need a refrigerator if we are settled in a cold place where the environment is cool?
Also, in winters food may freeze even in open environment?
The reason is the refrigerator can keep your liquid drinks in the liquid form and won't allow it to freeze and certain refrigerators discussed below even provides you with dual functions as refrigeration along with warming.
Many people having various needs and applications of these refrigerators and while they go out to purchase, they may feel it a bit confusing which one to neglect and which one to keep in mind for sure to buy.
My dear reader, here I am to eliminate your major doubts regarding the refrigerators and after looking at an individual's specifications and specialties you will be able to select the one which suits you best whether in terms of functioning or price.
Surely, this won't stop you to carry your mini-fridge along with you on long trips, camping and having fun with your family and friends. You may use it for various applications whether it is for your car, home and any other.
Top- Rated Comparison Table
Refrigerator Name
Weight

(in pounds)

Dimensions

(in inches)

Whynter FM-45G

45
18 x 28 x 20.8 inches
Check price

Dometic CFX 40W

40.8
27.2 x 15.7 x 18.1 inches
Check price

Dobinsons 4×4 Portable Fridge

37.4
23 x 13.6 x 17.1 inches
Check price

Ausranvik Portable Freezer

32
23 x 13 x 14 inches
Check price

SMETA Freightliner Cascadia Refrigerator

40
15.8 x 18.1 x 21.7 inches
Check price

Smad Portable Mini Fridge

37
16 x 18 x 27 inches
Check price

Norcold NRF30 portable refrigerator

39.6
22 x 15.7 x 15.6 inches
Check price

Alpicool C20 Portable Refrigerator

19.84
23.5 x 12.6 x 12.6 inches
Check price

Rockpals Electric Cooler

12.6
15.8 x 19.7 x 13.7 inches
Check price

Knox Electric Cooler and Warmer

16.65
16.1 x 23.2 x 17.7 inches
Check price
Best 12V Refrigerators in 2023 Reviewed
Below mentioned is a wisely chosen list of some of the best 12V refrigerators that are being reviewed for the year 2023.
This is especially for our readers who are looking forward to buy one for them. You will find a brief description of each product mentioned below and major details you need when you will finalize a product for yourself is available easily for you.
This will help you in understanding what you are buying and what may be best for you.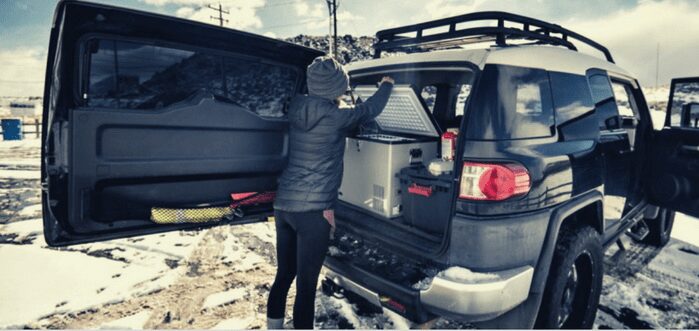 1) Whynter FM-45G 45-Quart Portable Refrigerator
When you are comparing a huge list of refrigerators or mini fridge and deciding which one to buy, I must tell you that one should not miss having a look at this awesome WHYNTER portable refrigerator and its specifications.
This can be your best vehicle refrigerator or freezer because of its solid and compact features. As it is quite versatile, you can use it either as a refrigerator or fridge. The refrigerator holds the capacity of up to 60 cans of 12 – oz of drinks or 45 quarts of storage. It is quite enough for storage in camping.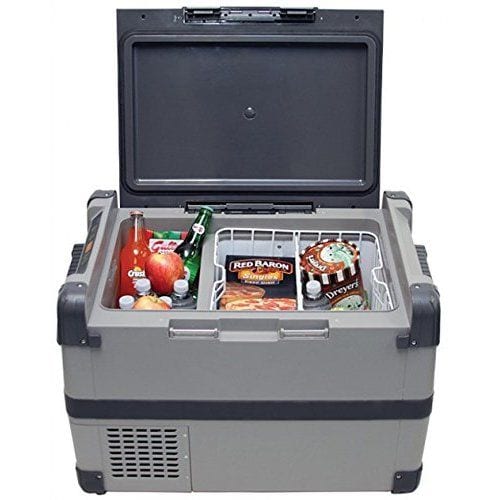 The additional feature which you will find in this product is that you will be provided with two detachable wired baskets. You can easily take it out, clean the internal fridge as well as your baskets and again fix it the way you want.
Isn't it interesting how you will be able to manage the space within the freezer and can store accordingly your food and beverages?
Trust me it makes so convenient for any owner to use and no matter for what application they are using it.
You must know how it differs from others when it comes to fulfilling your most important need which is to cool your stuff. It can cool your foods and drinks in the faster mode as compared to many other available in the market. It can cool up to -8 degrees Fahrenheit easily.
As human life is becoming busier and we want out things to be done in a short period then dear friend this is a perfect refrigerator for you. It won't make you wait long to get your stuff chilled after the moment you place it into the freezer.
It has been in one of the most popular 12V refrigerators wanted by consumers like us.
Due to its compact size, it can be easily fitted in your vehicle or at any corner of your home. This is specifically built for people requiring its major use.
It is a heavy-duty refrigerator.
Overall, it can be a great choice for camping, fishing, long drives and boats.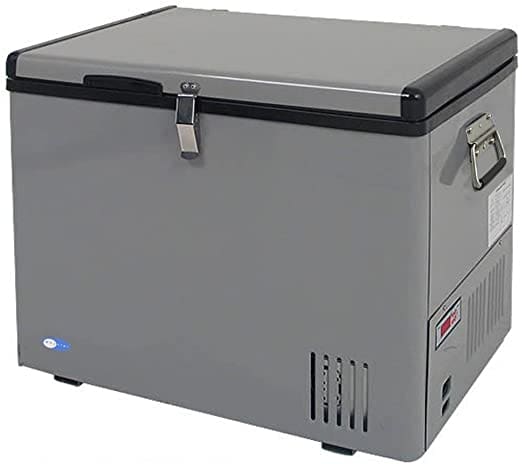 URL to check price : https://www.amazon.com/Whynter-FM-45G-45-Quart-Portable-Refrigerator/dp/B002W8BLUG
Specifications
| | |
| --- | --- |
| Dimensions | 18x28x20.8 inches |
| Voltage | 12V |
| Storage | up to 60 cans of 12 – oz of drinks 45 quarts |
| Capacity | 1.41 cu.ft |
Why you should buy this product?
Provides you with 45 Quarts or 60 Cans (12FL oz) capacity.
It has adjustable temperature range: -8 °F to 50 °F.
It has LED temperature display.
This model has "Fast Freeze" mode that rapidly cools to -8 °F.
This is specially for Car, RV, and residential use.
It can operate as a refrigerator or freezer.
You will get 8-feet AC cord and 10-feet DC power cord, along with two removable wire baskets.
Pros
Cons

Portable for its compact size and lighter weight
Can be utilized in campsites, fishing, and boats
Versatile to be used during a standard 110V or 12V power source
Comes in innovative design and premium quality
However, the storage size is sort of smaller than other models on the market do have.
2) Dometic CFX 40W 12v Electric Powered Portable Cooler, Fridge Freezer
We all know how great reputation DOMETIC has created for many years with its excellent performance and is being consistent with it and thus I would suggest you to not miss out on this product when you are planning to buy, not because of its reputation but it's worth buying.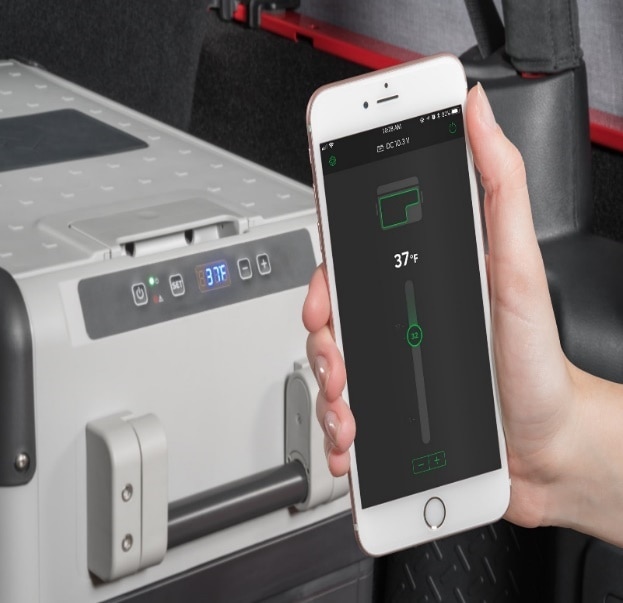 One of its features to which I would like to bring your attention is that there is no defrosting needed.
You can refrigerate or freeze your foods and drinks.
Isn't it interesting and impressive at the same time that such flexibility brings you more options on how you want to use your mini-fridge and can adjust its temperature setting?
You will also find the power saving mode installed in it.
I would like you to notice that this refrigerator does not require much power. It is a great option to find in the high-performance refrigerator that will consume less energy.
You will be stunned to hear that It only consumes 0.665 kWh per 24h. It is great for individuals and the environment as well.
I would recommend you this DOMETIC FRIDGE as it is designed so well and built in a way you don't have to worry about damage during mobile environments.
Material from which it is made up of is a thermoplastic polymer. It will provide toughness to the body and reliability. This will make the life of your fridge longer.
The lid of the refrigerator is fully insulated with stainless steel hinges. It has a security feature inbuilt which will protect your battery from damage.
It will refrigerate or freeze your food and drinks up to -7 degrees F.
This is one of the best examples which uses high use of technology. You can control and monitor the internal temperature of the freezer that is of the compartment using the WIFI app.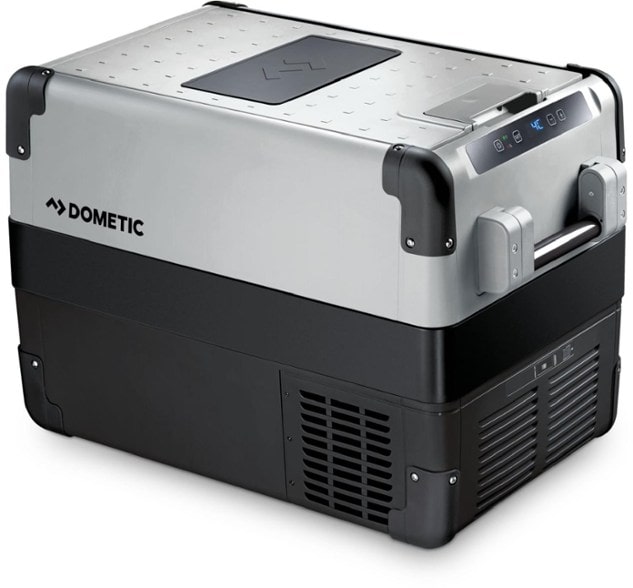 URL to check price : https://www.amazon.com/Dometic-CFX-95DZW-Electric-Portable/dp/B071G6M847
Specifications
| | |
| --- | --- |
| Dimensions | 27.2 x 15.7 x 18.1 inches |
| Voltage | 12V |
| Cooling | Up to -7F |
| Energy consumption | 0.665 kWh/24h |
Why you should buy this product?
You won't need ice- ever. Except for making ice for drinks.
it will refrigerate or freeze your stuff up to -7 degrees Fahrenheit.
It has an ultra-power consumption feature that can save your power and will use it limited.
It will only consume 0.665 kWh/24h energy.
You can Control and monitor the cooling temperature in the compartment via the WiFi app.
Pros
Cons

Can be used with either AC or DC power
Comes with a heavy-duty design for RV living and camping
Can be employed in fishing, camping, homes, and RVs
The cooling temperature may be controlled via an app
Ideal for off-grid and solar applications
On the downside, it's pricier than other models on the market are.
Even so, it's a heavy-duty, compact and high-performance RV refrigerator and freezer that we will judge for top savings.
3) Dobinsons 4×4 Portable Fridge-Freezer
Having a wonderful car and friends and family to accompany you on long trips and camping might sound so exciting. But ever thought of the hunger of little kids with you, their stomach growling and your moody friends getting mad over their appetite?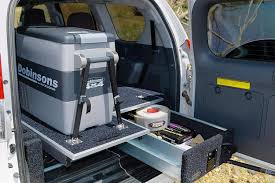 Now onwards you won't have to worry about this as DOBINSONS brings you an excellent mini fridge which will accompany you anywhere you want to take it with you. This Dobinsons product is a 4X4 portable fridge cum freezer.
This fridge is proven ideal for many applications which include SUV, bus, boat, car. This is a versatile cooler and freezer for your vehicle.
When it comes to its performance it has impressed me a lot with its high performing ability. Its cooling power is up to 15 degrees C or 5 degrees F.
This will keep your food and drinks super fresh and cold. This makes you feel so compatible with its operating system that you can easily adjust the temperature you need with the digital control panel.
When you are carrying it along with you over trips you don't have to worry about its power consumption as it is power-saving machine and consumption of power to operate itself is considerably low. You might have aroused a question in your mind that what is different in this fridge that you won't get in any other product?
Well yes, it provides you with an insulating cover bag which is definitely an accessory added to your product and this ultimately makes you think of it again.
Due to the presence of a heavy-duty compressor in this fridge, it ensures maximum cooling capacity to keep your food and beverages cool.
It will be so easy for you when you will notice that this 12V fridge comes with a removable fridge basket which allows you easy and quick loading and unloading. It will turn on the blue light inbuilt inside the freezer whenever you will open the lid of it.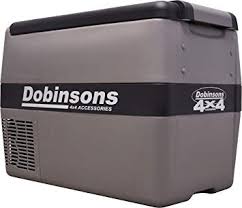 URL to check price : https://www.amazon.com/Dobinsons-Portable-Fridge-Freezer-Insulating/dp/B01LWV2KXV
Specifications
| | |
| --- | --- |
| Dimensions | 23 x 13.6 x 17.1 inches |
| Voltage | 12V |
| Cooling | Up to 15°C or 5°F |
Why you should buy this product?
The Dobinsons fridge/freezer is cheaper than most other brands that are geared toward the overland/camping community. This was an important give some thought to my purchase because most other fridges don't seem to be designed with the thought of off roading present.
It comes in many sizes. Other brands have either a "picnic size", or a" you'll throw your deer in here" size. it had been refreshing (though barely longer consuming) to possess some options. Take the time to measure your vehicle to figure out what you'll physically fit, so consider what quantity food you truly need for any given trip, before you create a choice.
It comes with a cover.  This stuff alone is over $100 bucks. It is nice to possess it thrown in once you're already spending a bunch of cash on the fridge itself.
Other accessories are available. once you're able to spend even extra money, you will get a fridge slide or straps for the Dobinsons fridges. ARBs even have more accessories offered, type of a distant fridge monitor, but they're also substantially dearer.
Pros
Cons

Tough and quality compressor offering max cooling efficiency but with less power drain
Flexible power source options
Ideal for boats, recreational vehicles and campers
Battery protection and auto restart included
Thick insulation for max cooling capacity

The controls are within the rear. Not very convenient, especially with tall vehicles.
Smaller capacity than other brands and models out there
Plastic body might not be that durable
On the downside, this unit contains a smaller capacity and a plastic body that may not be durable. But overall, it's one of the foremost dependable fridges on the market now for its solid performance features.
4) Ausranvik 26-Quart Portable Freezer
Ausranvik portable freezer maybe a car freezer or refrigerator, and another model which might bring your attention towards it by just the way it's designed and more reliable features.
It is ideal to be used in many applications, including in boats, campers, travel trailers, homes, and cabins.
Aren't we being so won't to the new touch technology that we can see its applications everywhere around us? The same touch sense and feeling comes with this AUSRANVIK freezer.
With one touch you'll set and control the required internal temperature you wish. The setting made by you is displayed on a well-managed LED display. The touchpad will allow you to line the temperature from -4 degrees F to 68 degrees F.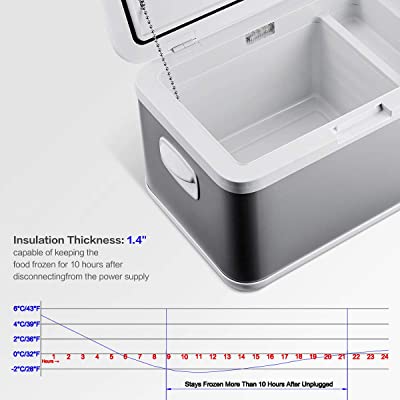 Many people wish to shop for a mini-fridge so you'll carry it with you over long journeys, trips.
Due to this major application, it provides you with the control program which allows you to observe and check the automobile battery. When it involves safety, we all rummage around for the machine which is nice for the environment furthermore as for private safety.
Whenever in any case there occurs voltage level under you wish then it'll automatically shut off the compressor, which can protect your battery from damage.
You must have observed large-sized home refrigerators comes with power ratings like 3 star or 4 stars. It defines the facility saving done by the machine you're using.
Similarly, this freezer contains a feature called power saving mode which won't consume much of your power.
Not only this, but it's a drain plug. it'd allow you to wash its interior part very easily using water and soap. I do know ladies must be feeling good to listen to this!!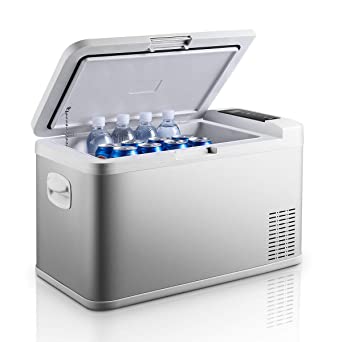 URL to check price : https://www.amazon.com/Ausranvik-26-Quart-Portable-Refrigerator-Freezer/dp/B07WS5RVKZ
Specifications
| | |
| --- | --- |
| Dimensions | 23 x 13 x 14 inches |
| Voltage | 12V |
| Wattage | 45 watts |
Why you should buy this product?
LED Display & Touch Control: With the touch control you'll be able to easily set your desire temperature (range from -4°F to 68°F), and different modes for options including Max (fast cooling) and Eco (Energy Saving).
The USB port enables you to recharge your smartphone or another electronic gadget when connecting the car refrigerator to the light socket.
A DC cord and AC cord are included within the original packing. You don't re-set the temperature once you change the ability source due to the memory function.
Intelligent Battery Protection: you'll be able to select the protection level (High, Mid and Low) in keeping with your circumstance, and also the control program keeps monitoring the lead-acid battery, the compressor will shut off automatically when the input voltage is below your setting, that the lead-acid battery won't run down.
With the energy-saving design, the car fridge won't consume energy when it reaches the set temperature, the insulation will keep the things frozen for 10 hours even after disconnecting from the ability source.
Pros
Cons

Versatile to figure on 110V AC power source or 12/24V DC
Easy to work and adjust for its LED display and touch control
Designed with a drain plug at the underside for straightforward cleaning
Includes a wise battery protection
Comes with an energy saving design
You can also move the refrigerator and freezer easily and quickly with no hassles due to its portability. It also comes with an influence cord for AC and DC. they're both included within the purchase of the unit. you furthermore may don't should reset the temperature because it's a memory function.
5) SMETA 12V Freightliner Cascadia Refrigerator
Here I got you a more fantastic product by SMETA which is a mini fridge with freezer. It has been one of the top choices when there came people looking for a highly portable refrigerator for them. Surely, this will fulfill your needs and expectations from this product.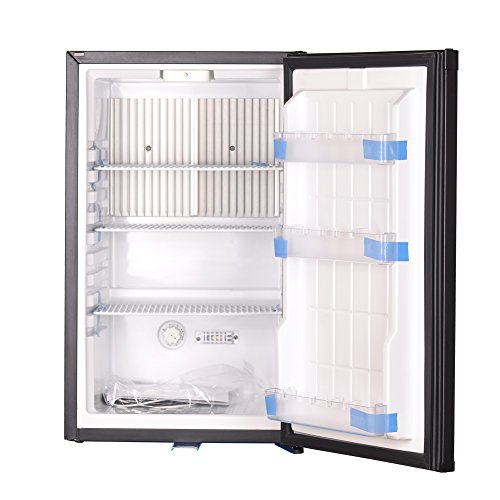 You will want to have a second look at this SMETA fridge which can accommodate up to 36 quarts of storage. Power requirements of this mini fridge are just similar to that of others that is you can have it plugged into 110V 12V power source.
This has been so trendy in the market because of its compact size as it would fit in anywhere.
We have known normal occasions where people want to carry along with their mini-fridge but along with trips, camping, etc.
This can be considered useful for people requiring a 12V fridge for trucks.
I would like to bring your attention to the fact that this fridge can run on your automotive battery.
When you will have a moment on your trip where you will have to leave behind your mini-fridge, but my dear friend you don't have to worry as it has a security lock installed in it. It will provide you with such ease and compatibility with its control settings.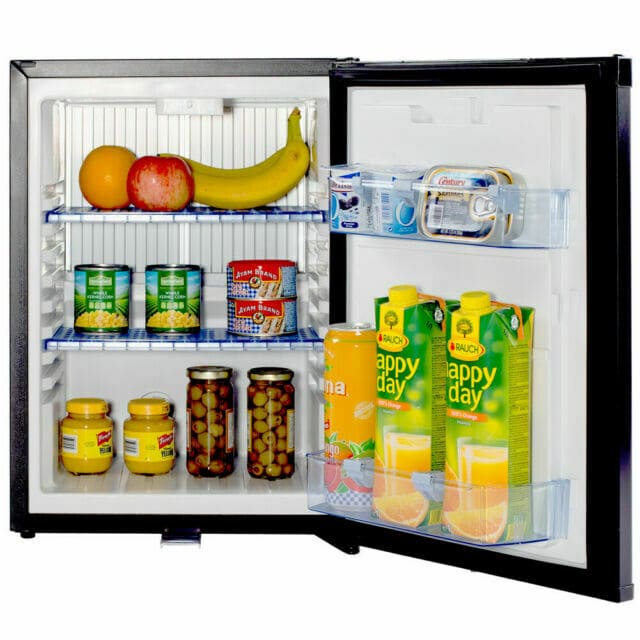 URL to check price : https://www.amazon.com/SMETA-Electric-Freightliner-Cascadia-Refrigerator/dp/B06XW9JS57
Specifications
| | |
| --- | --- |
| Dimensions | 15.8 x 18.1 x 21.7 inch |
| Storage | 15 L – 19 soda cans |
| Voltage | 12V |
| Wattage | 65 watts |
| Size | 1.2 cu.ft |
Why you should buy this product?
This item is intended to enhance your living and entertaining comfort. this can be a silent refrigerator that uses no compressors or fans. With its special design, you may feel convenience and silent operation will provide you with peace.
This has No Freon, no pollution with low energy consumption and is an environmentally friendly product.
This is Best for people with multiple needs of this mini fridge be it home, hotel, hospital, bar, car, truck, etc.
This provides you with LED light with lock for safety purposes.
Pros
Cons

Ideal for rough and mobile environments for its heavy-duty components
Offers an automatic defrost feature
No pollution and has low energy consumption
Compact size to suit any RV space
Perfect for dorms, hotels, campers, homes, boats and trucks

Not Ideal for large families.
However, the unit may not be for you if you've got an outsized family that needs an equally large space for storing.
But yes, as you'll see this will be one in all the best choices for requirements which this will fulfill for you.
6) Smad Portable Single Door Mini Fridge With Lock.
Here comes another great refrigerator for you which cannot be missed to add in the list.
You can blindly trust the performance of SMAD portable mini-fridge. It has got some powerful functions and has become one of the top choices among buyers.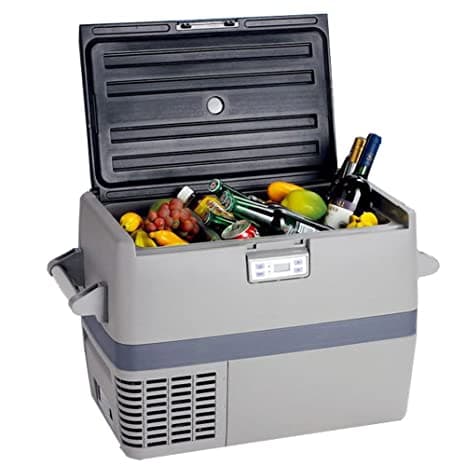 There has been a demand in the market of some more reliable and heavy-duty refrigerator for camping. As a result, SMAD came into the market with its brand-new model.
Like other refrigerators, this is also 12-volt operating mini-fridge offering reliable and advanced performance.
Unlike many other products in the market, this fridge operates silently keeping its environment with no disturbance. It won't operate with noise and won't irritate you with some unusual noises.
Manufacturer keeping in mind its reliability has installed heavy-duty components in it which will lead to its long life.
Having different occasions where you will need this mini fridge and that environment sometimes can be rough and tough.
But my dear friend you don't have to worry about its damage as it will amaze you with its strong and tough body.
While you carry your fridge during long trips, the bumpy roads and constant movement of the vehicle won't make any damage to your friend.
I found the settings to made are more comfortable and easier to understand and operate as compared to other freezers. The major advantage you will get after this machine making it yours is that you can adjust and configure the internal shelves according to your needs.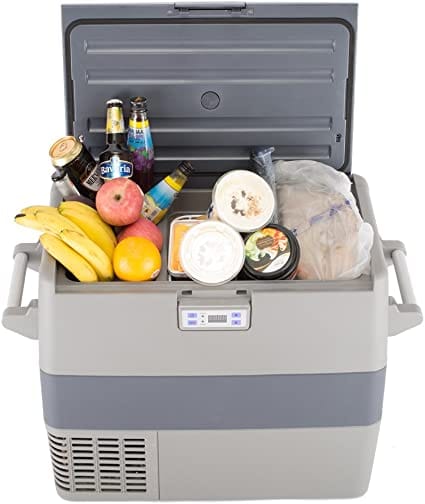 URL to check price : https://www.amazon.in/Smad-Portable-Freezer-Compressor-Refrigerator/dp/B01N2XDCGU
Specifications
| | |
| --- | --- |
| Dimensions | 16 x 18 x 27 inches |
| Voltage | 12V |
| Wattage | 90 watts |
| Size | 1.7 cu.ft |
Why you should buy this product?
this can be a no noise mini-fridge, is a superb and valuable unit which will guarantee years of quiet, reliable use the thermostat makes it easy to pick temperatures and options.
adjustable wire shelves which will be configured to form room for taller items facilitate your stay organized.
enables you to regulate the fridge for left or right-handed opening.
freestanding and compact size is ideal for dorm rooms or apartments
Pros
Cons

Reliable and quiet performance
Freestanding and compact to suit small spaces
Adjustable racks and shelves
Designed with a reversible door hinge supported your preference
Easy to regulate and choose between temperature setting.
Small storage capacity can make it an ideal one for large families but nuclear one can rely on this product completely.
7) Norcold NRF30 portable refrigerator.
During the research, I had a concept that which is a company manufacturing portable refrigerators may well be named together of the ruling brand within the market?
Then I discovered this NORCOLD NRF 30 portable refrigerator.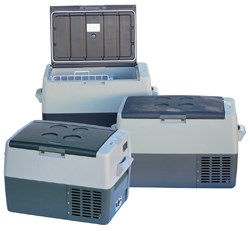 This product fulfills basic requirements that a customer has during buying a mini cooler for them but also has some additional features as compared to others you may stumble upon within the market. NORCOLD is a 12-volt refrigerator. These refrigerators are energy efficient.
You will find this freezer quite lightweight as compared to its size and style. This has been found more compatible with those whose family is big.
Whether you accompany this on your long trip or be it your appetite and also having friends being foody!
Norcold AC/DC portables provide added refrigerator/freezer space when and where you would like it. When it involves discussing its storing capacity, this could provide you compartment enough to store food and drinks for more number of individuals. This NORCOLD product is 1.1 cu.ft. portable refrigerator. It can store 42 cans and up to 12 -oz cans. This provides an advancement with electronic temperature display fixed on the device which enables the user to line the required internal temperature as per their need and items being stored inside it.
You might be thinking it differs from others as from the start I'm praising this product.
The major feature is that it's indicator light inserted which can warn you if any installation failure occurs. This mini fridge having its internal body made of stainless-steel helps you to stop stains and ultimately it'll cause better cooling.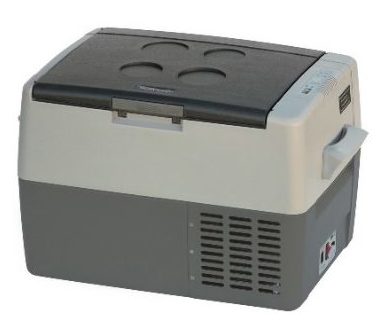 URL to check price: https://www.amazon.com/Norcold-NRF-30-Portable-Refrigerator-Freezer/dp/B004ZMC944
Specifications
| | |
| --- | --- |
| Dimensions | 22 x 15.7 x 15.6 inches |
| Size | 1.1 cu.ft |
| Volume | 42 x 12-oz cans |
| Voltage | 12 volt |
| Insulation | CFC-insulation foam |
Why you should buy this product?
You will find this product completely following your instructions without any alterations in the set value and the real value which you get after setting the temperature.
This product is completely driven with some advanced security features installed. This is so safe to use because of having great insulation foam used.
The more advanced, the more durable is your device.
So convenient to use and much reliable.
Pros
Cons

Suitable to be used reception and on the road
Adjustable temperature
Low voltage protection
CFC-free insulation
Removable/reversible lid
Refrigerator only section
Removable handles
3 adjustable battery levels
NORCOLD'S one of the best model put in the market NRF30 can be your last stop to purchase and it will be worth purchasing the product.
8) Alpicool C20 Portable Refrigerator
There was a time after I was in search of a portable refrigerator that can fulfill my needs daily.
One of my friends had suggested to me one mini fridge according to my needs during that time which was ALPICOOL C20 PORTABLE FRIDGE.
I used to be personally so happy as my quest was finally over. It Is great for those that are searching for a fridge-freezer which too portable one.
This company has made multiple models with certain variations but C20 Portable Fridge is great for keeping your food fresh and your drinks cold!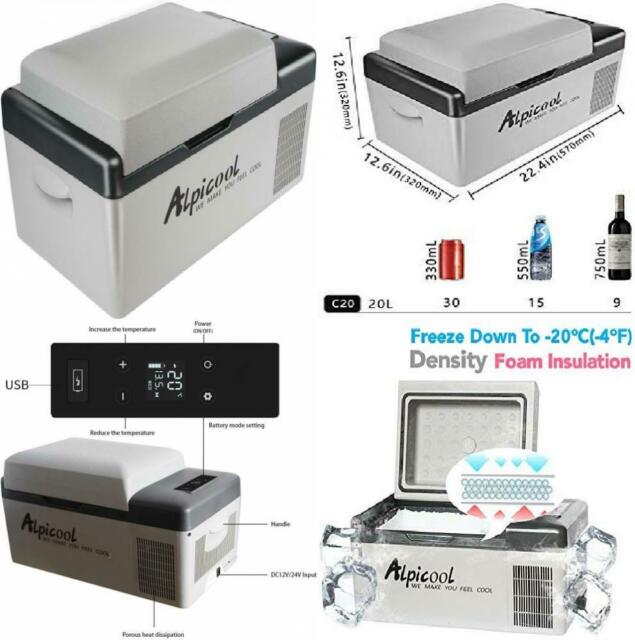 The Alpicool is an "actual" compressor-based refrigerator. My father being a diabetic patient was on daily based insulin.
He was personally pleased with the merchandise as he found the perfect place to store his injections and medicines. Not just that, if you wish to match up the interior temperature together with your thermometer, it's also possible to attain by making sure changes within the settings.
If you're searching for a little fridge for your off-grid cabin or camping I can highly recommend the Alpicool C20. This little fridge will keep your stuff frozen at the underside and you'll be able to refrigerate your drinks and food within the fridge which is present as compartment at the highest.
It offers much space as it's capable of fitting about 25 cans of soda. In short, it holds the capacity to store 20 liters. The plastic material is light and straightforward to hold, but take caution because it can slide around in your car. It's capable of being powered from 12V and 110V. Very low power consumption.
Reviews say an Alpicool will last 3 days on one 12V battery on the Eco setting.
You will find it worth buying because the value you get hold of it and accordingly the dimensions of this unit, is kind of affordable.
You will find this model having two modes: MAX and ECO. The eco mode is going to be saving much of your power and is additionally an energy-saving product by alpicool.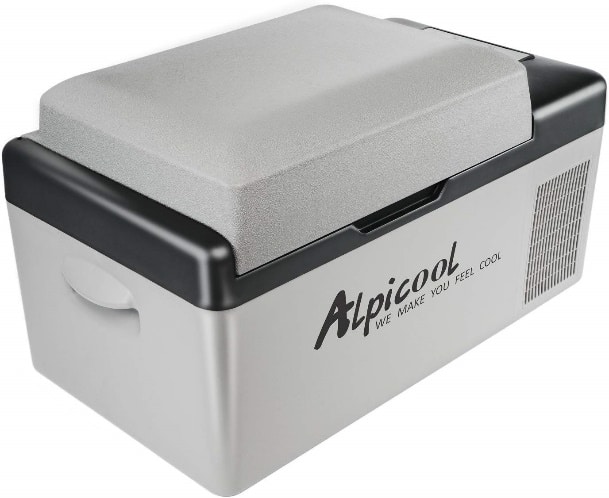 URL to check price: https://www.amazon.com/Alpicool-C20-Portable-Refrigerator-Vehicle/dp/B075R1LH8D
Specifications
| | |
| --- | --- |
| Storage space | 21 quart(20 liter) |
| Freezes without ice | -4F(-20C) |
| Dimensions | 23.5 x 12.6 x 12.6 inches |
| Voltage | 12 V |
| Wattage | 45 watts |
Why you should buy this product?
It has deep chilling down performance you can use it as a fridge or freezer.
You will find a feature called temperature memory function in which you won't have to always manipulate your settings but it will remember the temperature you need.
Another thing you will find is you will be provided with 3 different levels for battery protection: Low, Mid and High to protect your vehicle battery without running down.
STRONG PLASTIC MATERIAL:  The material from which the whole unit is made up of is Lightweight but durable and easy transport to anywhere.
KEEP COOLING AND FRESH: it has Reliable sealing property. It has insulation made up of thick high-density foam.it will keep your kinds of stuff into the fridge fresh throughout your journey.
Feature you may not like…
You may find some inaccuracy engaged with the unit's temperature gauge.
You may find a slight difference between the temperature you set and what you get.
You might get irritated with the battery protection mode provided by the manufacturer. It may be useless existence of this mode for you as it will turn off the device when the battery reaches 11 volts, which is nothing but draining the battery of power.
Pros
Cons

Change display between Fahrenheit and Celsius
Cools quickly
Energy – saver

Compressor can short circuit. Initial plastic- like smell
This is best for that living off-grid or those coming from a fishing trip and wish to stay your newfound catch.
9) Rockpals Electric Cooler – 30 Quart Portable Iceless Cooler
Whenever you go to purchase a house for you and your family do you compromise with your living? You never, right. You always try to provide the best for your family, with good location, ambiance, conveniences and many more…
So, when it comes to comfort your living and making your life more joyful with your people why do you settle for less…
Here is a product by ROCKPALS which is an electric cooler on wheels and handle.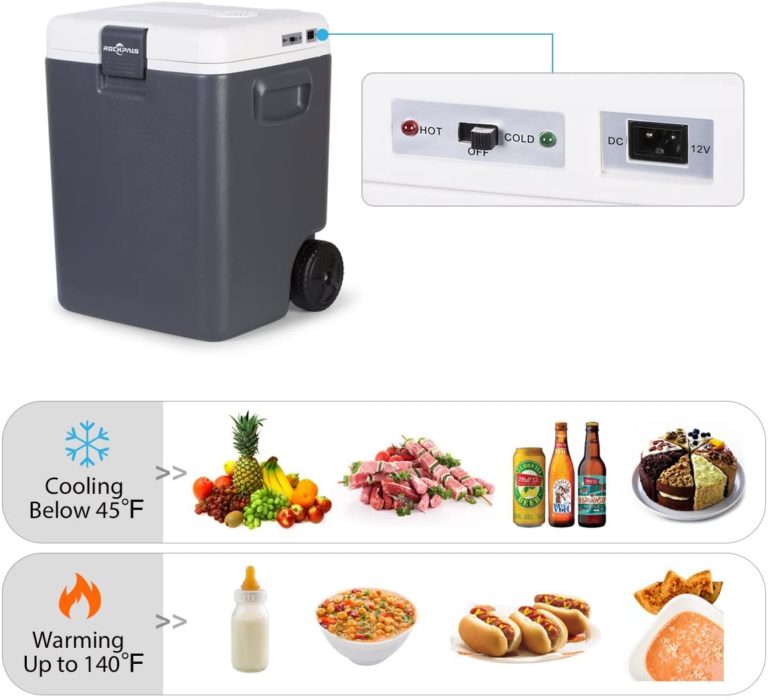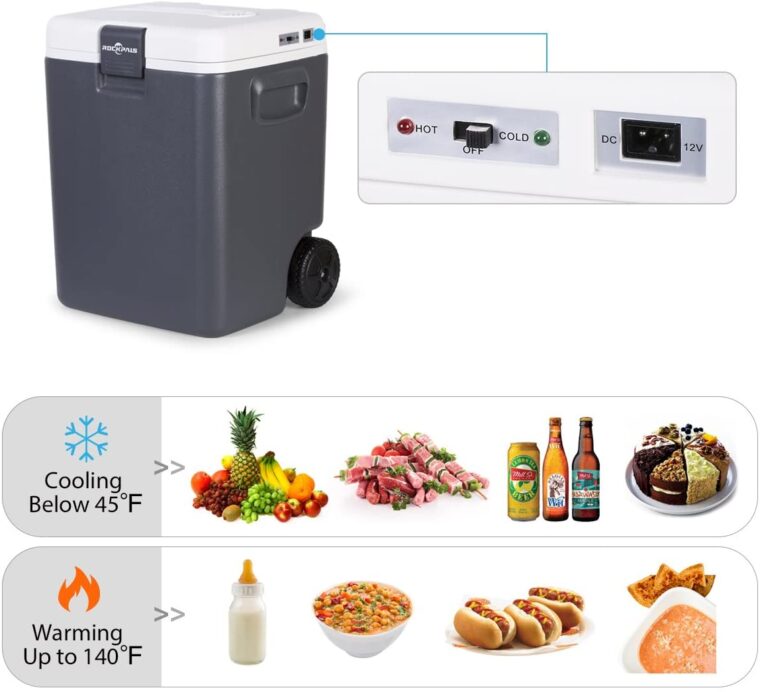 It comes in with 30 quarts, providing huge capacity cooler/warmer. It holds the capacity of handling the family's entire lunch or dinner menu! It will surprise you with the fact that being so efficient in terms of volume and still making itself portable.
Whenever you plan for any outing or name it a road trip, it is obvious that other people would join you to have fun. This again makes you think regarding the foods and drinks you would be carrying along with you for a such number of people on the travel.
With this, you need to be aware of the fact that it is a thermoelectric cooler and it can be carried along with you on a road trip across several states for thousands of miles and would also fit into your back of the car nicely. This ROCKPAL electric cooler is the 12 V electric refrigerator system basically for traveling and camping. Not only this but it can also be used for your home or be it in the office.
The major fact about this product is that it is dual warming and cooling personal fridge and it is known for its versatility. It can become a good friend during the journey. BBQs, trips, events, a picnic can be the purpose during which you may require this tiny fridge.
Also, people carrying their kids on board can find this more helpful as they can store their baby food and milk bottles.
As it is known that this portable cooler by rockpals has dual features that are it can be used for refrigeration as well as for warming up your food. It is able to provide cooling below 45 degrees Fahrenheit. On the other side, when you will turn on the warming functions of this machine, you can warm it up to 140 degrees Fahrenheit.
Had ever this question mingled around your mind that wouldn't it be too tiring to carry such a huge machine with you along the way?
I promise you don't have to hunch yourself back to pull this machine as it comes with long tow handle which can match your height and using that you can roll this little thing with you.
Yes, you are thinking right, just like your trolley bag. This will provide more mobility to your cooler than most of the other electric coolers in the market known to me.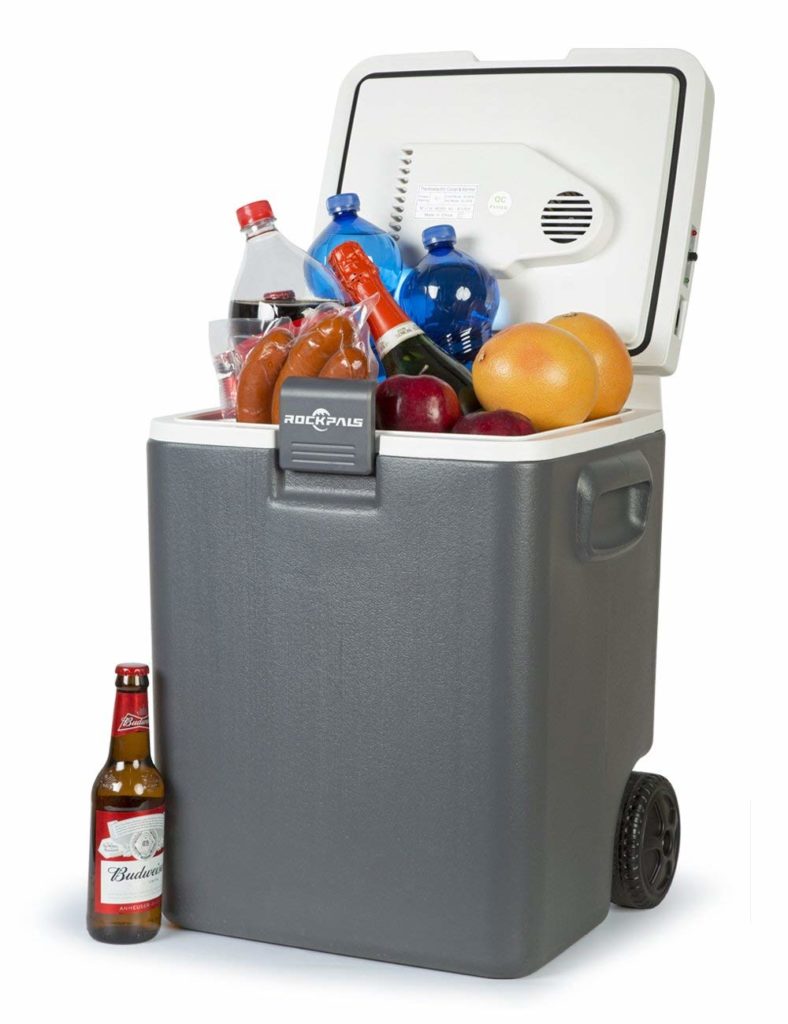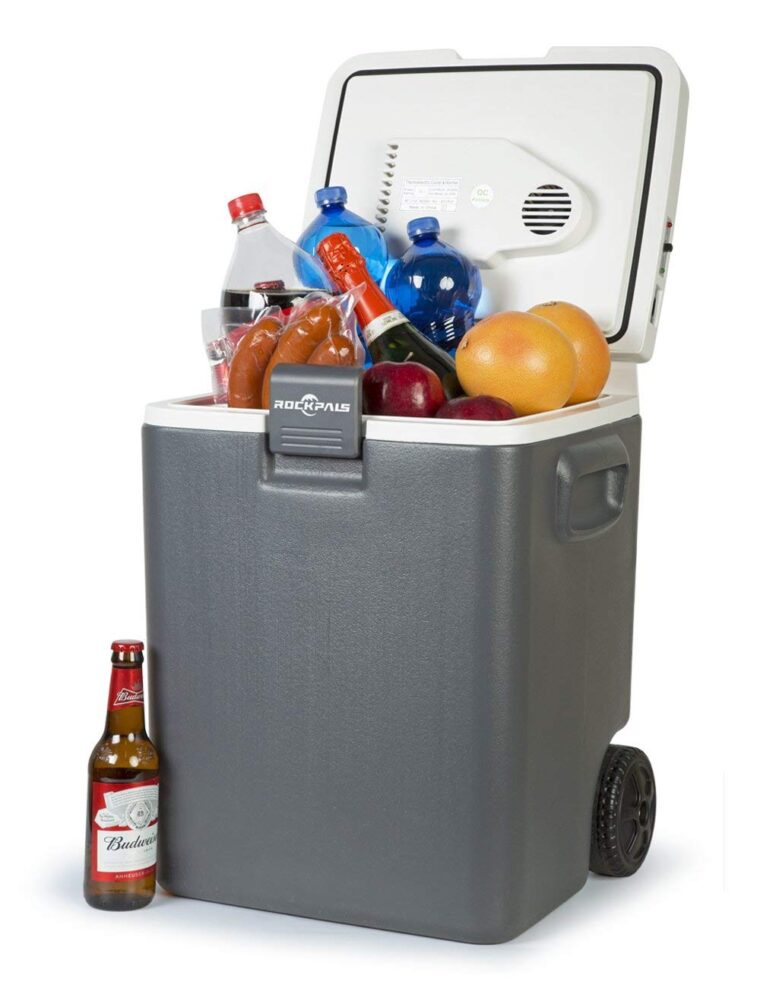 URL to check price : https://www.amazon.com/dp/B073P7SP35
Specifications
| | |
| --- | --- |
| Current: 4A | 4A |
| Fused Plug: | 10A |
| Power Source | 12V DC |
| Max. Input Power | 68W |
| Weight | 12.8 lbs |
Why you should buy this product?
TONS OF STORAGE: While viewing this product you won't face a shortage within the space you need to store your food and drinks in your refrigerator, because it provides you sufficient space to store up to 40 cans without delay.
CONVENIENCE & PORTABILITY: The ROCKPALS coolers has: 1) Telescoping handle and sturdy wheels handle the load with ease. 2) 5-foot-long 12V DC cable for easily planning to the rear seat floor or rests on the trunk. 3) It also has a simple locking mechanism that keeps the lid tightly sealed, maintaining the interior temperature while protecting food from accidental dropped out.
Ultra-Quiet Operation: This will keep your beverages at the proper temperature without making a noise, allows you to relax nearby.
Features you may not like
You can face certain limitations in terms of temperature control and plan accordingly.
If you're expecting to figure a bit like your huge refrigerator, it's going to disappoint you.
Pros
Cons

heavily insulated
not only cools food but can also warm it.
Affordable than many other coolers
Much reliable
Life of cooler is high

Weak in temperature control
Not much efficient
I hereby can suggest you to buy this product with limited expectations and it can stand along to fulfill it.
10) Knox Electric Cooler and Warmer for Car and Home
The name itself suggests the key application of this product. Now only this but according to survey, this has been proved to be a quite versatile product. Let us have a glance at why this mini product could become a choice of the many buyers.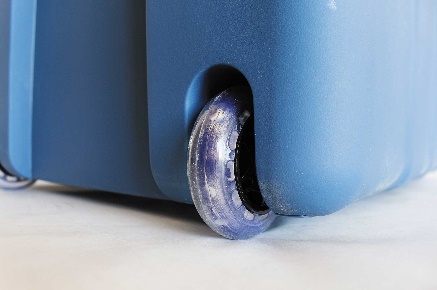 Firstly, after we speak about the specifications we can know from its name which is its holding capacity. It can hold up to 60 cans or take it during this way like 6 two-liter bottles and 15 cans. In brief as a full, it is capable of storing 45 liters.
Secondly, this Knox product is kind of easy to use. Certain attributes that make it happen are the presence of wheels. It makes use of this product so compatible thanks to the presence of wheels.
It has in-built cord storage and according to the professionals, this product is energy efficient. But we cannot ignore the very fact that thanks to its excellent feature of being handy, it will eliminate the utilization of ice. This product still holds dependency on the usage of ice. Handy to use, but it doesn't eliminate your dependency on ice.
Now I'll tell you what quite your needs, this small friend of yours can fulfill. This supreme Knox Gear product keeps stuff cool. Not only this, but It acts dually.
It may keep your food warmer as per your requirements. It will cause you to addiction for the usage of ice but also will enhance your efforts and can be your assistance.
It has a both a 110V/220V AC and 12V DC transmission line built-in, so it will be employed in cars furthermore as indoors.
It's not intended to alter the temperature of any food, but rather maintain the temperature of food. This appliance uses an energy-efficient semi-conductor to enable its dual cooling and warming functionality. I know many of you want to be thinking of the operating qualities of this product.
Below is what I share with you. The rating provided by the manufacturer is 12V 40 W when used for heating and 48 W for cooling. In AC mode (110V) it's 52W heating and 58W cooling.
Now comes the foremost interesting feature of this product is its compatibility. You can fit it in your car and persist long drive together with your loved ones.
Even I drove my car with my mini friend together with my friends on a long trip and there I got my new companion.
I will tell you now the key factor consumers like us detain mind, that's the value of the merchandise.
For me, this product will be a nice deal but won't say it is the simplest deal. But if you're paying 35-40 $ more. Surely, you'll feel some different experience furthermore as its long-lasting life.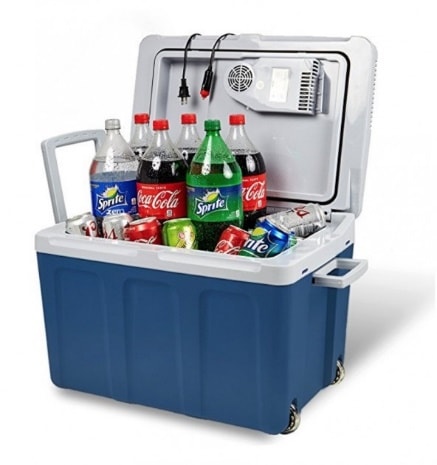 URL to check price: https://www.amazon.com/Knox-Electric-Cooler-Warmer-Wheels/dp/B01D3O9UB4
Specifications
| | |
| --- | --- |
| Capacity | 48 Quarts |
| Dimensions | 16.4″x 17.6″ x 22″ |
| Cooling | Up to 40 degrees F |
| Heating | Up to 130 degrees F |
Why you must buy this product?
If you require cooler + warmer, this Knox product makes a 48-quart unit that will pack lots of food and drinks. Most coolers/warmers are significantly smaller in size, so this can be a good find.
Having a family-size electric cooler is great for giant groups, but don't forget the warmer!
Having an oversized unit that will carry hot soup, keep pizza warm and deliver hot treats are often especially nice during the wintertime. you'll be everyone's supporter.
Knox is understood for creating budget-friendly products designed for active families. They create a bunch of cool small appliances, electronics, and gadgets that make everyday tasks easier and more fun. this can be my sort of company.
Features you may Not Like…
Even though the Knox 48 Quart does can lot of cool things, it is big. If you're short on space, this model might not be the simplest option for you. additionally, it's not designed to be used upright sort of a mini-fridge nor does it include an adjustable shelf.
Pros
Cons

Easy to use
has wheels
cool cord storage
energy efficient
relatively inexpensive

Short cords
doesn't reach very cold/hot temperatures
still need to use ice
Knox Electric Cooler and Warmer for Car and Home is good for costumers seeking small personal cooler and even within their budget. Other than that, basic requirements can be fulfilled with this.