This may come as no surprise to you, but I am a huge fan of all things Valentine's Day: the color pink, hearts, candy, cards and more! I also love adding modern elements – colors, glitter, animal prints and more – to the traditional Valentine's Day aesthetic. When I was planning the packaging for my favorite Valentine's Day treat, red hot popcorn, I decided to go bold and graphic and create leopard print "fry boxes" with neon hearts on them.
As I mentioned, these boxes are also the perfect vehicle to house my beloved red hot popcorn.
If you haven't tried red hot popcorn, I highly recommend it! It is one of Chad's favorite Valentine treats and his mom, Alice, was kind enough to share her secret recipe with us. Be careful, this popcorn is addictive!
Red Hot Popcorn: Ingredients
20 cups popped popcorn (around 2 1/2 bags)
9 oz. Red Hots candy
1/2 cup butter
1/4 cup white corn syrup
1/2 tsp. salt
Put popcorn in a large grocery bag. Mix remaining ingredients in a glass bowl and microwave on high until boiling. Stir and cook one additional minute and pour over popcorn. Shake the bag vigorously. Put the bag in microwave one minute on high and shake.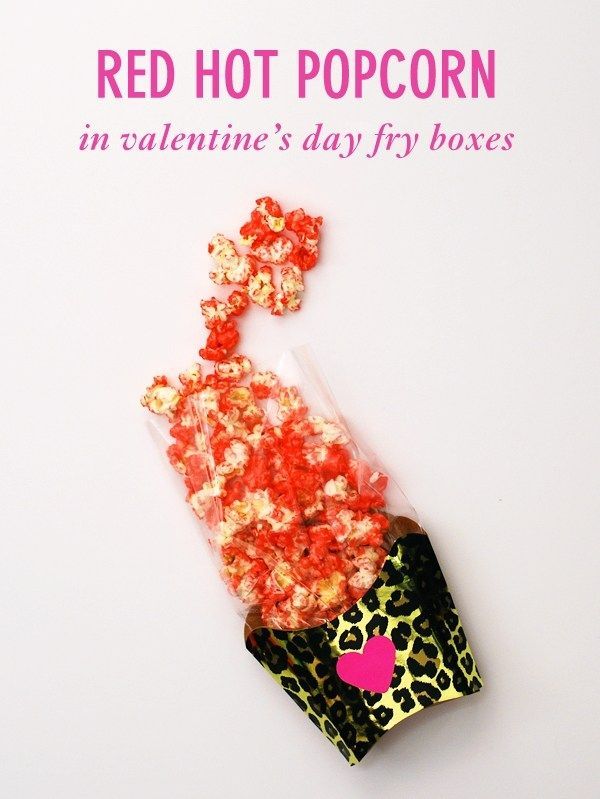 Repeat once more, microwaving then shaking. Pour popcorn on large cookie sheet and wait until it cools. Once cool, break up and eat! Store in an air tight container.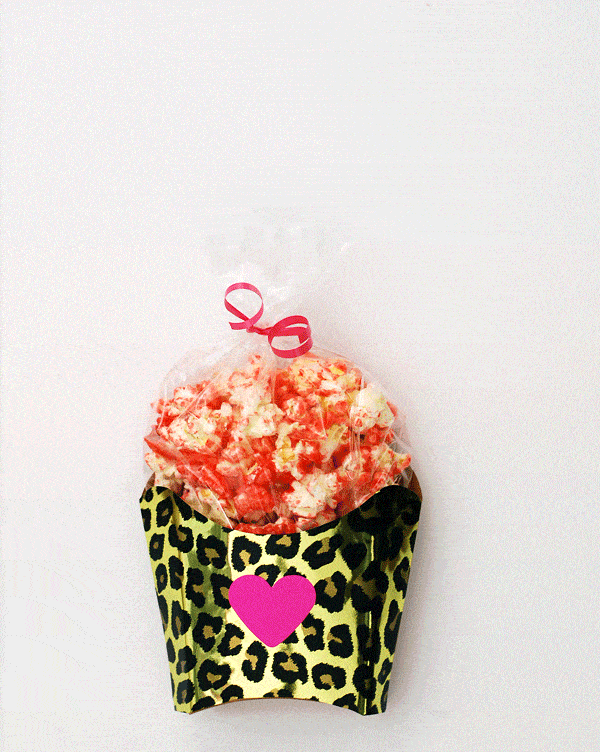 In addition to making tasty red hot popcorn, I decorated my fry kraft paper boxes in crazy leopard print paper with a bright pink hear. Decorating your own boxes is easy and just a few tools are need:
Supplies
Scissors
Glue Stick
Pencil
Assorted paper(s)
Heart Paper Punch
To decorate the boxes, you can use any paper that strikes your fancy. I found wrapping paper worked well. Once I picked out my paper, I disassembled one of the fry boxes to use as a stencil. I traced the front panel on my paper and cut the piece out. I carefully glued them to the front of the fry boxes and added the neon heart in the middle.
Filled with treats, these boxes make fun gifts. Using a different papers will help keep the boxes versatile and ready to go for any occasion. Fill them with red hot popcorn and they make the perfect Valentine's Day gift for anyone in your life!