If you enjoy shopping for wine and collecting bottles that will last a long time, it might be in your best interest to invest in this fridge. You might be wondering what the benefits are of a it fridge or if one would even have a purpose in your home. These fridges are one of the new 'it' kitchen appliances and are popping up in people's kitchens all over because they're convenient, stylish, and great for entertaining.
Continue reading to find out if its fridges are right for you, the best ones to get, and where you can find them.
What's the Purpose of this Fridge?
These fridges, or wine coolers as they're sometimes called, are used to store and chill wine. They come in a variety of different styles and sizes and are a scaled-down version of a wine cellar. Usually, these fridges are best used as short-term storage for wines that will be opened and served within at least a month or two, although sometimes (depending on the appliance) you can store them in the fridge for up to a year.
If you're a wine connoisseur or are interested in starting a junior wine collection, then purchasing a wine fridge is a must. Not only will you save trips to the store, but you'll also have perfectly stored wine that is ready for when you host your next get-together. Even if you're not someone who is interested in starting a wine collection, these fridges are great for the amateur who just wants to have wine on hand when the right moment strikes.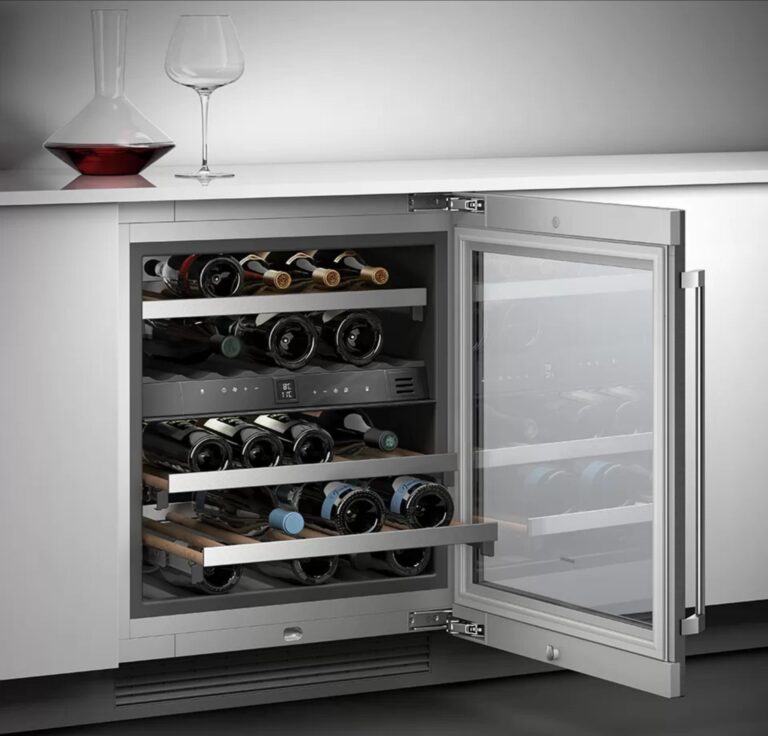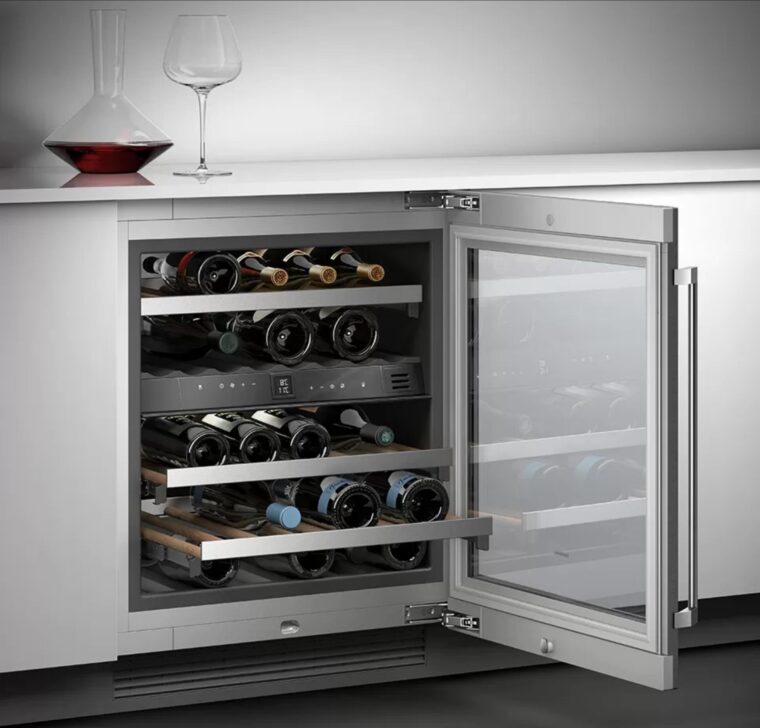 The Key Benefits
Now let's get into the specific benefits of having this fridge. The biggest benefit is that properly stored drinks stay fresh for longer. If you're someone who finds themselves corking a bottle after opening it but not being able to drink the rest in time before it goes bad, this fridge can help with that. You'll save money and make the wine drinking experience more enjoyable.
Unlike in a wine fridge, the lack of humidity in your actual fridge can damage your wines. These fridges are designed to produce and maintain just the right amount of moisture in the air so that the corks stay wet, which slows down the aging process. Also, by keeping your wine separate from other foods, you'll prevent unwanted odors and tastes from adversely affecting your wine.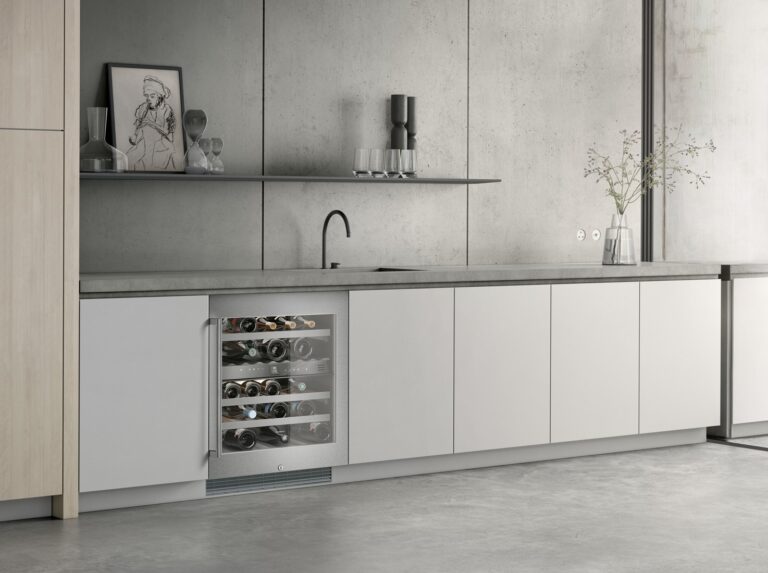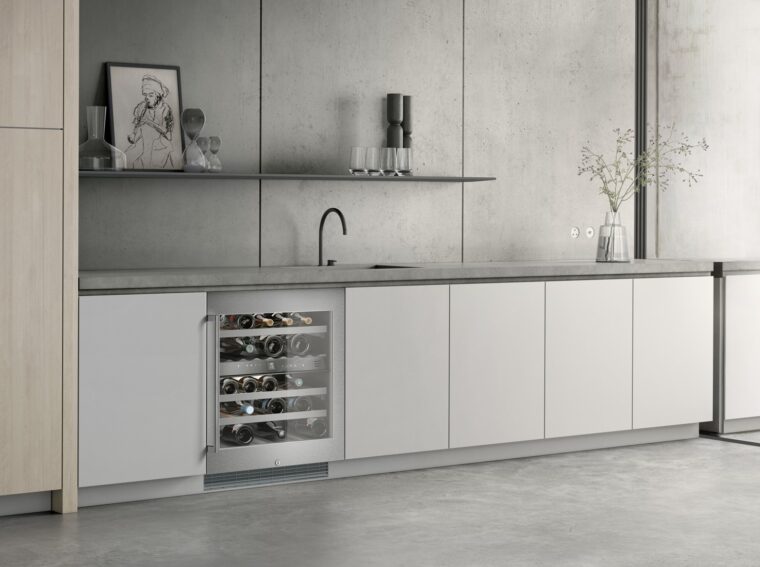 The Best Wine Fridge for Your Lifestyle
Not every fridge is going to work for every lifestyle. So, we've helped you out by outlining some of the best wine fridges out there that match your unique needs!
For the best budget-friendly wine fridge, the GE Black Stainless Steel Wine Cooler is a great option. It's sleek, affordable, and can store up to 29 bottles of wine. It also comes with dual zones, so you can customize the different temperatures.
For a sommelier-tested and approved wine fridge that has been lauded as the best looking, take a look at the KitchenAid 46 Dual-Zone Wine Cooler. This sleek-looking wine fridge will complement any kitchen design and works like a charm. It holds up to 46 bottles of wine and can be stored underneath the counter, sitting fully flush with the sides as it has hidden hinges. There are two temperature-controlled zones so you can separate your reds and whites, and there's also a monitoring system that warns you when the temperature dips up or down.
A fantastic energy-efficient option will be the Gaggenau Wine Cooler if you're concerned about how much extra power this fridge might use. This wine cooler has electronic precision when it comes to temperature control and has an energy-saving and vacation mode. Storage of larger bottles is possible, but for average bottle sizes, it can take up to 34. It's incredibly quiet and boasts an energy consumption of 144 kWh per year, with the average minifridge consuming around 300 kWh per year.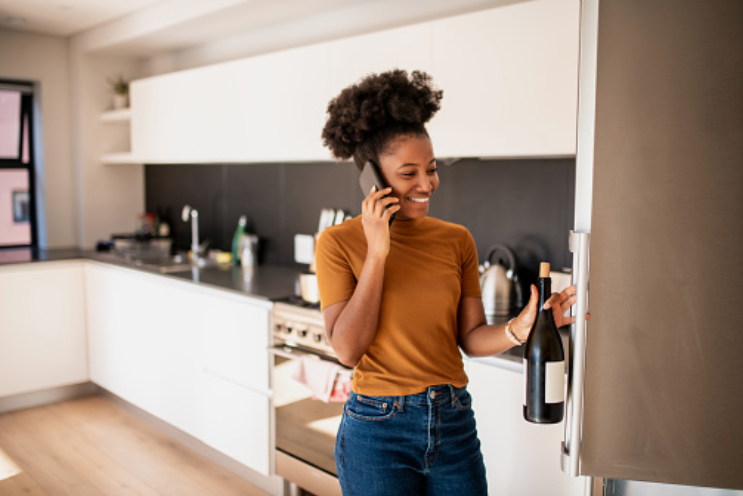 Find What Works for You
These fridges come in all shapes and sizes, and finding the best one that works for you can be a fun adventure. Collecting wine and shopping for it is already a fun hobby, so why not make it even more enjoyable by introducing an appliance that is specifically designed to keep the bottles perfectly fresh? The easiest solution for a casual wine drinker, or someone who is interested in starting a junior collection, is to purchase this fridge that can hold up to about a case of wine.
If you're really into the idea but are not sure if you'll have enough space for a wine fridge in your kitchen, you have plenty of options. As mentioned above, there are some fridges that are designed to integrate right into your cabinets or underneath a kitchen island. You can even work with a custom cabinet maker and have the door to the fridge match your surrounding decor. There are also lots of vertical fridges that save space by being very narrow. They allow you to stack your bottles on top of one another and can even reach up to the ceiling.
If there really isn't enough space in your kitchen, but you're set on purchasing this fridge, you're not out of luck. These fridges can be stored in other areas of your home and be just as functional and stylish. If you have a den or a basement, this fridge can be stored away just like an actual wine cellar. Having your wine fridge in your living room can also work and adds a touch of sophistication to the space. You can zhuzh it up by adding a floating shelf above it with some wine glasses, coasters, and other accessories that would be needed for a small party, like a cocktail cart.
If you want to get inspired and find more these fridges that could work for your space, then check out a local supplier that sells this luxury kitchen appliance. Click here to find a wide selection of its fridges.