Adding a new potted plant or flower is the perfect way to bring a hint of spring to any space, even if it seems like spring may never get here. My team just moved into a brand new building and I'm lucky to have a beautiful corner office with two windows and large window sills. I've packed my office with plants in adorable painted flower pots to add some life during this dull winter. Today I am sharing a round up of my favorite DIY flower pots and and a peek at how I DIYed mine.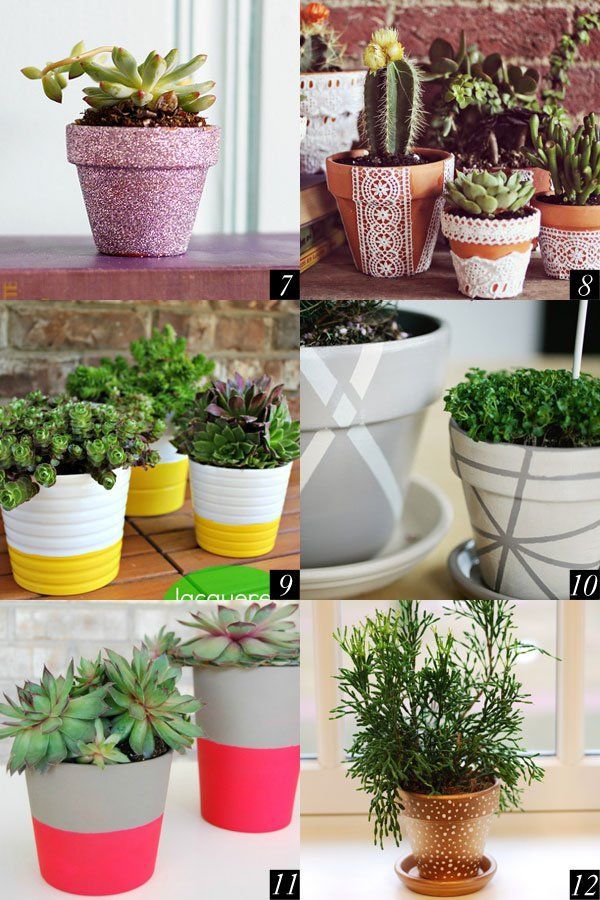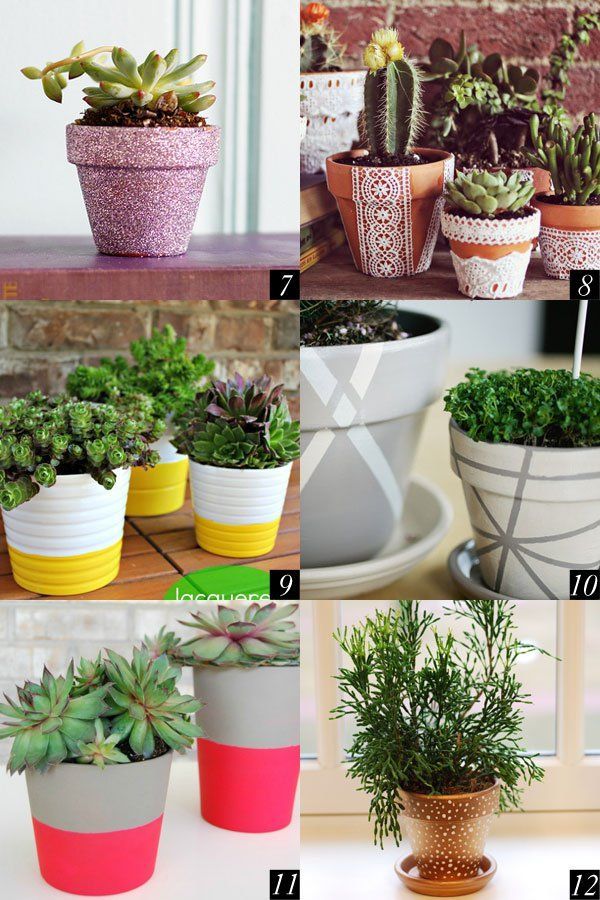 1. Dip Dye Succulent Pot, I Spy DIY | 2. Painted Planters,The Crafted Life | 3. Color Dipped Pots, Wit & Whistle | 4. Teacup Garden, The Inspired Room | 5. Gold Foil Lettering on Pots, Nest of Posies | 6. Painted Planter,The Crafted Life
7. Teeny Glitter Pots, The Pretty Bee | 8. Lace Flower Pots, A Beautiful Mess | 9. Stripped Pots, Hi Sugarplum! | 10. Painted Pots, Marry This! | 11. Neon Dipped Pots, The Proper | 12. Polka Dot Pots, Twin Stripe
Click through to see how I decorated my flower pots!
The above window is south facing, so on a bright, sunny day this window receives full sun most of the day. Most plants cannot handle that much sun, so I went to a greenhouse to find sun-loving, indoor plants. I selected (from left to right) a succulent, a crown of thorns and a foxtail fern to fill my window sill.
Once I had my plants, I scoured Pinterest for inspiration on how to paint my terracotta pots. I decided to spray paint my pots gold and paint a different design on each. I covered two in polka dots and I left my middle pot simple with a white band and drip plate.
Once this pot dried completely, I used a small pouncer to add black polka dots all over the pot.
I wanted my second pot to be polka dotted, but I wanted a completely different look, so I used the end of a paint brush to add small, nonuniforn white dots all over.
I love the touch of spring a flower pot can bring to any room. Now my office is full of spring and I won the title of "Plant Lady" yesterday with a total of nine plants plus a terrarium in my office. What can I say? I can't get enough plants! Do you have many house plants? What are your favorites?