When and How It All Began?
Before we get into what you clicked on this blog post for, allow me to tell you about the fantastic journey nut milk have had. According to Muhammad bin Hasan al-Baghdadi's The Book of Dishes, almond milk was first invented in the Middle East and from the 13th century onwards, spread to Europe. Like a nut, the almond was allowed to be eaten by both Christian and Muslims during fasting seasons like Ramadan and Lent.
Like a nut, the almond was allowed to be eaten by both Christians and Muslims during fasting seasons like Ramadan and Lent. When the church relaxed its views on fasting, almond milk fell out of fashion but the Spaniards still had dishes thickened by bitter almond puree (ajo blanco). The nut milk trend is most definitely not a 21st-century invention, many cultures world over had dairy substitutes for centuries. During the Tang reign, an interesting predecessor to soy milk was cropping up in China, doufujian was a soupy liquid served with hot and spicy donuts.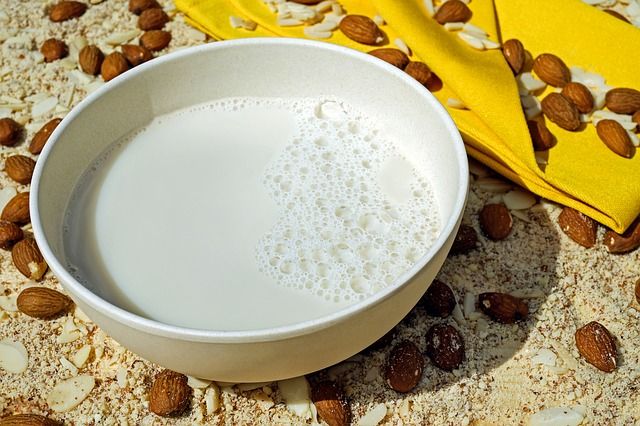 Closer down south, plant milk has been an indispensable part of African and Indian cooking, coconut milk being the most common of all. In fact, the languages of this area use the word milk interchangeably for dairy and non-dairy milk. Do you think almond milk is expensive now? In the middle ages, it was almost exclusively had by aristocrats! Yes, historically, in relation to a day's wages, a pound of almonds in 15th century London cost more than a pint of honey and three times that of a pint of butter. Apart from the rich, almond milk was recommended to the sick, as it was easier on their digestive systems. 
The process
Although it was a fairly direct process, making almond milk was extremely labor-intensive. A general method followed was:
1. Crush a large number of almonds
2. Steep them in hot water
3. Strain the mixture through a fine sieve or cheesecloth.
The steps are not very different from the way almond or any other nut milk, are made today. Milk: The Surprising Story of Milk Through the Ages says, cow milk trade was not common until the 19th century (this was all thanks to its perishable nature and housing harmful pathogens). Modern dairy factories rely heavily on expensive refrigeration, live cattle, and a failing business model. Data shows that dairy numbers have fallen (and will continue to do so in the next 5 years) in contrast, in the US alone, non-dairy milk sales have grown by 61% as of 2018.
On the other hand, according to research done by Huff Post, while it is a whole lot cheaper to use store-bought almond milk, homemade almond milk was that much tastier. Trader Joe's almond milk retails at $2.99 for 64 ounces, Silk almond milk: $3.00 for 64 ounces and 365 Whole Foods almond milk: $3.65 for 64 ounces. But can you really put a price on wholesome homemade goodness? In the world of nut making, there are two kinds of people, the ones who use a nut milk bag and the ones who don't. Let's look at it in detail:
Traditionally, most nut milk makers use a mesh sieve and cheesecloth to strain the blended mixture. However, Cheesecloth has a coarser mesh than a milk bag. While you could use cheesecloth to strain liquids, you will get more particles in the liquid. Butter muslin is more similar to the milk bag due to finer mesh and durability.
More experienced and frequent nut milk makers prefer going with a special nut milk bag. Its sole purpose is to filter the liquids from the solids to give you smooth, rich and creamy milk and the solid grits are caught in the mesh.
The parameters of a good nut milk bag
It is important to invest in a nut milk bag because as a consumer, the first lookout should be:
Durability
in terms of how long the bag will last, keep an eye out for the material it is made of. Many on the market are fans of a nylon or nylon adjacent variant; as versatile as they can get with their straining ability, they are not eco-friendly. Hemp and cotton ones, however, last a lot longer and generally filter more finely which brings us to the next criteria,
The filtering ability
depending on the smoothness, you want to go for lesser or more microns in the bag. One can use nut milk bags to separate pulps for green juices, make cold brew, make butter, cheese and a variety of other products but for plain old milk, look out for around 80 microns and you can go up to 200.
The size
if you are new to the wonderful world of plant-based milk, I suggest you start small. Do not buy a 13" by 12" if you are just starting out. Keep it simple, experiment with all kinds of nuts (it's a great big world of cashews, pistachios, hazelnuts and more) and their byproducts before upgrading the size. Try a 9" by 12" and see how you like it, also keep in mind how it behaves after multiple uses. Many non-nylon bags tend to lose shape after repeated use, one of their few downsides.
My recommendations
Ellie's Bigger Better Nut Milk Bag:
https://www.amazon.com/PRO-QUALITY-NUT-MILK-BAG/dp/B00KLT6X9W/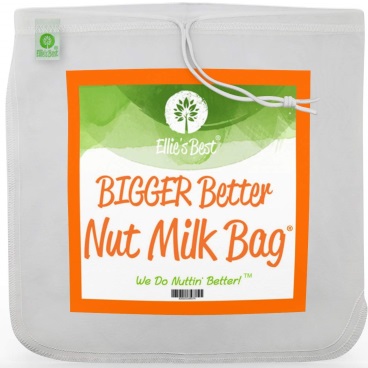 You simply cannot go looking for a nut milk bag online without this brand being recommended from all corners. It is definitely on the larger side in terms of size but it's so highly recommended for a reason. It is made of food-grade nylon and boasts of rounded corners, a wide mouth opening and has a 4.8/5 rating on Amazon.
You can save time and pour the blended mix at once instead of fussy batches, and is SUPER durable, seriously, I cannot stress how much twists and squeezes this bag can take and still retain its shape. Phew!
Ellie's Best is a brand that keeps giving and by that I mean keeps listening. They are constantly open to feedback and make regular modifications depending on customer demands. The purchase on this bag gives you instant access to a free recipe eBook and how-to videos. Straining is so easy and it yields a brilliant texture, flavorsome to the gods!
Organic Family Products Almond Milk Bag:
https://www.amazon.com/dp/B00X4HM0TU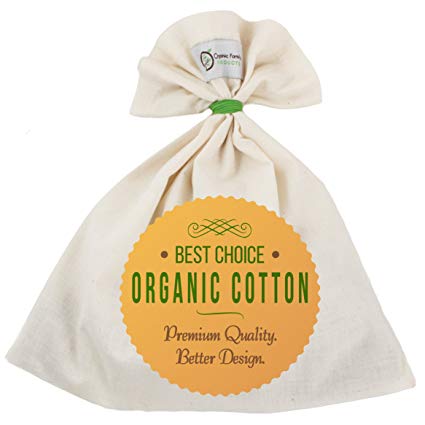 When it comes to Organic Family Farm, you get what you pay for. It has a no seam bottom, is made of muslin and therefore is much finer than nylon; it ditched the drawstring which is a new concept and quite a smart one too.
It is a lot easier to clean up after and makes for a fuss-free squeeze and pour and my favorite perk?
The plastic-free packaging, even on home delivery. You can even recycle the whole bag once you think it's time is up (which will take a long, long time, the durability of this bag is one to write home about).
It goes on, the bag dries much faster than others on the market and because it catches more grain, the leftover pulp makes excellent flour. Customer reviews not only range from praising the nut milk they yield but also healing salves and ghee if you want range- this one has it all.
Doppeltree's Organic Cotton Reusable Nut Milk Bag
https://www.amazon.com/dp/B07Y5F38H6
At the cotton around 90 microns (a very fine weave), you are guaranteed nut milk silkier than most of its competitors. The cotton bag strives for the best squeeze, especially when combined with the extra-fine stitching made for the durability. The nylon-string ensures slippage is kept to a minimum, especially when the bag is wet. The last thing anyone needs is a burst 12" by 12" bag of blended mix all over the floor. Although its clean up game is not a strong as Organic Family Farm, it makes it up by being able to hold thicker by-products like cheese and tofu.
I will admit, it's a little more hard to break into and take care of than most bags, given the pre-use wash it requires and the mold it can catch due to its organic nature (quick tips they recommend: soaking the bag a vinegar and baking soda solution). At the end of the day, it's a small price to pay for great quality almond milk!
References used:
https://www.atlasobscura.com/articles/almond-milk-obsession-origins-middle-ages
David Sprinkle (19 January 2012). "With Almond as the New White Milk, Dairy Alternatives Make Further Inroads". Marketwire.