Oysters are almost an ideal meal of their own. They can be picked up right from the ocean, shucked and slurped away when they are raw. Their tasty, briny flavour does not require any enhancement. This protein-rich seafood has long been known as a gastronomic delicacy.
An oyster is low in both calories and fat. This type of seafood is tasty but highly-priced and involves careful handling and preparing. That said, however, to make the preps easier, it's important to have the best oyster knife by your side
.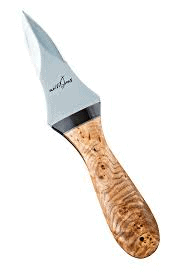 If you want them to be cooked or raw, you need to cut them up, i.e. shuck them and eliminate the outer shell. And you need a specific device, that is an oyster shucking knife, to be ready to do something like this. If you're having an oyster roast or only trying to cook oysters at home, then, an oyster knife is a must. The oyster knife is ideally equipped to open oysters and extract them from the shell, with limited risk of cracking the shell or even hurting yourself.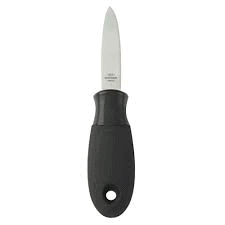 Considering the wide range of oyster shucking knifes in the market, identifying the best possible one and buying it, is tricky. Keep reading to take a look at the list of best oyster knives for shucking oysters.
List of Seven Best Oyster Knives for Shucking Oysters
There are various types of oyster knives available on the market. Since some knives are ideally suited than the others, the kind of knife you should buy is based on the type of oysters you would like to use.
I compiled a list consisting of seven of the best oyster knives in the marketplace to help you pick the perfect knife to satisfy all your shucking requirements. Let us take a glance at some of the various oyster knives in this article.
1) Archer Premium Shucking Knife With Gift Box
Archer has established safety as its top priority. I would definitely recommend you to try the Archer Premium Shucking Knife since it is my personal favourite.
On the end, it's perfect, but not sharp and the blade (420 fine stainless steel) runs down the whole length of the handle. Archer Premium Shucking Knife is designed for loosening and lifting whole shell oysters. The extra-long wooden handle (Pakka) saves your hand from any damage. For convenience, the handle is ergonomically made. It's crafted into a mirror-like appearance. The oyster knife is shipped in an elegant, gift package. Archer Premium Shucking Knife is the best gift for someone who loves oysters!
Users are pleased with this oyster knife, and there are several positive verified reviews for this product. Even the cost is reasonable. Archer provides a hundred per cent money-back guarantee. If you are not satisfied, for whatever reason, the money is returned.
Pros
The blade has a mirror-like shine
Comes in a box suitable for gifting
The blade is the perfect shape for loosening oysters
Long Pakka wood handle
Money-back guarantee
Check the product out on Amazon here:
https://www.amazon.com/Oyster-Knife-Archer-Hand-guard-Beautifully
2) OXO Good Grips Stainless Steel Non-Slip Oyster Knife
OXO Good Grips oyster knife has a durable three-inch stainless steel blade with a curved tip to help open oyster shells. The knife is dishwasher safe. It contains a convenient non-slip black plastic handle.

Note: Some users find this knife's blade too thick. It may not suit extremely hard oysters since it is likely to get bent. While the grip is made to be slip-resistant, it could also get slippery when it is wet.
Pros
Sturdy stainless steel blade
A bent tip makes prying open oyster shells easier
Soft and comfortable handle, won't slip in your hand
Dishwasher safe
Check the product out on Amazon here: https://www.amazon.com/OXO-Grips-Oyster-Knife-Handle/
3) Toadfish Put 'Em Back Oyster Shucking Knife
The Toadfish Put 'Em Back Oyster Shucking Knife is ergonomically shaped, with a thumbprint design. Its blade has a pivot point structure which facilitates the lifting of raw or steamed oysters from the shell. The blade is made up of stain-free high carbon.
According to the ratings on Amazon, it won't slide, so it's an excellent option. Toadfish offers a pledge of a hundred per cent guarantee. If you are not satisfied, give it in for a swap or a refund.
​Pros
2¾ inch blade
NSF approved
Dishwasher safe
Slip-resistant handle
Check the product out on Amazon here:
https://www.amazon.com/Oyster-Shucking-Knife-Opener-Oysters/
4) HiCoup Kitchenware Full Tang Blade Oyster Shucking Knife
This model's full tang style extends to the whole blade length. That means you have a long cutting service to get oysters or shellfish off the shell uniformly. The blade is a remarkable quality of stainless steel. Three rivets hold it in place during heavy-duty applications, with the blade for additional security.
The HiCoup Kitchenware Oyster Shucking Knife is compact since it measures just 6.5″. Users say the handle fits into the pal ergonomically and does not slide back while in use. The knife looks truly beautiful enough for gifting, according to the number of verified reviews on Amazon. Like the other options provided in this list, HiCoup's 100 per cent refund or replacement policy ensures your satisfaction.
Pros
Looks gorgeous
Great for gift-giving
Compact
Measures just 6.5" long from tip to tip
Return or request a refund, no questions asked
Ergonomic non-slip handle
Stainless steel, mirror-shine blade
Check the product out on Amazon here:
https://www.amazon.ca/Oyster-Knife-HiCoup-Wood-handle-Hand-guard/
5) Swissmar Shucker Paddy Universal Oyster Knife
The Swissmar Shucker Paddy is a standard oyster knife with a polycarbonate handle and ergo-dynamic dual-axis pistol grip. For improved power transfer, the 135-degree angle of this black handle holds the forearm in contact with the blade. It still has a shield to the finger which is ambidextrous. This shucker has a 3″ HRC 55-58 stainless steel blade with a tapered edge, which is appropriate for all kinds of oysters.
This may not be as robust as most conventional forms of oyster knives. Under a few situations, users have encountered the blade breaking in half. This may not be convenient for all consumers as a uniquely sized knife; particularly if you have bigger hands.
Pros
Three-inch blade
Universal shucker
Stainless steel
Angled pistol grip handle
Dishwasher safe
Check the product out on Amazon here:
https://www.amazon.com/Swissmar-Shucker-Universal-Oyster-Handle/
6) Dexter-Russell New Haven Pattern Oyster Knife
Dexter Edge is a patented technology that has been trusted for almost a century. The enterprise is using technology from Dexsteel. The Dexter-Russell New Haven Pattern Oyster Knife is convenient and easy to manage with a blade measuring 2.75″. It scoops out oysters from the shell conveniently and neatly. The blade is stainless steel, high in carbon alloy.
According to verified reviews, the knife will not slip with its lovely wooden handle whilst using it. The company is using beechwood and made the shape for ergonomic use. I personally like this oyster knife's shape and ease to use. Once you buy the Dexter-Russell knife, you get to use it for several years.
Pros
Beautiful and functional
Makes a great gift
High-performance knife
Dexsteel high-carbon technology
Ideal length blade for shucking (2 ¾")
Finely crafted beechwood handle
Made in the U.S.
Check the product out on Amazon here:
https://www.amazon.com/Dexter-Russell-2-75-inch-Oyster-Knife-pattern/
​7) MOMONI Premium Oyster Knife Set
Two luxury oyster knives in the MOMONI set have full-tang stainless steel blades as well as non-slip and riveted wood design handles. It is appropriate for shucking various size oysters. This knife set comes with a guarantee, in a gift box for the presentation.
These knives may be likely to break at the tip of the blade and some suggest that they may be better suited to clam shucking than to Oysters as the blade is slimmer and more likely to twist when prying harder oysters.
Pros
Twinset
Stainless steel
Full tang
Non-slip handles
Gift boxed
Check the product out on Amazon here:
https://www.amazon.com/MOMONI-Premium-Oyster-Knife-Knives/
In conclusion, I hope you liked reading this article, whether you shuck oysters frequently, every now and then, or are new to it. I hope my review of the most reliable oyster knives has helped you to pick the knife that's ideal for you and your family.