Recently, a life hack went viral over Facebook and everyone started experimenting it!
Jamie Oliver invented a new method of grilling cheese and went online to tell hundreds of people.
He wrote "In the past, I have turned the toaster on its side, put cheese on bread and slid it in so it toasts on one side and melts on the other. It's a bit of a jiggle but it works."
Within minutes, it went viral and people took it in their hands to try it out.
He has suggested this method of cooking cheese on a toast several times. It even featured on his show Jamie's Kitchen, a documentary in which he trained a team of unemployed young people with little experience to become chefs at a London restaurant.
Inspired by his work, it took no time for people to start trying his life hack.
A British woman of 66 years of age, Suzanne Dale, nearly burnt down her kitchen as she thought this life hack will save her time.
After several accidents, the London fire brigade has issued a warning that turning the toaster sideways is not a good idea at all!
You might think that you are saving some time for yourself but observing the number of accidents it has caused, it is a dangerous option that can result in serious injuries.
Why is it not safe to turn the toaster sideways?
The London Brigade advised the people that they should not misuse their toasters to cook cheese on toast. Toasters are not designed for this purpose.
The woman who tried to use her toaster for this purpose nearly got her kitchen burnt. The toaster had burnt out on its side which caused damage to a worktop and the fire started spreading. Fortunately, they were able to control it.
When you turn your toaster sideways, it generates heat onto the work surface which nearly caused a major fire in the above incident. In addition to this, the dry leftover crumbs that may be present at the bottom of the toaster can get onto the hot elements and ignite.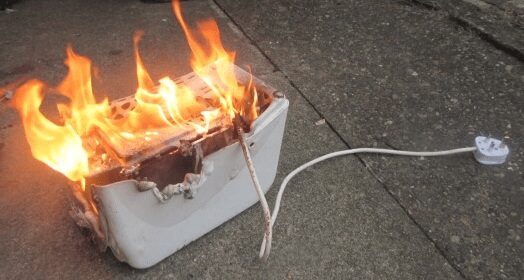 Suzanne Dale posted this picture on her Facebook wall where she described how the life hack suggested by Jamie Oliver turned out to be extremely dangerous and even advised others not even to attempt it!
She also mentioned that as soon as she saw the smoke filling the kitchen, she threw the toaster out of the window, or else it could have been a major disaster.
Therefore, it is strictly advised to use a grill if you want cheese on toast and not fall prey to these life hacks without searching thoroughly.
Some other ways you can grill a perfect cheese toast are-
Use your waffle iron–
Waffle irons can serve more purpose than just making waffles. You can make crispy, gooey, and buttery grilled cheese toasts using it.
Oven-
You can use a standard oven to get the perfect gooey crunchy cheese toast. Just put it in the oven at 400 degrees for 10 to 12 minutes.
Panini press–
If you own a Panini press then you can use it to toast your bread and grill the cheese.
Stovetop–
Even if it is the old fashioned way, using a pan or griddle over your stove top can get you a crunchy cheese toast if you follow the instructions well.
Do not trust every life hack that you get to learn from social media. Go through the pros and cons of applying it in real life.
Do not turn your toaster sideways as it is a fire hazard. You are putting yourself at a high risk for just a cheese toast!