Have you ever stopped to think about how the chef jacket has evolved over the years? It all started with Marie-Antoine Careme, who is credited with sketching out the first chefs in uniform. These days, many chefs still wear a modern take on this timeless tradition. There are a few things that have remained consistent throughout the years – white chef jackets are always associated with prestige, expertise and cleanliness. Additionally, coloured chef jacket buttons can signify different levels of experience or expertise within the kitchen.
However, the chef jacket has come a long way since then. In modern times, chefs have more choice than ever before when it comes to their work uniforms. Different cuts and styles of jackets are available, as well as different fabrics like twill or cotton-polyester blends. Design elements like vented backs or reinforced elbows can provide additional comfort and mobility while on the job. Even the colour of a jacket can give subtle hints as to what type of cuisine a chef specializes in – for instance, chefs specializing in Asian cuisines may wear white jackets with black accents.
The chef jacket is also now much more accessible than it once was. Many companies have made this item of clothing easier to purchase both online and in stores, meaning that anyone interested in becoming a chef can don the same uniform as their culinary idols.
No matter how it evolves, though, the chef jacket has been and will continue to be an important part of the restaurant culture. It is a symbol of hard work and dedication – two qualities that are essential for success in the world of cooking. So the next time you see a chef in uniform, take a moment to appreciate this timeless tradition!
What Do Chef Jacket Colours Mean?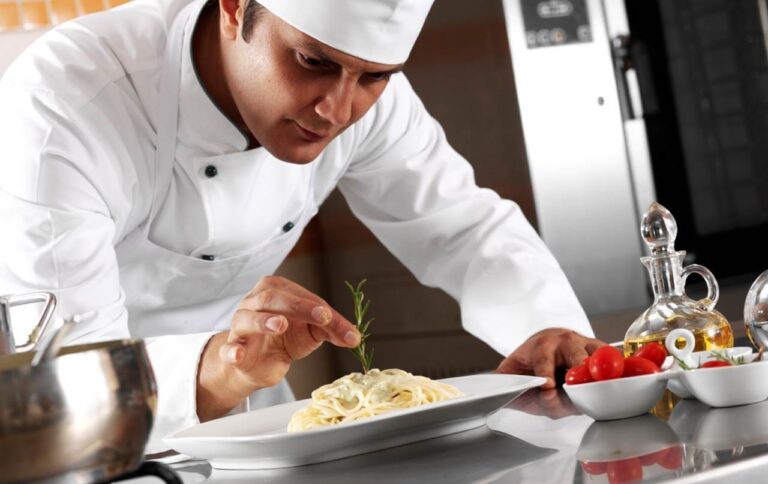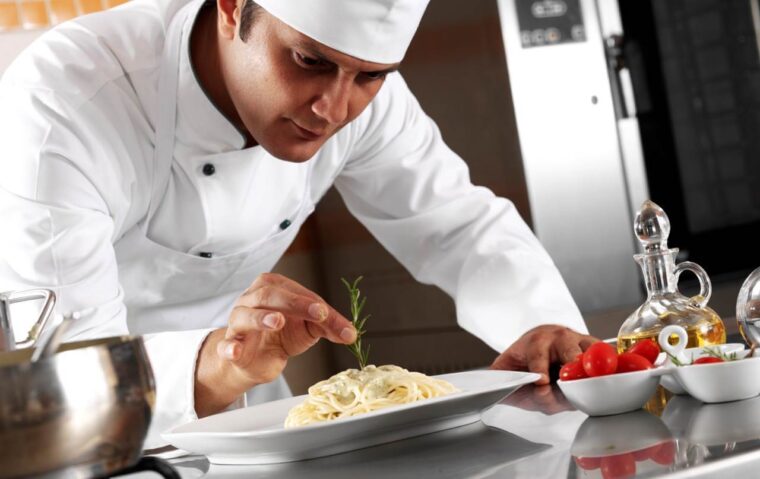 White: White jackets indicate cleanliness and excellence. This is the classic colour for chefs in uniform, as it has been used since the beginning of modern chef uniforms in the early 1800s.
Black: Black is often seen to represent knowledge, authority and sophistication. Chefs who wear black jackets can be perceived as experts in their field.
Blue: Blue jackets are often seen in casual, bistro-style restaurants and signify a laid-back yet professional atmosphere.
Green: Green is associated with freshness and can be used to symbolize the use of local ingredients. It may also represent sustainability or environmental awareness.
Red/Burgundy: Red and burgundy are associated with creativity, passion and energy. Chefs wearing these colours may be seen as bold risk-takers in the kitchen.
Grey/Silver: Grey or silver chef jackets denote a timeless look that evokes classic elegance. These colours can also be used to represent modernity or innovation.
Yellow/Gold: Yellow and gold chef jackets signify wealth, power and prestige. These colours can be used to show that a chef is at the top of their craft.
No matter what colour you prefer, wearing a chef jacket symbolizes your dedication to being an excellent cook! So don your uniform with pride and get cooking
What about Chef Pant Colours?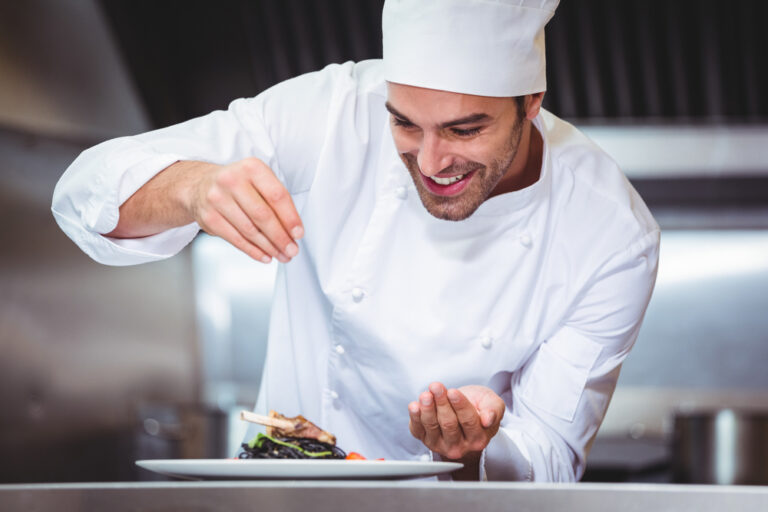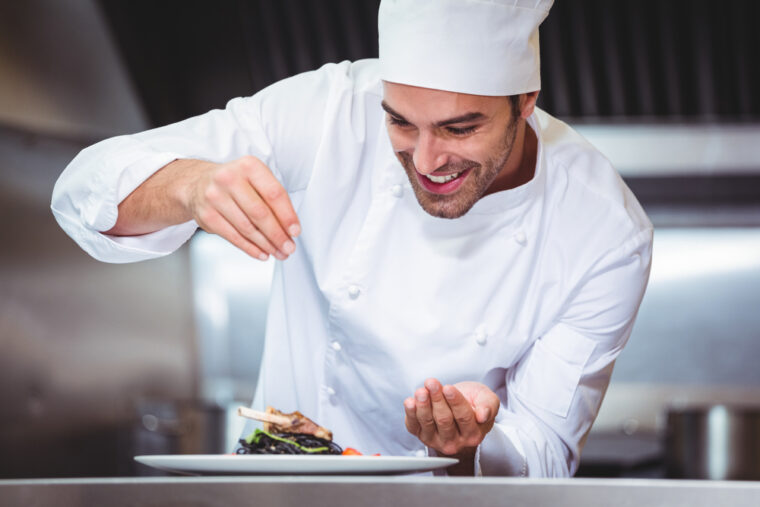 Chef pants come in a variety of colours as well, although they are less visible than jackets. White is the most popular option among chefs, as it matches the classic colour scheme of the traditional chef uniform. Other neutral tones like grey or black may also be used to create a timeless look and feel.
However, coloured pants can also be used to add a bit of personality to your outfit. Bold colours like red or blue can be used to show creativity and professionalism, while muted shades like olive green or tan can convey a more relaxed atmosphere.
Chef pants are also available in different styles, such as cargo pants, chef shorts, and even unisex trousers. No matter what style you choose, make sure that it is comfortable and allows for flexibility and movement in the kitchen.
At the end of the day, it's up to you to decide how you want to express yourself through your chef uniform. Whether you keep it classic or show off your personality with coloured pants, there are plenty of ways to make your chef outfit unique.  So get creative, and have fun with it!
Do The Different Chef Jacket Colours Signal Hierarchy?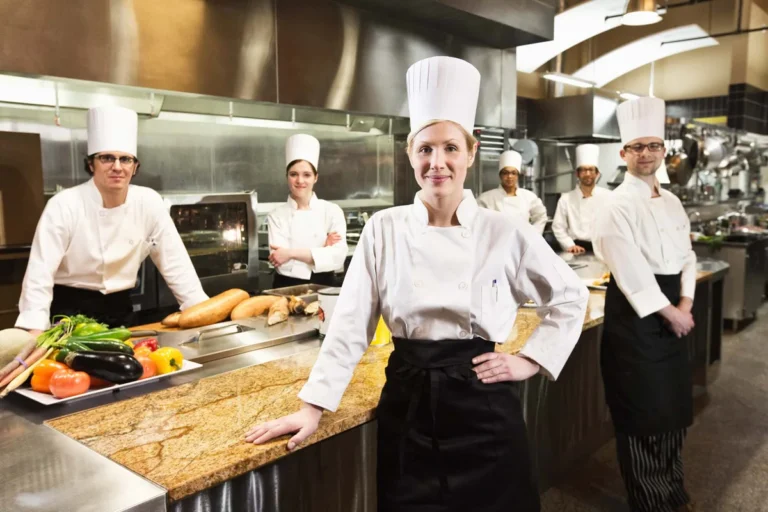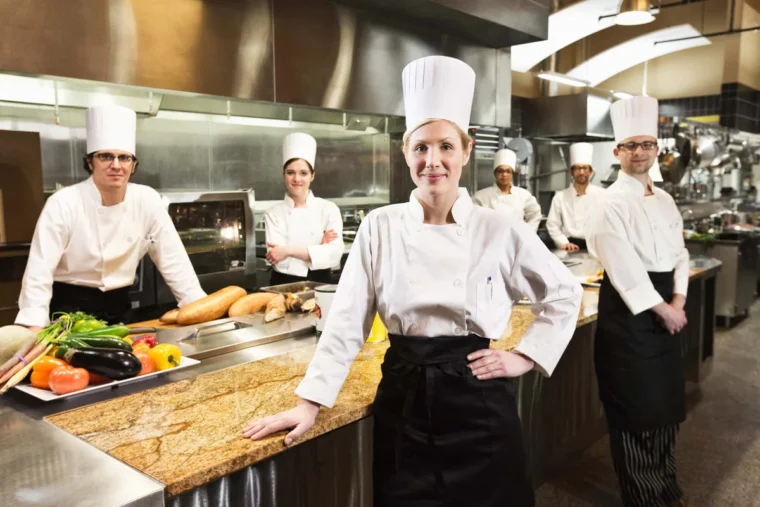 The answer is yes and no. In some cases, the colour of a chef's jacket can represent their rank or experience in the kitchen. For example, white jackets may be designated for novice cooks and black jackets for experienced chefs.
However, this hierarchy is not always the case. Many restaurants have adopted a uniform colour that all chefs must wear, regardless of experience level. This is often done to create a sense of unity and equality among the staff.
At the end of the day, there are no strict rules when it comes to chef uniforms. The colour and design of the jacket you choose to wear should be based on personal preference and comfort level.
Advantages and Disadvantages Of Different Chef Jacket Colours
White: Advantages – White chef jackets are classic and timeless. They also serve to indicate cleanliness in the kitchen.  Disadvantages – White can become stained easily, making it difficult to keep looking pristine.
Black: Advantages – Black jackets give off an authoritative and sophisticated look. They are also easy to maintain and never go out of style. Disadvantages – Black can become too hot in warm environments and may not be suitable for all chefs.
Blue: Advantages – Blue is associated with a relaxed, casual atmosphere and can help create an inviting environment for guests. Disadvantages – Blue jackets often need to be washed more frequently than other colours to keep them looking their best.
Red: Advantages – Red chef jackets are bright and colourful, giving off a creative and energetic vibe in the kitchen. Disadvantages – Red can be too flashy for some establishments and may not be suitable for all occasions.
No matter what colour you choose, just make sure that it is comfortable and allows you to move freely in the kitchen. With a bit of creativity, you can create a unique look that expresses your personality!  Happy cooking!