Cooking is not an easy task. Today, everyone who ever tried to cook, grill, or brew knows we're telling the truth. You need a touch of talent, persistence, numerous attempts, and the right ingredients, and yet you have no guarantee of success. Also, one thing that's often overlooked is the place where you'll perform your cooking magic. While today, most of the cooking happens on the inside, you must agree with us that cooking is an outdoor activity. There's something primal when you prepare food out in the open air.
If we're on the same page, it's about time we get down to the point. Today we're not going to talk about cooking techniques, dishes, or recipes. No. Instead, we are going to focus on the cooking playground – the kitchen. Also, we're not going to discuss any type of kitchen. Our focus for today is going to be on the outdoor kitchens and some of the best examples you can see if you visit this site. While you're at it, we will speak a little bit about everything you need to design a perfect outdoor kitchen. Let's get the cooking started.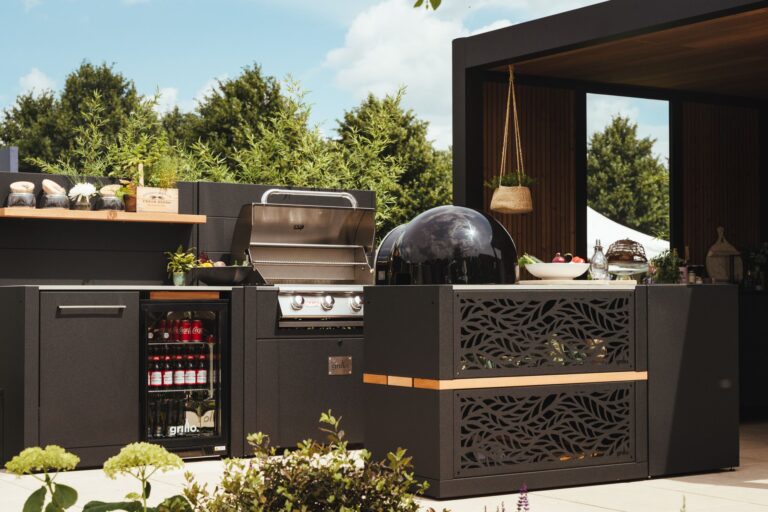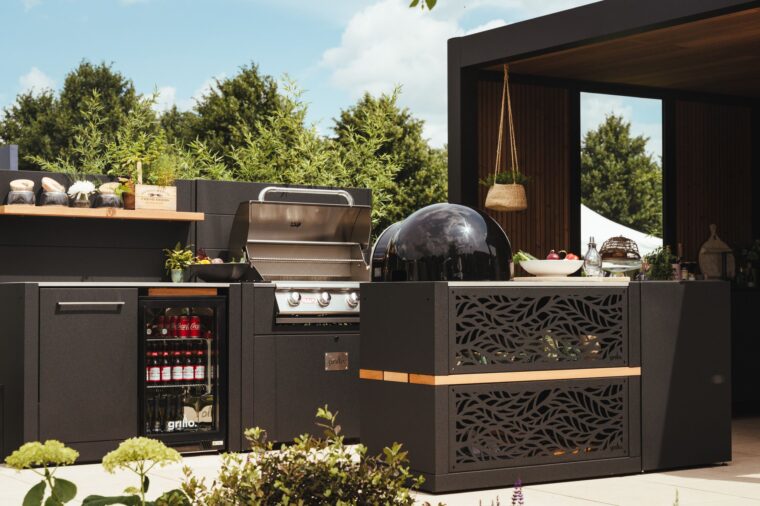 Spread The Floor
There are a few monumental things each kitchen needs to have, but when we're talking about one that will be positioned on the outside we're going to start with a floor. You need a solid footing if you want precision in your outdoor kitchen. Think about a solid patio as an option. Also, an elevated deck could be what you could put on the menu. Either way, the floor surface must be a sturdy one. It needs sturdiness to be able to hold all the appliances, cabinets, cups, grills, chairs, tables, pans, and everything in between. So, the moment you start having a desire for an outside kitchen – think floors first.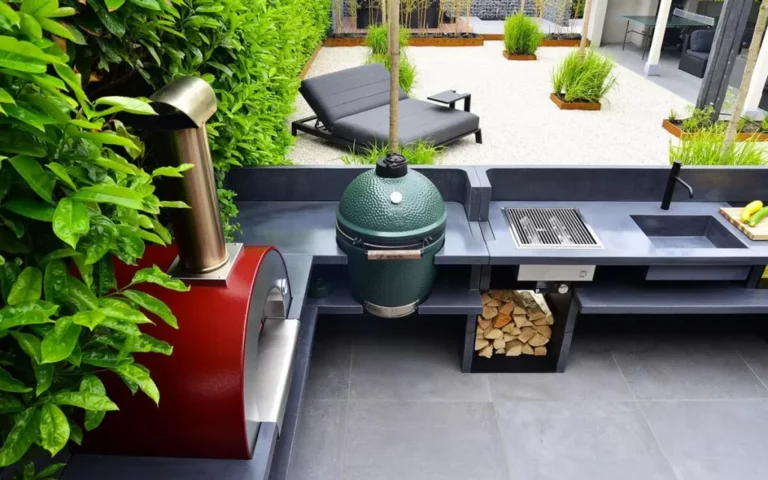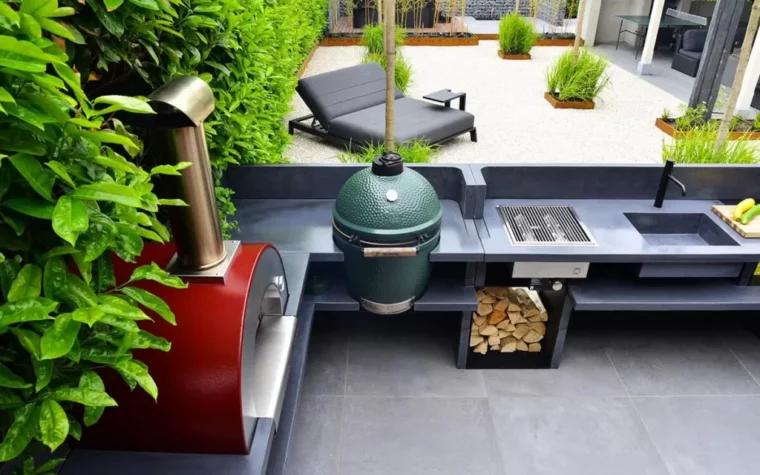 Sun Protection
An outdoor kitchen will be free of classic ceilings, which is its entire point, but you need to think about those warm days. When the sun is high and you're in the kitchen next to a fire, a sun protector will make all the difference in the world. Also, how about wind and rain? All in all, you need all-around weather protection when you're designing your outdoor kitchen. Yes, we understand that you'll be using it when the weather is fair, but having protection in place is vital nonetheless.
Appliances
Let's move towards the heavy artillery. Without the right appliances, your outdoor kitchen will not be able to function properly. Do you know what you need? Let's start this list with a grill. No outdoor kitchen should exist without a grill. That's the golden rule. You choose the powering method – it can be charcoal, gas, or wood. It's all the same to us. Beyond a grill, you should invest heavily in a good refrigerator and a sink. Keeping your beverages fresh, and your food well prepared and cleaned is essential. You can expand your kitchen beyond the three devices we listed, but in essence, you can' run a kitchen without these items.
Surfaces for Food Preparation and Serving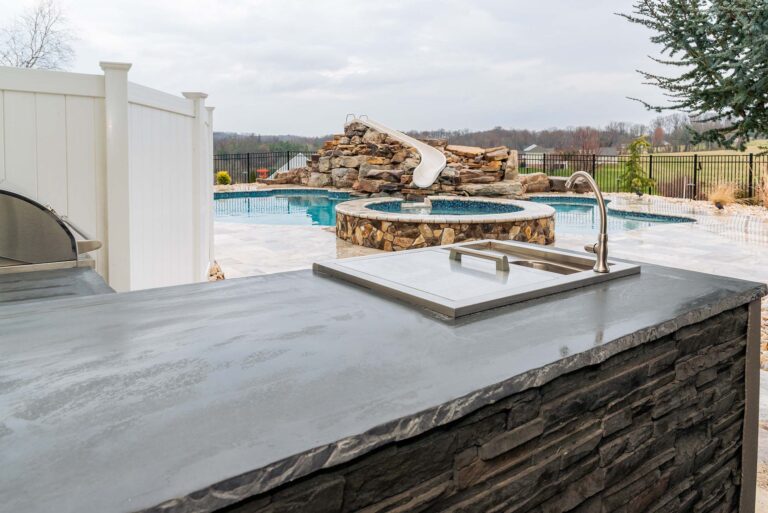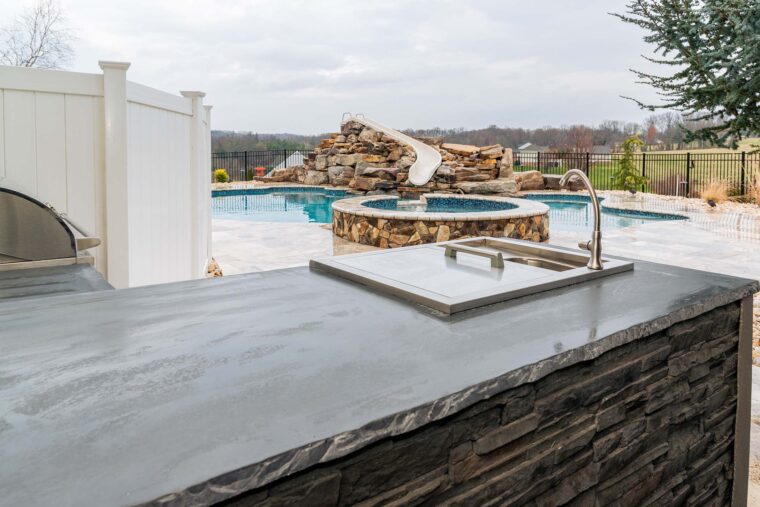 This area of your outdoor kitchen needs to be formed around the grill.  If you disperse it on both sides of the grill's both sides you will have enough space for both food preparation and the serving of the dishes. This surface needs to be flat to make the work easier for you. Also, you shouldn't save on the surface. You never know how much food you'll be preparing, nor how much space will your guests require. This is not the part that you should overthink. The easiest route to take would be to copy the layout of your indoor kitchen.
Storage Space
An outdoor kitchen is not a one-time project. When you design it you need to have an idea of using it all the time in your mind. This is why you need to take into account all the tools and foods that you'll store in it. This is why it's essential to have a well-designed storage space and enough cabinets to go around. Build the whole framework based on your grill, appliances, and pre-surface position. You can start with cabinets and drawers or you can opt for storage space that has no doors. The decision is all yours, and you should go with the option that is the most practical and that fits your habits and needs.
Seating Space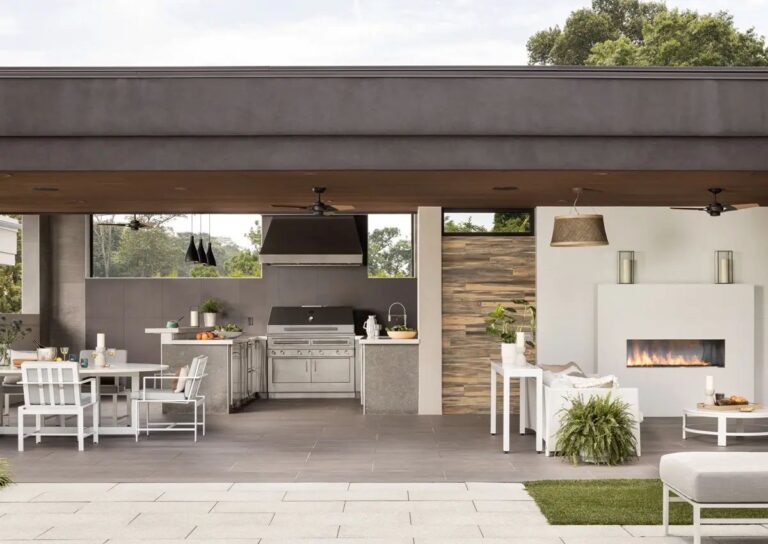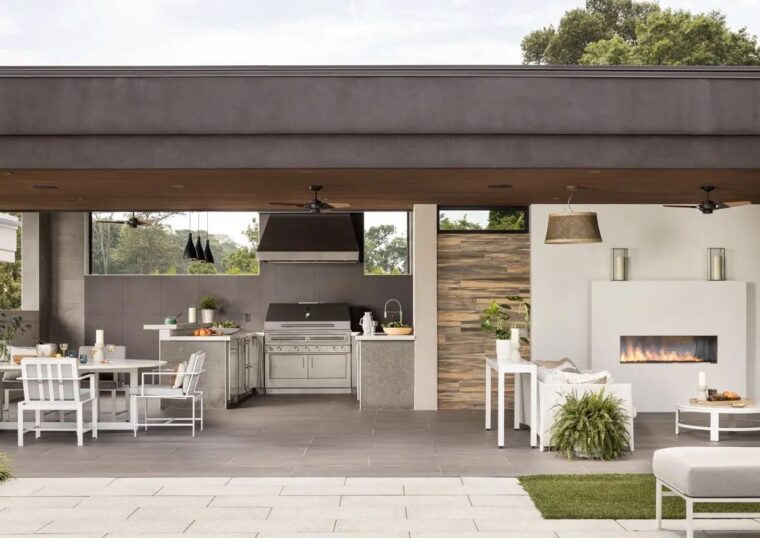 Outdoor kitchens are all about having friends and family over and spending quality time together. You are already well aware of your close social circle. Based on the number of people you'll be hosting from time to time you should decide on the seating prospects and its positioning on the space you have available on your patio or elevated deck. This is where you should go with a classic approach. Just think about countertop surfaces and bar stools, or classic tables and chairs. You can't go wrong with either.
Lighting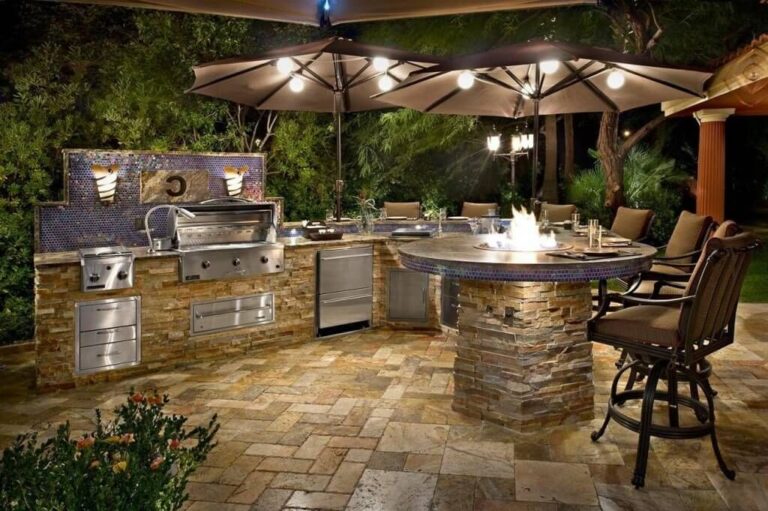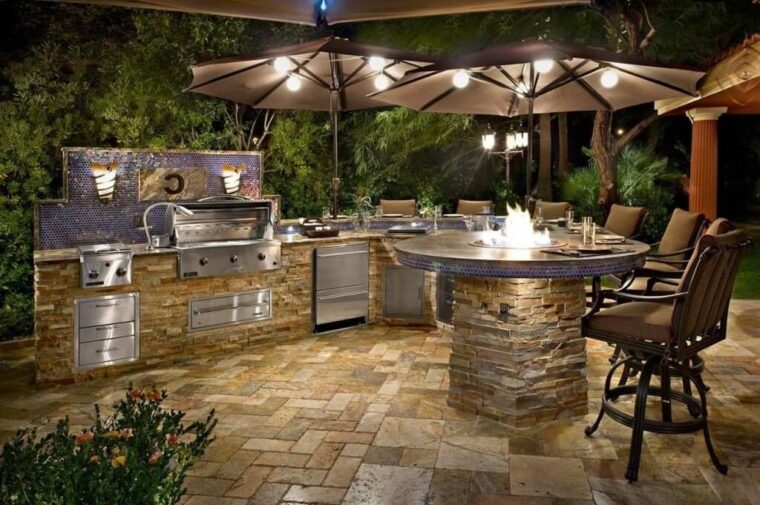 Lighting is crucial for every outdoor kitchen. The chances are you'll be cooking both in the morning and in the evening as well during the day. Also, your cooking might make people stay overnight and have a party. Whatever the case might be you'll need sound lighting features for your outdoor kitchen. The devices you need to have in mind include LED lights, candles, standard lights, floor lighting features, or classic chandeliers. You need to ensure that the part where you'll be cooking is well-lighted so that you can work your wonders in the kitchen without having to lose your eyesight.
Bottom Line
Designing an outdoor kitchen is a straightforward process. All you need to know is where to start and how to wrap it up. We hope that we managed to help you with both. So, when your DIY project is on schedule you should remember this article. If you're not so sure about your ability to get the work done, our advice is to always hire professional help. It's a few meals more but one headache less.