A good spice collection is the heart of every kitchen.
Spices are the core ingredients that make or break the meal, and the range of that collection is the second most important thing. The bigger your collection is- the better your meals would be.
But the biggest problem is that they consume a large space!
And when you are using a good amount of spices in your meals, it becomes very difficult to manage all of them together and all this makes the situation messier.
That's the reason why drawer inserts are so helpful. It not only relishes your kitchen but also provides a new different level of organization to your beautiful kitchen.
Kitchen Drawer Inserts
When it comes to finding some storage space for your kitchen it always feels like a battle and to maintain those areas neat and clean is again a task that requires sweat and blood.
Kitchen drawer inserts are the perfect tool to keep all your spices intact in one place and it is the best for the space-conscious people.
Having a beautiful drawer is not the aim but having a well-designed drawer is what will make your kitchen a new look.
Drawers that are poorly-designed can be disastrous for your kitchen and to help you avoid purchasing them, we are here to help you with the best quirky kitchen drawer inserts to make your cooking mood mellow again.
Here's is the list of the best kitchen drawer inserts which are easily available on Amazon.
So what are you waiting for come and check the best products which are made especially for your convenience.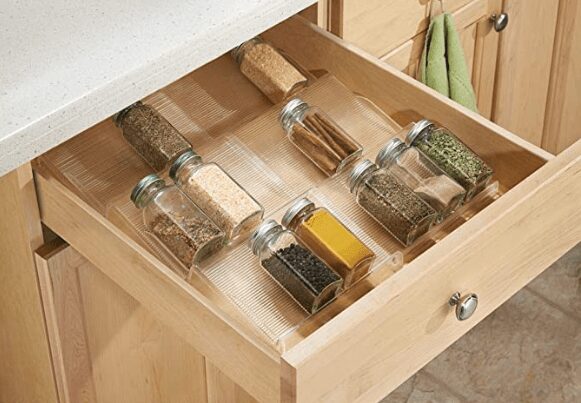 When it comes to buying this product, this tiered design will provide the maximum space and will easily fit in most of the drawers in your kitchen. And the slanted levels make it easier for you to identify the spice bottles making your work less messy.
You don't need any hardware for the installation of this insert and it's very easy to use. You just need to place this in your kitchen drawer and expand it to the required size.
Not only just for spices. But you can also use it for storing any other kinds of stuff such as your perfumes, lipsticks, lotions and other cosmetics in the bathroom.
Its size is quite ideal for a kitchen insert. It measures 16.5″ x 8″ x 1.5″ high and has the ability to expand from 8″ to 14.5″ wide area.
It is made up of durable BPA and chlorine-free plastic making it very easily washable. And we highly recommend to not clean them in a dishwasher.
This 4 tier tray has the ability to organize 32 standard sized spice jars.
It is made up of heavy gauge steel and has a durable epoxy finish to provide you trouble-free usage. In addition to this, this spice tray can be cleaned very easily.
This tray fits in almost every place right from the kitchen, offices and even bathrooms.
When it comes to the look, it is very elegant and stylish which you would love to choose every time.
The dimensions of this product are: 13-1/4″ W x 16-1/2″ L x 1-1/2″ H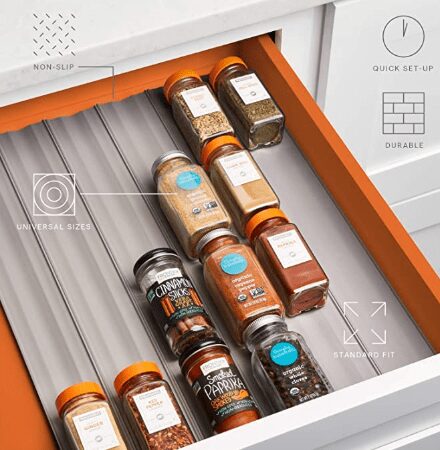 Want to store all your spice bottles in one drawer? This SpiceLiner Drawer can take up to 30+ full-sized spice bottles in it.
Its soft 10-feet foam helps the bottle to be in their place with their labels facing upwards making it a lot easier to pick them up during cooking.
It does not require any installation process and you can just set it up with the help of a measuring tape.
It is comprised of an extra foot to make more organized as a spice drawer.
It comes with an additional feature. You can customize this spice drawer liner according to your required space. Just cut the liner with the help of scissors and your work is done.
The dimensions of this 3-tier drawer is:15″ L x 8″ W x 2″ H
This product can be very neatly stored in your kitchen and is very compatible with cabinets too.
Its slanted shelves have the capacity of holding four bottles in each of them, making it a lot easier for you to read the labels and use them without any trouble.
Its bamboo construction makes it more unique and different from the others. It is quite durable and can be easily cleaned with the help of soap and water. But try to avoid submerging it.
In addition to this, its building material i.e. bamboo gives you an authentic look to your kitchen countertops and cabinets.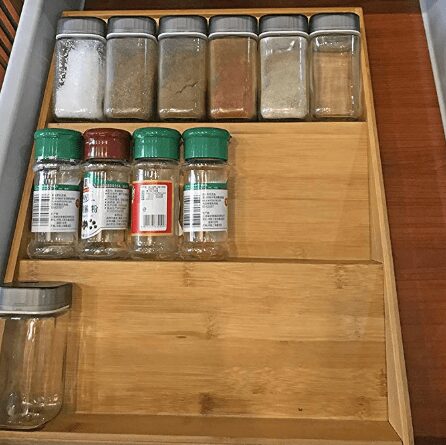 This product is made up of bamboo making it harder and stable for use.
The dimensions of this spice rack are 15*12*2inches.
This is a multi-purpose drawer highly used in the kitchen for storing powders, seeds, salts, etc. But on the other hand, it can be widely used to store some office supplies too.
It is available in various other sizes too. You can go for three sizes which can store 12, 18 and 15 pieces of bottles in them.
The main aim of this company is to make this product reliable for its consumers. You can easily clean-up this spice rack with the help of a dishcloth.
This drawer from SPICEdock has the capacity to take 12 spice bottles in it. Each and every shape of the bottle can easily fit in.
This kitchen insert is of the standard size and can fit easily in any kitchen drawer.
The dimensions of this drawer are 15.5″ x 8″ x 1.25″
Its non-slippery feet are the cherry on top.
Its construction is very convenient and it allows you to access the bottles very easily.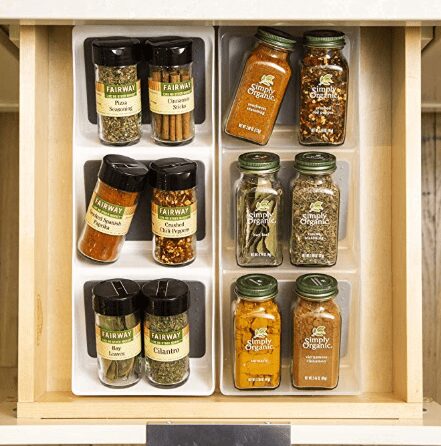 Want to upgrade your kitchen with a clutter-free drawer? BINO 3 section spice drawer organizer insert is at your service. This product will not only organize your spices but will also upgrade your kitchen to give it a lavish look.
It is made up of durable BPA and free plastic. To avoid unnecessary sliding in the drawer, the compartments are possessed with rubber.
It is the best substitution for the traditional spice cabinet.
The dimensions of this drawer are 15.4″ L x 6″ W x 2″ H.
In addition to this, you can get this product in two more color variants: White
As the pinch of red pepper increases the essence of a basic dish the same way an organized set of your spice jars in the kitchen will provide a lavish look and will give you a reason to flaunt in front of your friends.
And when you don't choose these drawer inserts, you can see your kitchen in a clustered form which can ruin your cooking mood too.
Make your collection of spices complete with these inserts which fit kitchen drawers, cabinets and the countertops. Having well-labeled jars and an organized section will be a helping hand.
These kitchen drawers will turn every chaos into elegance and perfection.
Because what can be more perfect than when you need your required spice jar and that right in front of you.
These kitchen drawers not only organize your kitchen but also make sure to enlighten your cooking every day with mere perfection and engagement.
So what are you waiting for Go and Start ordering!