The nut chopper is an innovative kitchen product.
More often used by the people who like spending time in the kitchen and making products including lots of nuts.
Honestly, the best part of chocolates or sweets is the nuts we put in them.
These nut choppers are always at your service, making your work as easy as it should be.
We are here with a list of nut choppers which would give the best results when you chop your dry nuts using them.
The nuts you chop might consist of almonds, walnuts, hazelnuts, and many other such exciting tastes. Other than that, you can chop with perfect precision and least hard work.
There are no reasons to worry if you are a champ in cooking, but can't get your hands perfectly on the chopping board, here's the best of the best deals you can get.
The following here listed are the simple gadgets that could simplify your life and get your daily life cooking done in no time.  
Qualities You Should Look for in a Nut Chopper
So, talking of the best nut choppers that you can get, let us see what are the basic qualities you should look while purchasing a nut chopper
Blade Quality
The blades provided in the machine should be rust free. You all know how rust can add health risks if added to our consumption through any medium. It is quite difficult to find perfect stainless-steel blades, but they are very important in the long run.
Bowl Quality
The bowl or container of the nut chopper should be made up of food-grade transparent plastic material. This helps you to define how coarse you want to keep your almonds or other nuts. Also, this makes the chopped goods easily consumable.
If the machine you are purchasing is not manually handled, you should choose the one having a motor with copper winding. They provide long years of durability and reliability.
Handle Quality
If the machine you are purchasing is manually operated, which I recommend personally, you should make sure that the handle is strong enough to make appropriate friction for easy grating of nuts. Such eco-friendly designs require no electricity and hence are easy to operate. Also, they are energy efficient. 
Size
Instead of buying big choppers for daily life cooking and chopping, you should go for small and easy to handle choppers. A handy chopper must be compact and perform different types of chopping at one go.
Easiness for Cleaning
Make sure that the cleaning of the container is easy. After all, you are the one who would clean up the mess made after all the chopping! Blades, bowl and storage lid should be separable and easy assembly of the different parts should be preferred.
Now that we have talked about the specifications you should look for while buying a chopper, let us figure out the best choppers present in the market already making our lives easy.
The below-listed choppers are the best of all present in the marketplace.
They have been listed on the latest consumer reviews ad their performance judged on a daily basis. 
Edofiy E-KW-D020 Manual Speedy Cutter
This is the best-selling chopper used to chop almonds easily for sweets and pastries.
It is a high-quality chopper. Its chopping blade is made of food-grade 430 stainless steel and BPA- free ABS.
It has a unique round shape slicer giving the best protection to your fingers. The blades come in 3 varieties and are changeable.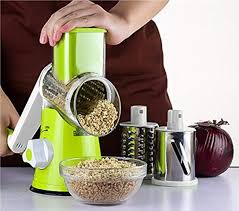 It helps to save your time by its efficient functioning. It is one turning cycle equals to a common kitchen knife cut 12 times. It does not the only slice but also it can be used as slicer, cutter, shredder, and grinder. 
It is very easy to clean. You can easily rinse it off using warm water or a small amount of detergent. 
It consists of the drum slicer with a suction base. This feature of the product ensures that there are solid grip and stability on a flat surface. 
Its sleek design helps to create perfectly rated and cut ingredients.
Also, there is no need to plug in this completely manual operable cutter. Later, you can avoid hurting your hand.
get more information about this product do visit the amazon website to get exciting deals: https://www.amazon.com/Edofiy-KW-D020-Vegetable-Interchangeable-Stainless/dp/B074T7Z8ZP
Prepworks by Progressive Nut Chopper
This nut chopper is great for chopping all different types of nuts and seeds be it almonds, peanuts, pistachios, walnuts and more!
It is perfect for creating toppings for salads, sundaes, cookies, and smoothies.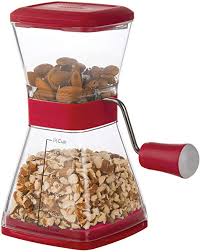 The product presents a patented design. It features fine to coarse grinding options and a patented elliptical shape with clearly marked measurements on its removable base to get your recipes right.
Along with the stylish design and solid functionality, it offers full manual access. Right from easy cleaning too easy pouring due to food-grade quality of plastic, it becomes very handy to operate this machine.
It comes in a variety of colors such as red, velar, white/clear, stainless to match your kitchen needs. This doesn't only make your work easy, but also increases the beauty of your kitchen, giving it a sleek and modern look.
more about this product https://www.amazon.com/Prepworks-Progressive-Non-Skid-GFNC-2-Removable/dp/B00833DQCU
Electric Food Chopper by Homeleader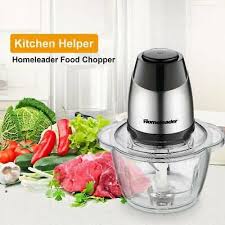 It is an automatically operated machine saving your handwork. It is a smart system with 300 W powerful motor which makes chopping cakewalk. It consists of 4 stainless steel blades and 4D glass bowl design which allows the upper and lower blades to chop food evenly.
It has a good capacity of 1.2 liters capacity which holds good for 1-4 persons mashed potatoes. 
This product offers a user-friendly design. Other than meat grinding, it only takes seconds to clean glass bowl and blades. Also, there is non- slip rubber ring at the handle for stable operation. The sides of this product come with 2 easy and comfortable grips. It gives out noise lower than 40db, making it the best automatic motor chopper. 
avail more discounts and see similar products follow the link: 
https://www.amazon.com/Electric-Processor-Homeleader-Vegetables-Stainless/dp/B078K7453G
All the above listed contain some of the other useful categories which can provide you with the easiest possible slicing and chopping experience.
Inspired by daily knife chopping speed and ways, these choppers have upgraded to provide you with the best possible shopping options.
It is very difficult to choose one of the above-mentioned choppers.
Each of them provides one or the other features which are useful while chopping.
If I speak personally, I would recommend manual chopping containers. These give you a direct idea of how coarse or fine you want your nuts to be. Other than it also gives you an estimate of the number of nuts you are using in it. 
Although it is a tough choice to buy one of these, I would say go for the one judge based on chopping size.
That is if you want to chop your nuts finely, go with the one you think would give you fine and crisp shapes of almonds.
If you like it a bit bristly, you can opt for the one with bigger holes and a shredder which gives big pieces of nuts.