Whenever I cook for myself, I feel that I am self-dependant.
This might sound funny for you.
I feel that if I can cook for myself, I can do anything on my own.
I guess so many of you have gone through this. If you have not, start cooking.
Rice is highly consumed in all parts of the world on a daily basis. It is a widely used staple and is the third-highest worldwide production. The following are some types of rice.
Brown rice
White rice
Wild rice
Sprouted rice
Wehani rice
Black rice
Jasmine rice
Basmati rice
Each type of rice is versatile in its own way.
You can use them according to your taste and food habits.
If you are a health freak, brown rice would be the finest option. It is followed by wild rice, sprouted rice, wehani rice, and black rice.
If you are looking to lose weight and you still eat as much as rice you want, surely you are barking up the wrong tree.
Rice intake should be limited if you are on a diet.
There are indeed different methods to cook rice.
Some ways require a rinse and some do not.
Some believe that rinsing is not a good idea as it has a chance of peeling off the vitamins and minerals that are present on the rice.
Some folks soak the rice, irrespective of the methods all rice is casually steamed or boiled. Rice is barely used in some countries.
For example, the United States does not include rice in every meal.
When rice is not your chief priority, a cooking machine that is only permitted to rice is not needed. A huge set up for rice is unnecessary.
Rice is not your thing?
You do not want rice cooking machines to occupy your kitchen?
Here you go, adorable rice pots for you!!!
Some Rice Pots For You:
1. Instant pot duo
2. Tiger corporation JBV-A10U rice pot
3. Zojirushi NS-ZCC10 rice pot
4. Tianji digital ceramic rice pot
5. High-fired vitaclay rice pot
6. Cuisinart CRC-400P1 rice pot
7. Zojirushi NS-LGC05XB rice pot
8. Le creuset cast iron pot
9. Mealthy multi-pot
1. Instant Pot Duo
Who will negotiate when it is extraordinary?
Who will turn against when it fits for everything?
Yes!
Instant pot duo is so versatile that no one can hate it.
Let us have a quick look at its features.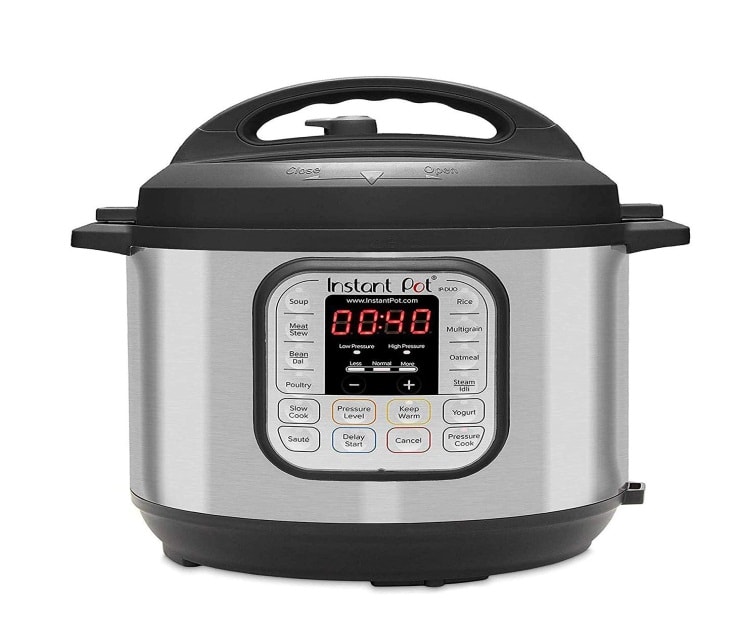 Instant pot duo is a smart electric pressure cooker. It is a 7 in 1 machine where you can enjoy the privileges of 7 cooking devices.
They are rice cooker, pressure cooker, steamer, sauté pan, yogurt maker, slow cooker, and food warmer. It is fabricated with the latest technology to function well.
It has an LCD screen to display the cooking process. It is good for rice, oatmeal, meat, soup, etc.
The instant pot is equipped with a safety lid lock, which obstructs the opening of the cooker during high pressure.
The options are easy to deal with, the stainless steel makes it durable, sauté, sear, and simmer in just one pot and the temperature setting is in our hands. The price is quite reasonable and affordable.
Cooking frozen food is no more an issue, the instant pot is there in rescue.
You can directly cook frozen food without defrosting it.
You might be wondering about the cleanup right?
Fortunately, instant pot never compromises in providing comfort because it is dishwasher safe.
Pros:
Durability at its best
No food leakage while cooking
Great performance
Temperature is monitored
2 years warranty
Cons:
The beep sound after cooking is too low.
Q. Why should you use this product?
A. The instant pot is a fantastic machine, if you are looking for a multi-purpose machine then without any brainer pick up the instant duo. In this busy world, something like this would be very helpful.
Cleaning is quick, very tough, and more number of options are available.
Check out on Amazon:
https://www.amazon.com/dp/B00FLYWNYQ/
2. Tiger Corporation B00KDNKT rice pot:
Quality is something every individual desire for, right?
Tiger rice pot is built with top-notch quality.
Let's have a brief view of the product.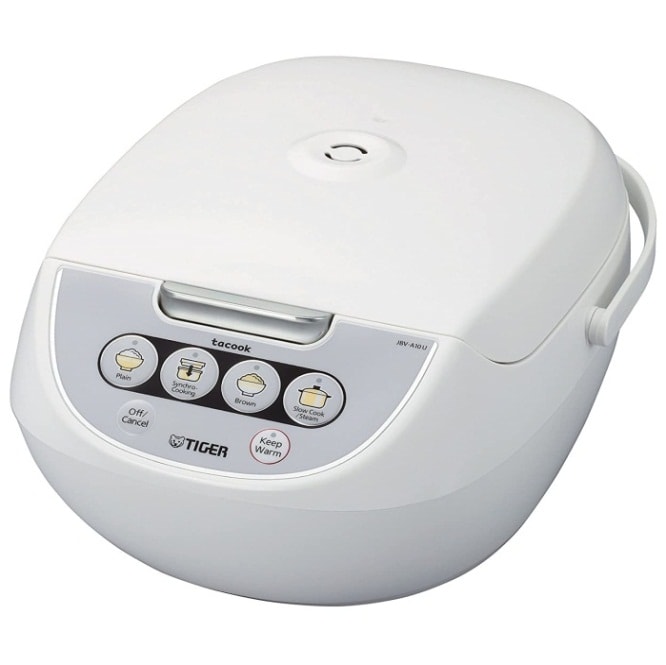 Tiger pot mainly features synchro cooking. it is a beautiful system, where rice and another dish are allowed for cooking at the same time.
On the other hand, the flavors won't mix with each other while cooking.
There are absolutely no disadvantages to this synchro cooking. Saving time would be fulfilled to a greater extent.
You can select this if you are basic when it comes to food.
You will have four cooking options in this. They are,
Synchro cooking
Plain rice
Brown rice
Slow cooking
Tiger pot weighs 5.7 pounds.
This cooker is manufactured with 5.5 cups capacity.
This system helps you to cook the amount you need.
Cleaning can be done with ease.
The pan is with non-stick material, so cleaning would be fine.
Pros:
Voluntary warming
Tacook function
Better quality
Easy cleaning
Cons:
No timer
No glass lid
Permitted to fewer options
Q. Why should you use this product?
A. Cooking is very flexible, you can the cups according to your necessity. The size is perfect for your home cooking. It is worth the price.
Check out on Amazon:
https://www.amazon.com/dp/B00KDNKTJG/
3. Zojirushi NS-ZCC10 rice pot:
Honestly, who can resist beauty?
I have no knowledge of you, but I can't survive.
It is sure of me being attracted!
Let's have a glance at this amusing rice pot.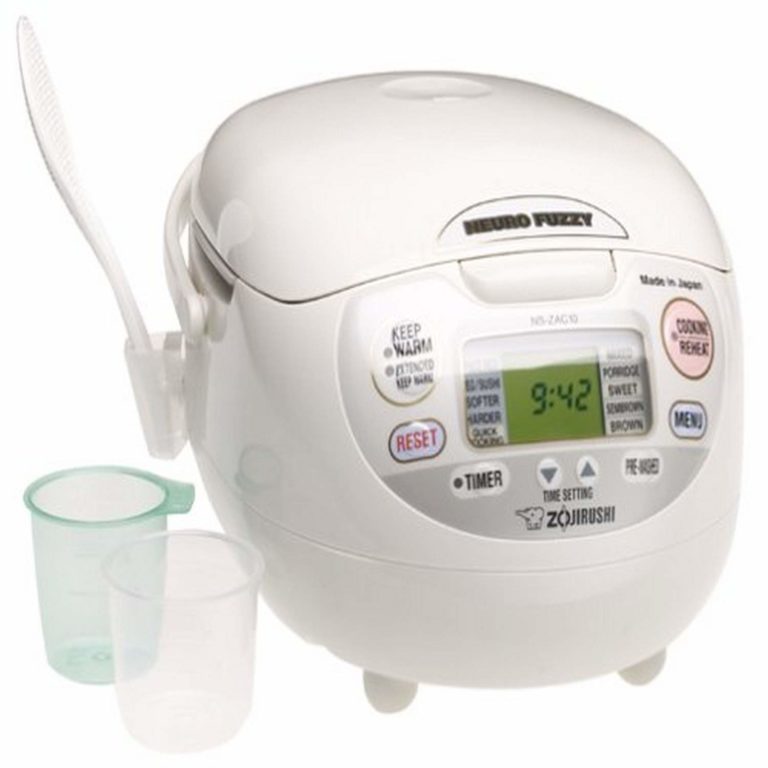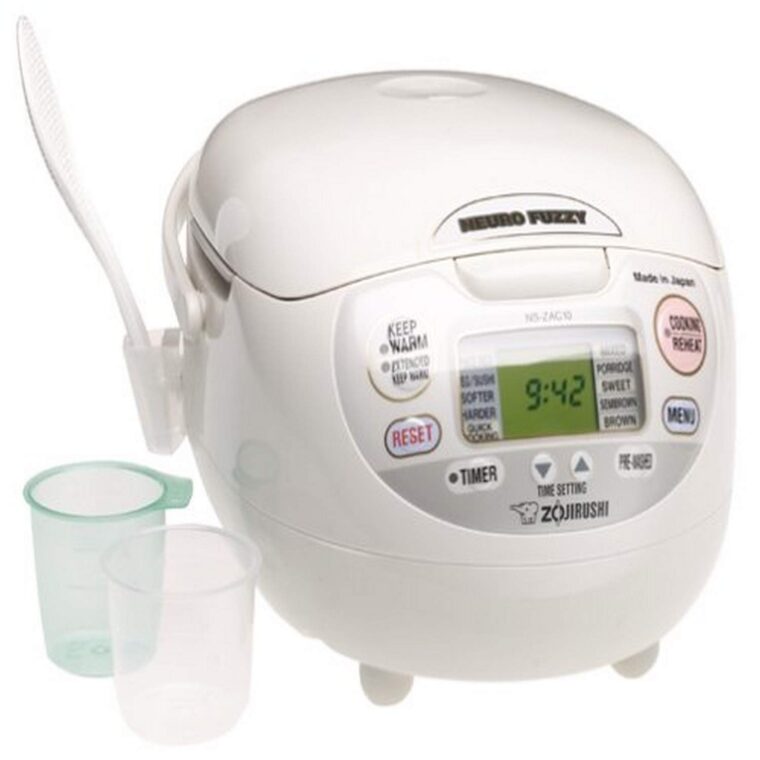 Looks astounding, right?
I know.
This beautifully designed Zojirushi rice pot is enabled with neuro-fuzzy logic and computerized technology.
This technology makes the system advanced.
You have various options in this to comfort yourself. The options include, keep warm, extended keep warm, and also reheat cycles.
I can surely say that these options are unique and this rice pot versatile from others. The weight is 7.58 pounds.
I agree that it is a bit heavy, but it is worth it.
You will get some additional items such as 2 measuring cups, non-stick rice spoon or non-stick rice scooper, rice spoon holder, and recipes.
Oh my goodness!
How cool is that?
You will get recipes.
Moreover, the zojirushi rice pot is fabricated with stainless steel.
This gives the pot a long-lasting life and durability.
It has an LCD display for the timer. It can handle 5.5 raw ingredients.
The significant thing is, you have to only use the provided measuring cups while cooking. The non- stick layer gives you the expected appearance and taste of the dish and uniform heating.
Pros:
Advanced neuro-logic technology
Additional items- measuring cups, non- stick rice spoon/scooper, and rice spoon holder
Non- stick layer
One year warranty
LCD display
Beautiful texture of rice
Cons:
Q. Why should you use this product?
A. The foremost merit of this rice pot is the advanced neuro-logic technology.
The additional products this pot has been really amazing. You will get the perfect texture of rice.
The warranty option also adds value.
Check out on Amazon:
https://www.amazon.com/dp/B00007J5U7/
4. Tianji digital ceramic rice pot:
Aren't you bored with this ancient non-stick coating? Well! I am. Let's switch for a few minutes.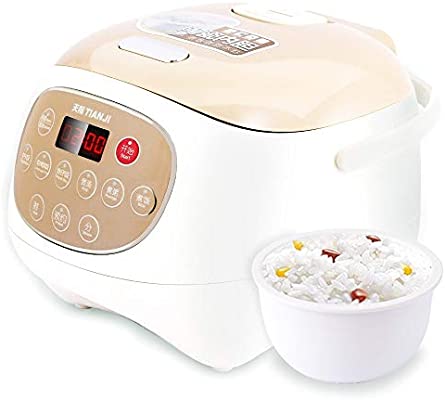 Presenting you the healthy and new ceramic coated pot!
This ceramic coating indeed makes your rice healthy.
Ceramic coating stands out for sure, because it is really rare. Do not worry, cleaning is a cakewalk.
The detachable inner cover will save your time in washing away the impurities. The pot is odorless and can handle rice, soup, and porridge. You can find automatic warm and reheating options.
Due to the position of the heating plate and suspension bowl heating system, the resulted rice will be smooth and soft. It has ceramic embryo body and ceramic bearing. The weight is 11.95 pounds.
The temperature control is also handy.
Along with the cooker, you will get a rice spoon, a rice spoon holder, a soup spoon, instructions to operate both in English and Chinese language, a power charger, and a rice cup.
One year warranty is also assured.
You will have access to 6-cups for uncooked materials.
Pros:
Ceramic coating
Multifood options
One year warranty
Easy cleaning
Cons:
The timer is not helpful
It is a bit heavy
Q. Why should you use this product?
A. The ceramic coating is the chief advantage of this cooker. You will find multiple options such as rice, soup, and porridge.
One year warranty also adds value to the rice pot. The additional products that are available are also pretty useful.
Check out on Amazon:
https://www.amazon.com/dp/B07SRC9Z7F/
5. High-fired vitaclay rice pot:
Cooking qualities are so admirable, they hold the major part.
How can you leave this behind?
Vitaclay rice pot is an ideal cooker for all kinds of cuisines. Spare some time for this one, come let's go!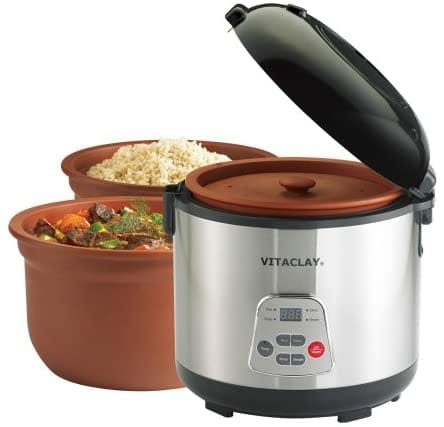 The cooking pot is made with clay which allows even heating of your food.
Through years I heard that clay cooking healthier.
Vitaclay has computerized clay heating technology with a 6-cp cooker system. Heat is absorbed and released very rapidly.
Slow cooking can be very feasible as a steady temperature is maintained.
The cooking bowl is with non-stick coating for your convenience.
The shipping weight is 9.57 pounds. The porous nature of the material intensifies the taste.
There is a feature called 'Set and Forget' which assists you when you are busy.
The cooker is equipped with four options rice, brown rice, soup, and stew.
Pros:
Clay material
Clay heating technology
Porous nature
Slow cooking is easier
Cons:
Clay might break if not used properly
Q. Why should you use this product?
A. The whole concept of the clay pot is really amusing.
Heat is retained easily, which lends a hand if you are a busy person.
Well! Who is not busy in this modern era?
The flavor from the clay pot makes your food even more delicious.
The only condition is, you have to be careful while heating and cleaning.
Check out on Amazon:
https://www.amazon.com/dp/B001G8Y33K/
6. Cuisinart CRC-400P1 rice pot:
We all look forward to machines which help us reduce the mess, mostly in the mornings. Every individual has their own business and they gotta hurry early in the morning.
So, I would like to introduce a Cuisinart rice pot, which tends to give you a pleasant morning!!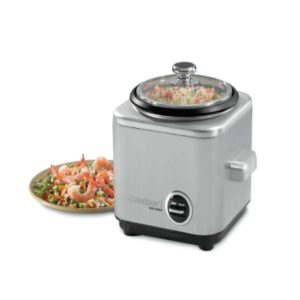 Cuisinart rice pot has 4 cups for cooking, it is mostly recommended for small families. It is nicely fabricated with stainless steel all over. It allows you to cook rice, vegetables, and meat too.
Besides, it looks attractive too.
An automatic warm option can be found, which implies that you don't need a keen observation while the rice is being cooked.
You will have a measuring cup and rice spoon in addition to the cooker.
The glass lid on the top protects your food and you can know the cooking stage without opening it.
The measuring cup provided with the cooker should only be used for cooking.
You will be facilitated with a built-in tray.
This will help you in steaming other foods while the rice is being cooked.
Pros:
Glass lid
Automatics warm option
Stainless steel coating
Anodized aluminum cooking bowl
Easy cleanup
Cons:
Q. Why should you use this product?
A. The cooking process is quite quick.
It helps you in not making your process clumsy. This is totally worth it.
The automatic warm option never fails to comfort you.
Finally, cleaning is not a big deal. You can give it a try!
Check out on Amazon:
https://www.amazon.com/dp/B0001XAG8W/
7. Zojirushi NS-LGC05XB rice pot:
Whoa! Triple heaters?
Ever heard of this?
If you are new, this is going to surprise you.
First of all, welcome back to Zojirushi again.
Let's have an eye on this new model in Zojirushi!!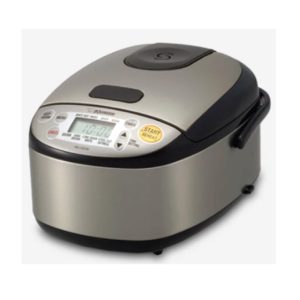 This rice pot wonderfully offers you a triple heating system.
Heat produces from the bottom, the side, and from the lid.
The rice gets cooked precisely by the heat from the three sides of the pot. It's not just white rice, you can prepare sushi rice, brown rice, GABA brown rice, long-grain white rice, oatmeal, etc.
Zojirushi is brought to you with advanced fuzzy logic technology and microcomputer technology. You can have rice spatula, spatula holder, and rice measuring cup. The shipping weight is 7.01 pounds.
The removable steam vent cap facilitates high-temperature cooking without any problems of overflowing.
Automatic keep warm option is an accessible and reheating option too.
You will have 3 cups for the raw materials cooking.
Cleaning can be done at ease because the lid is detachable for exchanging.
Pros:
Triple heating system
Multifood options
Automatic warm and reheat options
Stainless steel
Cons:
Q. Why should you use this product?
A. It is true that the triple heating system is rare.
This pot uniquely provides triple heating from the lid, bottom, and side. The accessories provided are also pretty useful.
You have one-year warranty issued. It is great for steel-cut oats and rice.
Check out on Amazon:
https://www.amazon.com/dp/B01EVHWNVG/
8. Le Creuset cast iron pot:
We need walls everywhere for protection and support.
We owe them a lot. What if you get a rice pot with great exterior walls?
I do not know what's running on in your mind, but it sounds amazing for me.
Come let's take a small tour of this Le Creuset rice pot.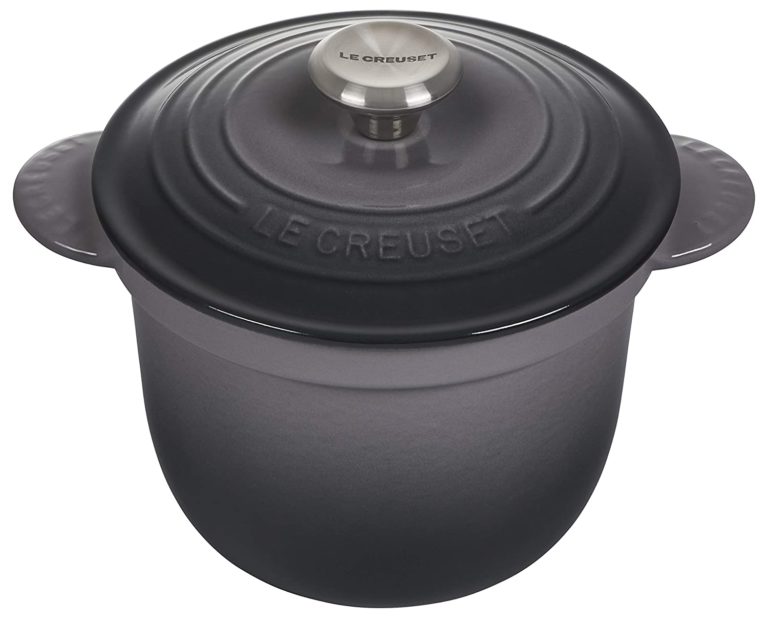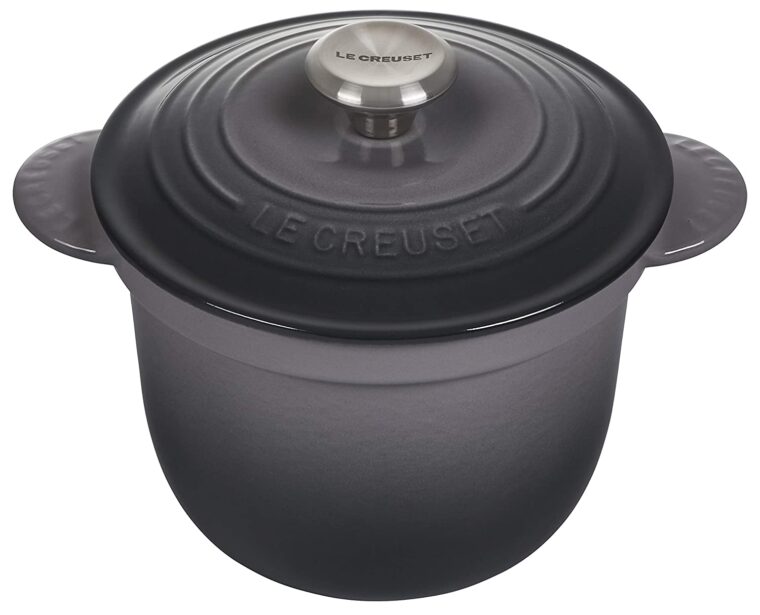 Le Creuset has a strong and durable enamel that commendably protects your rice.
The rice you are going to cook will definitely turn out to be fluffy and perfect in appearance. You will have the privilege of the creamy texture as this pot grits well too.
The walls are long and there's no issue of cracking and chipping.
Cleaning can be performed easily though, without greater efforts. It perfectly sits on your induction stove.
Pros:
Fantastic exterior walls
Beautiful texture of rice
Five-star customer reviews
Cons:
Q. Why should you use this product?
A. Some people will fall in love with the texture.
They will just love the whole meal if the rice texture is nice.
I am not exaggerating, it is true.
If you are that kind of person, without any brainer opt for this cute le Creuset rice pot.
The exterior walls are also so tough making the pot strong.
Check out on Amazon:
https://www.amazon.com/dp/B07XDZYKZ3/
9. Mealthy multi-pot:
Every individual who cook wishes for a quick process.
Like what about rice in a blink of an eye?
Sadly, that only happens if you are some sort of magician.
Mealthy multi-pot assures you quick cooking but mentioning you beforehand not in a blink of an eye, lol.
Come let's check it out, folks!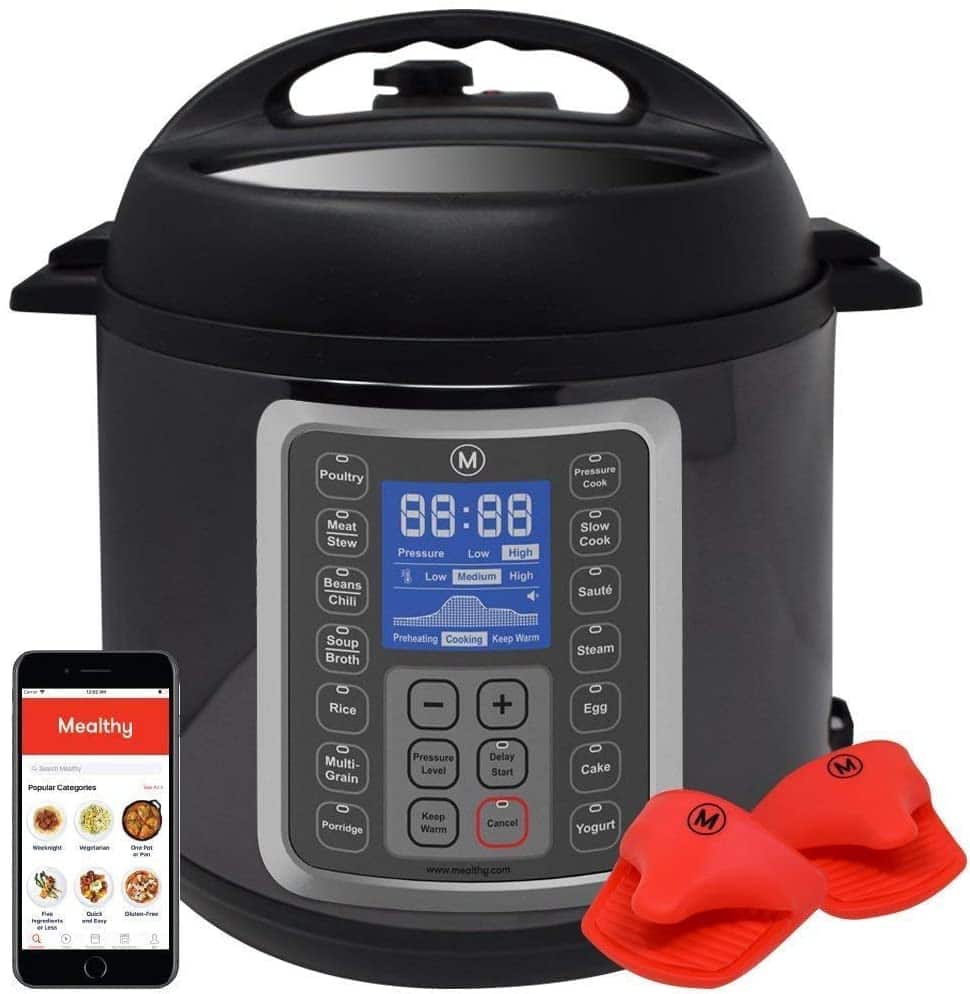 Here comes an unpredictable advantage, grab this pot and use it for nine different works. You will possess pressure cooking, slow cooking, yogurt making, sauté, steam, making cakes, pasteurizing, warming, and finally rice cooking. It is indeed speechless to see everything in one pot.
Another beautiful merit is that you can cook two dishes simultaneously.
The stainless steel pot and the stainless steel basket enable this function.
The handy cooking programs would be meat, beans, soup, rice, porridge, egg, cake, multi-grain, and yogurt. The LCD display is commendable with intuitive icons and the progress is depicted very accurately with the assistance of progress indicator.
The weight of the mealthy multi-pot is 16.5 pounds and is very durable.
Even though you are bad at cooking and bad with these cookers, you will not mess up, trust me. The pot is user- friendly.
The touch buttons are lucid for easy understanding.
It grants a measuring cup, rice paddle, ladle, steamer basket, silicon mitts, and a silicon jasket.
The mealthy brand also has access to the application of the android and iOS app, where you will find a number of recipes and information.
Pros:
Two dishes at the same time
Clear LCD display
Speedy cooking
Android and iOS application
9 appliances in 1
One year warranty
More customer reviews
Cons:
Q. Why should you use this product?
A. I am definitely up for this useful pot with various options. Simultaneous cooking and quick cooking are loved by everyone.
Quality is at its best and the utility too. Bad cooks are also encouraged!
So what are you waiting for?
Grab this.
Check out on Amazon:
https://www.amazon.com/dp/B076QJNK8G/
Rice is a wonderful meal where health follows the way, proteins and minerals are also in good amount.
How can you let it ruin?
No right?
Presenting you the finest collection of rice pots with innumerable features and options. It just sounds perfect for me.
Go through every detail without skipping.
Scrutiny makes it all.
Start categorizing the rice pots in reference to your usage, purpose, quantity, and taste.
Not every rice pot is the same, technical features are different, appearance is different, etc. Give a glance at customer reviews too.
They are really unseen heroes of online shopping, unnoticeably they lend a hand to every person who has no knowledge about the product.
I hold on to this concept of 'good meal, good day'.
It is absolutely true.
Good food makes a good day.
So why taking the risk and why missing good days?
Food can heal sometimes!!
So let's do not take chance in this.
When this is in our hands we should not lose it.
Think twice and make a flawless decision.
Have a nice day!