Here's the scoop behind the crunch!
For food that has an $11 billion dollar industry, the breakfast cereal sure has humble beginnings. It all started in 1863, James Jackson – a religious vegetarian came up with "granula". A far cry from the granola we know today though, he used a mix of hard graham flour dough that was to be soaked in milk overnight.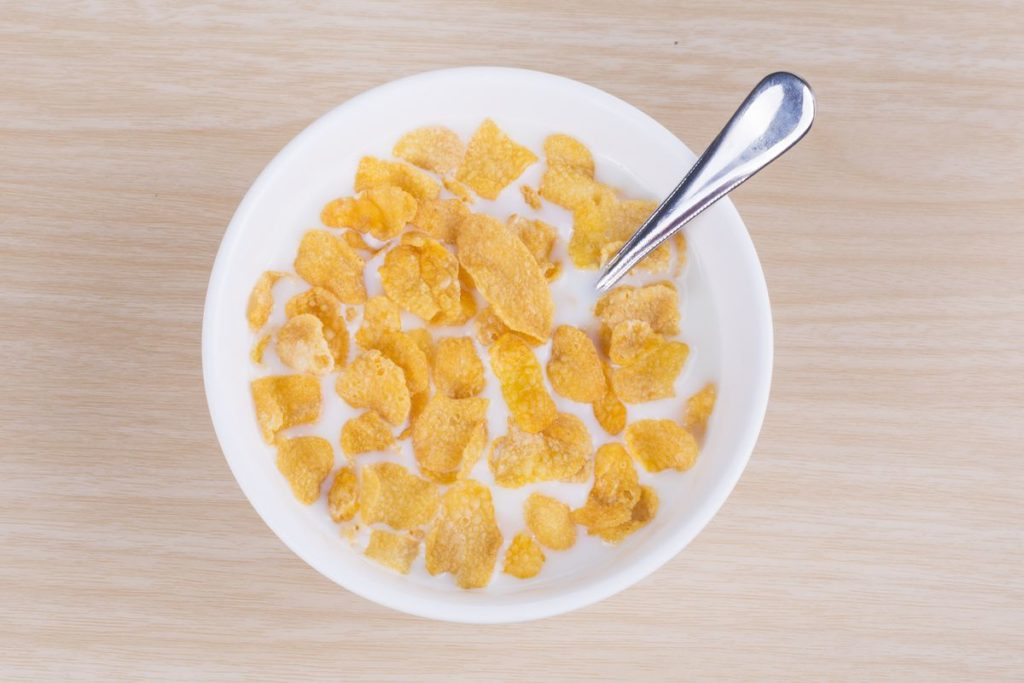 In his medical sanitarium in New York, he stressed on clean living and following his footsteps came John Harvey Kellog.
As a Seventh Day Adventist, he was popular in the 1870s/80s for advocating clean living in his sanitarium in Battle Creek, Michigan. Most famously, he is known for inventing the cornflake we know and love today. It is little known that it was actually his younger brother Will Keith Kellogg who came up with the recipe when he was working for John in his sanitarium. Are you ready for some drama?
You may know (or can probably predict) the brothers feuding the next couple decades, but it was actually C.W Post taking Will's idea and selling it that pushed Will to make his own company.
The plot thickens!
The Kellogg Toasted Cornflake Company (later known as Kelloggs) was born and it took over America.
What did he change?
He added sugar of course!
What followed was a decade long court battle between the brothers for the Kellogg name. So after the federal court rules in wills favour, he wins and this is when things get a little sad in our story.
John loses all credibility and his sanitarium, he would, however, eventually loosely contribute to making peanut butter, meat substitutes and even a variant of soy milk. In 1943, on his deathbed, he writes a letter to his now-estranged younger brother and apologizes.
The secretary responsible for delivering the same did so eight years later when Will was close to death himself.
Phew!
And that is JUST the beginning.
What followed was an explosion in both cereal demand and creation. Tame puffed rice and wheat were followed by Wheaties, which would compete with Rice Krispies and their iconic mascots, Snap Crackle and Pop.
Cheerios were made in the 1940s and till date remain the best selling cereal (Honey Nut Cheerios, which raked in over $656 million in 2017). Perhaps no other generation other than the Boomers witnessed the "Cereal Renaissance" post World War 2 (I mean, Gen Z got Oreo O's, I'm not complaining). Anyway, the 50s was the golden era of Trix, Frosted Flakes and Cocoa Puffs.
With the cereals, came their mascots, we had Rocky & Bullwinkle, the Trix bunny and Tony the Tiger. Consequently, this is also the time cereal companies began advertising their products aggressively towards children.
By 2011, this trend had cereal companies shelling out $264 million on marketing campaigns geared at kids, with Kellogg's, General Mills and Post spending the most on media advertising.
Post's answer to the popularity of Kellogg's Sugar Frosted Flakes, Sugar Coated Corn Flakes followed. Then came Cap'n Crunch, Cocoa Krispies (Snagglepuss), Cocoa Puffs (Sonny the Cuckoo bird) and Froot Loops (Toucan Sam, voiced by Mel Blanc of Bugs Bunny fame).
You can thank me later for giving you all this food for thought next time you are cruising down the cereal aisle at the supermarket.
So obviously, you need something to store all this amazing goodness in.
This "something" should ideally be a food storage container to keep food fresh, intact and ready to eat.
Here is deal y'all, there are only so many times you can repurpose old boxes. My biggest tip as a home cook is INVEST in good appliances. Doing that is so much easier than buying new ones every 4-6 months.
You are better off using a durable, slightly more expensive option than a cheaper, less durable one. Trust me, you are not saving pennies, it's just poor decision making after a point.
So the next question is, what kind of material should I go for when I'm looking to store my cereal?
Look for "a dry food container", yes, there are specific cereal containers on the market. But it does not hurt to see the large family of boxes to choose one for yourself and see how it holds your other foods.
Usually, these boxes come in sets and unless you and your family eat 8 types of cereal everyday, you might as well get good use out of all of them.
Here is what you need to keep an eye on most: design and durability.
DESIGN: how intuitive is it?
Does it have fresh seals?
Are the silicone gaskets (if any) easy to clean?
Does it have cool inbuilt features like measurements on the side?
Is it easy to pour things out of it?
DURABILITY: how many washes can it take?
Is it dishwasher, oven and microwave friendly?
Are the buckles secure?
Do they stack well?
That being said, here are my recommendations for storage containers for cereals:
OXO POP Cereal Containers:
(https://www.amazon.com/OXO-Grips-Airtight-Cereal-Dispenser/dp/B01BN8TEP4/)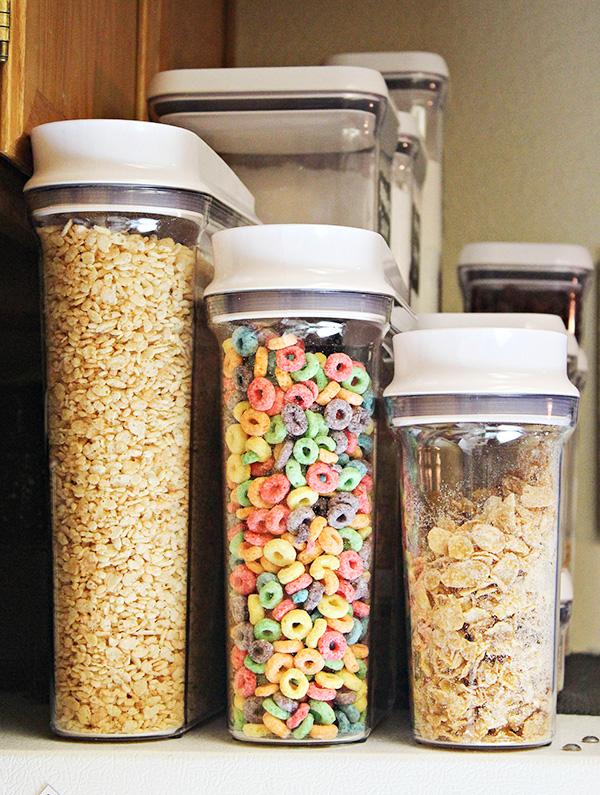 This product has a unique pop up lid which is great for one-hand use, the dimensions are 10.9 x 12.8 x 11.3 inches, and the seamless rounded spout ensures all the cereal pours out evenly and nothing gets stuck up or down.
Another advantage is that the lids are interchangeable between all three sizes the product comes in because they only change the height.
In my opinion, OXO POP kicked off how amazing and more streamlined cereal containers are getting.
Why stray from the classics?
Aesthetically, they are sleek and store well. The lid removes easily for cleaning and of course, the plastic is BPA free.
The only drawback perhaps is that it is not dishwasher safe, leave the silicone gasket alone.
Don't trust me?
Trust the 4.7/5 amazon rating these bad boys have.
According to OXO themselves, during the development stage, over 100 types of cereal were stored and tested. Now, THAT'S commitment.
PalmTreeChef-Set of 4 Cereal & Dry Food Storage Container
(PalmTreeChef-Set of 4 Cereal & Dry Food Storage Container- 6 Measuring Cups Set -24 Free Chalkboard Labels & Pen -Great for Pasta, Rice, Sugar, Flour, Baking, Pet Food & More -4L (4L))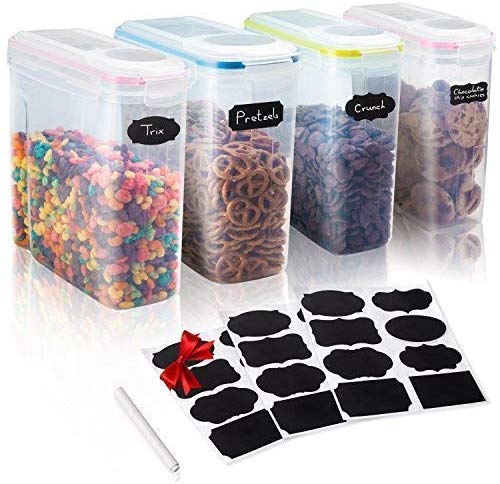 Customers define this product as neat and compact. Indeed, they are incredibly convenient to use as they are microwave, freezer and dishwasher safe. It also comes with measurements on the side just in case you want to be precise on your pour.
The lid is definitely more traditional as it has buckles on all four sides but it comes with a nice tight freshness seal so hey, it's pretty darn good. It comes in one size 9.5×3.15×9.65", adding to the uniformity factor of your kitchen/pantry aesthetic.
The top also has a flip-open ring for a mess-free pour out and like the OXO, it also comes with a "handle" on the sides for better grip.
One claim I was wary of was the lifetime guarantee they offer but I guess only time will tell.
My favourite part is that it comes with 24 free chalkboard stickers and an erasable marker and 6 measuring cups!
So there you have it, folks!
Hope your cereal never gets soggy!
References:
Cereal – A Brief History – The New Yorker
The True And Often Bizarre History Of Cereal | Food: Now and Then | NowThis
The Surprisingly Dramatic Origin of Corn Flakes (feat. Owen Wilson & Luke Wilson) – Drunk History
23 Breakfast Cereal Statistics That Will Surprise You