Introduction
In the contemporary modern times of a hectic schedule and busy lifestyle where mostly everyone keeps on running behind success, the essay of Technology being a boon or a bane which most of us used to study in schools comes at play here.
The present modern world lifestyle is such that it's hard to imagine life without technology. For most of us, day begins and ends with technology. It's a fact that without technology, be it in any sphere, our life will come to a standstill.
Technology, without a doubt, has made our lives much easier by helping to do everything in a quicker manner and rendering us all with the comfort which we would definitely need to sustain the modern lifestyle which we have become used to.
It has contributed to each and every sphere of one's life and Kitchen is definitely not an exception.
There are many new technological appliances which keeps on coming day-by-day which tends to make the cooking process much more easier and effective. The examples of it could be as basic appliances as refrigerator, grinder, microwave etc.
Now, you must be thinking why are we talking about the electronic appliances which we use in our kitchen?
So, to help you settle in this query, the answer is that I recently got an Instant Pot and while going through its safety measures, I was wondering if it can explode or not.
Thus, to be sure of the appliance I'm using, I researched more about the same and thus, I'll sharing with you my conclusions to which I have reached so that you can also be doubly sure of the safety concerns of using an Instant Pot in case you plan to purchase it or are already using it at your homes etc.
Thus, the question under consideration in this article will be that Can an Instant Pot Explode?…What you need to know!
Okay so what are we waiting for???…Let's move ahead at once and delve into more details about the topic.
Before actually going into a details about the appliance in consideration i.e. Instant Pot, let's first see what an Instant Post actually is.
What is an Instant Pot?
Instant Pot is the Canadian brand of multicooker i.e. the cookers which can serve multiple purposes just by using this one equipment.
The multicooker is a combination of pressure cookers and slow cookers and is an electronically controlled equipment. The design of this appliance is such that it can consolidate both cooking and preparing of food in one device.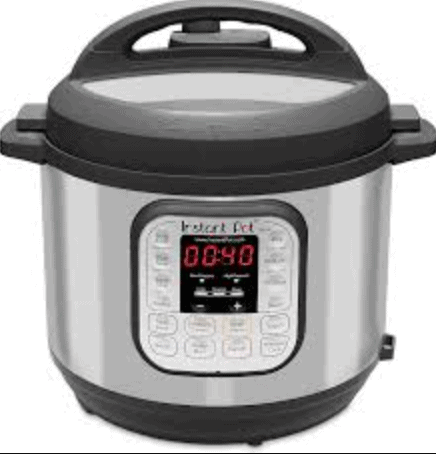 Doesn't it seem like a lucrative option??
Like just imagine being freed from the surveillance duty of the normal pressure cookers used at home after replacing those with an Instant Pot which would not only do the function of cookers but many more functions in addition to that.
So, there could be no doubt about the fact that Instant Pot as a kitchen appliance is a lucrative option. But it is very important to consider the security options of appliances, especially the electrical appliances to ensure complete safety while using it.
Thus, it becomes important to know well about the safety concerns about any appliance.
Here, since we are talking about an Instant Pot, let's explore more and know if it safe to use it or not.
Is Instant Pot Safe?
A short answer to this question is Yes.
However, there is much more to it to be aware of because any electrical appliance, no matter how many safety measures it comes along with, has the potential to prove harmful in case of its mishandling or improper usage.
So, let's delve more deeper into the details to have a clear and a better understanding of it.
Firstly, let's have a look at the safety measures that an Instant Pot comes along with.
Safety Features of an Instant Pot
Lid Lock Under Pressure
Until and unless you release the pressure first using the steam release valve, an Instant Pot won't allow you to open the lid. Thus, there would be no explosions because of that.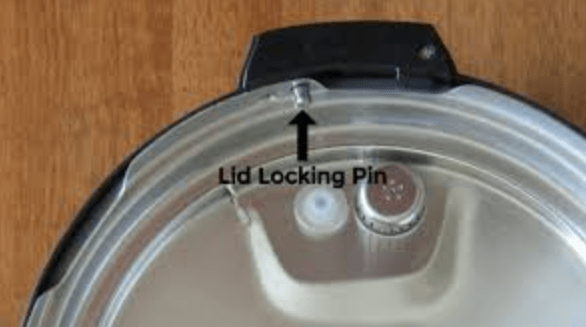 Lid Close Detection
Instant Pot is a smart appliance and thus, won't allow the pressurisation to happen until we have put the lid correctly on it.
So the only two buttons you could expect to work while the lid being placed incorrectly is that of the Keep Warm button and saute buttons. Nothing else would work.
Automatic Temperature Control
Once you select the mode of cooking on an Instant Pot, the thermostat of the appliance would automatically know the range of temperature it needs to work on.
This helps in ensuring that the temperature never gets too high for the food we are preparing.
Leaky Lid Protection
In case we ever forget to put the silicone sealing ring back or if the steam released isn't closed, the pressurizing in an Instant Pot won't happen.
As your smart Instant Pot knows that cooking while simultaneously releasing pressure would burn the food, it won't let it happen and will immediately switch to the Keep Warm option and thus, will prevent it to burn the food as well as to cause any safety risks.
Anti-Blockage Vent
While cooking the food in an Instant Pot, it might happen that some part of food gets stuck in the inner part of the lid.
But that won't hinder your working with an Instant Pot with regards to releasing the steam as this pot will still allow you to release the steam using the release valve at the time you feel the need to do it.
Extreme Temperature and Power Protection
Even after giving the point of all the features of Instant Pot being harmful a thought, this feature won't fail you unless a mistake is from your end. In any case, when the temperature reaches between the range between 336°F ~ 341.6° or at the point when an Instant Pot uses much more electricity than usual, Instant Pot has the feature which would automatically disconnect it from the power and stop its functioning.
High Temperature Warning
If you end up doing anything which would cause the temperature to rise beyond the safer limits like lesser liquids in the pot etc, it will automatically stop heating once the safety marked is crossed.
It won't allow the pressure to remain in the Pot thus preventing it from any harmful act like explosion of an Instant Pot.
Pressure Regulator Protection
The safety limit of the pressure in an Instant Pot is around 15.23 psi. Once the pressure crosses this mark, the steam release of this appliance will automatically open to allow the steam to be released so as to ensure that the pressure in the Instant Pot never gets too high.
Automatic Pressure Control
Instant Pot is a smart appliance and thus, is well equipped with a patented pressure sensor mechanism. This mechanism helps in ensuring that the pressure stays at a safer level between 10.12psi and 11.6 psi (pounds per square inch).
Excess Pressure Protection
This is an additional feature to be active in case the pressure regulator doesn't work fine.
So if the pressure gets too high and pressure regulator doesn't activates itself, Instant Pot will automatically drop the inner pot with a margin that the steam will released around the rim of the lid.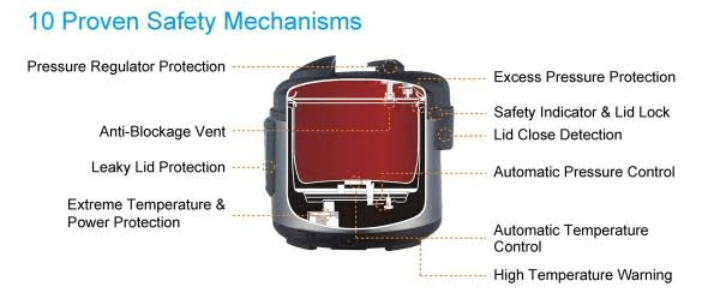 So, the above stated are the points stating the Safety Features which an Instant Pot is accompanied with. These features are well enough to make your cooking experience in an Instant Pot relieved with the fear of any security threats.
Thus, Instant Pot is a quite a safe appliance to be used in the kitchen and there are no such prospective safety harms it comes along with.
However, one point to note here would be that the above stated are the general features usually found in almost all the Instant Pots.
But it is must for you to check the features of the individual brand of which you are purchasing the appliance because every brand has its own models which might differ from the other.
So, now having read the safety measures the question which comes up in the mind is that despite so many safety measures, is there still a possibility that an Instant Pot can explode?
The answer to this would be the general idea one usually has will all the electrical appliances.
If you do not use them carefully and avoid any strictly prohibited activity using the appliance, it does have the potential to cause harm from the safety perspective, no matter how many safety measures it comes along with.
This makes it necessary for us to know the points we should be careful while using an Instant Pot.
So, what are we waiting for???
Let's go ahead and read about the easy to follow points about which we should be careful.
How do I keep my Instant Pot from Exploding?
The general basic idea would be to strictly follow the instructions which are stated on the manual which comes along with the Instant Pot.
And in case you don't want to bury your head in the manual that comes along, don't worry. I'll be stating some of the pointers of Do's and Don'ts while using an Instant Pot.
So, here we go…
 Things you Should do (or don't do) while using your Instant Pot:
Don't overfill your Instant Pot
Inside the Instant Pot, there is a line indicative of the mark upto which you can fill an Instant Pot. It is strictly suggested to not go beyond that line. 2/3rd of an Instant Pot is the maximum point you must fill it when you intend to do basic pressure cooking.
Also, sometimes when you cook using some particular ingredients, they are likely to expand when you cook them. In such cases, do not fill the Instant Pot more than half it's quantity.
Some of such items could be rice, beans, grains etc.
Keep your hands and face away from the lid when you move the steam valve to open
There is a steam release valve at the top of an Instant Pot on the backside. The 6 'o' clock position of this valve indicates that it's locked while moving it to the either side will release the pressure.
Once the cooking in the Instant Pot is done, move the valve to either side to immediately release the steam.
While doing this, it is suggested to keep your face away from the top of the lid and also to remove your hand out of the way as the steam will be released straight up.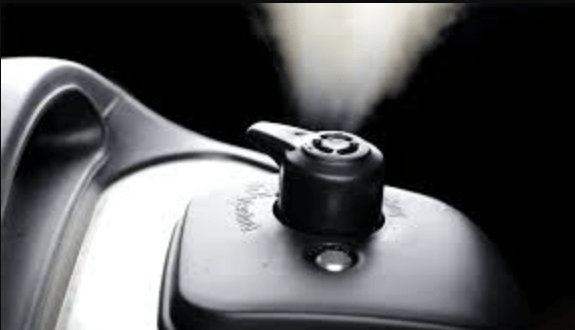 Though the steam won't be too dangerous even if you do some mistake while doing this.
However, it will depend on the settings upon which the cooking was done in an Instant Pot.
Thus, it is always suggested to take this precaution of keeping your face and hands out of the way of the steam.
No attempts of Deep Fry should be made in an Instant Pot
Instant Pot in itself is a smart appliance and can perform various functions like saute etc. to make your cooking process much at ease.
But it is strictly suggested to not fill the Pot with oil and attempt to deep fry in it. That could lead to the misfunctioning of the Pot and thus, might lead to some harm.
Do not open the lid of the Instant Pot before you have released the pressure
The contents inside the Pot are cooked using pressure and thus, when you immediately open the lid without having released the pressure using the release valve, it will come on you immediately and that could cause some harm. Thus, it is suggested to make sure that you release the pressure before actually opening the lid.
1 ½ cups is the maximum quantity of liquid to be added in addition to food while cooking
Liquid when cooked creates steam and thus, 1 ½ cups would ideally be the maximum quantity of water or any other liquid to be added considering the steam of an Instant Pot as per the steam it is likely to generate.
Silicone Sealing Ring should surely be replaced about every 2 years
Silicone Sealing Ring is the one which lines the lid of an Instant Pot. It acts like a gasket which helps to keep the pressure completely in.
This is the first thing which helps ensure that the pressure isn't released and that the Instant Pot doesn't explode. Thus, with its usage overtime, it's likely to get worn-out. Hence, it becomes necessary to replace it about every 2 years so as to ensure it does its job of sealing the pressure in effectively.
So, now having read about the precautions which needs to be taken, the question which arises is Is it Safe to Leave the house with an Instant Pot 'On'?
Let's take a look at the answer to this question before concluding this article.
Is it Safe to Leave the house with an Instant Pot 'On'?
The answer to this question would depend on the feature of the Instant Pot which you are using despite the fact that Instant Pot is a much safer appliance to be used and has a lot of built-in safety features.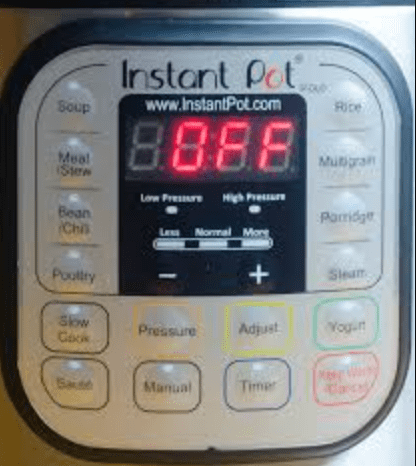 So, if you are using an Instant Pot as a pressure cooker and plans to leave it 'On' while not being at home, I would strictly suggest not to do that.
However, if you are using the Keep Warm feature or slow cooker, then you can leave the Instant Pot 'On' while not at home.
But that too, I would suggest, to not do it for much longer duration.
Keep warm feature can be used few hours prior to serving the meal while slow cookers has the maximum cooking time limit about 10 hours.
Okay…so now having been answered this question as well, we finally move towards the conclusion of this article.
Conclusion
This article delved deeper into the world of Instant Pots and the safety measures it comes along with.
It also analysed the precautions that needs to be taken irrespective of the number of safety features an Instant Pot offers.
So, in conclusion we can say that the Instant Pots won't usually explode as it is a smart appliance well equipped with all the precautionary safety measures.
But that doesn't means that precautions need not to be taken.
Precautions must be taken to ensure the proper and smooth functioning of an Instant Pot. Thus, the guide manual that comes along with an Instant Pot must be followed at all times.
With this I wish you a very happy and smooth cooking experience!