Are you looking for quick meals and don't want to use a microwave?
Or do you hate waiting for hours for your favorite meal?
Do not worry The Instant pot is here for your rescue.
An Instant Pot is a multifunctional pressure cooker that can cook merely anything right from chicken to desserts in much lesser time than other cooking appliances generally take.
They come in a variety of designs and models, but they differ from one another and possess a quirky set of features that make them more desirable and convenient.
Some of them have technologies like air frying, Wi-Fi connectivity, and even much praised and jaw-dropping features, which you will definitely want to have in your appliances.
There might be several questions running in your head like what this Instant pot can really do?
Is there any special way to use it?
Or which Instant Pot would be best for your kitchen?
All your worries will vanish away and you will learn everything about them by the end of this article.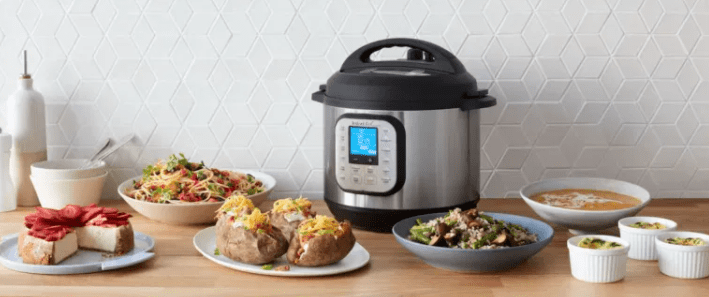 Fig-1- ( http://www.rightpurchasing.com/best-instant-pot/ )
So let's begin!!
Instant pots are the controlled electronic multicookers, with a combination of pressure and slow cookers. Moreover, it's a type of cooker which can perform a variety of cooking tasks.
From making yogurt to cooking rice, this is the most perfect companion for your everyday kitchen scenes.
It is often said that the kitchen is incomplete without your best appliances and these instant pots are the best examples of perfection and completeness for your kitchen.
These Instant pots have a timer in them which will make your cooking even more loving, simple, and hassle free.
These instant pots comprise of three components- the cooker base, the inner pot, and the lid. The inner pot is the place where your food is actually kept cooking.
The cooker base is known for holding the inner pot.
Moreover, it's basically the place where all the electronic components and the heating element are there.
And the lid is comprised of a locking system and the actual use of that lid is to prevent you from peeking and opening it while your cooker is still under pressure.
The correct procedure for an Instant pot to work efficiently is by cooking your desired food by creating pressure in the influence of a tight seal.
And the temperature rises much higher than boiling, making steam in the cooker, which is not allowed to escape.
And it is a tried and tested application that steam cooks the food much faster than any other traditional stovetop or overcooking.
And due to the steam present inside the cooker, your desired food gets prepared way faster.
It can be said that foods that usually take long hours to get prepared can be made in just a few minutes with the assistance of an Instant Pot.
What makes these Instant Pots so great?
Cooking has always been the most loving and authentic way of love. People who love cooking food are always in a zist to make their food perfect. And to make that perfect food, one needs to be focused and divide their time into different sections of preparations. And some hands-free cooking can be the cherry on top for your perfection. And these Instant pots are the best choice when it comes to quick, hands-free cooking.
The Instant pots are known for saving your cooking time up to 70 to 75 percent. This is because of the high heat and pressure. And not only this, these instant pots are multifunctional too. They can be used as rice cookers or slow cookers at the time of the need and demand for your cooking. Isn't it cool? You can even convert these instant pots into a yogurt maker or steamer for your luscious dishes.
And when it comes to choosing one of your dream instant pots, luckily there are a lot of different models to choose from. Right from different modes to the capacities they are built/made to make your kitchen more beautiful with their presence. So it doesn't matter if you have a family of two or ten, these instant pots are made keeping in mind the necessities of people.
When it comes to feasibility, instant pots are lifesavers too. There are times when we forget to take out the deep-freezed food from the cold storage. And then you worry about thawing it the whole day. But in instant pots, you can just toss them directly without even thawing. Obviously, it might take a longer time than usual but at least you don't have to wait for the thawing process and by that extra time you can complete with your other cooking stuff.
Handling an electric appliance with perfection is not an easy task. As it is said that, the better the handling, the more life the appliance will have. And it's completely true. And the instant pots are very easy to operate. While cooking food in them, most recipes will already have a particular setting and a particular time for it. And the only thing you have to do is toss your desired food, put on the lid, and choose the particular setting, and set the timer for that particular dish. And after the food is prepared, it will switch off automatically. And for favorite lip-smacking food is ready to be served.
What makes Instant Pot different from Pressure Cooker?
Instant pots are known as the upgraded version of the pressure cooker. They both share a lot of similarities but when it comes to the performance, Instant pots are far better than pressure cookers.
The vital differences between the two of them come down to Technology, marvelous features, smooth usability, control, safety, and much more.
And the most crucial differences are-
The Instant pots are electronic appliances while the traditional pressure cooker is non-electrical. This is the easiest and notable difference they have.
When it comes to functionality, the pressure cooker cannot perform the various functions like the cake making, yogurt making, etc which the instant pots can perform. And more the function an appliance performs the more feasible and desirable it becomes.
When it comes to the size, pressure cookers are available in extra-large sizes also. Though instant pots too have a magnificent variety depending upon capacity they are not available for those extra sizes for now.
Talking about the technological differences, instant pots have a variety of features that can be used by just pressing a push-button. But pressure cookers lack here. And since the instant pots are multi-purpose appliance they can be used as slow cookers, steamer, yogurt maker, etc.
That's why people prefer instant pots more than the traditional pressure cookers because of the benefits it provides.
Which one is the best for beginners?
Though every instant pot is very easy to handle people who have just entered the cooking world might find it difficult to make a perfect choice for themselves. That's why we have compiled the list of few Instant pots which every beginner can start with. With more than 18 models to choose from the market or from a reputable online portal, there are chances that you might get confused while choosing the best one for you.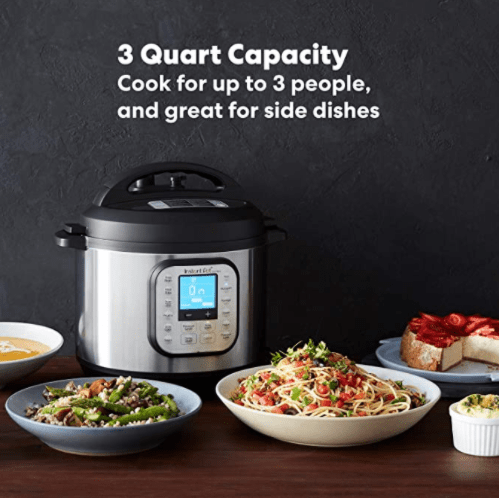 When you want to try out an instant pot and at the same time don't want to invest a lot of money, you can try your hand on the most basic one which is Instant Pot Duo Nova- Fig-(https://www.amazon.com/dp/B07R6V1MXW?tag=kitchenapp094-20 ). It is one of the most claimed and recommended Instant pot for beginners. It can be used as different types of cookers such as slow cookers, steamer, pressure cooker, etc. And when it comes to the capacity, it generally has a range of 3 quarts to 10 quarts. And after you get a hang of it, you can upgrade your Instant pot with a Duo Plus 9-in-1 (https://www.reviews.com/home/kitchen-and-dining/instant-pot-review/ ). Well, this is the upgraded version of the previous one, having its own egg and cake feature!
And when it comes to affordability, all these products are quite feasible to buy. And trust me, after you try your hand on these instant pots there is no going back. And these Instant pots are much safer than those pressure cookers.
And comparisons will always help you in buying the best one for you. So here's a list of few Instant Pots (apart from the two mentioned above) which you can consider before locking your desired choice-
So what are you waiting for go and review each one of them and bring your favorite Instant pot home today!
Which Instant pot you should actually buy?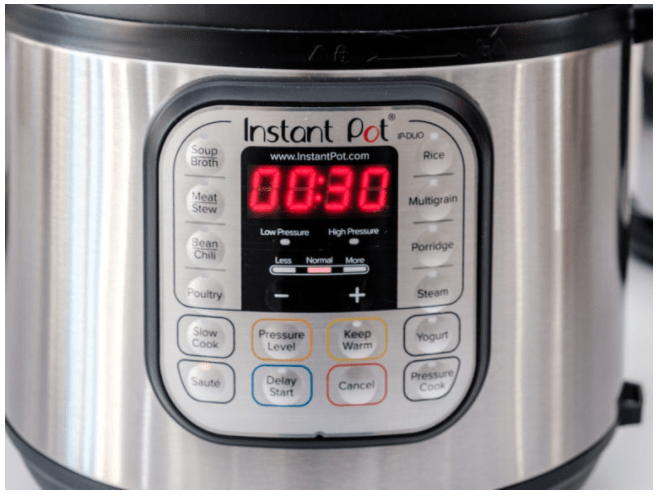 Purchasing an Instant Pot is not an easy task. And varieties whether you shop online or in-person are always overwhelming.
So what should you take into an account while choosing the perfect Instant pot over another?
After all choosing that Instant pot which completely fulfills all your demands and needs is the best parameter to consider.
And before choosing the best one for yourself, you should probably ask these questions to make the best choice for your kitchen countertop.
Fig-3- https://www.reviews.com/home/kitchen-and-dining/instant-pot-review/
For what all things you will be using your Instant Pot?
Prepare a list of all those essential things which your Instant pot needs to do for you. This will clarify your doubts and it will be easy for you to choose from different Instant pots.
How much you can actually spend on the appliance?
After you make the rational decision about why you really want a particular appliance. There is one more factor that you need to consider before moving forward and that is the price. After all making a budget always proves to be the best decision while purchasing an Instant Pot. Always keep in mind the price range while shopping.
And as the electrical devices work by consuming energy, different models consume different amounts of energy, so you should also keep in mind the additional expenses which you might get in your electricity bill.
What's the guarantee period of the product/Instant pot?
No appliance remains perfect forever. There is always a third wheel that is breakdowns. Always try to choose the appliance which provides the best guarantee. Do not look for the duration but actually look for how you can get the appliance maintained properly after your guarantee period runs out.
What others have to say about the same Instant pot?
I would highly recommend you to check the reviews, the rating given by the people who have used the appliance which you wish to buy. But only consider the reviews on that specific model only. Do not judge the opinions on a particular brand. And today as the internet is highly helpful in everything you need. All you have to do is to do a quick Google search and study the different reviews and forums.
I hope after considering these factors you will end up buying the best Instant Pot for yourself.
As the world is leading towards the age of automation and furious technology, it is high time for us to upgrade ourselves with every day new inventions. And it will be perfect for us to switch ourselves to a more prosperous world by adapting to a more energy-efficient and environment-friendly appliance for our homes. And the most recent electrical appliance introduced to the world is the "INSTANT POT". AS been discussed above, the all-in-one next-generation instant pot is the upgraded version of the pressure cooker which is now one of the most liked, purchased, and admired electrical appliances today.
Moreover, it is now becoming a crucial part of our everyday life and making our cooking time more fun and time-saving. And we hope that by the end of this article you will make the best decision and bring home the best appliance which suits you completely.