What is a Crock pot or a slow cooker?
A crock pot or a slow cooker is a countertop electrical cooking device which cooks food at a lower temperature than another method like cooking on induction or by using an LPG ( Liquified Petroleum Gas ) connection.
This helps the food to be unattended for a long period of time without the fear of it being spoiled due to over cooking or boiling.
A variety of dishes can be cooked in a crock pot , some of which are: beverages, desserts, and dips. Cocoa and bread, two of the world's most consumed products, can also be made using a crock pot. It is the corner stone of household cooking.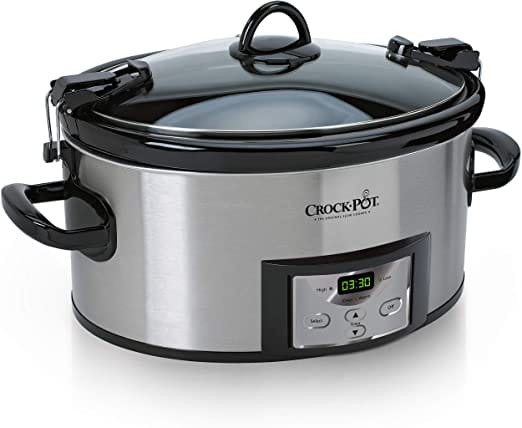 A crock pot or a slow cooker can be made out of stainless steel or bronze. A crock pot has three major components.
The components are :
The Body has a self-heating system.
A lid to cover its the mouth.
A temperature modulator.
In a crock pot the crock is the container itself. The heating elements in a crock pot are present everywhere around the body of the pot , including the sides and the bottom.
The lid of this device contains and stores all the steam released during the long hours of cooking , which combine with the direct heat let off by the crock, to kill all forms of germs and bacteria, which makes this form of cooking absolutely safe.
This device is more of an oven . It is used to store and heat up food as well apart from cooking .
A crock pot has two temperature settings :
Low temperature – 200 F
High temperature – 300 F
The low heat temperature has two options as well , to cook food for 8 hours or 10 hours while the high heat temperature has options of 4 hours or 6 hours.
But a new feature has been found in crock pots or slow cookers these days , with a "Keep Warm" setting been provided.
Crock pots can be used during parties where a buffet system is effectively in place or are even advantageous when you just want to keep the food warm .
A crock pot might also have a splitter in between which makes it all the way easier for all of the guests to help themselves with multiple warm , freshly served dishes .
(Inside information : It was a big help on my birthday ? )
What is the process while using a Crock Pot?
While most crock pots have the same style and design , the functionality of a slow cooker might tend to vary slightly from model to model .
Most crock pots can be used without batting an eye on them .
You can put your food in it , leave for work , come back and be delighted as you smell the best food you have had in ages .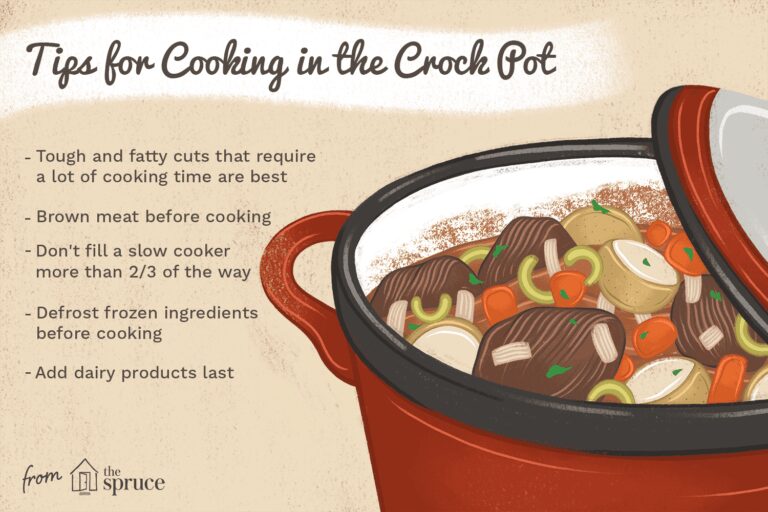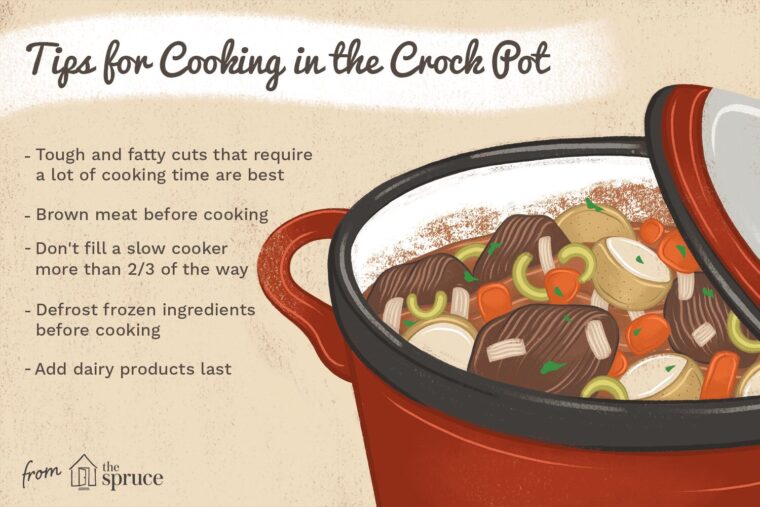 Some tips while cooking in a crock pot have been displayed in the picture .
A good way to cook food in a crock pot is to first cook it off before hand .
For example , if you are looking to heat your meat for a dinner part , make sure you have pre cooked it a bit and see to it that it has a brownish colour . This will help you to really enhance the flavour of the food you spent sweat , blood and a lot of time preparing after a long , hard day of work .
A slow cooker can reduce the liquid inside it to it's half , but it's not advised to put it in it . Also , one should submerge all of the food inside the pot or cooker so as to retain it's flavour and for it to be cooked properly .
There are advantages and disadvantages to everything in this world , but life inside a kitchen gets a lot easier if you have this little magician by your side .
Also , after you have finished the cooking process , it is very important to maintain the crock pot by properly cleaning it after every use .
To clean it properly , you must soak your crock pot in hot soap water or luke warm water , and then use any preferred soap or detergent along with a sponge to clean the leftover residue .
It is important for us to remember not to use a scrubber instead of a sponge as it can lead to scratches and where offs in the cooker's body .
Food should also not be over cooked as they can stick around as leftovers in intricate parts of the body of the crock pot .
To cook food properly is important and at the point when you're moderate cooking nourishments, you must be particularly mindful so as to keep away from food contamination.
To eliminate microbes, start with your moderate cooker on the most adequate setting for 60 minutes, at that point decrease it to the setting the recipe calls for. This will enable your moderate cooker to arrive at a sufficiently high temperature quicker.
Additionally, in case you're uncertain whether your food is cooked properly or done, utilize a thermometer.
Once the food is put in the pot , we should also fight the urge to stir the food from time to time . If the lead is open , the steam which is caught and captured to heat up the food would escape , which would make cooking in the slow cooker even slower . Now we wouldn't want that , would we ?
So , should we add water in a crock pot / a slow cooker ? Do these machines even need it ?
Generally, crock pot meals are healthy because they include nutritious foods such as beans and vegetables. The food is not fried or prepared in some other unnecessary way with fattening oils and butter. Crock-Pots provide a way to cook foods simply.
Therefore , our answer is both yes and no.
Confused yet? Well let's make it easier , shall we ?
First of all , you should know that the heat expelled by any body is of two types:
Moist heat or wet heat – It may be explained as heat in the surroundings with high amounts of moisture in the respective surrounding. In this process, food is cooked by being placed into a hot liquid or being exposed to steam.
Dry heat – It may be explained as heat in the surroundings with a few or no amounts of moisture in the respective surrounding. This is the process that most slow cookers or crock pots use in order to cook food or keep them warm for a certain amount of time.
A scientific fact is that moist or wet heat is more effective than dry heat, in providing deeper penetration of the tissue at the same temperature . But on the contrary, a slow cooker gives off dry heat. It is due to this very reason, that even though heat is expelled from all directions in a crock pot, if you add liquid water to it, the quantity is reduced to only half of it, or even less, in the form of hot steam.
Water can be added in a limited quantity if and only if the recipe of the dish demands so. And if there is any other approach to it , make sure you use this other option for enhanced flavors and retainment of nutrients from your cooked food.
Adding water in it makes the process similar to any other process of cooking, and makes the crock pot act as a double boiler.
Hence the name slow cooker has been derived.
A slow cooker and a crock pot do not exactly mean the same thing or device but since it's an invention in the 1700's they have been considered one and the same by most people around the world .
Due to this fact , people are generally advised to not add water in a crock pot or a slow cooker. However, the same fact is helpful to keep food warm and fresh even for long durations of time.
Not using water also has its benefits .
There isn't any wastage of water. And using crock pots also imply than you have a cheap dinner without compromising on taste or nutritive qualities of your food .
So what do we do now that we know that we are not supposed to use water?
Well, the solution is not that simple, after-all, the world is based in and around water.
What would you do? Do you have an idea which might change we use the crock pot these days?
Well, if you do, there is no hurry, go to your kitchen and try it out.
And if you don't we are right here for you, please continue reading it to the very end.
One of the solutions to this is using a chicken or beef broth instead of using water for your soups, stews, and roasts, as it not only fulfills our purpose of avoiding water but also increases the flavor of the meat we are cooking.
If you do not have a fixed recipe ( like let's be real, we do not look at the chef's all the time and cook ) it is advised to add one cup of water ( maximum 2 cups ) for all of us to allow proper cooking of it .
However, vegetables and meat of chicken or beef, have enough moisture of their own and hence the external quantity of water is not required.
Also, for this purpose, your lid must be functioning adequately and should not have any cracks in it .
Also, using excessive water can lead to over-cooking of the food, which we need to avoid at all costs.
So , to sum it all up, keep in mind, the more the water is, the less tastier your food is.
And now the question is, do you own a crock pot? If not, why?
And if you still have a hard time finding an answer to why you should have this in your kitchen, think about all the people you cook food for whole – heartedly every day and before you know it, you will have bought one for your loved ones.