The kitchen is arguably an essential part of the house. It's where your mom cooks your favorite meal, where you and your family shared the most banter, and probably where you and your friends bonded while trying out a new recipe.
Notice how the kitchen is a big part of deciding if you're purchasing a home. You're always looking for style and functionality on the storage space, floor plan, walls, and even integrated appliances. Therefore, if your cooking area looks out-of-date, you may want to consider upgrading to the most recent trends, whether you're looking to sell your home or make the best out of it.
Luckily, you can never go wrong with a contemporary kitchen style, such as www.artofkitchens.com.au designs. This article will look into such kitchen designs, what they are, and tips on how to achieve them.
What Is A Contemporary Kitchen Design?
When you hear of the word kitchen upgrade, you're probably thinking of a modern kitchen design. However, a contemporary kitchen design isn't just modern. Sure, the two share some similarities, but they also have very distinct differences.
A contemporary kitchen is known for its clean, simplistic, minimalist, and spacious design. Some of the key differences between a modern and a contemporary kitchen are:
It incorporates some traditional ideas in its style. On the other hand, a modern kitchen focuses on getting rid of the old themes and styles and replacing them with the current design.
Contemporary designs are trendy styles bound to evolve as new trends come up. The modern kitchen design is a concept from the mid-twentieth century and is not expected to change or evolve as time passes.
Now that you have a better grasp of what a contemporary kitchen is, here are six tips to help you achieve such a kitchen upgrade:
1. Embrace Minimalism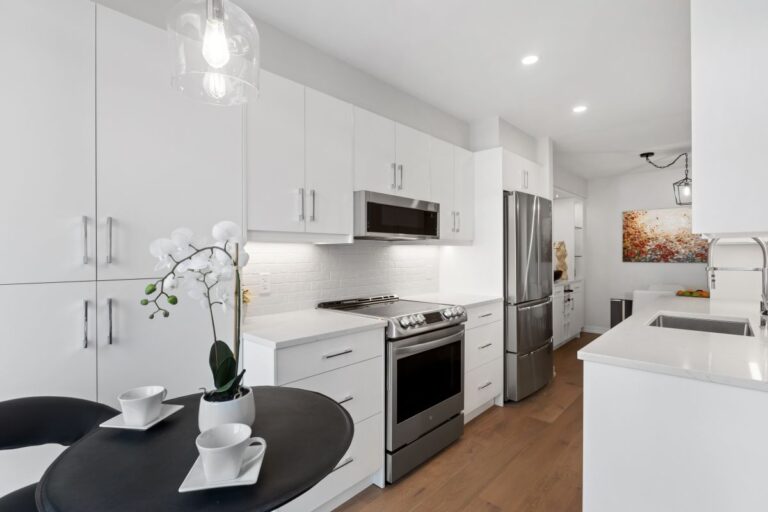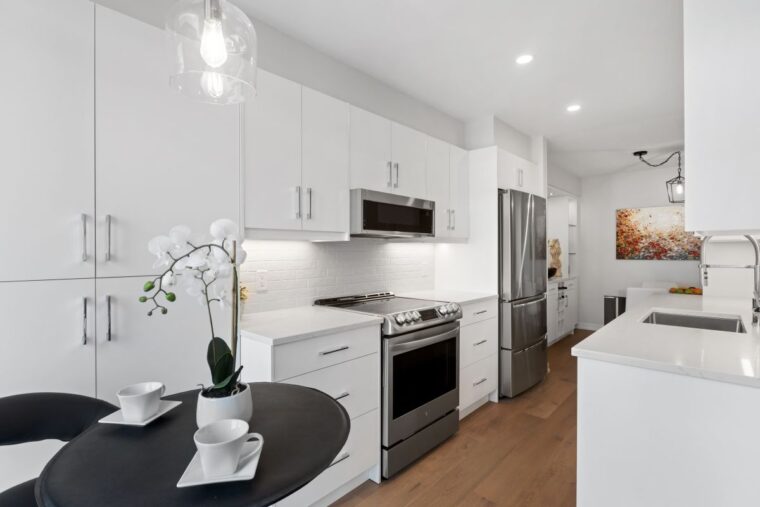 As mentioned above, contemporary kitchen designs are based on minimalism. A minimalistic design is a clean, simple, sleek, and modern-looking style. While simplicity is essential, it doesn't mean you have to compromise on your cooking area or storage space. If anything, when done right, a minimalistic approach creates an illusion of more space. Here're some tricks to help you achieve a minimalistic cooking area:
Use White Color In Your Kitchen
One of the ways to achieve a minimalistic look is by using the white color on your kitchen cabinets, countertops, and appliances. For starters, the white color brightens the room making it appear more spacious, and that's what you want for your minimalistic kitchen. Secondly, using white kitchen cabinets with clean lines makes your cooking area appear more pristine.
Use Kitchen Appliances With A Minimalist Design
If you're looking for minimalistic kitchen appliances, using steel or white-colored appliances will always work like a charm.
However, if these two colors don't interest you, remember to use the same color and shade for all your appliance to achieve a unified and simple look for your cooking area.
A contemporary kitchen should be functional while still maintaining its aesthetics. Cabinets and countertops are one the things that occupy most of the space in the cooking area, making them your ticket to attaining that sleek, elegant look.
If you aren't using steel and white kitchen cabinets to achieve sleekness, experts recommend using cabinets made of matte or mid-sheen materials. The finish should also be glossy when dry.
Additionally, the current trend is using flat paneled cabinets with little to no hardware. Open shelves or cabinets with a translucent front are also a favorite in contemporary kitchen styling. Also you can a few neon lights, they will give a good nice warm color to your kitchen.
When it comes to the countertops, using stone benchtops with deep hues or countertops made of natural timber can complement your glossy cabinets. The same applies to your floors. When overdone, the white color in your cooking area can sometimes bring some coldness and a hospital feel. Therefore, you want to use warmer floor materials such as dark hardwood or tiles to complement this clean look.
2. Avoid The Clutter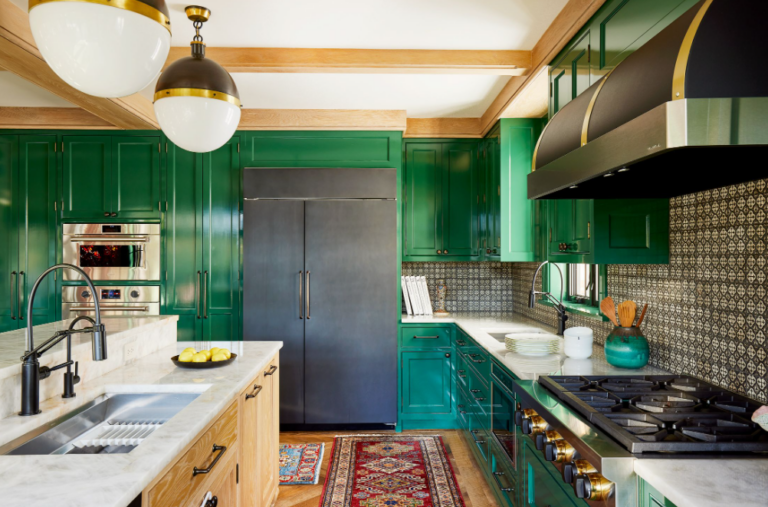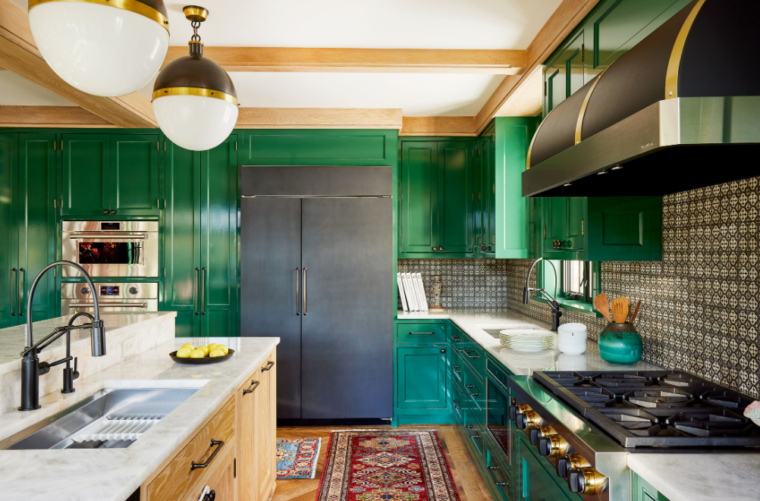 A cluttered kitchen could look something like this:
A kitchen with appliances that aren't in use lying around
A kitchen with too much color
Therefore, the first step to achieving a contemporary kitchen is having most of your appliances inbuilt. Also, your kitchen equipment and utensils should be shelved back into the  walls after their use, leaving the kitchen uncluttered.
This is to help protect your kitchen from stains and dirt. Additionally, move the cooking ingredients to the pantry to create more space.
When it comes to color blending in your cooking area, there's a 60-30-10 rule. The rule requires that 60% of the cooking area use one color when 30% use the secondary color and 10% use an accent color.
3. Use Integrated Appliances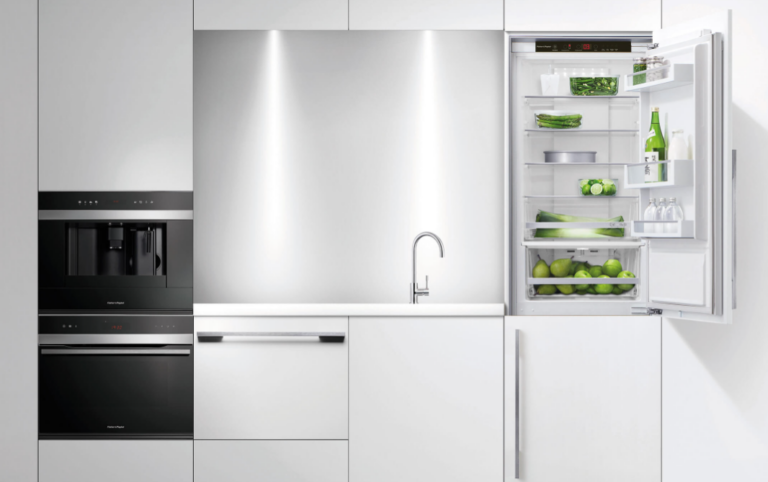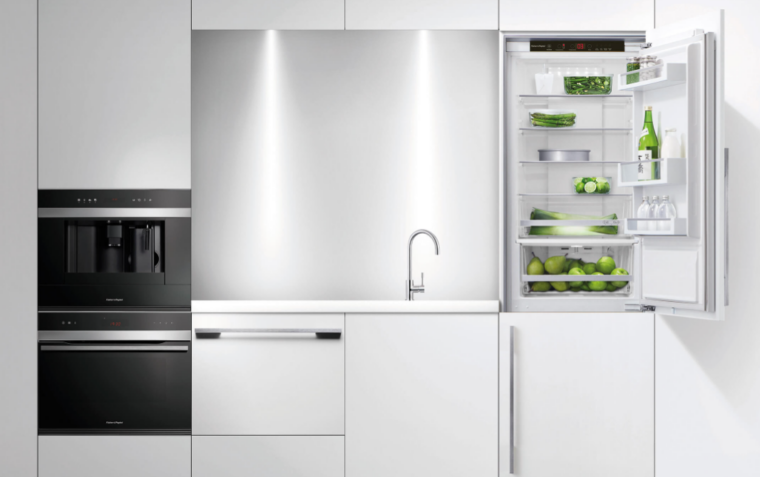 The world today is experiencing a tech wave. Everything is digital, including your kitchen appliances. So one of the ways to successfully implement a contemporary kitchen is by integrating smart appliances in your cooking area. This could be:
An inbuilt dishwasher
Inbuilt coffee making machines
Fully integrated music systems
Smart power outlets
In-built Pantries
In-built benches in the kitchen island
These inbuilt appliances can help you declutter your kitchen, as mentioned in the above tip, and they also help pronounce the clean lines and make your kitchen appear sleek.
4. Allow In More Natural Light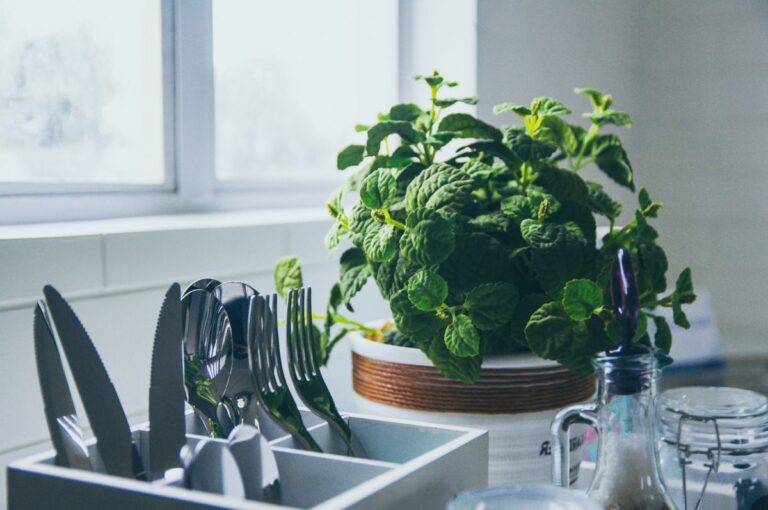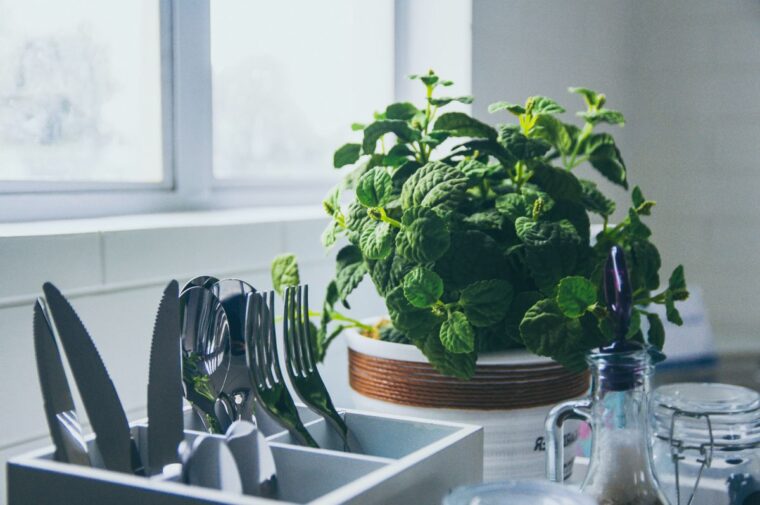 You might have already noticed that contemporary kitchen designs are big on space. One of the ways you can create an illusion of more space is by letting in as much natural light as possible.
To do that, consider using large glass windows or a floor-to-ceiling glass door. Glass is translucent. It, therefore, allows natural light to illuminate your space.
You can also maximize the glass doors by having a garden outside so that the glass window allows you a view of the garden. It goes a long way to compliment your kitchen aesthetics, a big part of contemporary designs.
5. Use An Open Kitchen Layout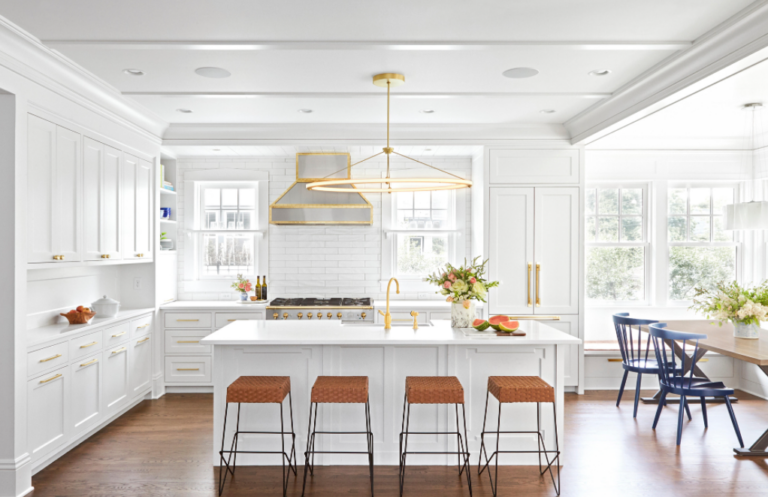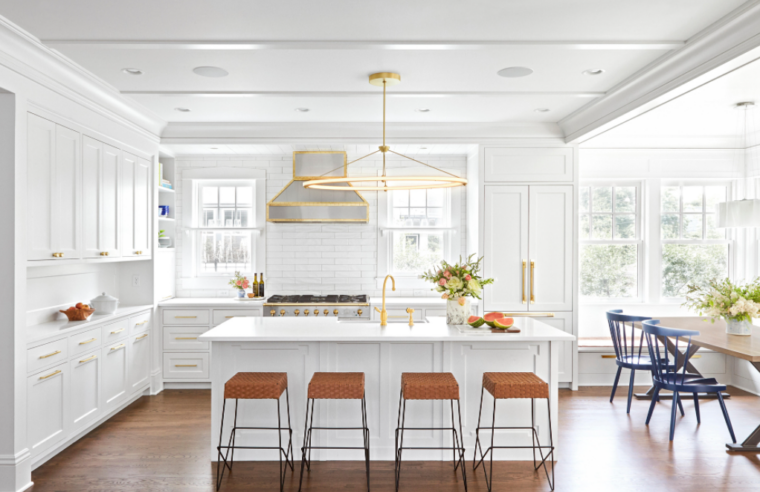 Unlike older home designs, the space in homes today is becoming smaller. As such, current houses have adopted the open-kitchen layout. It is one of the modern designs that contemporary design borrows.
An open layout works well to create an illusion of a spacious kitchen and generally a big home. You can also use the open plan to create a social space; for example, you can use the breakfast counter in your cooking area as a space for social interactions if you set up bar stools adjacent to the counter. It will help increase interactions in your cooking area and the overall mood within this space.
6. Introduce A Timeless Piece In The Kitchen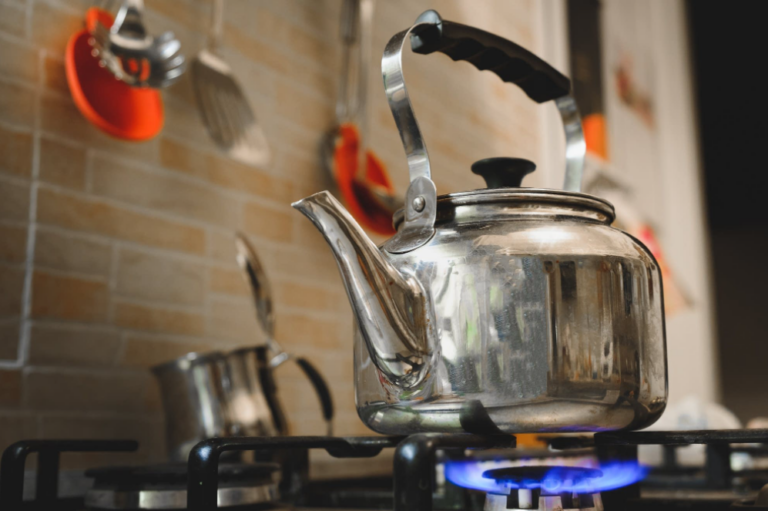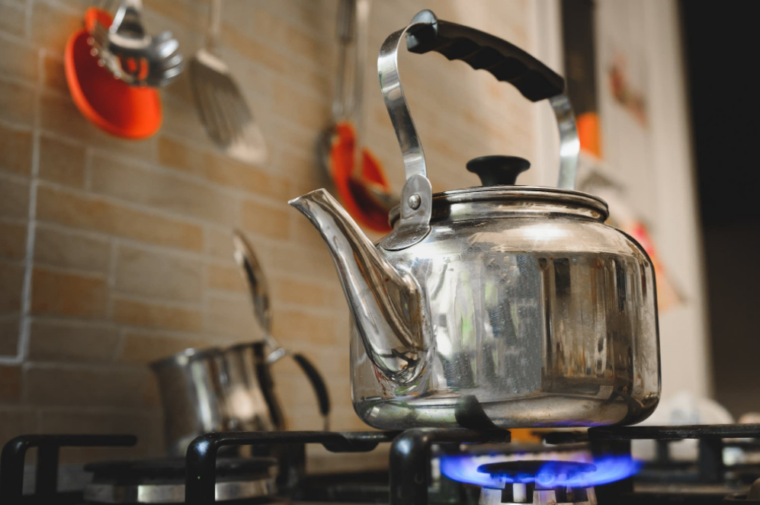 As mentioned at the beginning of the article, contemporary kitchens sometimes incorporate old designs and elements to bring out that classic touch. Therefore, if you have that vintage kitchen item, say a kettle, that you've been wondering how to use, this is your cue to add it to your contemporary kitchen.
You can also consider having the traditional sliding or push cabinets. Incorporating these elements into your cooking area could also be your opportunity to express your personality, especially if you're an old soul.
Wrapping It Up!
There you have it! Six tips to help you achieve an outstanding contemporary kitchen design. You may consult with your designer and try them today. All the best!