When any home repairs or room renovations are mentioned, your brain automatically goes into panic mode. Primarily this happens because this task is not as simple as it sounds. It includes a series of processes such as planning, choosing materials or furniture, designing the new look, investing money, organizing time, and so on.
We can quite understand the people who go through this and the stress they face, as many things can go wrong and you may not be able to meet the deadline or the end result may not be what you envisioned.
Are you spending less and less time in the kitchen lately, because its appearance and worn-out elements distract you from your favorite hobby – cooking? Maybe it's time for a change. Get ready to design your new dream kitchen.
We know this can be a grueling feat, but you don't have to go through this nightmare, as you just need a few tips to help you achieve your goal. And our task is to help you in this journey and make it easier for you as much as we can. If you are wondering where to start, we would suggest that you first look at the range of kitchen cabinets in Hamilton that you will find here.
If you are afraid that you might not like the idea you have for the look of the new kitchen, maybe you should choose the 3D design option and see how it looks in action. Before you take a look at all the custom-made kitchen items in the link above, let us introduce you to what we have in store for you. So let's get straight to our tips.
Choose Quality Materials
After the living room and the bedroom, the kitchen is one of the most used rooms in the home, so we should pay special attention to it because it can be a huge source of joy because of the impact it can have on our life. If you design the kitchen correctly, you can make the most of the space or make the small space functional. For this mission to be successful, the first tip is crucial.
The choice of the materials from which the elements will be made is very important. As much as their quality is important, you must make sure that they match and work with each other. When it comes to the countertop, there is a large selection of materials from which it can be made: granite, wood, marble, ceramics, stone, and so on.
Depending on the budget you have and how much you are willing to invest in a quality countertop, the design of the overall space will also depend. It is recommended to avoid wooden ones because water and humidity can destroy them in a short time. Quartz is being implemented more and more for two primary reasons, which are quality and aesthetic appearance.
Make a Plan
It is better to have any plan or idea than not to know what you want to do. So the next tip would be to start thinking about your plan. Starting with exploring the space, if it is a small kitchen you will need a change to increase the space a little. Is it a large room where you could be a little playful and introduce centerpieces? Do you have enough space to store all the gadgets, plates, glasses, pots, pans, mugs, and utensils, or will you need an additional sideboard to store them?
You must transfer all of this to the plan so that you don't have enough space for all the kitchen items. Consider how you'll be using your kitchen – is there space for pantries and cabinets? How will you store food and appliances? think about height and layout when organizing your space – will countertops be at eye level or higher up on the wall? All these things are an important part of your plan.
Choose a Style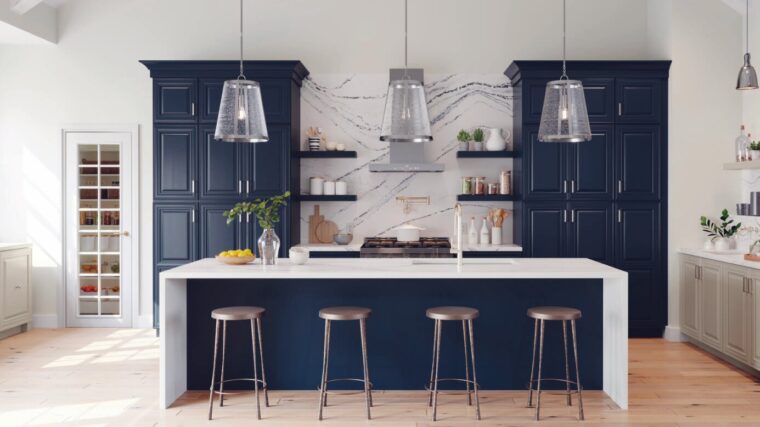 If you successfully complete the first two tasks, you are halfway done with your kitchen design. From now on, only simple tips will follow for you to succeed and enjoy. For example, the style in which the kitchen will be made.
Here you can freely include your imagination because any idea can be turned into reality. Today there are many styles that you can choose from, such as the modern style which is mostly quite popular in the last few years, but there are also the traditional style, the rustic style, the French style, the Mediterranean style, and so on. While mixing multiple styles used to be considered a sin among professional designers, today it is completely different.
Today you can freely mix modern with any of the offered, Mediterranean and traditional, and so on. What might sound like a crazy idea when you think about it, can actually be different, even better than what you have in mind.
Have a Set Budget
It might sound a bit ridiculous since it is about designing a kitchen, but always limit the amount of money you are willing to spend for this purpose. Why is that? Since you don't have a limited budget you can relax and spend more than what is needed for this purpose.
Renovating your kitchen could cost you as much as renovating a whole house. We wouldn't want it to come to this. Instead of spending a bunch of money on things that are not that important to the functioning of the kitchen, you can repurpose that money for something else, like buying a new stove.
Designing the kitchen is an important part of the whole family because the end result should be liked by everyone. It is the place where we spend a lot of time with the family during the holidays preparing our favorite meals, starting each day there with a cup of tea or coffee and breakfast, experimenting with new recipes, and so on.
A lot of happy moments can be created here. That's why every part of its creation or remodeling is important. In this article, we have shared some tips that will help you in this process, and you will succeed in getting your dream kitchen.