A personalized cookbook is an ideal method to accomplish it if you're a foodie who loves to share their favorite recipes with family and friends. Your recipes will not only be kept physically, but they will also make excellent presents or keepsakes that people may pass down through the generations.
A cookbook requires a lot of attention and ingenuity to be created from scratch. Likewise, it is essential to seek assistance from trusted online printing services, such as dazzleprinting.com to get your cookbook printed in a professional and efficient manner. Discover six suggestions for producing your own cookbook from concept to printed pages by reading this article! You'll be able to create a fantastic cookbook that everyone will adore with this guide.
1. Define Your Concept For The Cookbook
Defining your vision for the cookbook is the first step in writing your own recipe book. Which types of recipes are you planning to include? What group do you want to appeal to? What style do you desire for the book's design? Moving on to the next phases will be a lot simpler once you are clear on what you want.
2. Decide On The Format Of Your Cookbook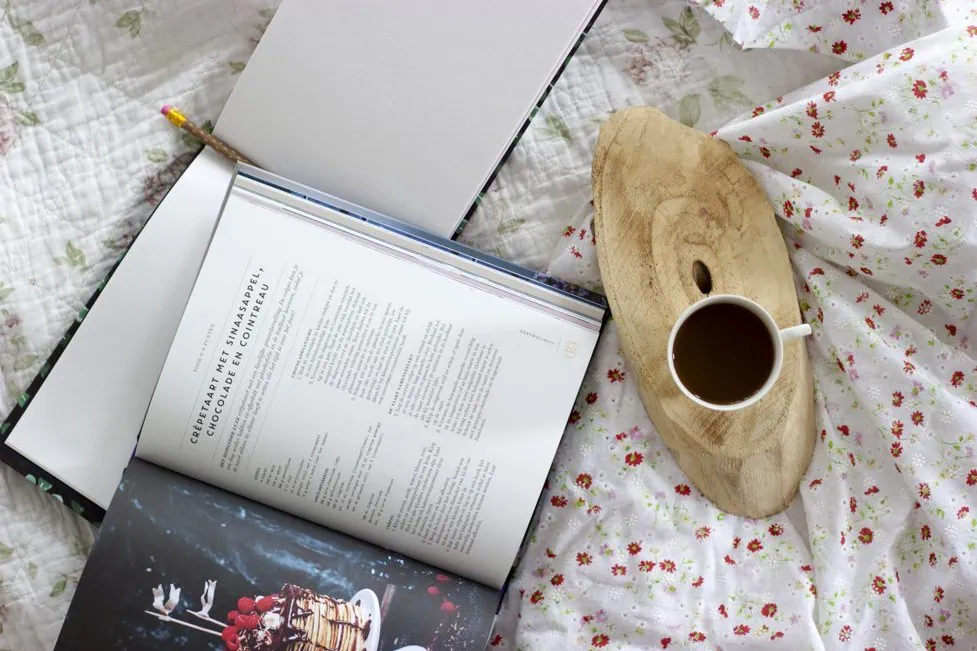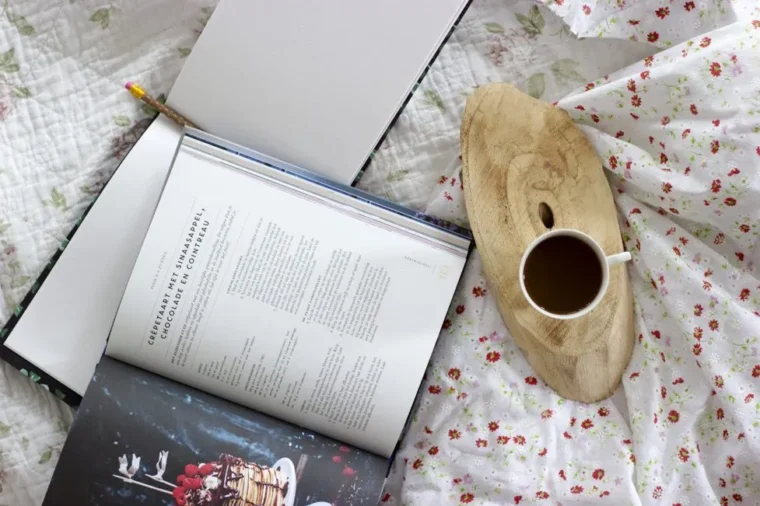 There are a few things to think about for your cookbook's format. First, choose whether you want your cookbook to be loose-leaf or bound. Your book's layout and pagination will be impacted by this. If you decide to bind, ensure sure the spine has room for all of your pages. Second, consider the number of recipes you want to provide.
For a bound cookbook, a good guideline is 40–60 recipes, and for a loose-leaf book, 80–100. This will also influence how big your book will be in total. Choose the page size and orientation that would best showcase your recipes. 8.5×11 inches is a typical page size for cookbooks, but feel free to get creative!
3. Choose Your Recipes
Choosing which recipes to include is one of the most crucial phases in producing your own cookbook. After all, you want your cookbook to be loaded with mouthwatering recipes that everyone will enjoy!
The following advice will help you choose the most incredible recipes for your cookbook:
Select your preferred recipes. You are the author of this cookbook, so be sure to include your favorite recipes! These are the recipes that will make your cookbook unique, whether they are traditional family recipes or those you have invented.
Keep your audience in mind. Who is going to read your cookbook? Choose dishes that they will enjoy. For instance, if you're creating a book for children, be sure to include some delightful and simple dishes.
Consider the current season. Try to select recipes that incorporate seasonal ingredients since they are frequently featured in cookbooks. Asparagus and strawberries, for instance, are in season in the spring and would be beautiful additions to any recipe collection.
Be imaginative! Try new flavors and ingredients without hesitation. The best place to display your culinary ingenuity is in your cookbook!
Remember dessert, too! A few sweets are a must-have in any good cookbook. Add some of your preferred baking or dessert recipes to your book.
4. Write Your Recipes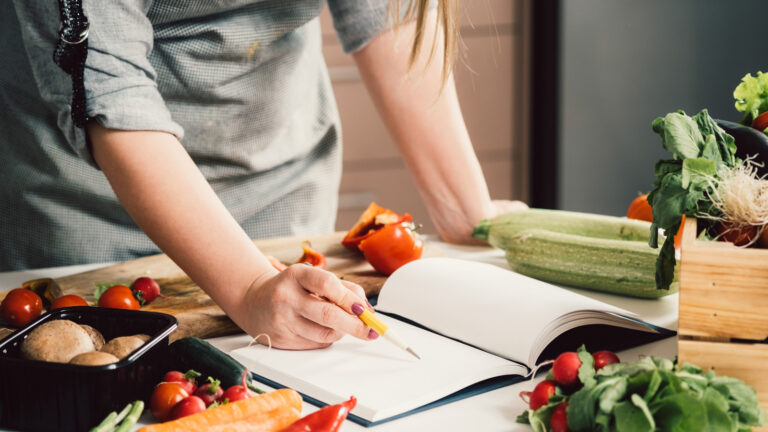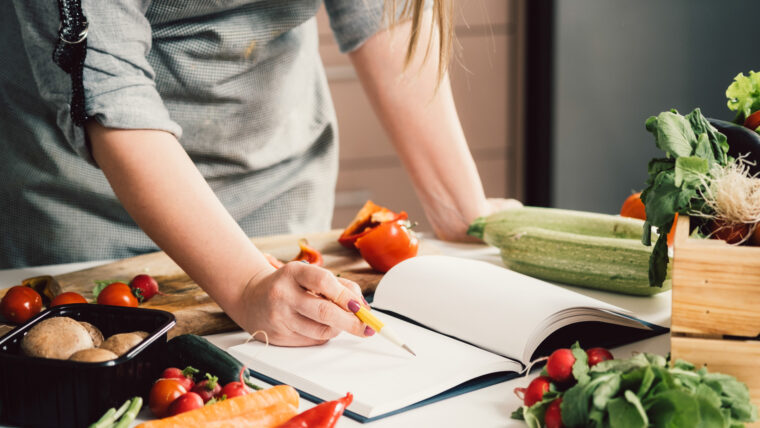 The first step after compiling a collection of recipes is to arrange them in a way that makes sense for your cookbook. There are a few alternative approaches to this, but one popular one is to organize recipes by meal types, such as appetizers, entrées, sides, and desserts. Alternatively, you might place the recipes by occasion or subject. When you've organized your recipes, it's time to get writing!
You should give the dish's name, a concise description, a list of the ingredients (with amounts), and detailed directions for every recipe. Before continuing to the next stage of the procedure, make sure to check your recipes properly.
5. Find A Printer For Your Cookbook
To begin printing your cookbook, you must first locate a printer. Although it could seem difficult, there are a few things you can do to make it simpler.
Choose the type of printer you want to use first. Printers come in two primary categories: offset and digital. Large print projects are normally handled by offset printers, but shorter print runs are better served by digital printers. Ask your printer for help if you need clarification on the type of printer you require. You can also look for a trusted online printing service provider to ease your work.
6. Design Your Cookbook Layout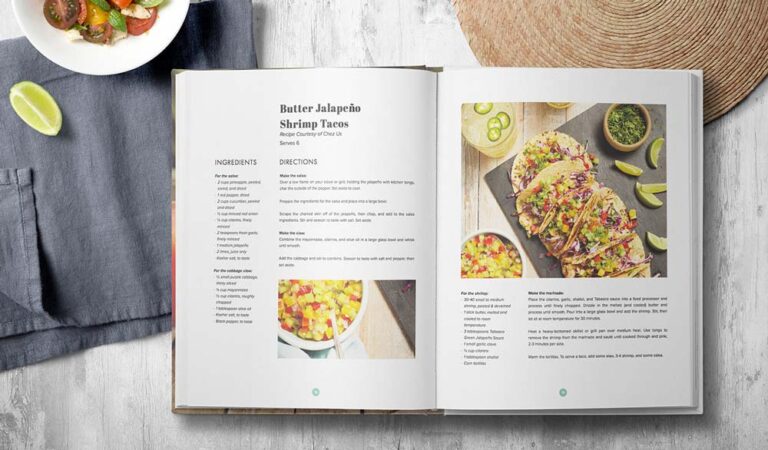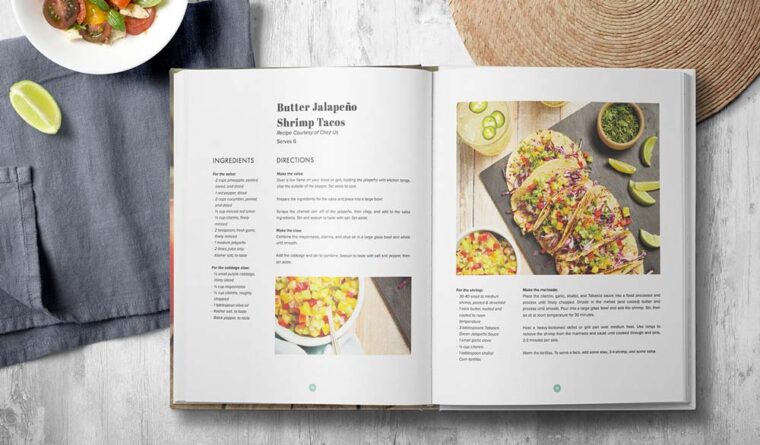 Consider how you want your cookbook to look once it is completed designing it. Do you prefer a sleek, contemporary look or something more conventional? You may have a particular theme or look in mind. There are a few essential components to keep in mind as you begin developing your cookbook, regardless of the vision you have for it.
Make sure the cover grabs readers' attention because it will be the first thing they will see. Make use of eye-catching fonts, vivid colors, and sharp graphics. The cover should also represent the overall tone of the book – if it's a cheerful and humorous collection of recipes, make sure it comes across on the cover.
Each recipe should have its own page in the book, with distinct headings and an easy-to-read layout. Make sure the photographs you include with your recipes are of a high caliber and enhance the food. Consider how much space you want between the text and any graphics when you lay out each recipe page.
Your cookbook may also contain tips and tricks, interviews, or essays in addition to the recipes. These may be scattered throughout the text or collected in a separate section. Consider utilizing a different typeface or layout to help break up large passages of text and maintain visual appeal if you include them.
Conclusion
Cookbooks are a fantastic way to share unique recipes, make new dishes, or build family treasures. A remarkable journey of creativity and teamwork is creating your own personalized cookbook. With these pointers on producing personalized cookbooks from concept to printed pages like PrintSafari, you should be able to complete the task with assurance. Enjoy the process because it will be enjoyable both now and in the future.