Introduction
Food is definitely one of the basic necessities of life but it's definitely not limited just to that. Food is love for many people and continuing with this passion of mine, this article will surely make you aware about some interesting facts about Thai and Indian Curry.
I'm a completely foodie person. I love food and thus, I love exploring and experimenting with food items of different tastes. The fact that had struck me recently was that what are the points which emerge as the differences between the Indian and the Thai Curry and thus, here I am with this article sharing with you all my conclusion drawn from exploring the two dishes.
The conclusion of my discovery in this food world was that Indian curry typically contains turmeric, cumin, and coriander. It may also be simmered with curry leaves. Indian curry is often not as heavy a sauce as Thai curry. Thai curry, on the other hand, uses a variety of curry pastes, mixed with coconut milk, to form a rich sauce in which meat and/or vegetables are simmered.
However, this is not just it. There is a lot more to that than just the basic differences which I have stated above. Both of the Cuisines in consideration are amazing ones and to know the exact differences between the Curry in both of these Cuisines, let's dig deeper together into the details with this article to ultimately state the Top Differences Between Indian & Thai Curry.
But before we delve into the details of how the curry in two different cuisines differ, let's first answer the basic question related to the topic i.e. What is Curry?
What is Curry?
The Tamil people of India and Sri Lanka were the ones who coined the term 'Curry'. This term was originally used to describe a variety of meat and vegetable dishes that were cooked using a spice rub mixture without the use of sauce.
So carrying the discussion forward…
One of the cornerstones which could well be witnessed in the Indian Curry is the use of the curry plant when making the spice rub. The matter of fact is that ironically, in the most of the spice blends under the label curry powder, the leaves of the curry plant are missing.
Another ironical fact is that much of what we think about the Indian Cuisine are heavily rooted in Great Britain. England, was without a doubt, once occupied India and a lot of people of Indian descent have lived in England. Thus, things like curry powder and even Chicken Tikka Masala, are, in fact, UK inventions.
It has been over the due course of time that the term 'curry' has spread much across the Asian with many Asian countries adopting this term and Thailand is one those countries. In Thai food, curry is traditionally made using the curry paste that is either red, yellow or green. However, there are other variations available as well. This paste gets mixed into coconut milk to form a sauce.
So, that is how the term 'curry' came into being and the above stated is the context in which it is used in the contemporary times. Having read about this, we now move ahead towards the question in consideration i.e. Is there are difference between Thai Curry and Indian Curry?
So, stay tuned!
The main segment of the article is almost here to be explored by us altogether.
Is there a difference between Thai Curry and Indian Curry?
To answer this question in short, my answer to this question is a definite YES!
Indian Curry which is believed to have come first is the one uses a blend of Indian food spices as a rub on meat and vegetables. While the meat and/or veggies might be cooked with tomatoes, it isn't heavily sauced.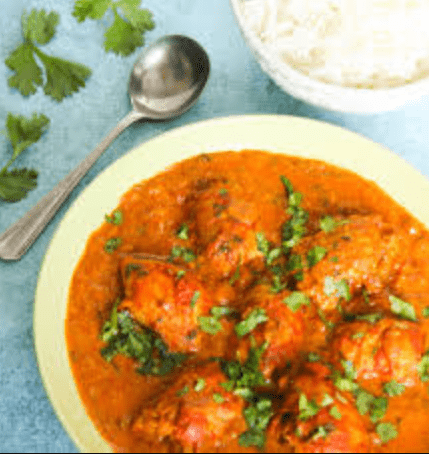 Thai Curry, on the other hand, is made using a variety of curry pastes which, unlike spices mixes, are made from fresh ingredients and have a thick, moist quality. This curry paste is then mixed with coconut milk to form a rich sauce.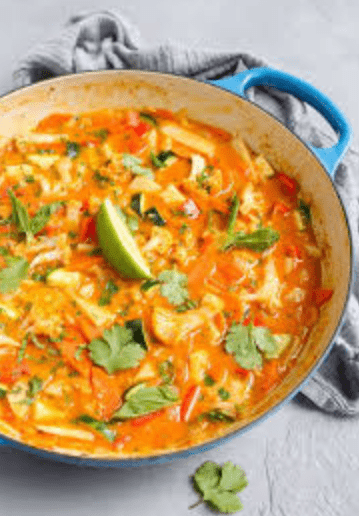 The quantity of the curry paste used would determine the spiciness of the Curry. However, a few tablespoons are usually considered enough for a large pot of curry.
The commonality of the two appears in the taste which everyone who loves food looks for in a dish. Both the Indian Curry as well as the Thai Curry primarily share a richness of flavor and tantalizing spices.
An addition to make these two dishes even more better could be the use of turmeric for the color and the use of fresh cilantro leaves as the topping. It would render the Indian Curry and Thai Curry with a difference which everyone would surely love it.
Let's get into more details about both Indian Curry as well as Thai Curry.
What is Thai Curry?
Thai Curry can usually be broken down into the following types:
Green (the hottest)
Yellow (the mildest)
Red (in the middle)
Panang (similar to red but with a little tang from shrimp paste)
Massaman (milder and sweeter, often containing peanuts)
Usually, all of the above stated Thai Curries uses the same base ingredients which include ginger, garlic, lemongrass, galangal (Thai ginger), and chili peppers. But one of the main ways in which a particular kind of Thai Curry differs from another is the way in which the chillies are used.
Green chillies plays a significant role in making the Green Curry which is traditionally considered to be the hottest curry of all. Red curry uses red chiles to give it a slightly milder heat and the distinctive red color. Yellow Thai Curry consists of a lot of turmeric which renders it with its distinctive color and a lower amount of chili peppers, usually making it the mildest of all Thai Curries.
What is Indian Curries?
Jarred curry powder is a British invention dating back to the English colonization of India.
In India, curry refers to a blend of spices but this doesn't means that same blend of spices is used in every dish. Instead, a different blend of spices is used to make different types of dishes and these combinations would change as per the preferences of people in different regions of the country.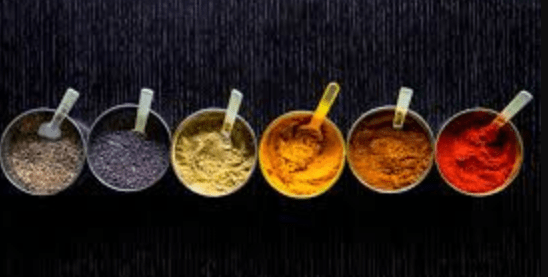 However, that being considered, some of the most common of spices which are usually used at every place while making the dish are as follows:
Corriander (the powder made from dried cilantro seeds)
Cumin
Turmeric
Cayenne chili powder
There are other Indian spices in this list as well. However, just to clarify a very common doubt, cinnamon or ginger powder are not traditionally used in curry. Cinnamon is a major ingredient in garam masala powder which is often added at the end of the cooking process and Ginger is a major ingredient in Indian food but is almost always done with fresh ginger, not in the powdered form.
Moving ahead with the article, let's answer the ironical question we encountered earlier and the question is…
Why are curry plant leaves missing from most curry powders?
To answer this question in a short and crisp manner, the leaves of the curry plant tend to lose their delicious and distinctive flavour when dried out.
Curry leaves are an essential ingredient in Indian food, especially in South India. However, as stated earlier, the dried out leaves tend to lose its flavour. This is the reason why only fresh curry leaves are used in the dishes to add a distinctive flavour to it.
Does Thai Curry taste like Indian Curry?
The short answer to this question is NO and that's what actually intrigued me to figure out the differences between the two.
While there are some ingredients that are shared between the two cuisines like that of ginger, garlic, turmeric, chili peppers, and cilantro, the taste of both of them are very different.
Both of the Indian Curry and Thai Curry are spicier or milder as per the preference, but I have always found Thai Curry to be a tad hotter. Also, Thai curry also relies heavily on coconut milk, whereas Indian curry is all about the spices and far less saucy.
Another difference could be pointed out from the fact that when Indian food does get saucy, it tends to rely heavily on ghee (clarified butter) and cream in many dishes, whereas Thai food doesn't use a lot of dairy products. Indian food also uses the dried cilantro leaves while the Thai Food mostly uses the fresh ones.
Thus, they are definitely not similar to each other in taste.
What is the Best Thai Curry?
Best is the highly subjective term and depends on individual preferences. What might be best for me might not be best for you.
However, to let you know about my observation for the same, green curry seems the most popular ones to me. Yellow, panang and massaman are by far regarded as the least popular of all types of curry.
Personally, though, I prefer panang as it has a nice tang from the added shrimp paste. It can be a little spicy, but the heat doesn't overpower the flavor, which can sometimes happen with green curry. But I like almost all the curries. There is not even one which I dislike. So, I would say try them all and pick your best one yourself.
Which Thai Curry is the mildest?
The one thing to know here is that Thai Curries start with curry paste and thus, you can vary the heat by using more or less of it. After the initial paste gets sautéed in some oil with maybe chopped onion and garlic, coconut milk gets added.
However, considering the question in consideration, green curry and red curry get their distinctive colors from chili peppers. Thus, yellow curry is often the mildest since it gets its color from turmeric.
Which Thai Curry is the Spiciest?
I think Green Curry would very credibly win this title because fresh green chilies are the ones which give green curry its distinctive color and heat.
The green chilies start off the vine when they are hottest and thus, these are also cheaper than the red chilies which are allowed to stay on the vine for a longer time as it reduces the produce of the farmer. So, the fact is basically that the longer it stays on the vine, the milder it gets.
What are the main Indian food spices?
The beauty of the Indian food is that every dish requires its own unique blend of spices to get the best taste of a particular dish. Each dish has custom spice blends that make one dish very different and distinctive from the next.
Thus, not all the spices bare used in every dish. But some of the most widely used Indian food spices are as follows:
Turmeric
Coriander
Cumin
Fenugreek
Asafoetida (hing)
Cardamom
Mustard seed
Saffron
Garam masala (itself a mixture of cinnamon, clove, coriander, cardamom & cumin)
What is the difference between Madras Curry and Garam Masala?
Garam masala is a very commonly used spice in India and it simply refers to a spice blend of cinnamon, clove, coriander, cardamom & cumin. It often gets added to dishes when they have finished cooking. So it works like a garnish which is sprinkled on the top.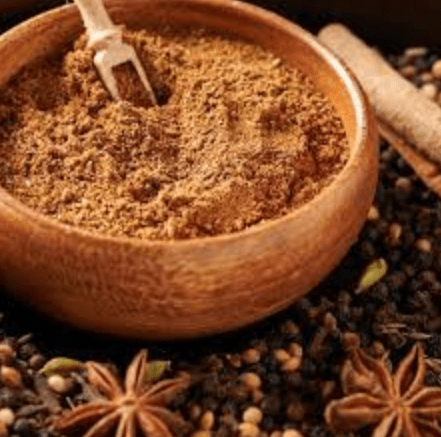 On the other hand, Madras curry can refer to a curry powder or curry sauce and is another British invention interpreted from Indian food during the British colonization of India. It is made with plenty of chili powder and then the dish is often mellowed (a little) with the addition of yogurt. It also typically contains tamarind which has a raisin-like sweetness giving the overall flavor a sweet and sour taste.
Thus, the fact is that Garam Masala and Madras Curry are totally different.
What's the difference between Indian Curry and Jamaican Curry?
Unlike Indian curry powder, which is a British invention and not often seen in India, Jamaican curry is a staple of Jamaican cuisine.
The dominant flavor in Jamaican curry is allspice which has an almost licorice-like flavor, as well as thyme. In contrast, Allspice and especially thyme are rarely, if ever, used in Indian cuisine.
Jamaican curry also features fresh chili peppers, thus Jamaican curry powder itself isn't that spicy since no chili powder is used. However, the two cuisines do share a heavy use of turmeric powder, coriander, cumin, and fenugreek in common.
Okay…so now having read about a lot of points related to both Indian and Thai Curry, let's finally list out the 9 differences between the two.
9 Surprising Differences Between Indian and Thai Curry
A common love for garlic, onion, cumin, and fresh cilantro leaves is what both of these cuisines definitely share. However, apart from that, the two are altogether different and the following pointers would clarify it all:
Thai curry has a solid base of coconut milk, whereas Indian curry almost never uses coconut milk
The first difference to list between the two is the fact that Coconut Milk is a staple ingredient in Thai Curry. Lack of coconut milk is not a compromise to be made while making Thai Curry.
In contrast, Indian curry is a blend of spices. Though sometimes coconut oil, yogurt, cream etc might be needed for sauces, but it's not a must use ingredient. Instead tomato sauces are most common in India.
Jarred curry powder is a British invention and is not used in Thai cooking
UK is much well versed with Indian Cuisine the reason being the British occupation of India from 1858 to shortly after World War II, as well as the fact that a large number of families from Indian have emigrated from India to the UK over the decades.
Thus, curry powder, which is on the shelf in every grocery store in the US and UK, is a British invention and not something used whatsoever in Thai curry.
Thai curries start with curry paste which is a blend of fresh ingredients and not dried spices
The curry powder blends can be found in India but it is traditionally a UK Invention. But Thai curries always start with curry paste which is a mashed blend of fresh vegetables and herbs such as garlic, onion, lemongrass, galangal, and chile peppers and doesn't uses ay dried herbs and spices other than some basic ones like salt etc.
Thai Food often uses fresh cilantro leaves as a garnish but never doesn't used dried seeds of the cilantro plant (coriander)
Coriander Powder is an exclusive ingredient which is used in an Indian food. It is not used in the Thai Food ever. It's just the fresh leaves of cilantro plant which is often used as a garnish in both the Cuisines.
Use of Dairy Products in Indian Cuisine makes it different from the Thai food
Almost all Indian dishes start with ghee (clarified butter) and many contain heavy cream or yogurt-based sauces. Ghee is an Indian invention and used to sauté almost everything in Indian food. Indian food also uses cream and yogurt to create rich sauces.
In comparison, Thai food is almost always cooked in coconut oil, palm, peanut, or soy oil and not butter or ghee. In fact, Thai food rarely uses dairy products.
Indian Food is mostly served with Basmati Rice in contrast to Thai Food which is served with Jasmine Rice
Indian and Thai Cuisines do share a love of serving rice to accompany a meal but the preferable variety is different. Indians prefer Basmati Rice which is an aromatic, long-grain rice that, when cooked, smells faintly of popcorn.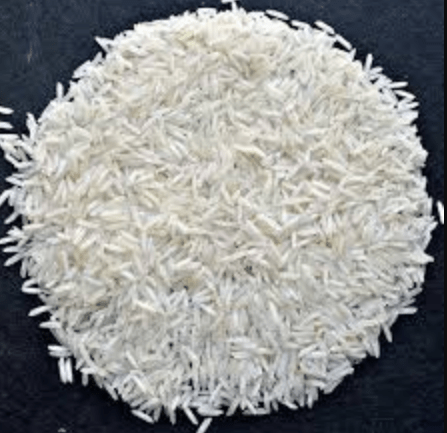 In contrast, Thai Cuisine prefers Jasmine Rice which is also long-grain rice which is a bit more floral in nature. It also loses flavor faster, thus it's best to find vacuum sealed jasmine rice.
While the leaves of the curry plant are often simmered in traditional Indian curries, the curry leaves are not used in Thai food
Curry leaves don't have much flavor when dried, curry leaves are rarely included in jarred curry powders. Thus, they get simmered in Indian food and then are often discarded like a bay leaf. In contrast, curry leaves are not at all used in Thai Cuisine.
While both Thai and Indian cuisines call for ginger, Thai ginger, often called galangal, tastes radically different
Galangal and ginger are close cousins under the rhizomes family of root vegetables. However, galangal, while looking almost identical, has a rootsy and citrusy taste and overall is much stronger in flavor. Thus, regular ginger cannot work as a substitute for Galangal and this is what makes the two different.
In Thai Cuisine, Rice can well be served as a substitute for Rice Noodles whereas Indian food is never served with any form of noodle
Rice noodles, whether thin like angel hair or wider and flatter like fettucini, are staples items in Thai food, although they love their jasmine rice too.
By comparison, India does not use any form of pasta and strictly has rice as it's starchy side dish, either plain steamed basmati rice or pulao or biryani which are more like rice pilaf or stir-fried rice.
So, the above stated are the main differences which I could point out between Indian Curry and Thai Curry. However, both the Cuisines are great and known for their own unique flavors.
With this, the purpose of this article is fulfilled and thus, we ultimately move towards concluding this article.
Conclusion
After having read this article and the points stated in it, we can conclude this article by saying that Thai Curry and Indian Curry are much unrelated and don't taste similar at all. However, both have their unique qualities and flavours which makes both of them taste amazing. Now it's up to you to explore your taste and know which one you like more.
With this I wish you a Happy Eating experience!