Since I made the decision to go gluten-free, one thing has been weighing on my mind – what kind of Christmas cookies can I make?!
I'm still very new to gluten-free baking, so I invited a pro to help me out.
Today I'm excited to have Allison Royal of Wallflour Bakery sharing an amazing gluten-free, vegan Gingerbread Love Cookie that is perfect for coffee dipping and spiced for the holiday season. These little gems are made with whole grains, healthy fats and unrefined sugar so you can feel good about sharing them with family and gifting them to friends!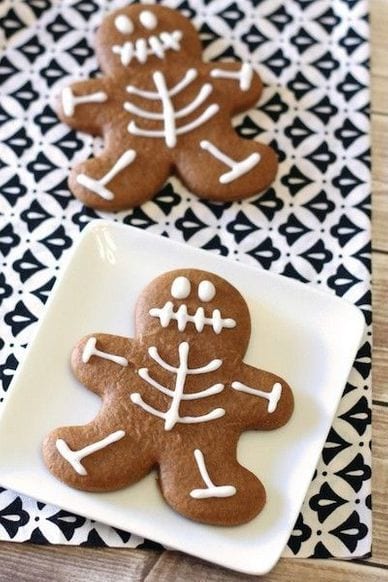 I was lucky enough to meet Allison at my neighborhood's weekend farmer's market. I was of course attracted to the myriad of baked goods at her funky little table, but when I found out they were gluten-free, I was sold. Allison explained that she began baking her own treats after she found out she was allergic to gluten, soy, and dairy and was not impressed with the ingredients in the store-bought variety. Instead, she strives to use the healthiness ingredients she can while still making delicious treats.
New to gluten-free/vegan baking like me?
No worries!
These cookies come together quickly, bake up fast and all the ingredients can be found at your local health food store.
Look for the ingredients in bulk so you don't have to buy large bags of different flours. Allison recommends selecting organic brands when possible for peace of mind and superior taste.
Learn how to make Allison's festive holiday Gingerbread Love cookie after the jump! Gingerbread Love Cookies Ingredients (gluten-free, soy-free, corn-free, nut-free, vegan, <3)
from Allison Royal of Wallflour Bakery
Makes 12 medium-sized cookies
Dry
1 Cup Shredded Coconut (my favorite brand is 'Let's Do…Organic')
1/2 Cup Buckwheat Flour
1/2 Cup Brown Rice Flour
1/2 Cup Arrowroot Powder
1/4 Cup Sorghum Flour
1/4 Cup Coconut Flour
1 tbsp Ground Cinnamon
1 tbsp Ground Ginger
1 tsp Guar Gum (or psyllium husk or xanthan gum)
1/2 tsp Baking Soda
1/2 tsp Sea Salt
Wet
1 Cup Coconut oil (melted)
1/2 Cup Organic Cane Sugar
1 tbsp Molasses (heaping)
1 tbsp Pure Vanilla
1 tbsp Unsweetened Applesauce
Icing
1/2 Cup Organic Powdered Sugar
1 tbsp Pure Vanilla
1 tbsp Coconut Oil (melted)
1/4 tsp Cardamom
Pinch of sea salt
Rice Milk (or any preferred non-dairy milk) as needed
Preheat oven to 350. Line a baking sheet with parchment paper. Combine all dry ingredients (flours, cinnamon, ginger, guar gum, soda, and salt) in a large mixing bowl, whisk together and set aside. In the bowl of your stand mixer or large mixing bowl, combine all wet ingredients (coconut oil, sugar, molasses, vanilla, applesauce) and whisk up for 1-2 minutes. Add dry mixture and mix in for 1-2 minutes, scraping down the sides of the bowl to make sure everything is all mixed up. The dough should appear crumbly but hold together nicely when pressed between your fingers.
Roll into 1.5″ balls and space about 2″ apart on your prepared baking sheet. Press each dough ball down with the palm of your hand (shape the edges by pressing and smoothing with your fingers to create a uniform round edge or leave cracked for a rustic look). Bake on center rack for 10-12 minutes and let cool on sheet for 15 minutes before transferring to a wire rack for further cooling and icing.
To make the icing, in a small bowl combine powdered sugar, vanilla, coconut oil, cardamom, and sea salt. Whisk it all up until a smooth, stiff consistency is formed (if too stiff, add non-dairy milk 1 tsp at a time until desired texture is achieved) Spoon icing into a piping bag (or a ziplock bag with the corner cut off), outline each cooled cookie with icing and smooth with fingertip. Feel free to get creative and decorate to your heart's content!
Tip: These babies are sturdy, so for a fun Gluten-Free Holiday DIY project, double recipe, and roll cookie dough out on a floured parchment paper (brown rice flour works great and is inexpensive for dusting) to about 1/4 inch thick… cut into squares, rectangles, and triangles ready for Gingerbread House construction! Bake for 12-16 minutes, until golden brown and firm to the touch. Let cool completely, prepare icing to use as your "glue", construct away and doll up with your favorite festive candies!
Thanks so much to the fantastic Allison of Wallflour Bakery for sharing her gluten-free, vegan Gingerbread Love cookie with us. I hope you enjoy them as much as I do! Be sure to stop by her Facebook page to see even more of her tasty treats and if you are in the area, be sure to try a treat. The strawberry nirvana bars are out of this world. I also want to wish Mary, one of Allison's loyal customers, a very happy birthday tomorrow!
If you are looking for more holiday baking ideas, be sure to check out The Speckled Palate's Christmas Cookie Week! Find a tasty collection of holiday cookies from bloggers all over the web and get started on your holiday baking!