Your passion for wines may have prompted you to become a wine collector. If you're planning to level up your love for wine and become a connoisseur, putting up a wine cellar in your home is a great idea. However, when there's not enough space or a basement to accommodate your collection, one ideal place is to install it in the kitchen.
There are many perks of having a wine cellar in your kitchen. It allows you to organize your favorite bottles of vino and give easy access to them. Whether you plan on entertaining and inviting guests or want to pour a glass of red wine just for yourself, having a wine cellar is more than gratifying. No matter how much or little your space is, there are tips and tricks to maximize their use.
This article will provide you with some ideas for a wine cellar that will integrate well into your kitchen:
1. Install A Stylish Bar
Source: pinterest.com
If you have an open space kitchen on your ground floor, installing a stylish bar is one of the best kitchen pairing ideas. You can evaluate your floor space and extend some at the rear. Some homeowners add a kitchen bar for various reasons, such as having more storage, counter space, and additional seating. But in your case, you would want a stylish bar integrated into your kitchen to accommodate your wine collection. This bar can also serve as a divider between the open space of your kitchen and your living room.
There are plenty of stylish bar ideas for your kitchen, and it's all a matter of crafting it to your preferences and budget. It would be essential to spruce up your kitchen space by developing a theme or color palette guide. Ensure that your stylish bar also comes with the same theme and colors as they're integrated. Next, consider these variables when designing your wine cellar bar:
• Cooling Your Wine Cellar
Retaining the quality and condition of your wines should be your top priority as a wine aficionado. Keep the temperature at an ideal level by investing in a high-quality cooling unit. The upfront cost may be higher, but in the long run, you'll save money if you invest in quality. Winecellarhq.com says one cooling unit is appropriate for most wine cellars, but that you should choose one with a cooling capacity slightly larger than your cellar size, to ensure it cools effectively.
• Choosing Wine Racks
Custom wine racks can be built, or prebuilt racks can accommodate your desired number of bottles. Depending on how many wines you plan to display, you should have enough racks to accommodate them. Don't forget to install adjustable racks or shelving to accommodate different sizes and shapes of bottles. After all, storing wine the right way makes a big difference.
• Install The Right Lighting
It is common for cellars to be fitted out incorrectly because of the bad lighting. There is a risk of overexposure to bright lights and lamps that emit heat. Lighting is a critical variable for your wine cellar, so ensure that you use soft-glow LED lighting to illuminate your wine cellar and uplift the ambiance. Keeping the light to a minimum is crucial. So, ensure to give them enough darkness for wine to taste better.
2. Create A Wine Wall
Source: sebringdesignbuild.com
One great idea to place your wine cellar within the kitchen is to have a wine wall. You can dedicate a wide wall intended for your wine bottles. You can easily grab and pour from your favorite bottle without leaving the room. The added perk is that this collection is displayed for your guests and friends to see.
If you have a dull and empty wall, you can make it stand out by painting it with a unique paint color. Or you can go for some accent wall ideas that will help elevate your wine collection. Put wine box logos on the walls for a unique decorative touch. Check out some other wall decor ideas to make your wine cellar in the kitchen look more enchanting.
3. Opt For Kitchen Wine Cupboard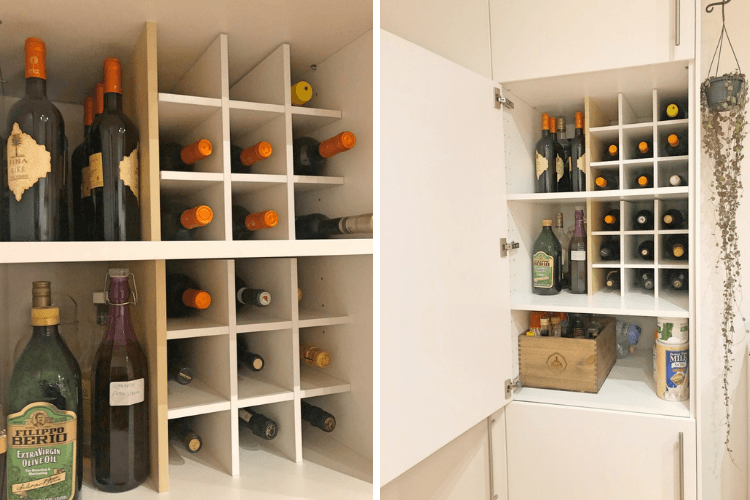 Your kitchen will have enough cupboards for your storage. But for this particular idea, you can designate one special cupboard as your wine cellar. In addition to kitchen storage cupboard ideas, a temperature-controlled wine cabinet can make a stunning addition to your kitchen. There are no limits to installing the best wine cupboards in the kitchen. You can use different materials to use for your kitchen cupboard. One option is to opt for laser-cut panels, which can display your bottles elegantly.
Consider different things when crafting kitchen cupboards for your wine cellar. Ensure that they come with cooling features that allow you to control the temperature. You may also go for dark-tinted glass panels with dimming lighting options to let your wines have enough darkness. If your kitchen has wooden features, you can combine wood with glass for your cupboard wine cellar idea. Ensure that the exterior wood matches the color of the cabinets surrounding it.
4. Create A Kitchen Island Wine Rack
Source: ingeniovirtual.com
When your kitchen comes with limited space, one ideal wine cellar idea is to maximize the use of your kitchen island. You can create a wine rack out of it. You don't need a whole room for a stylish and climate-controlled cellar. There are many ways to integrate a wine cooler into your kitchen island and install wine racks in the sufficient space below. This wine cellar idea is excellent for wine collectors just starting out.
5. Integrate A Glass Rack In The Kitchen
Source: kitshaper.com
You can fit an extensive collection of bottles in a closet-sized wine cellar that can be held in the corner of your kitchen space. Ideal for those who have more floor space in their kitchen, you'll love having a glass rack explicitly intended to fit your finest wine collection. However, when going for a glass rack, ensure you use the right glass. Wines shouldn't be exposed to sunlight and other intense lights, so make sure to go for the suitable material of glass rack.
One great idea is to use a slim wine case in your kitchen if you don't have that much space. Install a see-through window into it, so you can easily identify your favorite wine bottles from the outside. This is one ideal wine cellar and kitchen pairing homeowners will find ideal to execute.
Conclusion
Sprucing up your kitchen to accommodate a wine cellar is possible if you properly plan and prepare. It would be great to inquire and seek help from experienced and trustworthy contractors. Consider the ideas mentioned above to maximize your kitchen space while enjoying the perks of having an enclosed wine cellar.