When it comes to kitchen decor, peel-and-stick wallpaper has become a popular choice. It's easy application and removal offer a quick and budget-friendly way to transform the look of your kitchen walls. However, not all wallpapers are created equal, especially when it comes to the demanding cooling environment of a kitchen. This article will discuss the key factors to consider when choosing peel and stick wallpaper for kitchen walls.
Consider Durability
In a kitchen, durability is paramount. Look for peel and stick wallpapers specifically designed for high-traffic areas and can withstand the demands of a busy kitchen cooking environment. Vinyl and vinyl-coated wallpapers are excellent choices as they are known for their exceptional strength and resistance to wear and tear. These materials can withstand the occasional splatter, heat, and frequent cleaning without compromising their aesthetic appeal.
Vinyl wallpapers are renowned for their durability, making them ideal for kitchens. They are manufactured with multiple layers, including a vinyl top layer that protects against scratches and abrasions. This makes them highly resistant to damage from everyday activities in the kitchen, such as cooking, cleaning, and even accidental spills. These wallpapers have a layer of vinyl coating applied to the surface, which enhances their strength and resistance to moisture, stains, and fading. The vinyl coating acts as a protective barrier, shielding the wallpaper from potential damage caused by water splashes, grease, and food stains.
Opt for Easy Cleaning: The kitchen is often a hub of activity and can easily become messy. Therefore, choosing wallpaper that is easy to clean is essential. Look for options that can be wiped down with a damp cloth or mild cleaning solution without causing damage or fading. Smooth and washable wallpapers are ideal for the kitchen as they allow for effortless maintenance and keep your walls looking fresh.
Prioritize Moisture and Stain Resistance
Kitchens are notorious for their high moisture levels and potential for stains, so choosing a peel and stick wallpaper that can withstand these challenges is crucial. When selecting wallpaper for your kitchen, prioritize materials that offer excellent moisture and stain resistance, ensuring the longevity and cleanliness of your walls.
Look for wallpapers labeled as moisture-resistant or have a protective coating to repel water. These wallpapers are typically made from vinyl, which naturally repels moisture and prevents water from seeping into the adhesive or damaging the wallpaper. Moisture-resistant wallpapers protect against accidental spills or splashes and inhibit mould and mildew growth, which can thrive in damp kitchen environments.
An additional crucial feature to take into account is stain resistance. Grease, food splatters, and other stains can build up on kitchen walls over time. Choosing a peel and stick wallpaper resistant to stains will make it easier to keep your kitchen walls looking fresh and clean. Look for wallpapers with a protective coating or specifically formulated to resist staining, as these options will be more forgiving when it comes to cleaning and maintenance.
When browsing for moisture and stain-resistant peel and stick wallpapers, carefully read product descriptions and labels. Look for keywords such as "moisture-resistant," "stain-resistant," or "easy to clean" to ensure that you're selecting a wallpaper that can handle the unique challenges of a kitchen environment.
By prioritizing moisture and stain resistance in your choice of peel-and-stick wallpaper, you can create a kitchen space that looks beautiful, practical, and easy to maintain. With the right wallpaper, you'll have peace of mind knowing that your kitchen walls are protected against moisture-related issues and resistant to unsightly stains, allowing you to enjoy a clean and inviting kitchen for years to come.
Evaluate Adhesive Strength
The kitchen environment can be challenging for any adhesive material because of high humidity and temperature fluctuations. Therefore, choosing a peel and stick wallpaper with a strong adhesive is crucial to ensure it stays firmly in place, even in demanding conditions.
When selecting a peel and stick wallpaper for your kitchen, look for options with reliable adhesive backing. These wallpapers are specifically designed for optimal adhesion and longevity. Read product descriptions and customer reviews to gauge the effectiveness of the adhesive and ensure that it can withstand the challenges of the kitchen environment.
Sometimes, using a separate wallpaper adhesive can provide added security. This option is beneficial if you have concerns about the existing adhesive strength or want to reinforce the wallpaper's bond to the wall. For optimal results, carefully adhere to the manufacturer's recommendations. Your peel and stick wallpaper will securely stay on your kitchen walls if you prioritize adhesive strength. The wallpaper will stay in place with a strong adhesive.
Consider Style and Design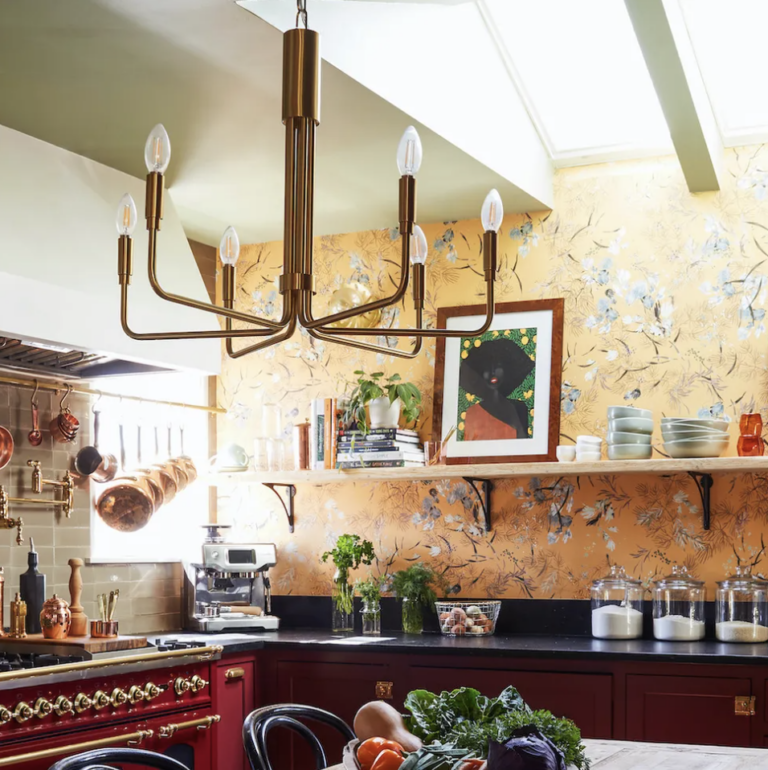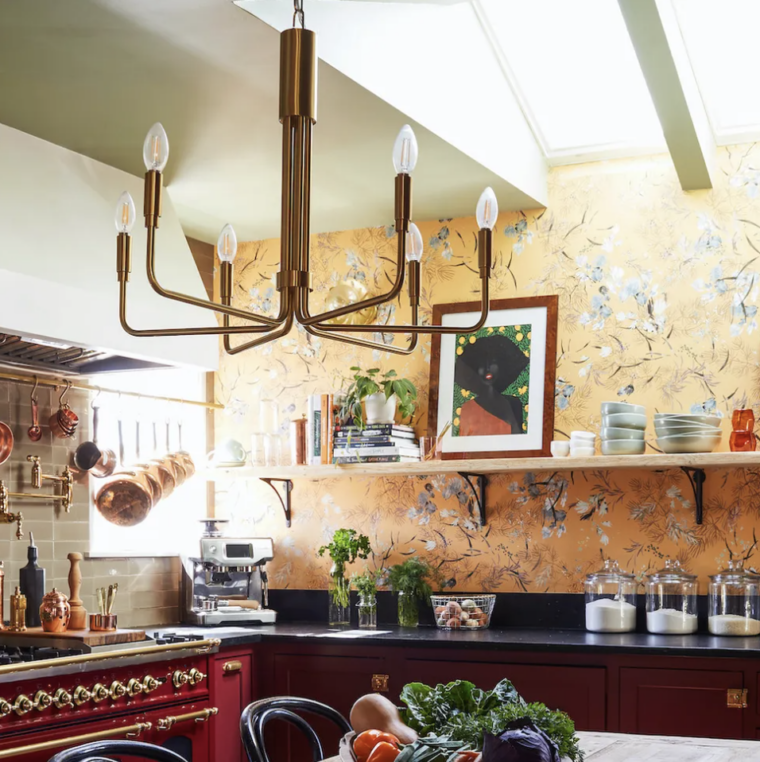 Durability and functionality are important but remember to think about style and design. Your kitchen wallpaper should be practical and enhance the overall aesthetic and theme of your kitchen space. Start by considering the existing color scheme and decor of your kitchen. Take note of the dominant colors and materials used in your cabinetry, countertops, and flooring. Choose wallpaper to create a unified appearance. As you design your kitchen, consider the overall look you want to accomplish. Are you going for a sleek, modern aesthetic, a cozy farmhouse vibe, or a lively, eclectic vibe? Different wallpaper patterns, textures, and colors can help you achieve your desired style. For example, bold geometric patterns can add a contemporary touch, while floral motifs can bring a soft and romantic feel to the space.
Consider the scale of your kitchen and the size of the walls you plan to cover with wallpaper. Opting for lighter colors and smaller-scale patterns in smaller kitchens can help create an illusion of space, while larger patterns can make a bold statement in larger kitchens.
If you're unsure about committing to a specific design, consider using peel and stick wallpaper as an accent wall. This allows you to introduce a pop of color or pattern without overwhelming the entire space. Fortunately, a wide variety of peel and stick wallpapers are available, offering an extensive range of styles, colors, patterns, and textures. Take advantage of online resources, interior design inspiration websites, and samples to help you visualize how different wallpaper options will look in your kitchen.
By carefully considering the style and design of your kitchen wallpaper, you can elevate the visual appeal of your space and create a harmonious atmosphere that reflects your taste and complements the overall theme of your kitchen.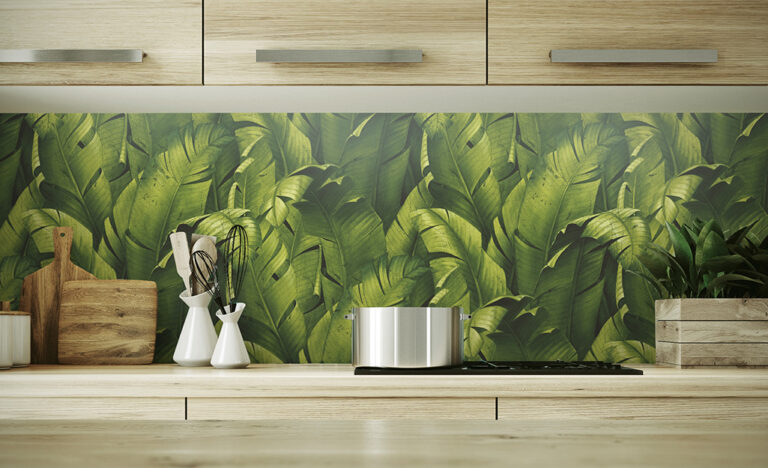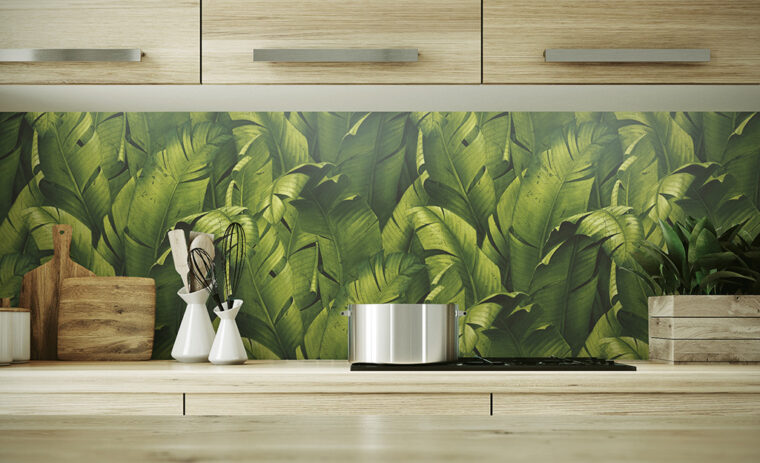 Conclusion
Selecting the right peel and stick wallpaper for your kitchen walls is a decision that combines both practicality and aesthetics. Look for durable wallpaper, easy to clean and resistant to moisture and stains. Lovevsdesign wallpapers should also have good adhesive strength and a style that fits your kitchen. Take the time to research different materials and designs, and make an informed choice that will allow you to enjoy a beautiful and functional kitchen for years to come.