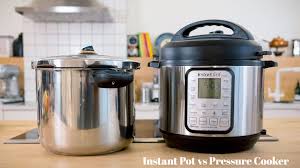 Everyone is entitled to their own opinion and I for one , respect that more than any other thing . So if you are here to contradict me , you are wasting your own time . Whatever is mentioned below is as I have seen and witnessed personally as I own both of the aforesaid items .
And you might not be looking at hem the same way . You might be reading this in order to decide which one triumphs over the other so that you buy the best one suited for you . Or maybe you just want to make a point to your wife ( which will not matter as she is your wife ) . Jokes aside , if you already own any of these machines , odds are that you are pretty happy with it and it has made your life happier and / or better in some ways .
People sometimes confuse instant pots with pressure cookers as well . On some cases , instant pots come with the option of being used as a pressure cooker on certain occasions .
So how do we decide which one of these are better ? Well , let us look at some of the most common factors people search for , when they are about to but something new . These factors are :
Convenience :
In today's world , a lot of people would not mind spending an extra buck to afford luxury . They work day in and day out , trough their sweat and blood only to satisfy their wants . And everyone wants a stylish lifestyle , including their kitchens . Various factors like size , cooking time , cooking modes and other stuff are determiners as to what makes an item convenient or not .
Usability :
The long term usage for anything is desirable . Just like your relationships , you do want your utensils to stay with you for a long , long time .
Durability :
The other factor , probably one of the most important , is how durable your machine is . It directly relates to the usability of the appliance . A good example of this is whether or not the body of the appliance you use is made up of stainless steel . Stainless steel has a very desirable quality , it does not rust over time like iron . People prefer durable appliances over fragile ones .
Price factor :
The biggest factor without a doubt , is your wallet . How many times has it been that you have liked something , almost decided to buy it , and when you turn it over , you feel your heart sinking as you see it outside your price range .
Being on the cheaper side is a big plus for an electrical device , let alone an instant pot or a pressure cooker .
However , this being said , if your wallet is fat enough , you should definitely opt for the costlier ones , they not only have more facilities ( without doubt ) , they even appear fancier than their low costing counter parts .
Now that we know of the factors , let us talk about these devices in detail .
So what are instant pots ?
An instant pot functions quite effectively and works with a principle quite opposite to a slow cooker . It uses the concept of pressure cooking and therefore , heats up your food in no time .
The wide variety of features available in an instant pot make it a go to machine every time you desperately need something to be cooked or heated up .
What are the benefits of cooking in an instant pot ?
Two benefits of cooking in an instant pot stand out above the ordinary factors .
These are :
There is almost no loss of nutritional value when food is cooked in an instant pot . They use steam for the heating process . The steam that encompasses the nourishment will keep it from being oxidized by introduction to air. You'll see that your green vegetables will rise up out of the Instant Pot looking similarly as green as they were the point at which they went in, and holding their common flavours also .
Smell : The aura of the food is what makes up 20 % of the taste – foodies would tell you , and they actually aren't wrong .
Foul odour can be a great turn off for anyone in the kitchen . The Pot utilizes a silicone ring for securing the cover . This ring works incredible, however after some time it might ingest the smells of nourishments , particularly rich and garlicky food sources .
Now , let us focus on pressure cookers ! What are they ? Are the beneficial ?
Let's find out !
Pressure cooker is that tool in your hand which makes you the undisputed king of the jungle ( as in your kitchen! ) . It opens up a wide variety of opportunities for people like you and I .
The formal definition you ask ? A pressure cooker is an impenetrable preparing gadget that prepares food rapidly, because of the steam pressure that develops inside. The steam likewise makes the food clammy, which is the reason this gadget is ideal for meat stews, cheesecakes, and significantly more.
Benefits of cooking in a pressure cooker ?
Saves energy : Pressure cookers are the more traditional kind . They are usually operated on gas ( LPG ) and do not use electrical energy .
Maintenance : They are easier to clean and to maintain . The lid comes off quite easily and that helps to wash it more gently .
Time : Saves time . Studies have shown that food cooked in pressure cookers take 70% less time to be cooked than in other appliances .
Now that we know about both the appliances , let us come to the good part , the comparisons .
With the pros already been discussed , we now talk about the cons .
And what I have felt is that instant pots , though , can seem quite potent to people at the beginning of their careers , they serve more purpose as compared to a pressure cooker .
An instant pot has a wide variety of options to be used as while a pressure cooker can only be used for pressure cooking .
An instant pot might be a bit more costly than compared to a pressure cooker , however as I said , today's generation does not really prefer to save the extra buck .
Also , while an instant pot can be left unattended and used for slow cooking ( at times ) , a pressure cooker needs someone to be around it while in use . And trust me , babysitting something that isn't a baby , can be really tough .
An instant pot can run on electricity while a pressure cooker can not .
As you see , even if I want to , there isn't much wrong I could say about an instant pot . Hence , for me , an instant pot comes into my kitchen over a pressure cooker any day . What about you ?