The heart of every thriving restaurant or catering service beats most vigorously in its kitchen. A commercial kitchen serves as the backbone, supporting and driving the enterprise with its culinary marvels. But what tools and machines are absolutely crucial to make these gourmet dreams a reality? As you journey through this guide, the veil will be lifted on the unsung heroes of the hospitality world – the essential commercial kitchen appliances.
Why is a Well-Equipped Commercial Kitchen Important?
In the culinary arena, a well-equipped commercial kitchen is synonymous with a craftsman's toolkit. Its essence is carved not just from the skills of the chefs but from the tools they wield.
To guarantee consistency: Regularity in taste and presentation is paramount. A minor inconsistency can dent a restaurant's reputation.
Enhancing efficiency: Time is the most valuable ingredient in a kitchen. The right appliance can drastically reduce preparation and cooking time.
Safety: Modern appliances are designed keeping safety protocols in mind, ensuring a lower risk of accidents.
What Essential Appliances Should a Commercial Kitchen Have?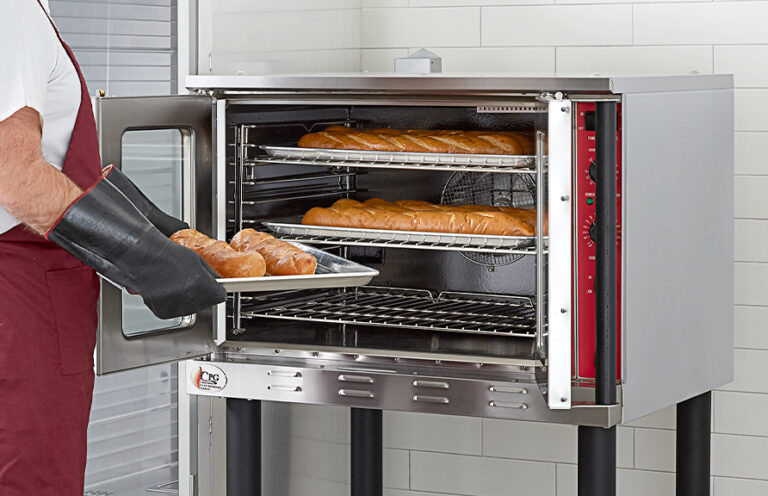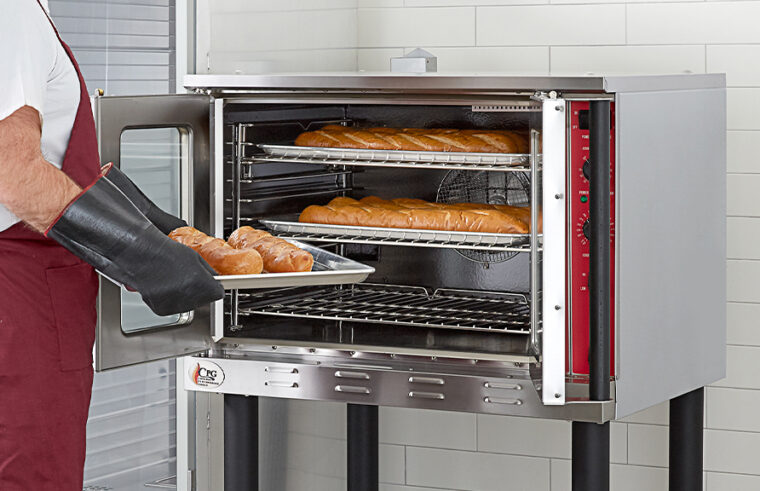 Before diving into the specifics, let's enumerate the stalwarts of a commercial kitchen:
Commercial Ovens
Commercial Refrigerators
Deep Fryers
Commercial Ranges
Commercial Dishwashers
Why are Commercial Ovens Essential?
Baking, roasting, or just heating, ovens are the unsung workhorses. Commercial ovens are cherished for:
Efficiency: They heat up quickly and maintain consistent temperatures.
Volume: Capable of handling bulk orders without breaking a sweat.
Reliability: Built to last and endure rigorous usage.
What Types of Commercial Ovens are Available?
The variety caters to specific needs:
Convection: Offers uniform cooking with a fan distributing heat.
Combi: Versatility of steaming and convection in one.
Deck: Perfect for pizzas and bread.
Conveyor: Ideal for establishments needing quick, consistent results, like sandwich shops.
How Essential is a Commercial Refrigerator?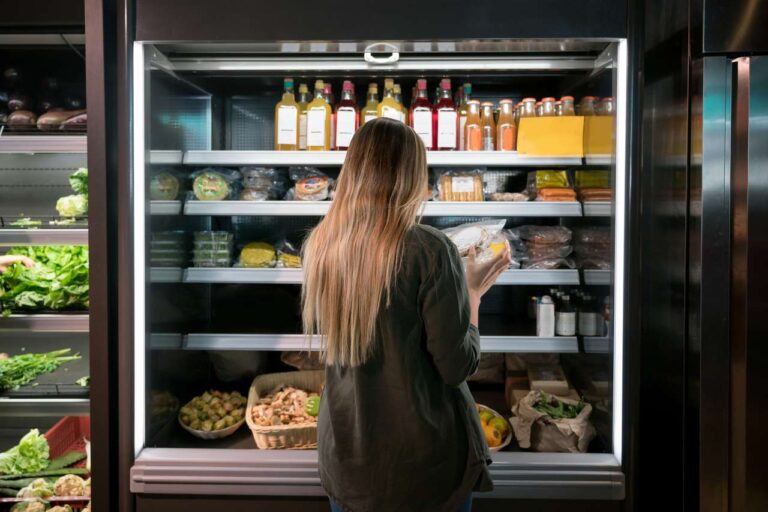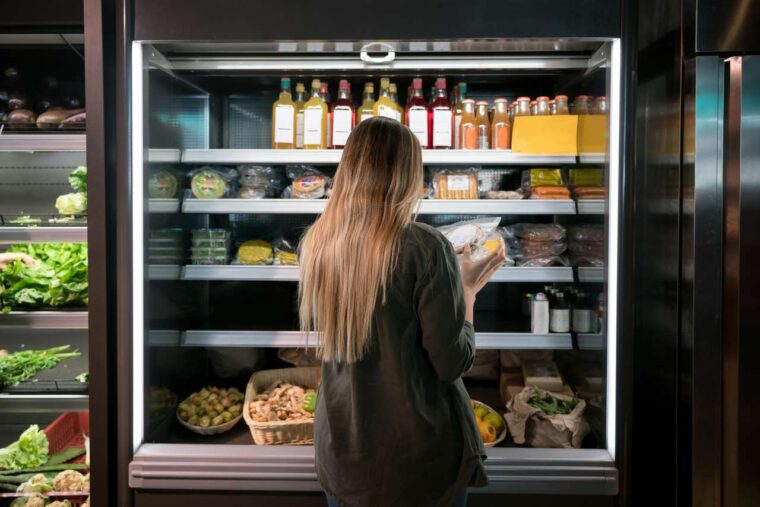 Beyond merely cooling, they are crucial for:
Effective temperature control: Ensure the freshness and longevity of ingredients.
Organized storage: Facilitate efficient kitchen operations.
What are the Different Types of Commercial Refrigerators?
Designed for different spaces and needs:
Reach-in: Standard refrigerator, easy access.
Walk-in freezers: Essential for bulk storage.
Undercounter: Save space, fits beneath counters.
Merchandising: Showcase products enticingly.
Why are Deep Fryers Important in a Commercial Kitchen?
They bring the crispiest delights to our plates. Their indispensability is due to:
Speed: Quick frying ensures high turn-around.
Efficiency: Consistent temperatures mean even frying.
Versatility: From fries to chicken wings, they handle a range.
What are the Main Types of Commercial Deep Fryers?
The fryer universe comprises:
Electric: Offers consistent heating.
Gas: Heats up quickly.
Countertop: Space-saving and portable.
Floor standing: For bulk frying needs.
Why is a Commercial Range Important?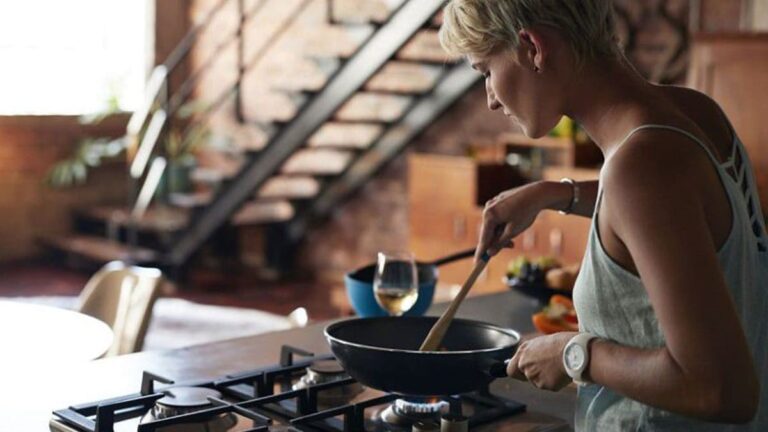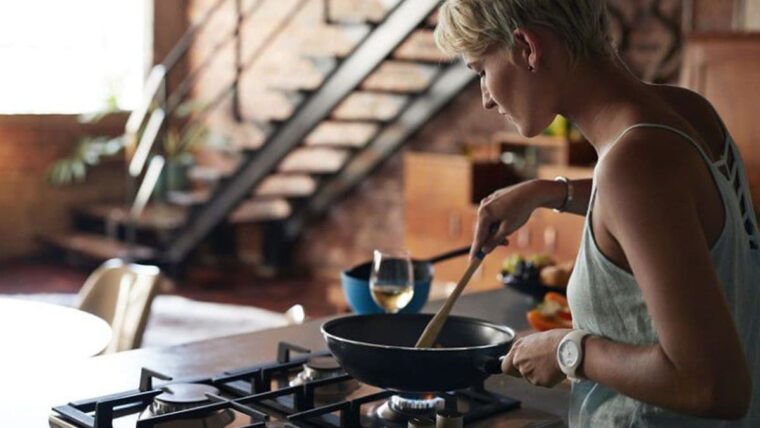 A kitchen's multitasking marvel, they're prized for:
Multitasking capabilities: Simultaneous cooking of multiple dishes.
Rapid cooking: Time-efficiency redefined.
High volume: Catering to peak hours seamlessly.
How Do Gas Ranges Differ from Electric Ranges?
The age-old debate has its pros and cons:
Gas Ranges: Quick heating, better temperature control, but needs a gas connection.
Electric Ranges: Even heat distribution, safer, but slower in response.
How Crucial is a Commercial Dishwasher?
Post the culinary spectacle, they ensure:
Hygiene: Sterilized dishes mean healthier meals.
Speed: Time saved in cleaning is time used in crafting delicacies.
Efficiency: Lower manpower requirement and consistency.
What are the Types of Commercial Dishwashers Available?
Meeting varied needs:
Undercounter: Compact, for smaller establishments.
Door type: Quick operations, suitable for medium-sized establishments.
Conveyor: For large establishments with high footfall.
Flight: Industrial level washing for very high volumes.
What is the Role of Specialty Appliances in a Commercial Kitchen?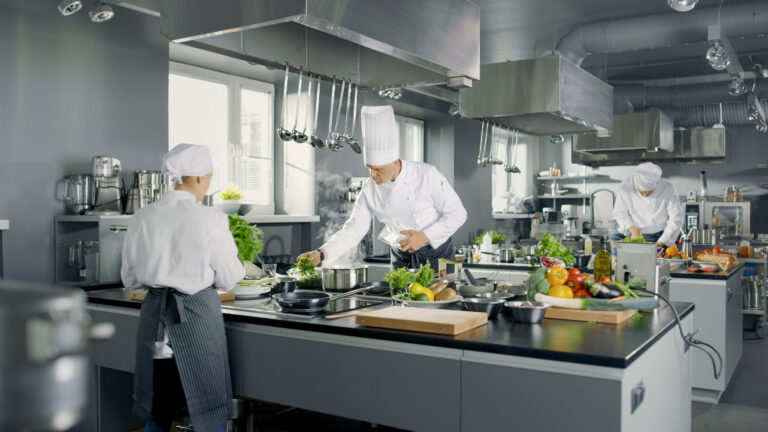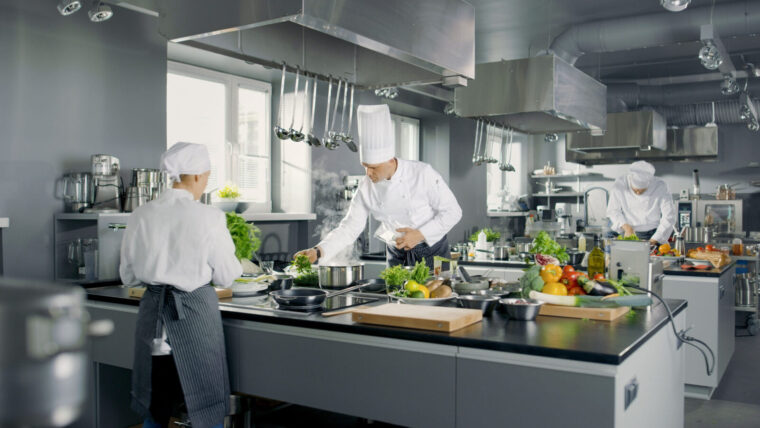 Specialty appliances might not be the first thing that comes to mind, but they hold their own by enhancing the versatility and capabilities of the kitchen.
For that unique touch: They allow chefs to incorporate specialized culinary techniques, setting the establishment apart.
Enhanced Efficiency: Some dishes or preparations require particular equipment for the best outcomes.
Why are Commercial Mixers and Blenders Essential?
These powerhouses handle everything from kneading dough to pureeing soups:
Versatility: From whipping cream to grinding spices, they cover a wide spectrum of tasks.
Volume: Commercial variants are designed to handle large quantities, ensuring consistency.
Efficiency: Faster preparation leads to quicker service.
Which Types of Commercial Mixers and Blenders are Available?
Stand Mixers: For heavy-duty tasks like kneading bread or making pizza dough.
Immersion Blenders: Ideal for pureeing soups directly in the pot.
Food Processors: For slicing, dicing, and more, offering multifunctionality.
What is the Importance of Beverage Equipment?
Beverages enhance and often complete the dining experience, necessitating specialized equipment:
Quality: Proper equipment ensures beverages are served at their optimal taste and temperature.
Speed: Essential during peak hours to keep up with demand.
Variety: Different beverages require unique equipment for the best results.
What Beverage Equipment Should a Commercial Kitchen Have?
Coffee Makers: From espresso to cappuccino, serving the perfect brew.
Soda Dispensers: Instant chilled sodas on tap.
Juice Extractors: For fresh, healthy, and organic juices.
How Does the Layout and Size of the Kitchen Affect Appliance Choices?
The physical constraints of a kitchen profoundly impact appliance selection:
Space considerations: Selecting appliances that fit without crowding the kitchen.
Workflow: Ensuring a logical sequence of operations from prep to service.
Energy Efficiency: Positioning appliances to minimize energy wastage.
What are the Considerations for a Small Commercial Kitchen?
Space is premium but efficiency is non-negotiable:
Multifunctional appliances: Devices that can perform multiple tasks.
Vertical storage: Utilizing height to free up floor space.
Compact designs: Choosing models designed for smaller spaces.
How to Optimize a Large Commercial Kitchen?
With more space comes more responsibility:
Specialized Appliances: Utilizing the luxury of space to house specialized equipment.
Efficient Layouts: Designing paths that reduce movement and improve efficiency.
Zoning: Creating dedicated zones for prep, cooking, baking, etc.
What Maintenance is Required for Commercial Kitchen Appliances?
Maintenance is the silent pillar behind a kitchen's success:
Longevity: Regular checks ensure a longer lifespan for equipment.
Efficiency: Preventative maintenance ensures appliances operate at peak efficiency.
Safety: Preventing potential accidents through timely interventions.
What Regular Checks Should Be Done on Ovens and Ranges?
Cleaning routines: Ensuring no residue build-up.
Parts checks: Regular inspections for wear and tear.
Calibrations: Ensuring accurate temperature settings.
How to Ensure Refrigeration Systems Are Running Optimally?
Temperature Checks: Ensuring food is stored safely.
Gasket Maintenance: Checking for air leaks.
Coil Cleaning: Ensuring efficient cooling.
What are the Safety Precautions for Using Commercial Kitchen Appliances?
Proper Training: Ensuring staff is well-acquainted with all equipment.
Regular Inspections: For any wear, tear, or malfunctions.
Clear Safety Protocols: Well-displayed and regularly reviewed.
Are Energy-Efficient Commercial Appliances Worth the Investment?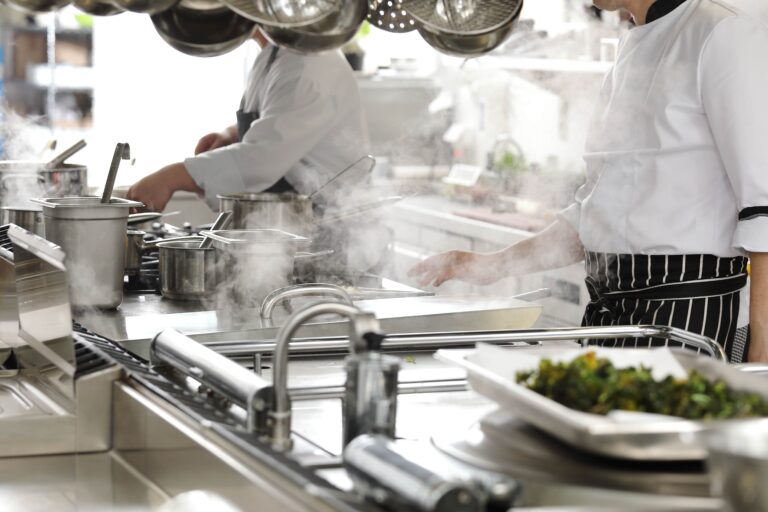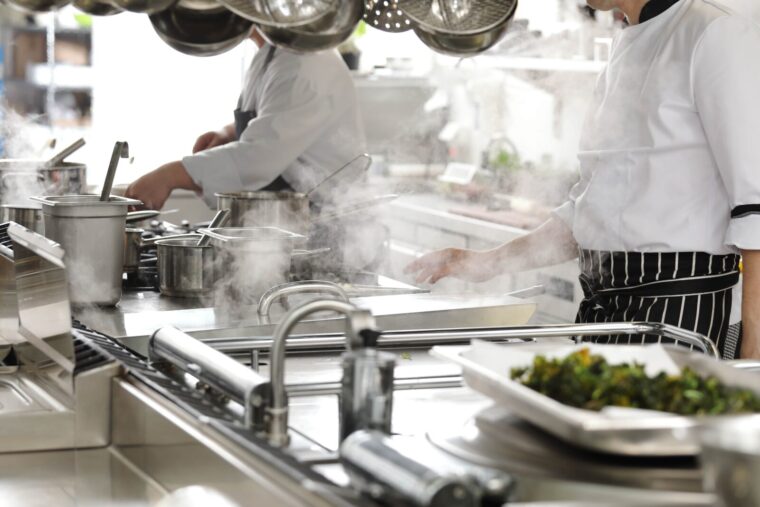 Sustainability: A move towards a greener planet.
Cost savings: Reduced utility bills in the long run.
Enhanced Performance: Often, energy-efficient models are better in performance.
Which Commercial Appliances Tend to Consume the Most Energy?
Large ovens and ranges.
Walk-in refrigerators and freezers.
Deep fryers.
How to Choose Energy-Efficient Appliances for a Commercial Kitchen?
Look for certifications: Energy Star ratings, for instance.
Consider total lifecycle cost: Initial investment vs. long-term savings.
Seek modern designs: Newer models often incorporate advanced energy-saving technologies.
Conclusion
Navigating the vast ocean of commercial kitchen equipment might seem daunting, but equipped with the right knowledge, one can make informed choices. From understanding the crucial role of each equipment to appreciating the nuances of energy efficiency, this guide is your compass. In the end, selecting the right tools is about optimizing efficiency, ensuring safety, and boosting profitability, all while serving delicious memories on a plate.