Chad and I have some exciting changes in the works! I can't share all of the details yet, but I can share that we are selling our adorable bungalow in the Lindley Park neighborhood of Greensboro, NC. If you have ever sold a home, you know just how much work it can be to stage and prepare for showings. Today I'll share my top home staging tips and tricks.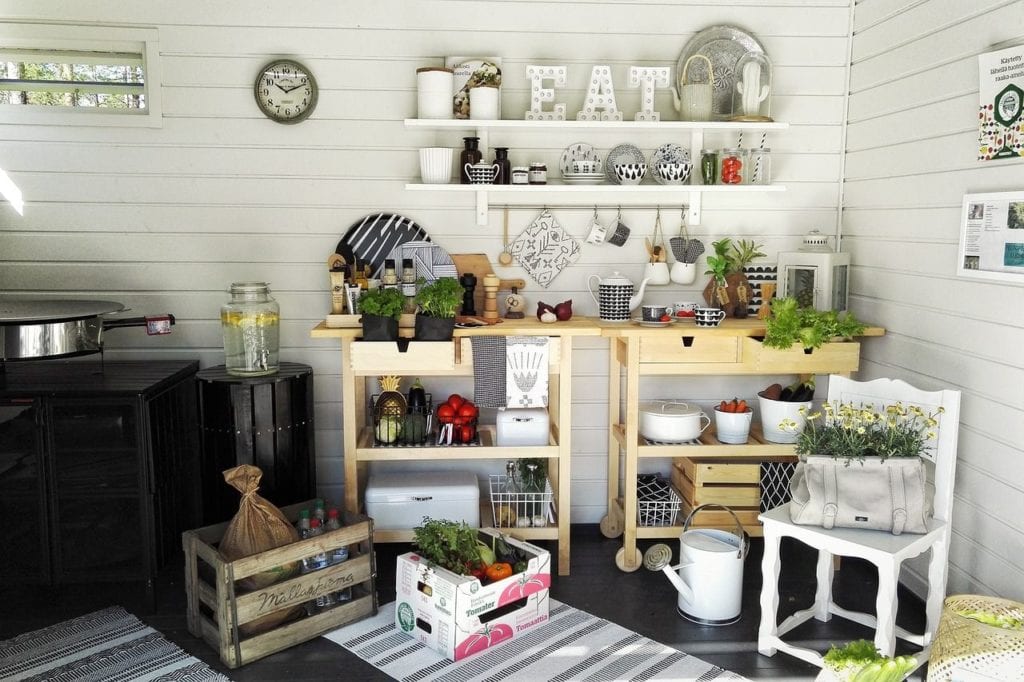 1. Keep your countertops clean and clear.
When it comes to selling your home, the kitchen can be a major selling point. Even if you don't have granite countertops and updated appliances, I recommend taking most items off of your countertops. It will make the space look bigger and less cluttered.
On top of clearing the countertops, you want to make sure they are spotless. I love Bounty® Select-a- Size paper towels because they are more absorbent than a standard paper towel and I can select the perfect size for my cleaning job. Right before a showing, I'll clean my countertops with granite cleaner and a paper towel to make sure they are streak-free and gleaming to make a good impression on potential buyers.
2. Spruce up your bathroom with luxe linens.
Our bathroom is mainly black and white with a few pops of color. We have a variety of bath towels, but I picked up a new set of plush white towels to add a luxe feel to our small bathroom. Before a showing we remove our bath towels and add the fresh white towels. It can amount to a lot of laundry, but Tide® PODS® Laundry Detergent keeps the towels bright and white. I love theTide® PODS® because I can toss one in the wash and the 3-in-1 laundry solution will clean, remove stains and brighten the load. It makes life easy when there is so much going on.
3. Clear clutter from your closets.
The less clutter you have in your closets, cabinets and drawers the more spacious they appear. We boxed up a lot of our kitchen items, purged our bedroom closets and reorganized our bathroom closet. Storage baskets and boxes keep storage areas neat and tidy. I placed my stock pile of Charmin® Ultra Strong toilet paper in a cute basket and put the rest out of sight. It's easy to grab a roll when low and keeps the closet organized.
4. Make rooms inviting for prospective buyers.
Remove all clutter and extra items from a room when showing your home. We tucked Hobbes dog bed away and moved a few pieces of furniture to the attic to make the rooms more spacious. As hard as it can be, you should also remove family photos from your home. Buyers want to image themselves in the space, not you.
Make sure your rooms smell fresh too. Before Chad, Hobbes and I run out the door (Yes, we look just like a family on HGTV!), I spray Febreze Unstopables™ Air Refresher in each room. The crisp scent lasts six hours so we can even enjoy it when we return.
5. Keep your floors clean.
This might seem obvious, but with a dog and a husband, dirt is always getting tracked in the house and I don't have time to mop before each showing. I love the Swiffer® WetJet Mop because I can quickly clean the floors before a showing. There is no dirty water to deal with – I just throw away the cleaning pad and away we go.
5 Tips for Staging Your Home
Keep your countertops clean and clear.
Spruce up your bathroom with luxe linens.
Clear clutter from your closets.
Make rooms inviting for prospective buyers.
Keep your floors clean.
Getting your home ready to go on the market can be overwhelming, but with my home staging tips and the right tools, things will be much easier. You can find all of these products and more in Walmart's New Clean Home Collection.
I can't wait to share more details about our future plans! Until then, I hope you have a wonderful weekend filled with sun and fun.
This post is sponsored by Walmart and P&G. All opinions and product sentiments are my own. Thank you for supporting the brands that keep Twin Stripe going!