Outdoor kitchens have become increasingly popular as homeowners seek to bring the comfort of their indoor spaces to the great outdoors. While appliances, countertops, and seating areas are all essential considerations, the foundation – literally – of a beautiful outdoor kitchen is often overlooked: the ground beneath our feet.
Mulch, with its organic nature and diverse range, can truly transform the look and feel of your space. Let's dive into ten invaluable tips, starting from the tenth and working our way to the first, for harnessing the power of mulch to refresh your outdoor kitchen. Make sure to use a Mulch calculator.
1. Understand the Benefits
Before diving into specific techniques, it's essential to understand why mulch is a sought-after choice for outdoor spaces.
Weed Control: Mulch acts as a barrier, preventing weeds from springing up between your tiles or paving stones.
Moisture Retention: Especially beneficial in drier climates, mulch helps retain moisture, ensuring that any nearby plants remain lush.
Erosion Prevention: Mulch provides a cover for the soil, reducing the risk of it being washed away during heavy rains.
Natural Aesthetic: Nothing beats the natural, earthy feel mulch brings to an area. It's an effortless way to integrate your kitchen into the surrounding landscape.
2. Choose the Right Type
There are various mulch types available, each with its characteristics:
Organic Mulches: These include wood chips, straw, grass clippings, and leaves. They decompose over time, enriching the soil but may require occasional replenishment.
Inorganic Mulches: Examples are stones, gravel, and rubber chips. They don't enrich the soil but are long-lasting.
For an outdoor kitchen, consider the aesthetic you desire. Wood chips provide a rustic look, while stones offer a sleek, modern feel.
3. Consider Color Coordination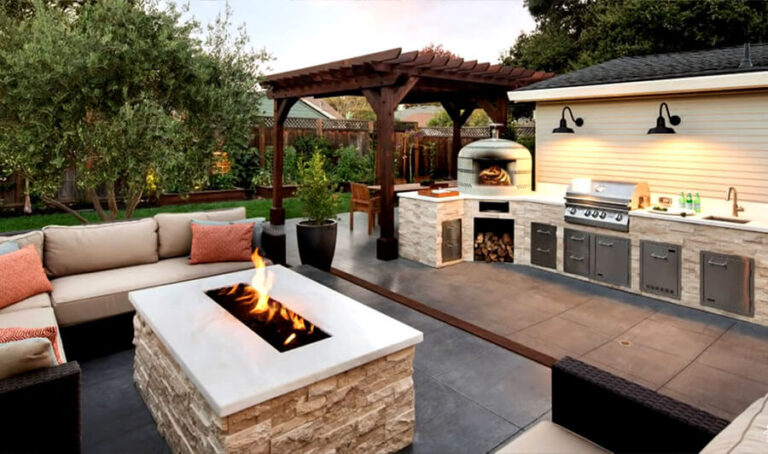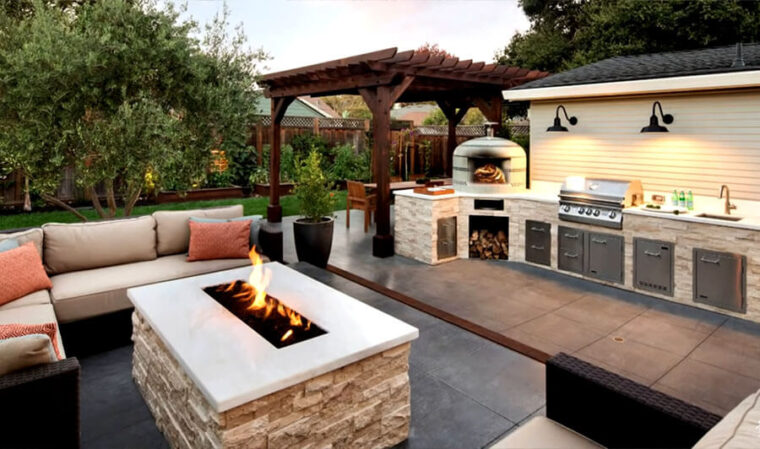 Mulch isn't just brown! Wood chips can range from light tan to deep mahogany. Stones come in hues from white to black, with every shade in between. When selecting mulch, think about your outdoor kitchen's color palette. For a harmonious look, choose a mulch color that complements your countertops, furniture, and appliances.
4. Determine the Depth
The depth of the mulch layer plays a crucial role in its effectiveness. Generally, a depth of 2-4 inches is recommended. Too thin, and it may not suppress weeds or retain moisture effectively. Too thick, and water might not penetrate, depriving roots of essential hydration.
5. Edge Your Areas
Before laying down mulch, consider edging the area. This will:
Define the kitchen space.
Prevent mulch from spilling onto walkways.
Offer a more polished appearance.
Metal, stone, or even plastic edging can be used, depending on the overall aesthetic you're aiming for.
6. Prepping the Ground
For best results, take some preparatory steps:
Clear the Area: Remove any weeds, rocks, or debris from the area.
Level the Ground: Ensure that the ground is even for uniform mulch application.
Lay a Weed Barrier: This can be a fabric or plastic sheet that further prevents weed growth. However, ensure it allows for water drainage.
7. Keep it Fresh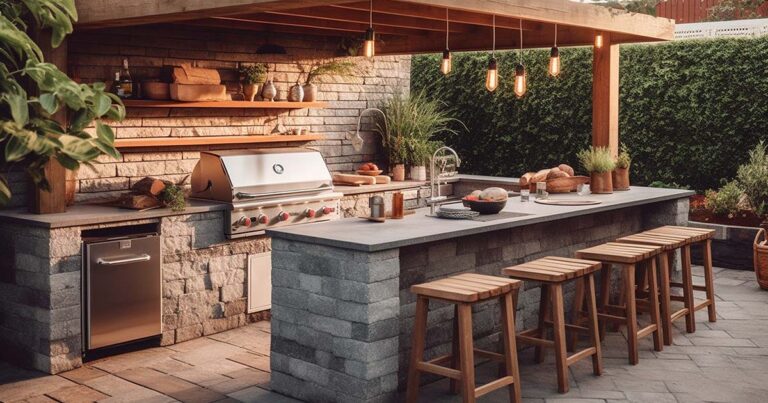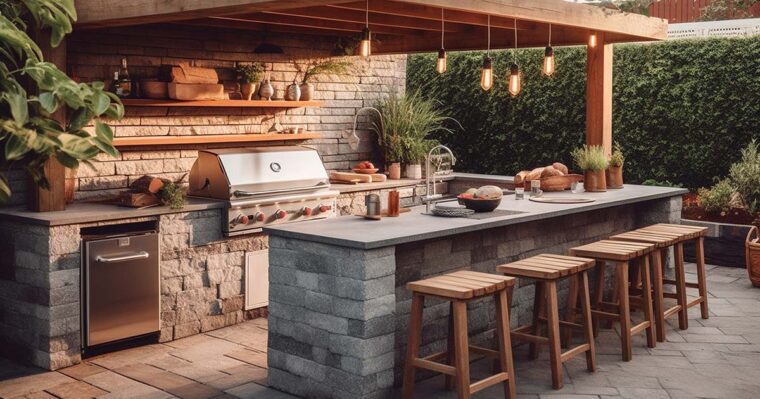 Remember, organic mulches decompose. To maintain the area's appearance and benefits:
Replenish once a year or when noticeably thin.
Turn over the mulch periodically to prevent mold growth and ensure it remains loose for water penetration.
8. Balance with Plants
While mulch is a star, plants are the co-stars in your outdoor kitchen setting. Integrate some plants around the periphery. Whether it's herbs that you can pluck right from the garden for your dishes or ornamental plants for aesthetics, the greenery will contrast beautifully with the mulch.
9. Mind the Maintenance
While mulch is relatively low-maintenance, keep these in mind:
Avoid waterlogging. Ensure proper drainage so that the area doesn't become a soggy mess.
Be watchful of pests. Certain mulches, like wood chips, might attract termites. If you're in a termite-prone area, consider treatments or opt for inorganic mulches.
10. Personalize Your Space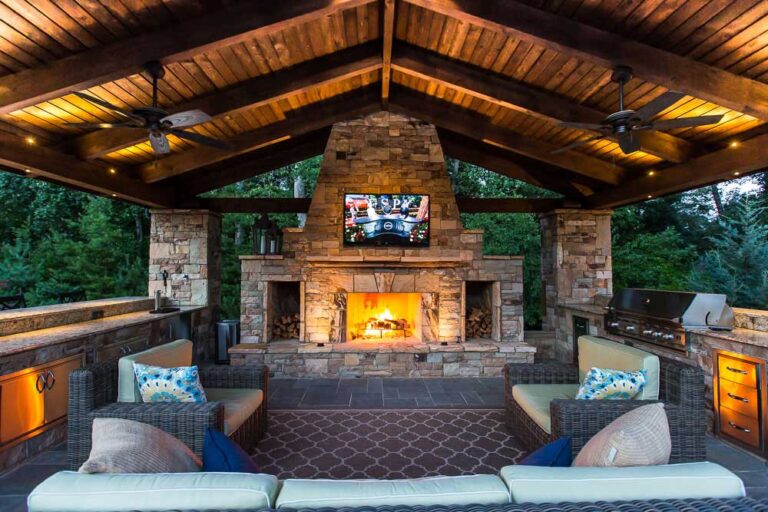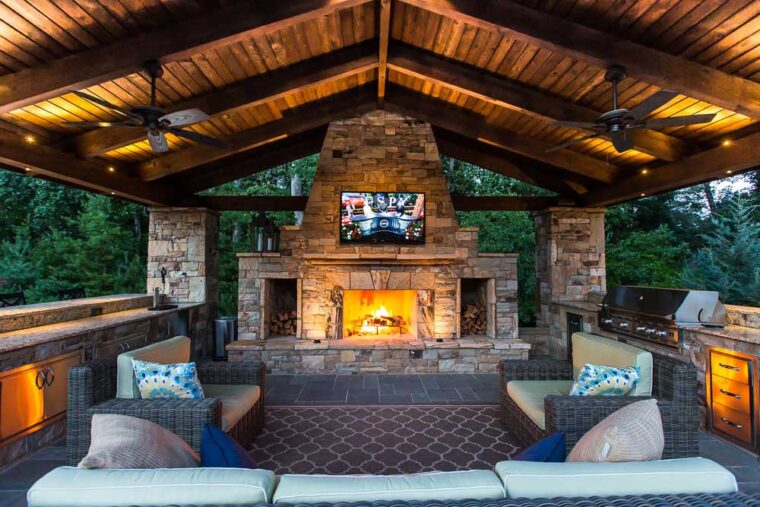 Above all, make the space yours. Whether it's by integrating stepping stones in a sea of gravel mulch, adding a few garden ornaments, or setting up a cozy seating area amidst a wood-chipped floor, let your personality shine. After all, every outdoor kitchen, like its owner, is unique.
Bonus: Sustainability and Environmentally-Friendly Choices
One aspect of mulching that is gaining prominence is its environmental impact. As homeowners become increasingly conscious about sustainable living, understanding how mulch fits into this picture can be transformative for your outdoor kitchen.
Eco-Friendly Mulch Choices
Opting for organic mulches like wood chips, straw, or leaves means you're choosing products that will decompose and return nutrients to the soil. This creates a cycle of sustainability where waste is minimized.
Local is Best
To further reduce your carbon footprint, source your mulch materials locally. This not only ensures they are suitable for your local environment and plants, but it also minimizes the environmental costs associated with transportation.
Recycle and Reuse
Consider creating a compost pile for your kitchen waste. Over time, this breaks down to produce rich, nourishing compost that can act as a mulch or be mixed with the soil, promoting plant health. This way, your kitchen waste is repurposed, and you have a continuous supply of organic mulch.
Beware of Harmful Dyes
Some commercial mulches, especially colored ones, may contain dyes that are not environmentally friendly. When these mulches decompose, these dyes can leach into the soil, potentially harming plants and beneficial microorganisms. Always opt for natural, undyed mulches or ensure the dyes used are organic and eco-safe.
Final Words
In conclusion, the true magic of an outdoor kitchen isn't just found in its flashy appliances or ornate furniture, but in the intricate details and natural nuances that mulch brings to the table. It's akin to the subtle seasoning in a gourmet dish that makes all the difference. By integrating the right mulch with thoughtful design, you're not just creating a functional space but crafting an outdoor haven.
A place where nature's beauty melds seamlessly with culinary passions. Whether it's a weekend barbecue, a quiet evening with a glass of wine, or a family get-together, the ambiance set by a well-designed mulched floor makes all the difference. So, as you plan or rethink your outdoor kitchen, give mulch its deserved spotlight and watch as it transforms the ordinary into something truly extraordinary.