Are you the one hosting the next house party and want to go classic yet break new grounds?
Then all you have to do is throw a raclette party.
A Raclette Grill will be the perfect addition to your kitchen. With one, everyone at your party will feel entertained even at the dinner table!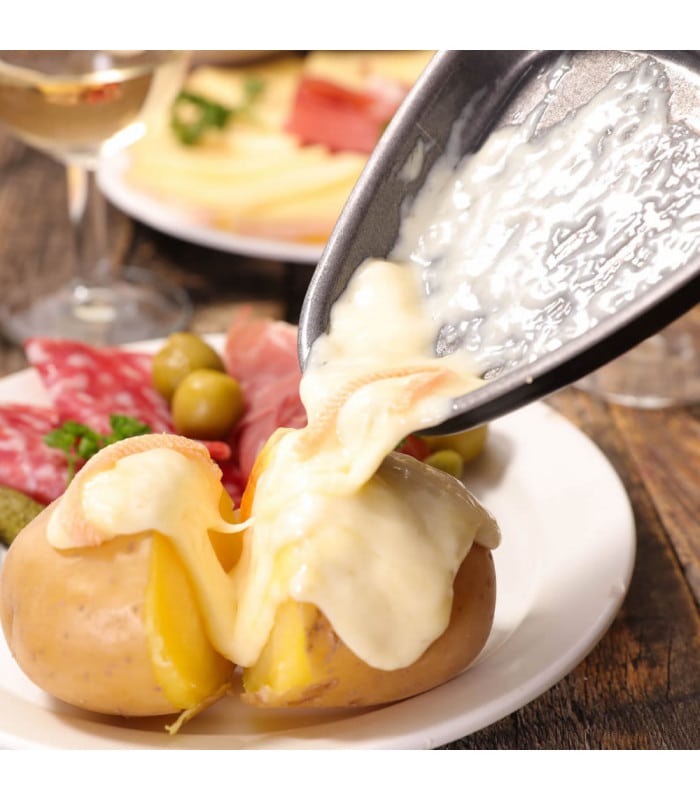 The credit for popularizing melted cheese, a corresponding cherry on top of a main course goes to the Swiss. Raclette, a Swiss cheese when cooked on a special grill with vegetables alongside is known as the raclette grill.
Coupelles are small pans generally underneath the stone of the grill where cheese is transformed into the raclette. And this is partly why raclette grills are the best – you can customize any meal to suit your taste and that of your guests.
A raclette grill helps your guests to share in the process of cooking too.
Thinking how?
The grills are built in such a way that several people can cook on them at once and provide large cooking space for grilling meat, fish, vegetables and other foods that you like.
The grill heats the small pans in which your guests will melt the raclette with vegetables and other food items of their preference. And all you need to do as a host is give out the supplies, the prepped cheese and the toppings.
Simple, right?
How to use a raclette grill?
This type of cooking appliance is a great addition to any household where social dinners are treated as rituals because a raclette grill will allow you to serve up a feast making it a better and simpler way to organize a social event without much hard work involved.
These devices allow more people to simultaneously cook their own meals and although they are grills, they can be used indoors, which is a tremendous plus point.
Let's understand how a raclette grill is used so you can organize your perfect house parties.
A raclette grill includes various parts. Each of these parts has different functions and roles to play.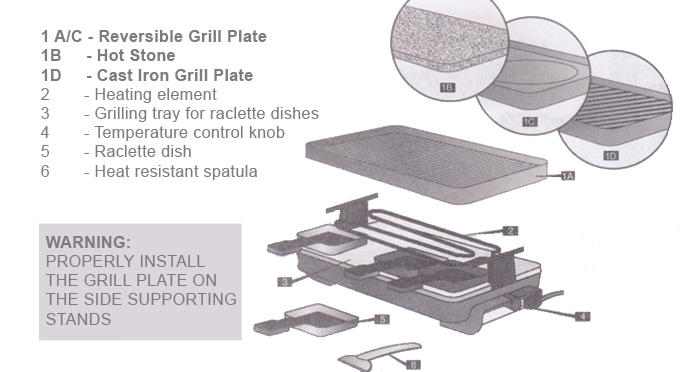 First things first – SET IT UP!
Remove all parts from the package and bring them together while ensuring that all parts are included. Keep in mind that different models come with different cooking surfaces ranging from aluminum, cast iron or even granite, depending on the model you purchase.
Simply align the grill plate or stone with side supports to set it up, then lock it into place.
The hot stone must be cleaned prior to use, so must be all the raclette dishes and the spatulas. We know that you've just purchased it and it's brand new, but it's always advisable to clean things off and make sure they're dry before the usage.
Upon installation of the grilling surface, put the raclette dishes onto the tray surface design below the grill.
Before plugging in, ensure the raclette grill is fully installed, clean and dry. Finally, plug it in any normal outlet with the electric cable.
When cooking marinated foods, oil or grease the grill plate lightly. Never use non-stick cooking spray on the surface as it will burn and may stick to the grill.
Based on the kind of raclette grill, prepare the hot grill by preheating so that the morsels that you are going to cook are ready in a short time. A model with a variable temperature is highly recommended as it can be easily modified. By this way, the meals are fully cooked keeping in mind the ingredients involved.
In a special fondue bowl, the cheese is melted. It can take a while to warm the fondue pot and melt the cheese on the Raclette grill, so a good idea is to melt the cheese on the stove or in an oven and then move them to the Raclette grill where it is prepared at the right temperature. If transferring from the oven, be sure to use oven mitts!
Let's get to some cooking and grilling!
Going straight to how to use a raclette grill, here are the steps you need to follow:
SLICE and SLIDE! – Slice the cheese into the small trays and slide them under the heating element to melt, then GRILL meats, seafood, and vegetables on top.
That's All!
Your guests will grab what they want from the grill just how they like it, (small potatoes and bread being the traditional delicacies) and then pour the melted cheese over the top. The results are in tiny bits of goodness.
If you've got those messy friends over, then this appliance is your go to for a great meal.
The nonstick surface works especially well, as the cheese slides out of the pot and grill marks are formed on the food making it look more appealing and all of this can all be EASILY CLEANED!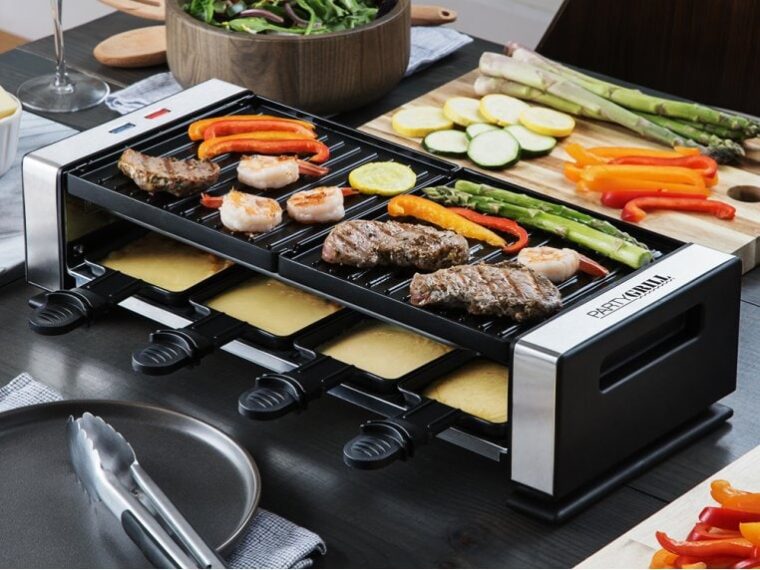 A raclette grill is also the best, as the grills are built for several people to cook and grill meat, fish, vegetables and other foods in an efficient manner, all at the same time. The Raclette grill can be a traditional Swiss cooking tool, but it can also be used by you to create a wide variety of recipes that your guest will absolutely love.
The two levels have a secondary cooking area to melt cheese or warm sauces.
No matter what raclette grill model you are using, these are important recommendations and precautions you need to keep in mind-
Children must not be allowed around because they can hurt their hands by touching the open surfaces of cooking.
It's advisable to use cooking utensils that are heat resistant, because you can not touch hot surfaces with naked hands.
When handling the grill for cleaning, make sure that it is unplugged and all the surfaces are safe.
The available controls are enough to regulate the temperature.
The spatulas used have to be heat resistant and have cool handles.
When packing the raclette grill away, do not forget to clean it properly, once the party is done.
Ultimately, check the guide given by the manufacturer for more details on health and other information.
Types of Raclette Grills
There are various types of raclette grills available in the market today.
They are categorized on the basis of the size and features. Below are the kinds of raclette grills to choose from based on your preference and needs: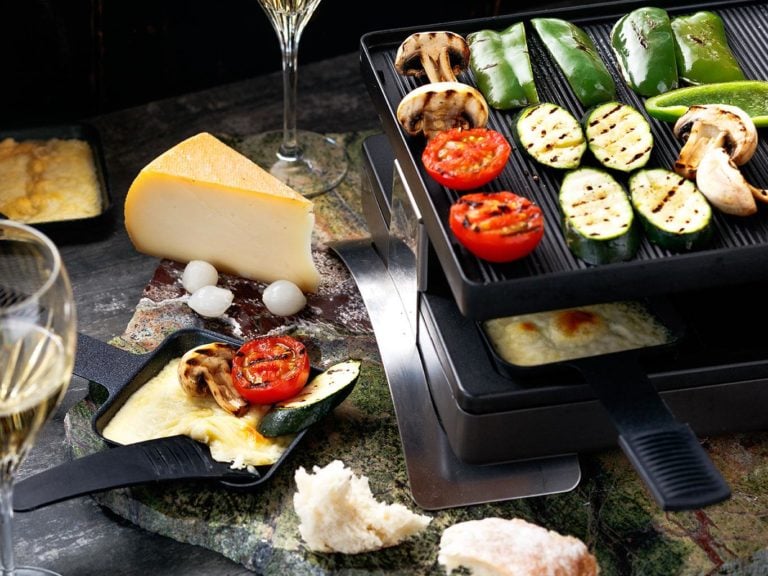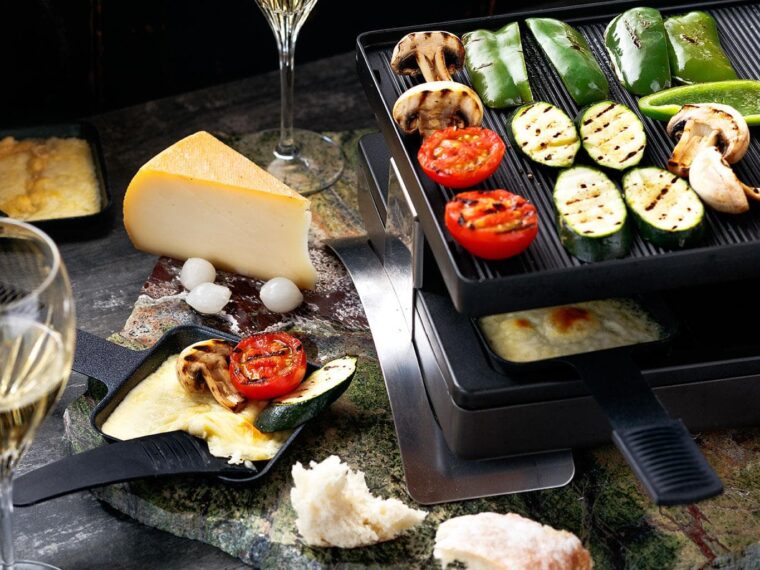 Basic raclette grill-
In this type, the cooking area is medium sized allowing only 2-4 people use it at once. The source of heat can be either chemical or electrical based. This type will suit you if you are a beginner or a first time user of the raclette grill and have just discovered this amazing tool to experiment with.
Standard raclette grill –
This type will allow you to get a full experience with all the features that a raclette grill possesses and is a perfect buy to experiment with various kinds of food. If you are a meat lover then this type will serve you the best because these generally have stone surfaces such as granite leading to perfectly cooked and flavourful steaks since all the moisture gets locked due to the stone surface.
Tabletop raclette grill –
Here's your go to option for all your small gatherings and indoor parties. These are available in different sizes too. The reason that makes them so versatile is the grill top for grilling and a hot stone that keeps all your ingredients warm and fresh. To add to your better experience, they mostly have non-stick surfaces based on the quality models that makes your grilling and cooking experience easier.
The party raclette grill –
As the name suggests, this type is ideal for all your kickass parties. They are so large that more than 12 guests can be served at the same time. You can prepare anything you like right from meat, fish, shrimps to all the vegetables of your choice. A fondue set also comes along that helps you cook stock, chocolate, cheese fondues when you replace it with the grill.
Things you Should consider before buying a Raclette Grill?
Type
Not all raclette grills are produced equal. The best raclette grill is the one that gives you all the options and features you need to host a great party with your family and friends with the least amount of effort.
In general, simple raclette grills are lightweight and compact enough to fit well in a smaller kitchen. If you just want to host a small party for up to 4 people, a simple model is a good choice.
The standard model is a much more appropriate tool for a crowd, and it typically comes with additional features to allow more people to use it effectively.
Tabletop raclette grills are suitable as they have a wider cooking area enabling ease of work within gatherings or bigger groups. Their heating elements are usually more efficient, and the cooking surfaces are made of materials of high quality.
The party style raclette grill is perfect for up to 8 guests or more and if you're a super ample fan of having events with a considerable number of guests, it's a much smarter option.
Last but not least, you can also buy a package that incorporates a raclette grill with a fondue cooker, deeper raclette dishes, and other gadgets if you're into raclette grill parties so much.
These specialized versions are more costly so this factor should be kept in mind.
Size
When you go shopping for one, always consider the size of the raclette grill. Although all raclette grills can hold enough food for more than one individual, in terms of the cooking-surface size there's a certain variance.
The best grill for the raclette party would be one which can host enough people.
If you just aim to use it for your close family, there is no point in buying one that is too wide because of the huge space it will occupy.
Each seller gives the requisite specifications for the size of the product for you to get an understanding of the dimensions and how you can fit it in your kitchen or backyard.
Materials
The materials used for the kitchen appliances can tell a lot about a product's overall quality and durability.
What you should be interested in for these specific cooking devices as a raclette grill is the heating element wattage, temperature control, cooking surface type, form of grill head, etc.
Heating element wattage
The heating element of a raclette grill is measured in watts.
Grills which can accommodate more people in most cases provide a higher-wattage heating feature. Always choose an option with at least 1,000 to 1,500 watts, if you want a raclette grill for eight people or more.
Temperature control
Some raclette grills feature variable temperature sensors, enabling you to choose accurate temperatures depending on your food type.
This gives you a lot of flexibility over how hot your grill stays, which you can use to make a wider variety of dishes.
Cooking surface material
This is one of the most important factors while choosing your raclette grill. The materials from which the cooking surface of a raclette grill is made decides how easy it is to clean and what foods you can prepare on such a surface.
And though not all the models have a cooking stone to grill, basic and the standard models generally have one.
A cooking stone lets you sear the meat in order to add extra flavour and texture, so you may want to consider these versions.
The right choice to ease the cleaning process after grilling is a non-stick grilling surface which is primarily made of ceramic or teflon.
You might pay extra for a grilling surface made of granite, but it typically heats up uniformly. This kind doesn't get as hot as raclette grills made from ceramic or Teflon.
Reversible grill top
Some raclette grills include the reversible grill top feature enhancing the versatility of the raclette grill. In such cases, one side of the grill is flat used mostly as a griddle, while the other side is designed as a rigid surface suitable for grilling.
Accessories
Since raclette grills are popularly associated with parties, you should consider having one that comes loaded with as many add-ons to make your party a success.
For example, a grill can also have spatulas on the cooking surface for turning food.
To many, the best raclette grill is one that is sold along with dishes and spatulas, so that all guests can use it to cook their food and enjoy their meals. Raclette grills mostly come with attachments that are suitable for melting cheese or heating sauces, including pans for the lower cooking stage.
Maintenance
After all the visitors are gone, you are in charge of cleaning up the mess and there will definitely be some cleaning work involved after you use a raclette grill.
Having cooking appliances that are easy to clean is a direct benefit.
Some of the raclette grills sold in the market can be deconstructed, allowing you to wash the pieces, and wash them in a dishwasher. It is a convenience you do not want to ignore, particularly if you don't want to spend much time after a party cleaning up.
Style
Keep in mind that a raclette grill is most definitely going to draw a lot of attention and you need to leave a lasting impression.
We just want to buy appliances that look amazing in our kitchen, and add to the decor, so everyone can admire their appearance.
If you're unsure between different models and think they're about the same in terms of productivity, you can set them apart by selecting the one that you think is actually better in terms of its style.
Price
In a household, raclette grills are not indispensable, however, sometimes they turn into a luxury.
You will find a very reasonably priced model which offers everything you need to host a great party. Consumer-written raclette grill reviews also discuss the fact that the best models are not the most expensive.
Why should you buy a Raclette Grill after all?
Raclette grilling is healthy
Since raclette grills don't need you to use any oils to cook your meals and keep them juicy and tender they're the perfect choice if you're watching your diet.
This also depends on the food you cook; however, you can have a balanced meal on yourself with the large variety of food that a raclette grill helps you to prepare.
Plus, raclette grills make it easier for you to cook food with optimal nutritional levels without having to cut down on the overall flavour and quality.
You eat what you like with the nutrients intact
A Swiss raclette typically has baguettes, potatoes, pickled cucumber, onions, and cold cuts such as salami or ham to spread the cheese on.
For a raclette meal there is no hard fast procedure involved.
The raclette grill heat tends to caramelize the food surface which gives your food a golden brown color and retains its juices intact. In your coupelle you have the flexibility to mix and match any kind of food you like.
A raclette grill is the perfect fit for raw meats, other thinly sliced cheeses and blanched vegetables. Any or very little oil can also be used to cook food in, as they cook all the nutrients intact in their juices.
Raclette parties are characterized by people gathering and having a great time together.
People are caught up in busy schedules nowadays, so it is difficult to find out any time for family or friends.
Raclette meals are planned and designed with an intention to share with others.
As such, they're a fine start to conversation, enabling you to catch up with family and friends because it's the grill that's at the center of attraction.
Raclette grills are easy to use
The raclette grill serves as a truly unique dining experience because everyone can learn how to cook on it and guests prepare their food as they want.
Everything you need to do when you buy a raclette grill is read the directions on how to build and connect the raclette grill parts. Then preheat the raclette before placing some food on the cooking surface. The host's food preparation includes slicing food to proportions of bite size to make it easier to cook and put into the mouth once warm. That is it!
Portability and convenience
Raclette grills sold in stores are mostly operated electrically and they can be put anywhere you want food to be grilled.
That makes cooking heat consistent and less atmospheric smoke while cooking.
The even grill heat distribution cuts the cooking time in half and allows you more time to socialize without holding too much attention on your meal.
However, most of them are easy to clean which is an attractive feature particularly when you're the party host. There's less cooking and more interaction on a raclette grill.
Long ago, an age-old cooking technique was invented at the border of Switzerland.
The herdsmen and the crop growers of the place would prepare their food by melting cheese by the campfire or hearth. They would then scrape and spread the melted cheese on top of their bread and potatoes.
They would finish their meals and talk for several hours under the sky.
Since a campfire if used today will turn your modern-day kitchen into a mess, the electric raclette grills were born!
However, which is that ONE Raclette grill made to suit you the best?
If you're here to find the right raclette grill made just to serve all your needs, check out our buying guide featuring the Top 10 Raclette Grills in 2023 offering you the best performance.
| | | | |
| --- | --- | --- | --- |
| S.N. | Picture | Name of product | Amazon Ratings |
| | | Salton PG1645 Raclette Indoor Electric Party Grill & Raclette, 8 Person, Black by Salton | 4.4 / 5 |
| | | Milliard Raclette Grill for Eight People, Includes Granite Cooking Stone, Reversible Non-Stick Grilling Surface, and 8 Paddles by Milliard | 4.5 / 5 |
| | | Gourmia GEG1400 Electric, 6 person, Vertical Grilling Sombrero Raclette Grill by Gourmia | 4.3 / 5 |
| | | Swissmar Stelvio 8 Person Stainless Steel Raclette with Granite Stone Top by Swissmar | 4.4 / 5 |
| | | Swissmar Classic 8 Person Anthracite Raclette with Cast Aluminum Grill Plate by Swissmar | 4.6 / 5 |
| | | NutriChef Raclette Grill, 8 Person, Party Top, Stone Plate & Metal Grill, by NutriChef | 5 / 5 |
| | | Salton TPG-315 6-Person Nonstick and Raclette,Black by Salton | 4.4 / 5 |
| | | VonShef Raclette Party Grill with 6 Fork Fondue Set and 12 Raclette Pans by VonShef | 3.5 / 5 |
| | | Hamilton Beach 31602 Raclette, 8-Person by Hamilton Beach | 4.1 / 5 |
| | | King of Raclette 2 IN 1 Round Party Raclette Grill by KING | 4.1 / 5 |
Salton PG1645 Raclette Indoor Electric Party Grill & Raclette, 8 Person, Black by Salton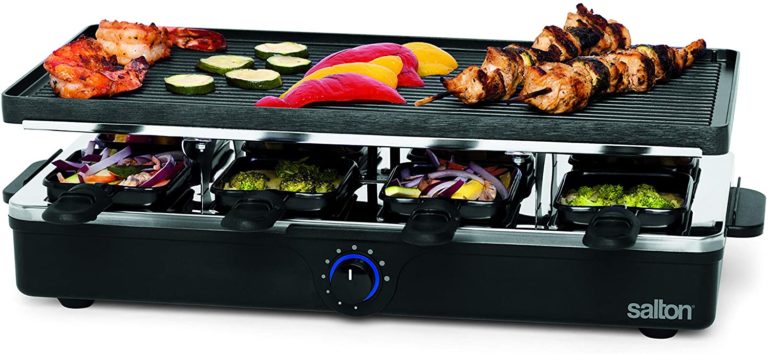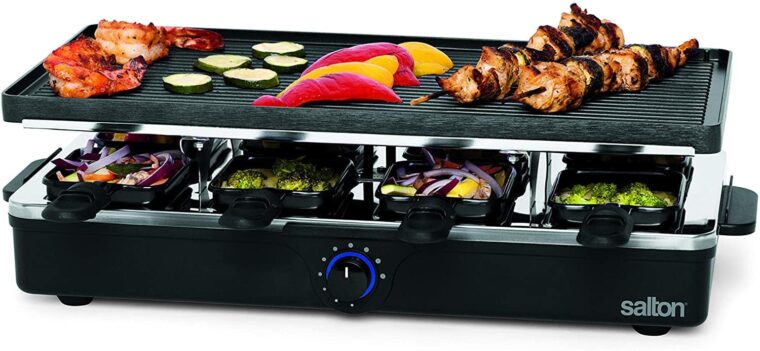 Amazon Rating: 4.4 / 5
Gather your friends and family to come together for a mouth-watering raclette grill party! The Salton PG1645 Raclette grill will build a party from the middle of nowhere, allowing you to pull together your guests where they cook their own meals.
Melt the cheese in the 8 non-stick, color-coded pans underneath while you grill fish, chicken, sausage and vegetables on the top. This raclette grill is a great way to spice your next dinner party.
This raclette grill is rectangular in shape with the classic two-tier configuration and fitted with 8 spatulas to extract and take out the food.
This convenient-to-use and quick-to-clean raclette can certainly unite people over delicious food.
Everything about the Salton PG1645 Raclette Grill
The Salton PG1645 Raclette Indoor Electric Party Grill & Raclette comes with a cooktop grill and a section for holding up to eight cheese pans placed beneath. The cooking surface, along with a 1400W heating element, measures 46 cm x 22.5 cm.
The grill plate has edges elevated avoiding a lot of mess by preventing the fats, juices and other liquids that can slide and fall off the grill. The metal grill top is ideal for grilling meat because the adjustable temperature control allows you to cook different foods at various temperatures.
The adjustable temperature sensor and indicator light add to the advanced features that makes this product more versatile.
This grill needs to be plugged into a 110 volt outlet that enables you to generate heat up to 900 watt.
Both this grill's pan and the cooktop are non-stick but some users suggest using some olive oil to season the grill before cooking. This can prevent some of the cleanup problems. However, the edges of the raised grill plate prevent spills and the immersible grill plate allows easy cleaning.
And let us not forget the extras!
This raclette grill comes with EIGHT spatulas to serve. The non-stick cheese trays are color-coded, so that the guests can say which ones belong to them. These cheese trays have cooling handles as well.
There is also an LED indicator which tells you if the power is off or on. Anti-slip feet is another reason to purchase this product too.
What you will love about this raclette grill:
Color-coded Cheese trays with cooling handles
The raised edges on the grill that prevent unnecessary spills
Variable temperature control feature
Short power cable to plug in
Why must this raclette grill make it to your kitchen?
8 large pans for raclette cheese, desserts and everything you will love!
8 spatulas making food removal from raclette pans easy without it sticking
Non-stick surface for grilling meats, fish, and vegetables
Adjustable temperature control and indicator light
Immersible grill plate for easy cleaning
To make this Raclette grill yours, click on: https://www.amazon.com/Salton-PG1645-Person-Raclette-Black/dp/B01LZN8C13
Milliard Raclette Grill for Eight People, Includes Granite Cooking Stone, Reversible Non-Stick Grilling Surface, and 8 Paddles by Milliard


Amazon Rating: 4.5 / 5
Netflix and chill? Skip off the chips this time and serve some fresh stuff up.
The Milliard Raclette Grill is a fine mid-range choice for people who want a spacious grill for dinner parties and family meals but don't want the inconvenience of cleaning and storing a behemoth appliance. Let's make mealtime a little fun and exotic with a little raclette this time!
Everything about the Milliard Raclette Grill for Eight People with reversible Non-Stick Grilling Surface
The Milliard Raclette Grill is a two-tier system, with eight pans for the raclette and a wide cooking surface on top. The cooking surface is exceptional because of how it can be used with either a granite cooking stone or a reversible aluminum cast plate, giving you the utmost versatility in your entire cooking. Be it meat, vegetables, seafood or cheese that you want to prepare, just switching the grill top is all you have to do according to your convenience.
This raclette grill is easy to use and gives space for portable social dining that allows everybody to grab what they want from the grill and glaze their cheese on top, or merely dip their pieces in their cheese pan with the non-stick surfaces allowing for more sliding.
The granite stone grill top heats to perfectly cooked fish, meat and veggies slowly and evenly throughout. Cleaning is simple and helps you to cook everything from rib eye to omelets in case of this device.
It's adjustable grill temperature is suitable for flexible cooking choices, and when you're finished, a clear indicator light makes sure you don't forget to turn off your grill.
It operates on 120 V with a heating element of 1,200 watts. This raclette grill is safety certified ETL and it also has a power status indicator, so you can quickly keep track of how well your food is cooking. The temperature adjusted option holds all of your food at the optimal temperature.
This raclette grill has a handy, user-friendly design and for individual servings it comes eight pans and cheese paddles, all in one piece! It also includes eight separate wooden spatulas. The grill top and coupelles are dishwasher friendly.
What you will love about this raclette grill:
Has granite stone and aluminum reversible cooking surfaces
Easy cleaning due to the nonstick cooking surfaces
The extras- wooden spatulas, pans, and cheese paddles
Difficulty in moving to places due to the weight of the appliance
Why must this raclette grill make it to your kitchen?
Reversible grill top made of granite and aluminium with flat side and grilled side
Granite stone grill top becomes ideal for slow, even searing of fish, meat, vegetables and eggs
Fits well even in case of small dining spaces
Grill tops and cheese pans are non-stick coated for easy plating and cleaning
Eight non-stick cheese pans/paddles for personalized servings
Eight wooden spatulas for individualized usage
Power status light is a visible safety measure
ETL Certified
To make this Raclette grill yours, click on:
https://www.amazon.com/Milliard-Raclette-Reversible-Non-Stick-Grilling/dp/B00WZNUN6G
Gourmia GEG1400 Electric, 6 person, Vertical Grilling Sombrero Raclette Grill by Gourmia

Turn dull, formal gatherings into lively, casual evenings with this interactive party grill which is a reliable and powerful grill that makes life lively and simple in the kitchen.
The Gourmia GEG1400 Electric Raclette grill offers a higher level of creativity, efficiency and value with a mission to make daily cooking simple, nutritious and delicious. If you've been looking for something slightly more modern than the typical raclette grill you've seen in the homes of your mates, then this Gourmia Raclette grill is the right one for you. This modern raclette grill will end up with everyone grilling, dining and socializing for hours.
Everything about the Gourmia GEG1400 Electric Raclette grill
The Gourmia GEG1400 Electric Raclette grill features a cone head to peg on meat or vegetables, as well as a container for the broths and steam.
Just switch it on, put on your meat, load up your cheese and change the very basic heat control knob however you like it. And of course 6 individual raclette pans are included to melt your cheese on your freshly grilled creations and get you do some dipping and drizzling.
For ideas on how to quickly whip up delicious recipes like Herbed Baked Caprese Tomatoes, Lobster Mac & Cheese, and Cranberry Walnut Brie, check out the recipe book free with this raclette grill!
The exclusive sombrero style of this grill helps you and your guests to easily and conveniently cook the foods of interest.
What's more?
The unit boasts a simple dial with the benefit of which you can have full control over how your meats, vegetables, cheeses, or potatoes warm and cook.
The package comes with a raclette tray and dishes, so be confident that your favorite cheese will also have a chance to melt.
Another thing that needs to be noted about this tool is that it has achieved the ETL certification. What this means for you is that you can take comfort in the fact that this particular product is safe to use and has secured strong efficiency ranking.
In case you haven't previously experimented with raclette grills, the manufacturing brand's helpful procedures will definitely give you a hand and eliminate any system failures from occurring.
While we are discussing accessories and the add ons, it would be foolish to not to mention the recipe book which is included with this raclette grill.
If you're new to raclette cooking, this is a feature is the one you must not overlook.
What you will love about this raclette grill:
the unique sombrero design
ETL certified product
Comes with recipe book, cheese trays, and plates
Why must this raclette grill make it to your kitchen?
Sombrero top features a cone head along with a bowl to hold the broths and steaming. The unique top allows peg on meat or vegetables for grilling.
Non-stick body for easy cooking and cleaning
It comes with 6 individual trays for cheese melting to dip and slide on your freshly grilled food
Easy to use product, adjustable temperature level with the turn of one simple dial
ETL certified
To make this Raclette grill yours, click on:
https://www.amazon.com/Gourmia-GEG1400-Electric-Raclette-Table-Top/dp/B01M4Q4K3X
Swissmar Stelvio 8 Person Stainless Steel Raclette with Granite Stone Top by Swissmar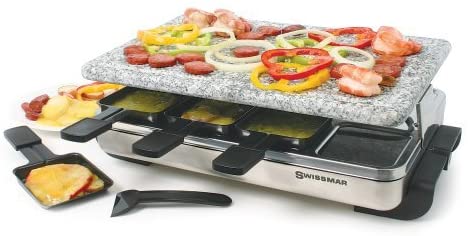 Amazon Rating: 4.4 / 5
Inviting friends to share the fun of raclette cooking in Switzerland has been a time-honored practice, and the trend is gaining popularity in the rest of the world too.
And why not?
Sharing experiences over drinks while preparing personalized dishes is an activity where everyone enjoys and this time, you are going to cook with your buddies and not for them.
Built to serve 8 people simultaneously, this magnificent Swissmar party grill will help you create a great party atmosphere in no time. Instead of getting your mates to eat, invite them over and eat together.
An occasion that allows everyone on the table to share recipes and preferences is no less than a joy to everyone gathered around the grill.
You must look no further than the Swissmar KF-77081 Stelvio Raclette Party Grill if you're looking for a great party helper!
Everything about the Swissmar Stelvio 8 Person Raclette grill
Swissmar is one of the top names to follow when you're searching for the perfect raclette grill, and the Stelvio is no exception.
The Swissmar Raclette Party Grill is heated by a component that cooks the food on top grill simultaneously, while melting the cheese on the raclette trays below.
It's just as quick to get started as taking it out of the box and plugging it in. The grill is relatively easy to use as well as clean real quickly.
You and your friends will have delicious plates of food to enjoy even before you know it!
Fit for grilling meats, fish, vegetables on top while melting in the individual raclette dishes below, your favorite cheeses, this elegant Swissmar Raclette grill in stainless steel with authentic Swiss style granite stone grill top makes your dinner parties simple and memorable.
This raclette grill is a gift packaged with 8 spatulas and raclette dishes that are resistant to heat. The dishes with the grill may also be used for the preparation and cooking of personalized dishes. The extras also include a FREE Book of Raclette Recipes helping you create new dishes and explore more if you are new to the world of raclette grills.
Hot stone, plates, and spatulas are secure for dishwashing but don't forget to clean the base unit with soft cloth and pat dry.
The top cooking surface is composed of a granite stone, which is considered a great alternative to the common stone grill by many. It also includes 8 raclette dishes and 8 spatulas, so all your guests can enjoy making their own food in this comfortable space.
You can cook any sort of meat, veggies and seafood you wish on this surface. You can also make bacon, omelettes, pancakes and crepes that you can later mix on the raclette hot stone with other foods made.
This budget friendly grill is a 1200 watt grill that can serve up to eight people.
This has variable heat regulation, so you can cook just about any food type.
One of its best qualities is that it is designed with a nonstick top which again is reversible. You can use it simply by tossing over the lid to prepare the eggs, pancakes, or even crepes.
Furthermore, this grill has handles that avoid burns, you may even refer to them as heat resistant and all of the components are dishwasher-safe for easier washing.
Since the nonstick top is made of cast aluminum, this grill should provide excellent efficiency. Upon spreading some olive oil on the surface, several users mention enhanced flavors, and because it can be effortlessly scraped off with the non-stick coating and you won't have to waste extra time afterwards cleaning up.
If you are looking for an all-inclusive raclette grill, then this grill is the one you must check out. It is rectangular in shape to allow easy storage, plus it has a stainless steel base that makes this grill very attractive. It also comes with eight raclette dishes and eight individual spatulas for customized, fast and easy serving. The bottom row of this two-tier grill, is ideal for handling cheese.
The Swissmar KF-77081 Stelvio Raclette Party Grill is really a favorite of shoppers and ranks high in their tastes. It is comfortable and offers great results for all those who enjoy having a Swiss style meal with their closest friends.
If you're looking for a reliable grill for a party, this is a choice that you should not overlook.
What you will love about this raclette grill:
Reversible grill top with a nonstick coating surface
Comes with extra dishes and spatulas for individual serving
Dishwasher safe components for easy cleaning
Most users suggested to use a bit of more oil for effective cooking
Cracks occur in the granite stone because of relief of tension during the heating process, however this won't affect the grilling process
Why must this raclette grill make it to your kitchen?
Serves 8 people simultaneously
Reversible grill top
Includes non stick dishes
Full range of accessories available
Made of natural minerals
1 Year warranty
To make this Raclette grill yours, click on:
https://www.amazon.com/Swissmar-KF-77081-8-Person-Raclette-Stainless/dp/B07SJGB3H4
Swissmar Classic 8 Person Anthracite Raclette with Cast Aluminum Grill Plate by Swissmar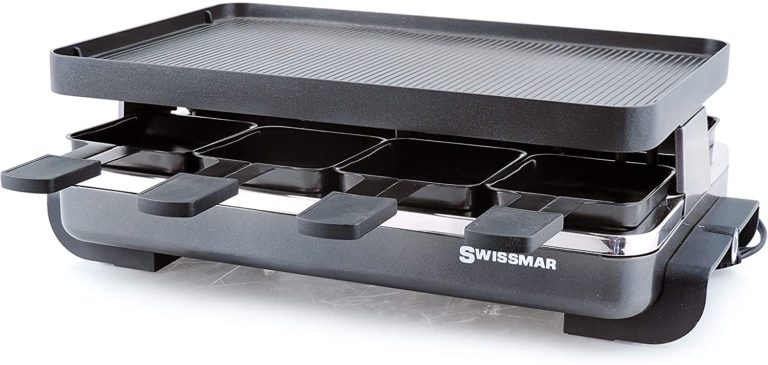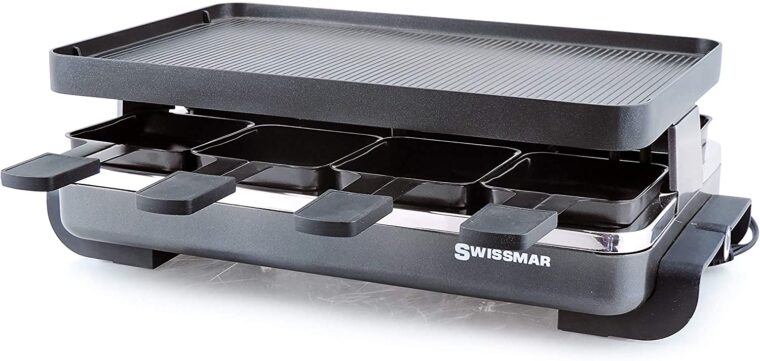 Amazon Rating: 4.6 / 5
If you are new to Raclette grill's concept, let us introduce you to this amazing raclette grill because you will love it! Let this fun and flexible table top appliance glow in the culinary talent of everyone. With the Swissmar Raclette, which is considered the latest trend in tabletop entertainment, enjoy a rare and pleasant dining experience! Attempt a conventional raclette recipe, develop your own grilling sensations or use the reversible grill top for the mouthwatering crepes. The possibilities with this cooking appliance are endless.
Everything about the Swissmar Classic 8 Person Anthracite Raclette Grill
Ever thought of bringing variety and good taste to your raclette meals while you also can brag about the safe and healthy grilling process to your guests?
In the Swissmar Classic Anthracite Raclette Grill, your favorite meat, fish and vegetables are grilled on the non-stick surface while your cheese and sauces boil to perfection beneath.
This coking unit includes eight raclette pans and dish holders, and eight heat-resistant spatulas.
The heat control variable helps to ensure flawless results, no matter what the dish is. The grill comes with a booklet of the recipes, full of delicious ways to start grilling and cooking.
The Swissmar Classic raclette is equipped with variable temperature control allowing you to choose the temperature at which you are cooking. The reversible non-stick grill top that makes it perfect for grilling while making the perfect crepes. 8 raclette dishes are accompanied with 8 heat resistant spatulas that are super easy to clean and maintain.
What you will love about this raclette grill:
Comes with a knob to control temperature
Non-stick Cast Aluminum Reversible Grill Top
Prepare dishes like crepes, Pancakes, Fajitas, Quesadillas and more using the non-stick Reversible Grill Top
Includes 8 non-stick raclette dishes along with 8 Heat-resistant Spatulas
Includes a user manual with delicious recipes
Non-stick Raclette dishes have handles that stay cool avoiding burns
Why must this raclette grill make it to your kitchen?
Interchangeable with granite grill stone or cast iron grill plate that is sold separately
Variable heat control
1 year warranty
Reversible grill/crepe top with non-stick coating
Base is made of enameled steel
To make this Raclette grill yours, click on:
https://www.amazon.com/Swissmar-KF-77041-8-Person-Reversible-Non-Stickdp/B0000635XW
NutriChef Raclette Grill, 8 Person, Party Top, Stone Plate & Metal Grill, by NutriChef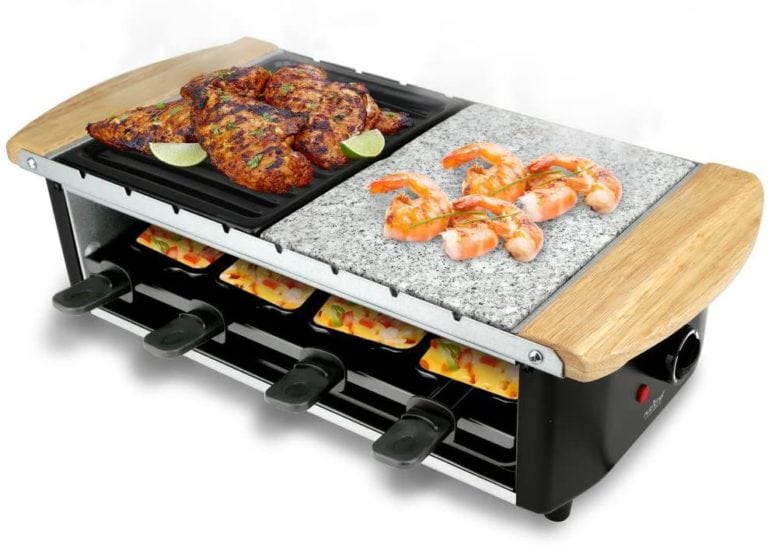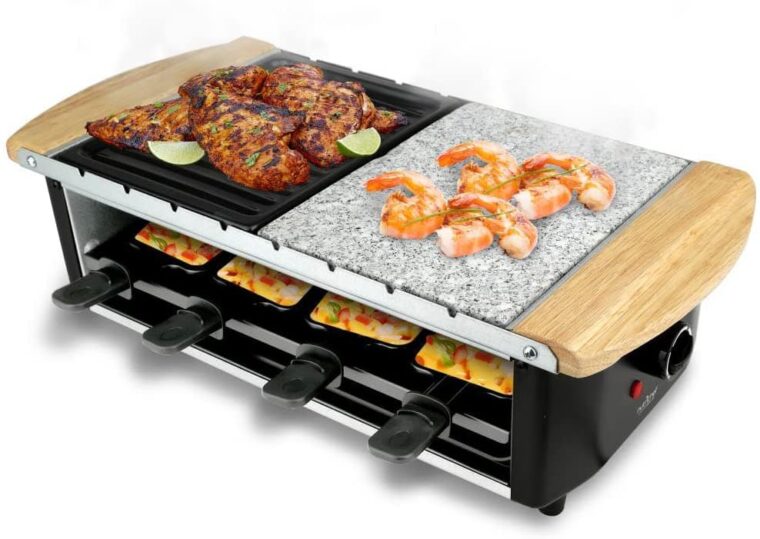 Amazon Rating: 5 / 5
This NutriChef raclette grill is one of the highest ranked, allowing you to host a house party while you can socialize as well as engage in healthy conversations with your friends and family. It has a stunning shape that makes gathering around simple for all your guests. Moreover, you will love the granite top too! At just 17 lbs, this raclette grill is lightweight but still wide enough to fit a minimum of eight guests.
The NutriChef Raclette Grill comes with a granite top and a grill cooktop made of stainless steel, with eight additional miniature trays to melt cheese. It has both a variable heating function and has a trouble free plug-in operation.
Everything about the NutriChef Raclette Grill
The reversible, say the swappable cooktops give you maximum flexibility to showcase your cooking skills also because this grill also comes with full temperature regulation. This grill has a high heating system which is all the heat you'll need to grill your favorite food perfectly. The cooking surfaces are non-stick so you don't have to worry about cleaning the food that gets stuck on the surface. An LED indicator attached to the product helps to let you know whether the appliance is switched off safely or not. Note that the grill doesn't come with any spatulas-these need to be bought separately.
This two-tier food prep raclette grill allows you to cook your food in traditional swiss-style. This raclette grill is composed of dual cooking surfaces, upper and lower cooking zones.
The dual cooking surfaces that are made of stone and metal grill trays helps you cook perfect cheese, vegetables, meats, seafood and more!
This raclette grill also has a high powered heating element (1200 watt) with an adjustable rotary temperature control. One of the best features of this grill being simple and hassle-free plugin operation, this raclette grill comes with power LED indicator light.
This appliance is a wonder since the storage and maintenance is not difficult and is convenient. You can place it on any kitchen table or countertop.
Wondering what's in the box? This raclette grill comes with a stone cooking surface which is large when compared to a smaller metal cooking tray alongside. There are 8 food serving paddles with convenient cool-touch wood-end handles and 8 skewers too!
What you will love about this raclette grill:
This raclette grill has multiple grilling surfaces
You can adjust the heat since temperature control options are available
It has a direct plug-in source of power
Spatulas have to be bought seperately
Why must this raclette grill make it to your kitchen?
The raclette grill has two, the upper and the lower cooking zones. This dual cooking surface lets you experiment with food more than what you can think of.
This portable and versatile raclette grill has a 1200 watt heating element that makes it perfect for melting cheese, grilling vegetables, meats, seafood and more!
This raclette grill features adjustable temperature control with an LED indicator light for ease of use and cooking proficiency making sure that your food is fully cooked
Safety is taken care of since this 8 person raclette grill is simple to use with easy plug-in operation and it can be used anywhere be it kitchen table or countertop use
The dual cooking surfaces allow you to cook evenly and confidently for up to 8 people at a time allowing you to control exactly how the food is cooked
To make this Raclette grill yours, click on:
https://www.amazon.com/NutriChef-Raclette-Countertop-Paddles-Skewers/dp/B01JIBOFQ6
Salton TPG-315 6-Person Nonstick and Raclette,Black by Salton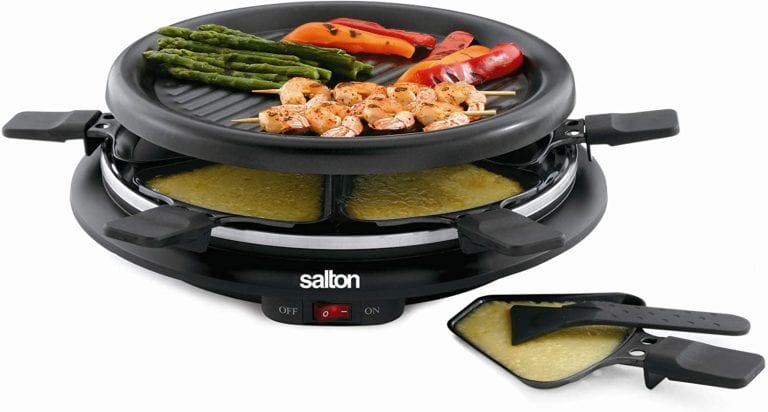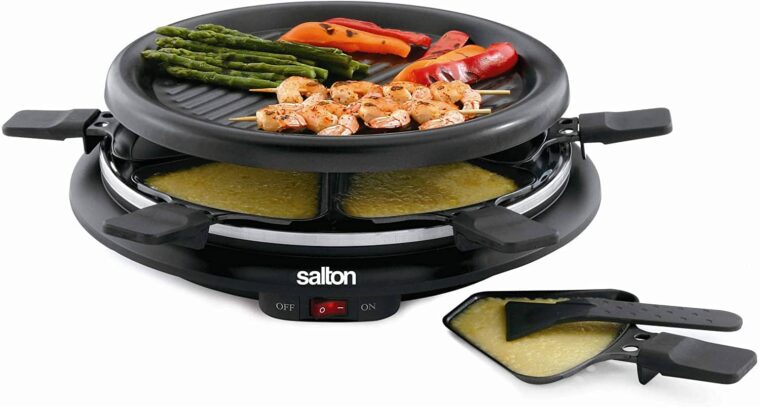 Amazon Rating: 4.4 / 5
The Salton TPG-315 Party Grill is a perfect partner for all of you out there looking for a raclette party grill that is budget friendly while offering great quality and great service.
What makes this grill so popular is that most reviewers agree that this model delivers better performance overall than expected. Grill fish, chicken, sausage or vegetables on top grill, while the cheese melts underneath. This grill comes with 6 non-stick pans for raclette along with 6 spatulas to pick and move the food. This raclette grill will gather guests over delicious food also because it's an easy-to-use and easy-to-clean cooking appliance .
This raclette grill comes with a number of bonus features. You will receive a handy recipe book in addition to the six spatula and the six raclette pan set that will give you plenty of ideas for preparing your meal. This Salton six-person raclette grill is the ideal one when considering it for smaller groups. It can be used to make vegetables, meat, seafood and more and is suitable for beginners due to its ease of use.
Everything about the Salton TPG-315 6-Person Nonstick and Raclette
This raclette grill has a circular shape that allows efficient use of space while it can serve 6 people simultaneously. This raclette grill won't take up any of your storage space because of its compact and handy nature of structure. This grill is an opportunity for all those who want to enjoy the benefits of a raclette meal however without paying the high price.
On the grill top you can cook any kind of meat, seafood or vegetable. The non-stick cooking surface is a great benefit, because it guarantees that the food will not get stuck on it, so it's easy to clean after the meal.
For greater flexibility, each guest has their own pan and spatula, which have been included with the raclette grill. Recipes are included too so that you can start cooking right away whether or not you have experienced cooking or even had a raclette meal before.
While basic in design and without any fancy features, this raclette grill is a highly convenient alternative when compared to more expensive models that you and your guests and friends will certainly enjoy together. To prevent accidents, the on / off light signals when the raclette grill is in activity. Portable in size, it's very easy to pack away and it's highly recommended for someone who doesn't want to spend a lot on a cooking device.
It comes with different dials and settings, so you can customize your cooking surface to exactly what you're cooking for. It's round in shape and only measures 13x13x5 inches. Plus, it weighs only about a pound! It also has additional features like a nonstick cooktop, a submersible grill plate and an on-off indicator light. Cleaning this device is also easy.
What you will love about this raclette grill:
It is portable due to it's small size
Cleaning this device is easy
It has a nonstick surface
Some users have mentioned that it can serve only four people instead of six
Why must this raclette grill make it to your kitchen?
Its top cooking surface can grill about anything, right from meat to vegetables
Comes with an indicator light
Immersible grill plate and nonstick surfaces are a great plus
6 raclette pans and 6 spatulas are included
Comes with a recipe guide
Easy storage and maintenance due to small size
To make this Raclette grill yours, click on:
https://www.amazon.com/Salton-TPG-315-6-Person-Nonstick-Raclette/dp/B000FQHA1G
VonShef Raclette Party Grill with 6 Fork Fondue Set and 12 Raclette Pans by VonShef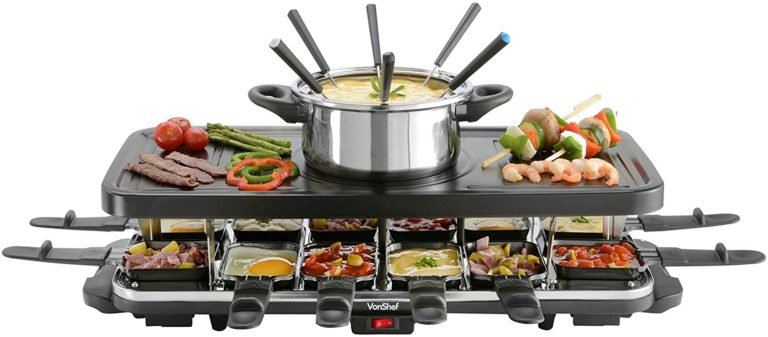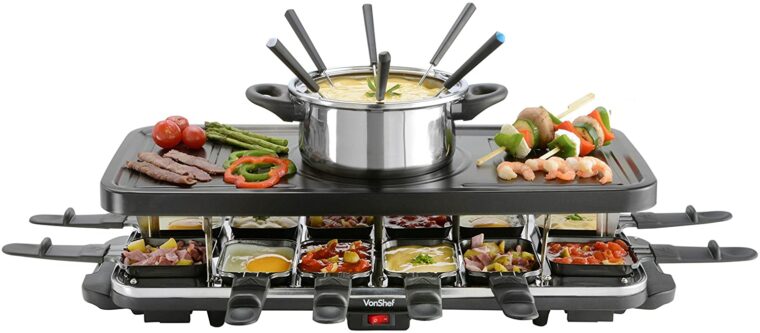 Amazon Rating: 3.5 / 5
The VonShef Raclette Party Grill is a true example when we have to talk about raclette grills taking on to the centre stage. This centerpiece allows you to reconstruct the rustic alpine setting and aromas in your own house. Cook meat, seafood and vegetables right at the table and the 6 Fork Fondue Kit with the hot pot will attract every guest of yours. This Raclette grill makes every gathering an unforgettable one! The appliance's "cook at the table" vision comes to life and makes it truly stand out, and serves as a spotlight for your special evening.
Everything about the VonShef Raclette Party Grill
Designed to accommodate almost 12 people around it, this stainless steel raclette grill will make your party a roaring success. It is more than what regular models give.
This raclette grill comes loaded with a whole host of features along with a multifunctional 6 fork fondue collection and the hot pot offered that will add even more to your raclette grill's appeal.
You can use the fondue package in various ways including melting chocolate for some brilliant desserts. The limit is your own imagination with this device and it gives you the chance of entertaining your guests like never before.
This grill is designed to be effective and easy to use in every aspect of use. With this raclette grill every guest of yours can have a raclette pan for themselves and conveniently combine their meats, vegetables, seafood and other delicious bits on the same plate.
Melted cheese, grilled meats and vegetables and other foods can be mixed and transformed into innovative recipes that will give all your guests a long lasting impression. Now in the comfort of your home or backyard, you can experience the joy of a traditional Swiss meal.
This raclette grill incorporates the advantages of a bottom layer for making fondue and a hot oven. The equipped non-stick raclette pans are very easy to clean and to keep ready to use with any event. The electric heat capacity extends to even grilling over the entire surface of the top grill catering.
All you have to make sure is that you have plenty of ingredients prepared in your kitchen before the gathering and there's nothing else you'll need to think about. Your guests will indulge in friendly conversation while embracing the delicious meals, and will applaud you for your decision of making this appliance yours.
What you will love about this raclette grill:
Number of servings it provides
The fondue set and the multifunctional hot pot
Non-stick coated pans for melting cheese and warming sauces
Easy cleaning process!
consumes to get warm
An adjustable temperature variable is not present
Why must this raclette grill make it to your kitchen?
You will have both a tabletop Raclette grill and a fondue pot in a single raclette grill!
The 6 Fork Fondue Set with Hot Pot is the highlight
Ideal for great parties and gatherings
It comes with a 1 year warranty
To make this Raclette grill yours, click on:
https://www.amazon.com/VonShef-Raclette-Party-Grill-Fondue/dp/B00N3X5D08/
Hamilton Beach 31602 Raclette, 8-Person by Hamilton Beach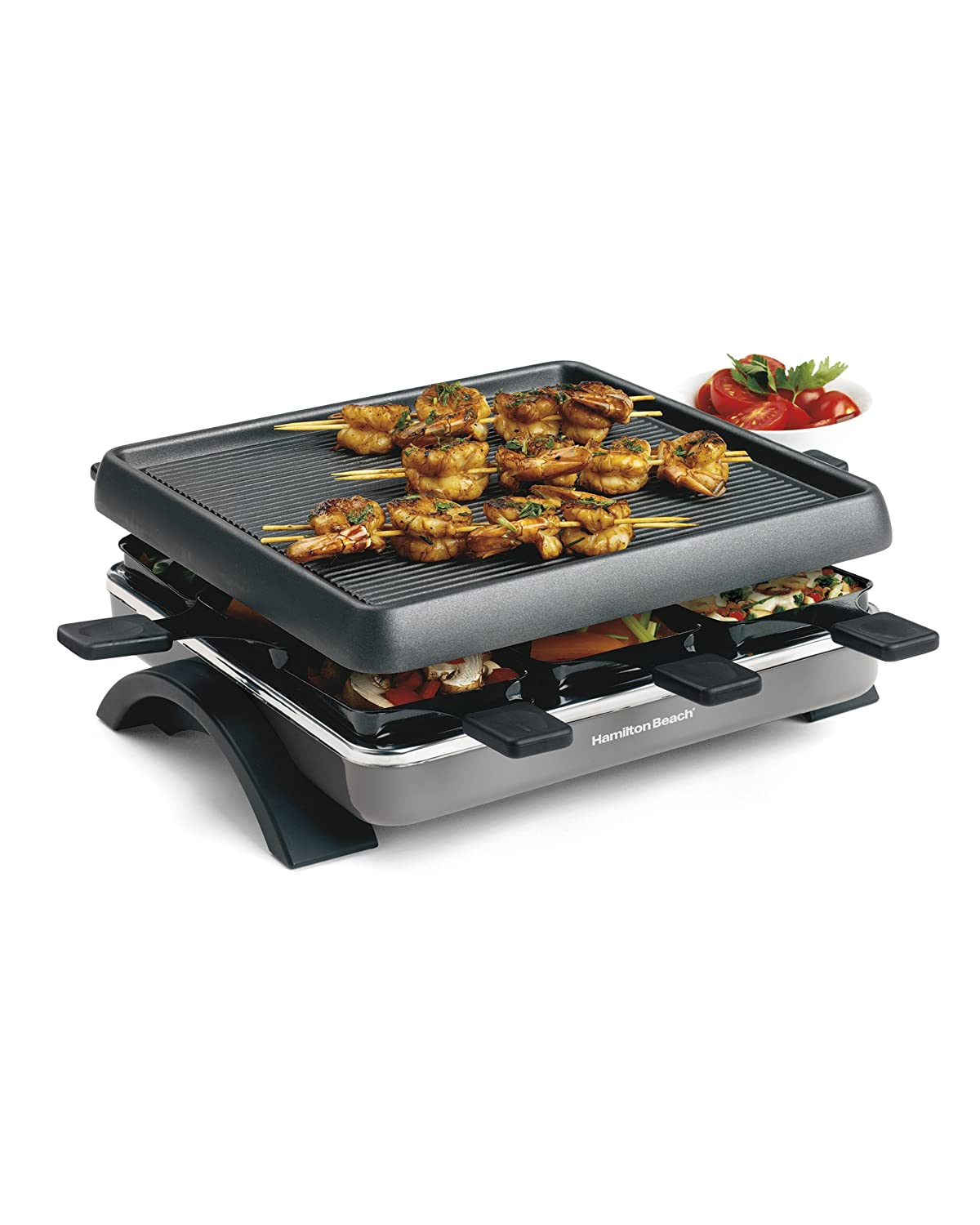 Amazon Rating: 4.1 / 5
Hamilton Beach is a go to brand when it comes to producing the best kitchen and household appliances. The Hamilton Beach 31602 raclette grill as well is a no exception and holds true to its brand name. This raclette grill is suitable for groups of up to eight people and can be used for cooking meat, vegetables and a number of other foods.
This Raclette Grill has a nonstick top of 11 x 11 inches, and a lower level comprising 8 raclette trays to melt cheese. The centuries-old Swiss meal is perfect for parties and allows every person to make their way while enjoying a relaxed conversation and this raclette grill makes such a meal possible. This Raclette Party Grill will for sure help you plan the best parties with minimal effort and complete satisfaction.
Everything about the Hamilton Beach 31602 Raclette Grill
This raclette grill is an absolute wonder due to the amazing features it offers. It comes with 8 tray sections and each section can be heated SEPARATELY, so that each guest can change the temperature as they prepare their own meals.
8 Heat resistant paddles are given for the same, and when you want to fill your plate with food prepared on the grill that's when you will find them very helpful.
A booklet containing various recipes and tips also comes along.
All the pieces that can be removed are suitable for the dishwasher, so you don't have to think about washing. The grill top is non-stick so it won't cause any challenges.
Nothing can spoil your party once you have this ultimate party leader on your side.
This time, instead of trying to cook something that fits the taste of every guest and wasting time while you ideate on it, just let it be because this raclette grill allows your guest to put together their own meals exactly how they like them to be.
This raclette grill comes with eight paddles too that are heat resistant, making it easy for you to flip your food or fill your bowl.
With this raclette grill you give each of your guests the absolute authority on which food they decide to cook due to the eight separate tray pieces that can be heated separately.
It has variable heating control and thereby permits you to turn off the heat to one or more segments. It also has a Booklet of recipes to give you ideas as to what to prepare next.
Like already mentioned, let me emphasize again that every part of this grill is dishwasher safe so you won't have to worry about the cleaning using your hands. However scrubbing this grill is virtually non-existent as the griddle is non-stick.
What you will love about this raclette grill:
Non stick surface coating
8 tray heating section and 8 spatulas
Adjustable temperature
Paddles and handles are heat-resistant
Dishwasher safe parts
Recipe book is also included
Why must this raclette grill make it to your kitchen?
You can prepare a wide range of personalized dishes
Adjustable temperature
nonstick grill with 8 tray heating section
8 heat-resistant cooking paddles are included
1 year warranty from the manufacturer
To make this Raclette grill yours, click on:
https://www.amazon.com/Hamilton-Beach-31602-Raclette-8-Person/dp/B00069EWJ0/
King of Raclette 2 IN 1 Round Party Raclette Grill by KING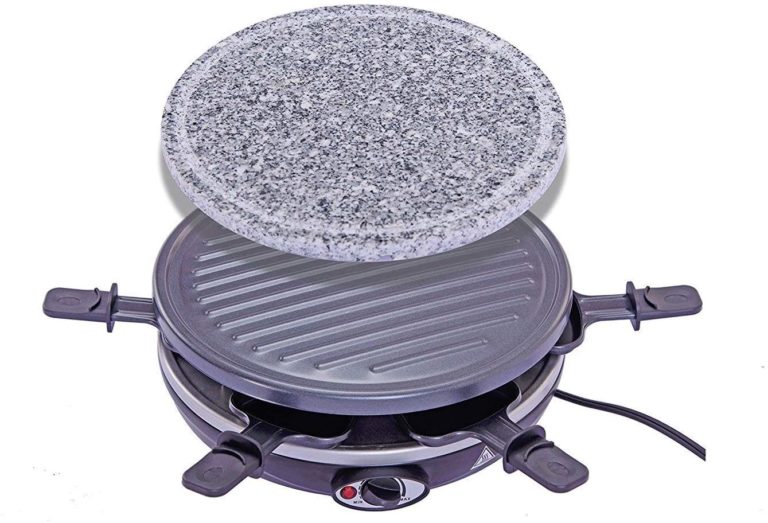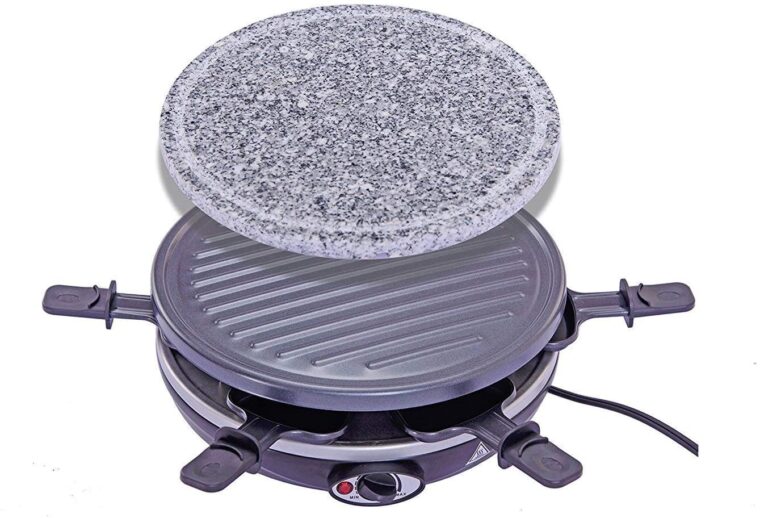 Amazon Rating: 4.1 / 5
For your next dinner party, the King of Raclette 2-in-1 Round Party BBQ Grill is the ultimate pick. Why do I think so? Not only is it small, enabling quick maintenance and easy storage, but the round shape makes it appealing and a great choice for an entertaining evening. This raclette grill really enhances the dining experience of all.
Everything about the King of Raclette 2 IN 1 Round Party BBQ Grill
This raclette grill, despite its small size, can still hold six raclette trays that are non-stick. This two-tier unit has space for a top grill that can be interchanged with a grill top made of stainless steel and granite!
The grill's heating system can generate heat of up to 1,000 watts, suggesting that you can use the stainless steel surface to grill and the stone surface to keep the preparations warm. The T-fal coating which prevents food from sticking, makes it easy and convenient to clean up. Just wipe it away with a damp cloth and that's it!
The King of Raclette grill is equipped with six spatulas and a non-stick grill top. Interestingly, this raclette grill is slip-proof too, so that you can place it anywhere you want, including the ground.
What you will love about this raclette grill:
It comes with double grill tops
Six separate spatulas are included
A 30-day satisfaction guarantee from manufacturer
This raclette grill cannot accommodate many people
Why must this raclette grill make it to your kitchen?
The grill comes with temperature control and thermal safety cut off
The grill has two stage levels, granite stone that can be used for meat and vegetables. On the bottom level you make eggs, heat sauce, boil veggies, melt cheese, chocolate and more.
Additional features include, temperature control, 6 spatulas, non stick surface, safety heat indicator and is energy efficient
It is portable enough and can be used indoors for grilling
To make this Raclette grill yours, click on:
https://www.amazon.com/Raclette-Temperature-Indicator-Electric-Nonstick/dp/B01LX4ULO5/
Now that you know how versatile raclette grills are and what they have to offer, go on and pick the one you like the most. We hope that this guide will help you choose and invest in the right raclette grill and will turn cooking from a hectic task to a fun and an engaging activity.
Raclette cooking is simple and it suits every occasion because this time you won't have to cook alone and moreover you will have plenty of time to spend with your loved ones!
For Product details: