Vacuum sealers are products that carry out the process of vacuum packing or vacuum sealing.
Vacuum sealing or Vacuum packing is the method in which the food is preserved and taken care of for a long time.
It also helps to protect foods from freezer burns.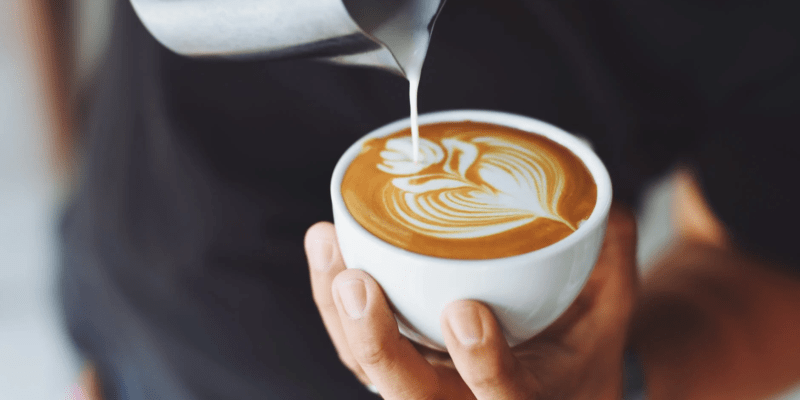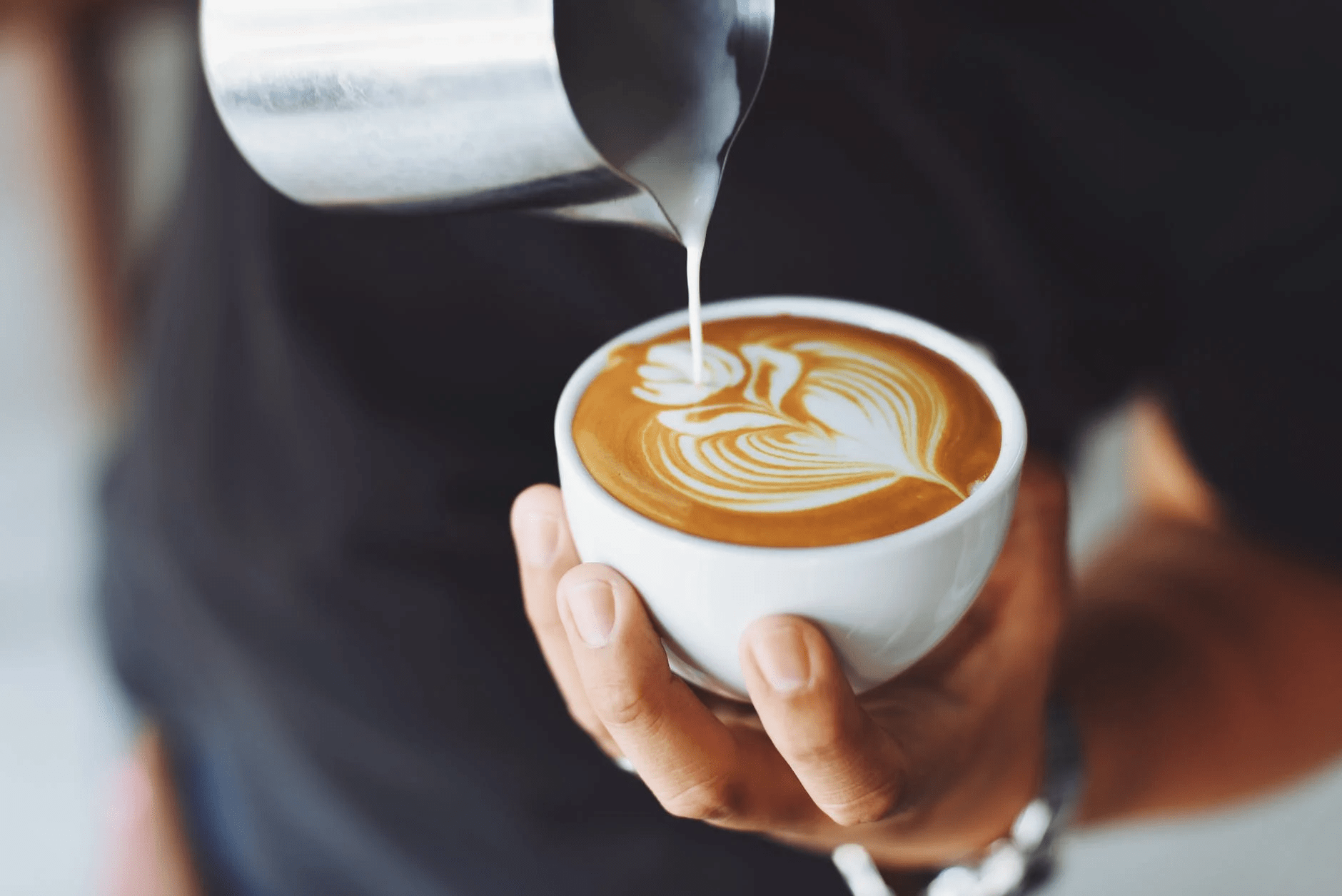 Vacuum sealers are very beneficial for food items as you can keep them fresh for a very long time. Vacuum packing is a packaging process that, before sealing, removes air from the box.
It is also widely used for the storage of foods such as cereals, almonds, dried meats, cheese, smoked salmon, coffee, and potato chips (crisps), to store dry foods for a long period.
Atmospheric oxygen is reduced by vacuum packing, the growth of aerobic bacteria or fungi is limited and volatile components are prevented from evaporating.
I have reviewed several products regarding the best vacuum sealers for fish and game and then shortlisted them.
All the products below are the best ones available in the market.
Out of which my personal favorite was the Foodsaver GM710-000.
Today we are going to see the Best Vacuum Sealers for Fish and Games that are available in the market along with the buying guide for the same.
If you are interested in vacuum sealers and looking for one to buy then read this article to the end and I'm sure you will be ready with a good decision.
FoodSaver Gm710-000
This is one fantastic product that has a sleek and attractive design that makes it stand out from the competition. Along with the design, it is also backed with performance.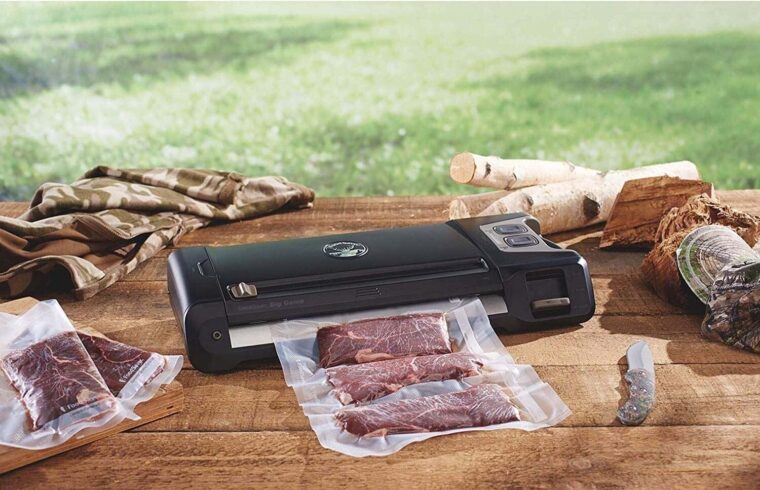 This is the best option and you can take this product with you even when you are going for any kind of adventures like camping or even hunting. The handle of the sealer is also very comfortable. You have to be careful anyway while using such products.
The dimensions of this vacuum sealer are 8.5 x 21.5 x 3.5 in which is pretty good for extra-wide sealing. The weight of this machine comprises 7.94 pounds that are good enough to carry so this product also ensures portability. It has got a game capacity of 240 lbs and it is capable of making 80 seals back to back. This is a corded product and the length of the cord is 72 inches.
The product has got a rugged design and a feature for an extra-wide sealing strip. The drip tray in this sealer is also removable. The extra features comprise an extra-large carry handle with two heat seal rolls and ten pre-cut seal bags. It also has an accessory hose.
This is a very amazing product and also my most favorite but one has to make sure to carefully follow everything by reading the user manual and do not overuse the product.
Pros
It has a limited lifetime warranty
It has a disposable drip tray
It has got a durable body
This sealer comes with a carry handle
It can make 80 consecutive seals.
Cons
Some people have suggested that for the system to be more effective, the vacuum needs to be a little better.
If you find this product good enough for your needs then you can check its price by just clicking here
https://www.amazon.com/dp/B016C4KJS0/?tag=cookspot-20
FoodSaver GM2150-000
This product is one of the best sellers in the market with roller and cutter components. This is yet another reliable product offered by the FoodSaver making it to the list.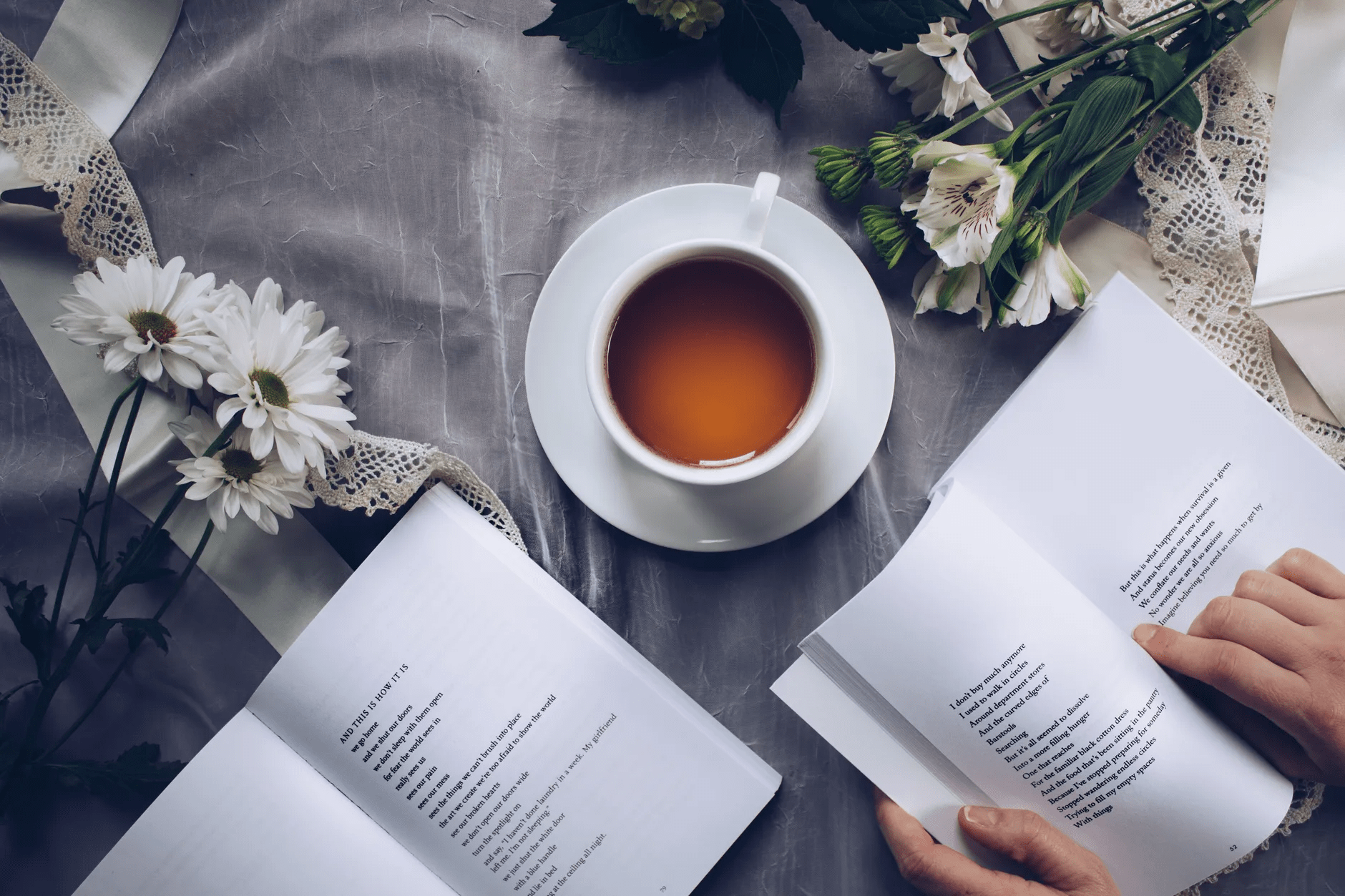 It has got an easy lock latch that makes it easier to attach bags before you seal them. It also has the same patented drip tray as the first product. When you talk about size this is one of the smaller options on this list.
The dimensions of this product are 9 x 16 x 3.9 in which is pretty compact. The weigh of this machine comprises 5.9 lbs which makes it a good option to carry alongside while traveling. The game capacity of this product is 180 lbs and it is capable of making 60 seals at a time back to back. It has a cord with a length of 34 inches.
This is backed with all the same extra features as the previous product. The unit can only accommodate 180 lbs, or 60 consecutive seals, as far as game or fish ability is concerned. You don't have to go too far to get storage bags, since there is a compartment on the unit for the same thing. The design is attractive and has got a camo finish. It also has a warranty of 5 years.
Pros
It comes with a holding compartment for bags and a cutter
The length of the cord is good enough
It is lightweight and portable
Backed with a limited warranty of 5 years
Very simple to use
Cons
If there is moisture near the seals, the efficacy of the system can be adversely affected.
You can check its price by just clicking here if you want to buy this product
https://www.amazon.com/dp/B016C4KJQ2/?tag=cookspot-20
KOIOS SHA1203FBAA
When it comes to vacuum sealing this is a good product that performs according to the expected standards. This is a lightweight product that fits in your items while you travel.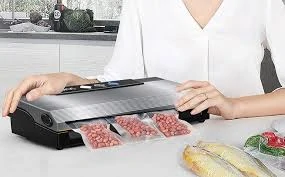 The cord length and the game capacity are not disclosed by the manufacturer. If you usually seal small meat or game portions at a time, you are more than welcome to make this order. This device is capable of handling both wet as well as dry food items which makes it pretty versatile.
The dimensions of this machine are 14.6 x 2.9 x 5.9 in and it has got a very lightweight of just 3.9 lbs which makes it very portable. This machine is capable of making 40 seals consecutively. It also has dry and moist modes and it is highly temperature resistant. The sealer has a replaceable sealing sponge.
Pros
It is very simple to use
Works well with dry as well as wet food items
It is compact and lightweight
It is backed with a built-in cutter
Cons
Some people have experienced the motor to be very loud.
Click here to check the price of this vacuum sealer
https://www.amazon.com/dp/B07FM6VL7V/?tag=cookspot-20
NESCO VS-12 DELUXE
This is also yet another exciting and impressive product that has got some attractive features. It consists of mostly good and awesome features. This product is capable of handling 11.8 inches of width bags very easily.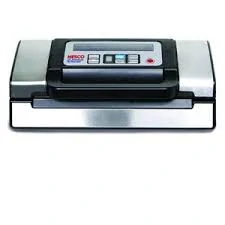 The number of consecutive seals that this product can make is the highest on our list. You also get a built-in bag cutter along with a roll storage compartment. You also get controls on the top of the machine in the form of buttons. The method appears to be made more flexible by not discriminating against sealer bag brands.
The dimensions of this Vacuum sealer are 15.75 x 8 x 4.5 in and the weight comprises of 6 lbs. The game capacity and the length of the cord are not specified by the manufacturers. This machine can make up to 100 consecutive seals which is the biggest advantage of this product.
Pros
It has multiple vacuum sealing options
The machine has variable sealing settings
It is very easy to use
It can make 100 consecutive seals
Comes next to a roll storage compartment with a bag cutter
Cons
Although the unit operates, several previous owners have stated that it can be sluggish until its tasks are done.
Click here to buy this amazing vacuum sealer
https://www.amazon.com/dp/B01KCK9W1K/?tag=cookspot-20
GERYON 0301-E2900-M-BK
This is the cheapest model on the list and it is a very good option for those who have a tight budget. In comparison to other pricier options, the model on offer and does an excellent job of holding its own.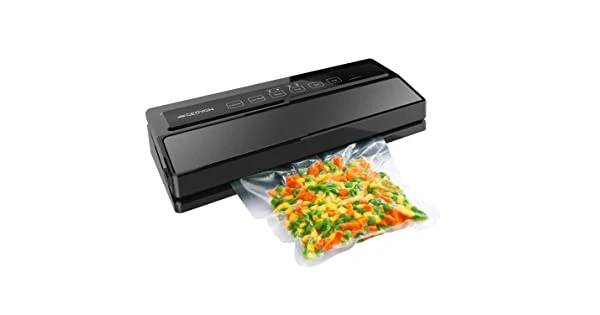 The length of the cord may discourage a lot of individuals from buying this product. The machine is very lightweight and offers two sealing modes. You can jump between these sealing modes by just pressing a single button.
The dimensions of this device are 14.4 x 5.5 x 2.56 in and the absolutely lightweight model is weighed for just 2.65 lbs which means you can carry it without even knowing it in your hand. The game capacity and consecutive seals are however not specified by the manufacturer. The cord length is just 3 inches which is a limitation.
Pros
It is lightweight
It is small in size
The device is very easy to use
Cons
The cable connecting the device and your sockets is short.
The output of the device can decrease when wet food is involved.
Willing to buy this one? Click on the link to shop
https://www.amazon.com/dp/B07B4W5PMB/?tag=cookspot-20
NutriChef PKVS18BK
When you look at this device you will find out how compact it is. This is also one of the devices on our list that is very lightweight. The design of this product is very simple but amazing and soothing to the eyes. It has a black and white design.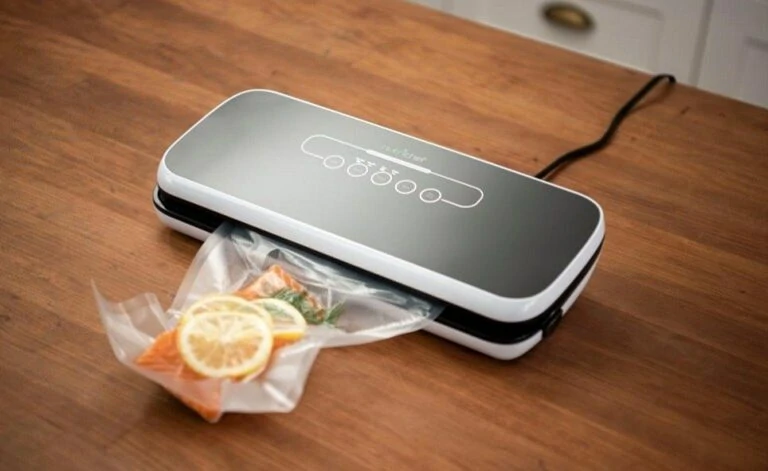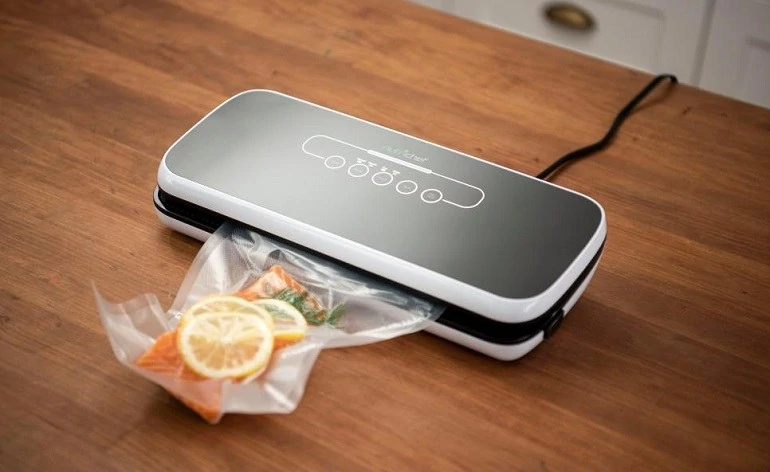 The cable of this device is the reason most people decide not to but this as this features a cable of just 3.3' which limits you to move far away from the electrical point.
Nevertheless, alongside your fish, it seems that the device is capable of vacuum sealing your game. One thing that you will need to learn is the number of consecutive seals it can make as it is not mentioned by the manufacturer.
You will have to learn it so that the device is not overused.
The device has got a dimension of 14.1 x 6.0 x 3.0 in which makes it pretty compact.
The weight of this small and compact product is just 2.93 lbs which makes it very portable to carry anywhere without any difficulties. The game capacity and consecutive seals are not specified. The drawback is the cord length which is just 3.3'
Pros
It is compact and lightweight
The device is very simple to use
It has two sealing modes.
A few helpful accessories, such as vacuum bags, are also included in the kit.
Cons
The potential the device can handle is undefined.
The cable is brief.
Click on this link to check the current price
https://www.amazon.com/dp/B01MXLTR09/?tag=cookspot-20
Buying guide or the things to consider while choosing the best Vacuum Sealers
Looking at the number of products available in the market it becomes very difficult to divide which one to buy. Today we are going to look at some of the factors that we need to consider before deciding while buying the best vacuum sealer.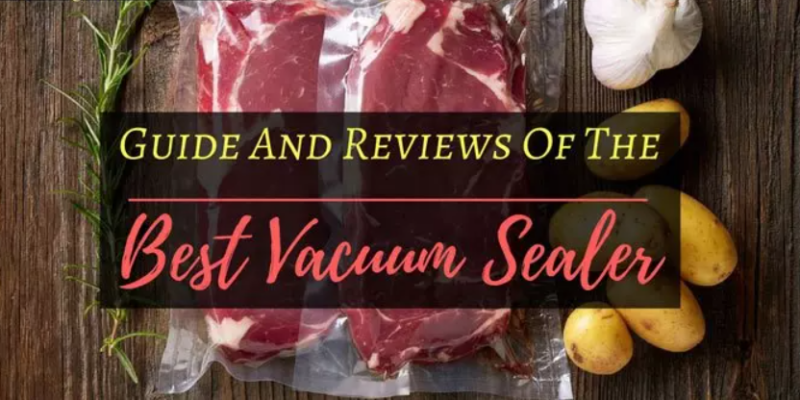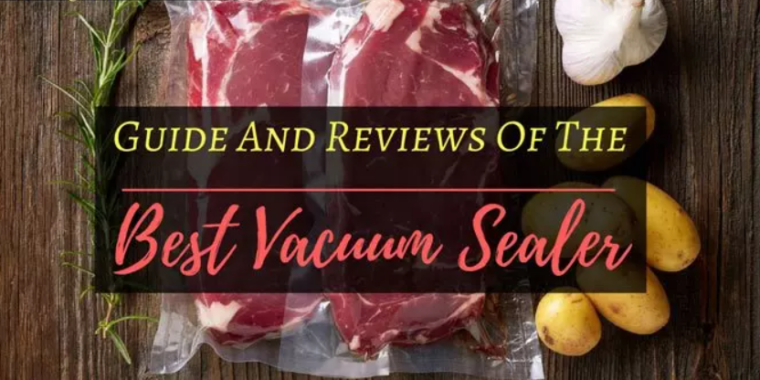 Type
The type is a very crucial factor as there are a variety of vacuum sealers in the market so it becomes important to decide which one will best fit your needs.
Almost all the reviewed products are chambered ones. This type of sealer is capable of sealing both wet and dry foods. The third and last products are handheld ones. The chambered ones can handle a lot of workloads.
Portability
Portability is very crucial as this will decide whether you carry this device with you while traveling or it will be a burden and make you tired to carry it while going on a trip. You can check Busch Vacuum for additional help with this matter.
The portability depends on many factors such as the dimensions and the weight. If the device is too big then it becomes difficult to store and carry and if it is too heavy then you have to make unnecessary efforts and carry it. The handle also adds up to the portability.
Game capacity
The game capacity is a very crucial factor when we talk about vacuum sealers. It is a very important determinant that decides how useful the machine can be mainly when you are going to pack game meat and fish in bulk.
Some of the products do not mention the game capacity and there are such products on our list too.
Consecutive seals
The number of seals that a vacuum sealer can make decides its effectiveness and efficiency on the performance. The product offered by NESCO VS-12 DELUXE is the best one on our list when it comes to consecutive seals.
If you pack many bags or make seals back to back then look for a product with a large amount of consecutive seal and vice versa.
Bag sizes
The bag size is similar or they coincide with the dimensions of the device. It is also an important thing to consider. In terms of width, larger systems would be able to accommodate more expanded sacks.
Rollers and cutters
Looking for this feature is also important if you want the work to be done faster and in a simpler way. However, rollers are not available in all the models they only come with high-end ones. They encourage you to make bags for the storing of fish and game meat.
Cutters allow you to cut the bag size. Although you can still get your bags from the shop, this feature provides your computer with a bit of flexibility.
Vacuum sealers are extremely important for those who make seals and pack food items regularly. There are a large number of products for this purpose but vacuum sealers are the best ones.
If you visit the market to buy the best vacuum sealer you will find it difficult to decide over the best one looking at the large variety available. You will require some assistance and at this time our buying guide will help you to make a proper decision.
Today we explored what vacuum sealers are and what they do, we also reviewed some of the most useful and beautiful products in the market. If you intend to buy a vacuum sealer then you can select it from the above list without any doubts as all the products are reliable and performance-oriented.
I hope you find this piece of information useful and all your doubts are answered. Thank you for reading it to the end.
Have a good day!