Happy Monday!
I hope you all had wonderful, peaceful Thanksgiving. I enjoyed spending quality time with my friends and family in St. Louis.
I went to the symphony with my family, shopped in Maplewood, MO on Small Business Saturday and spent time catching up with friends over coffee and cocktails. It was a great trip, but today I'm excited to share photos from the Bright Blog Bash!
This holiday season, Susannah of Feast + West and I decided to team up to host a holiday kick off party for local North Carolina bloggers. It was so great to get a group of women together who are all so passionate about what they do. A special thanks to my friend Sara Wilson Coffin of Sara Logan Photography who captured the magic of this wonderful evening.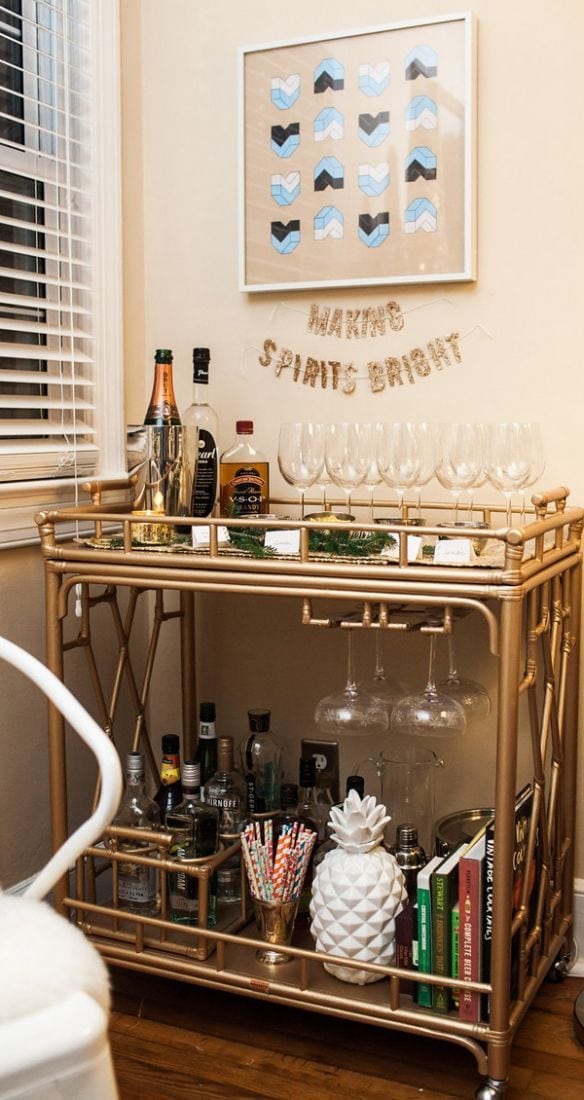 Susannah and I teamed up with Tiny Prints for the invites, party favors and other party printables.
They have a large selection of holiday party invitations for every occasion. Susuannah and I wanted to use gold, black and white colors, so the Stirring Spirits party invite was perfect.
Decorating my home for the holidays is one of my favorite things to do. I loved taking the time to create some new decorations in gold, black and white. Check back later this week, I'll be detailing the decorations then.
Susannah and I set up a champagne cocktail bar on my Society Social bar cart complete with homemade sugar cubes. Be on the look out for Susannah's recipe later this week!
Thanks to Tiny Prints for providing "Celebrate" napkins and Salem Baking Companies mint Moravian cookies.
Of course Susannah and I wanted to make sure no one went home hungry, so we put together a spread of simple appetizers and desserts. On the savory side, we served a selection of cheeses, Copper Pot & Wooden Spoon dill pickle chips, veggies and dip, and Ritche Hill cheese straws. For dessert, everyone enjoyed Susannah's black and white cookies and speciality popcorn, Moravian cookies and an flourless chocolate cake from Randi of Sugar Euphoria.
THANK YOU TO ALL OF OUR SPONSORS!
Click through the see additional images of gift bag goodies!
Susannah and I worked together to find a great group of sponsors for the evening. Together they provided paper goods, appetizers, decorations and a full bag of party favors for our guests. A big thanks to all of our sponsors!
Tiny Prints | (PLÃ) Beauty | Oubly | Illume | Sugar Euphoria | Dermalogica | NC Made | Big Spoon Roasters | Freaker USA | Savory Spice Shop | NC BBQ Map | French Broad Chocolates | Ritchie Hill Cheese Straws | Copper Pot & Wooden Spoon | Salem Baking Co.
Starting left: Susannah, Feast + West | Katie, Twin Stripe | Allyson, A Tailored Occasion | Alisha, The Alisha Nicole | Whitney, Whitney Blake | LeAndra, Love & Flour | Caroline, Fit Pink Mom | Sarah, Joyfully Organized | Madison, Wetherills Say I Do | Lindsay, Suite One Studio | Hayley, A Beautiful Exchange | Gina, Gina Alyse | Sara of Sara Logan Photography
A special thanks to all of the amazing blogging women of North Carolina who were able to spend an inspirational evening with Susannah and me. Don't forget to stop by Feast + West to see even more photos of the #brightblogbash