Have you ever thought if your toaster oven replaces a microwave?
There are a few things that you would like to learn about both appliances if you are looking to replace your microwave with a toaster oven.
The purpose and use of both are different, and depending on what food you are cooking and how you choose to prepare it, they will serve as helpful kitchen amenities.
Let us examine how they do in the kitchen and make a call about which appliance is best.
How Does a Toaster Oven Work
There are heating elements placed at the top and bottom of a toaster oven that heat the food. Depending on the type of toaster oven that you buy, the amount of these elements vary.
To help spread the heat more efficiently, certain toaster ovens have fans built to help. Others have ceramic and quartz heating elements, improving the heating operation.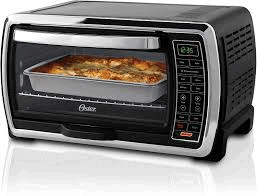 Cooking tasks such as baking, broiling, and toasting can be carried out by a traditional toaster oven. Others have additional features, such as defrosting and roasting. A toaster oven takes even longer in contrast to a microwave when it refers to the time of cooking a meal.
How Does a Microwave Work ?
A microwave uses electromagnetic waves to heat the water molecules evenly and collectively, resulting in extremely shorter cooking time. It is important to remember that the glass or plastic cookware is not damaged by electromagnetic waves.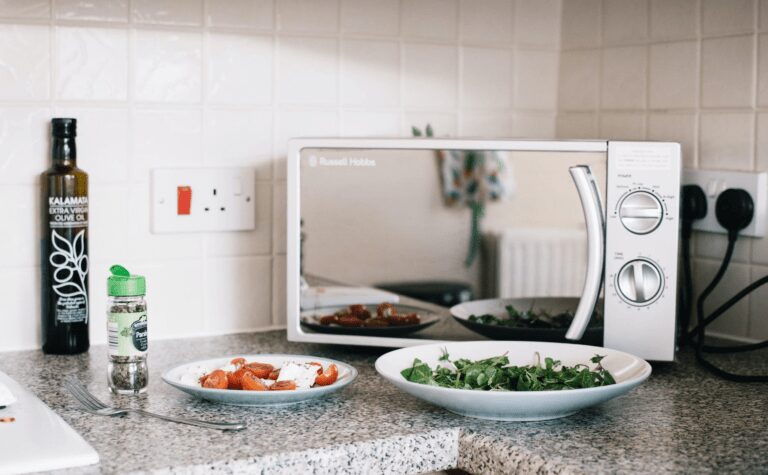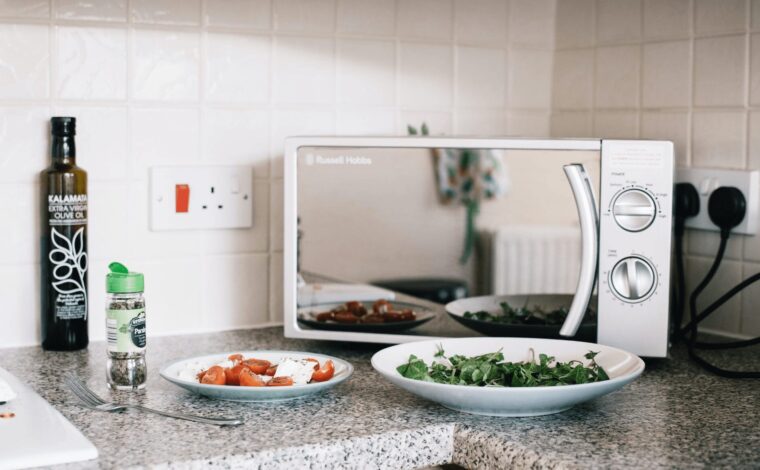 Difference Between a Microwave and a Toaster Oven
In a toaster oven, certain foods naturally heat best, and the microwave performs even better on other occasions.
Toaster ovens are much like the big oven's smaller version. They have a door that normally opens with a handle downwards. There is a heating device that heats up that radiates heat back from the toaster oven to whatever is inside.
In contrast, a microwave uses electromagnetic waves to heat the molecules in whatever water in the food is present. It is the major reason that food is heated by microwaves even quicker than toaster ovens. It is also why the tray or tub on which you cook the food in a microwave doesn't get about as hot as in a toaster oven.
And, since they could either melt or catch fire, some containers (such as paper or plastic) can never go into a toaster oven.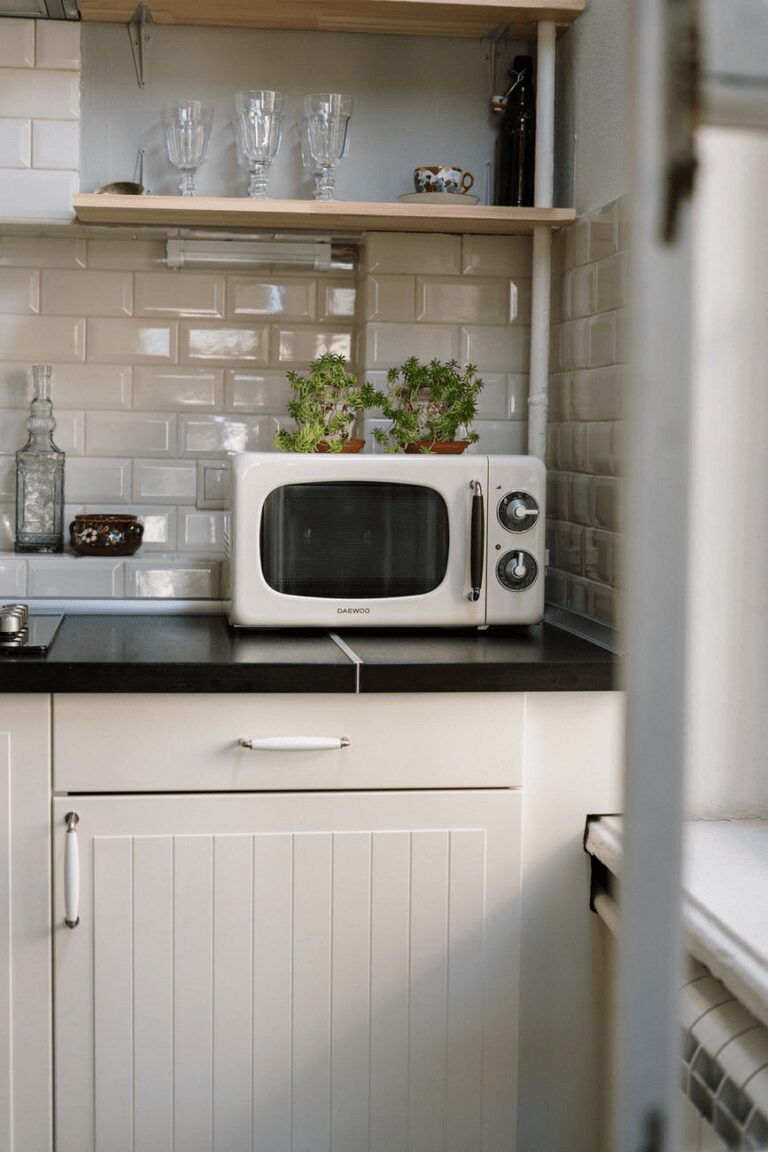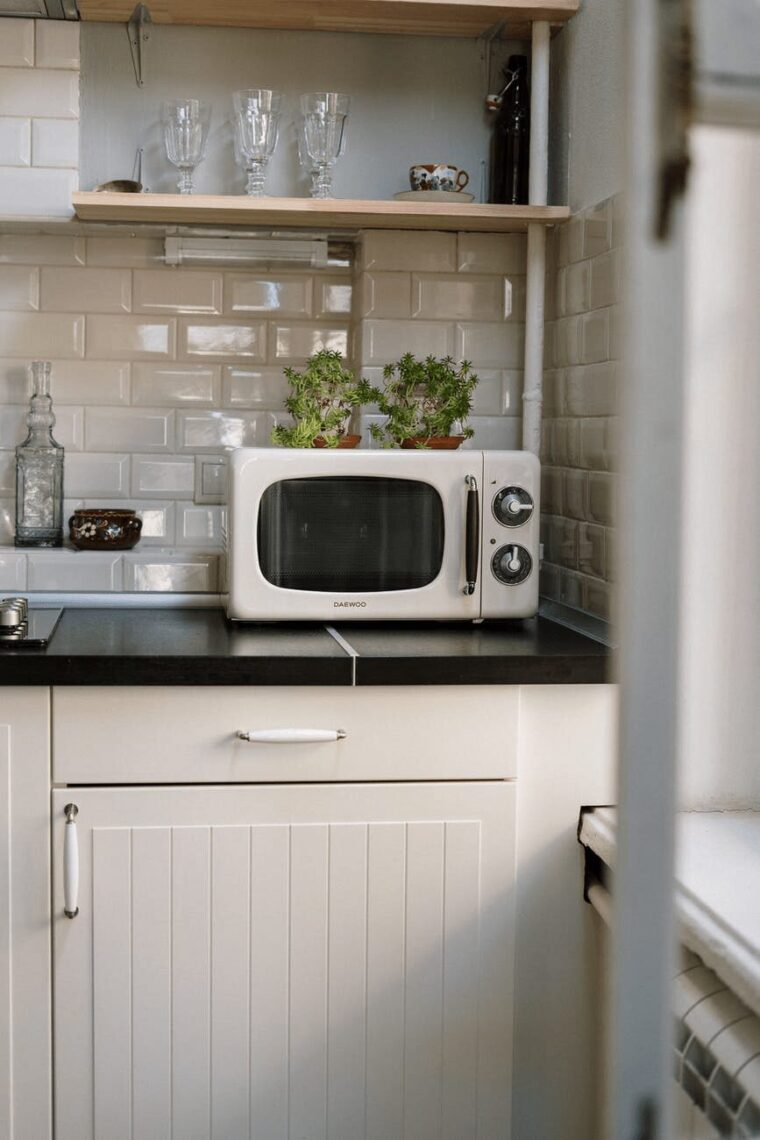 Microwave vs Toaster Oven: Which is Better?
The distinction between the toaster oven and the microwave is tough to notice since you can only use one or the other in certain cases.
You would not want to pop popcorn in an oven, for starters. It's just not realistic.
I will break down the comparison between microwaves and toaster ovens below in terms of cooking, consumption of energy, maintenance, and health.
Which one do you prefer: Microwave or Toaster Oven?
Microwave vs Toaster Oven: In Terms of Cooking
Do not get me wrong. Microwaves are valuable. They help me bake mac-and-cheese, popcorn, and mug cakes in the oven.
However, in the toaster oven versus microwave debate, when it comes to multipurpose applications, microwaves fall short.
Toaster ovens are unbelievable and so underestimated. I like them, and because you have an efficient kitchen or are either too impatient to wait for a huge oven to preheat, they are useful. While comparing the two, I believe that toaster ovens beat microwaves, there are certain times where you can't just equate them since they are two separate appliances at their heart.
Microwaves and toaster ovens cook meals differently. Toaster ovens are tiny ovens, very simply.
In other words, they prepare food using a heating device and heat the food like an oven from the outside. It takes time to do this, so the chance of dehydrating the food is smaller. Microwaves use microwaves that heat all the molecules of water at once, thereby dramatically reducing cooking time.
Toaster ovens triumph here when it comes to the simple tasks of browning, toasting, and crisping. They are very particular activities that are suitable for the use of oven equipment since they require specific heat to be transferred to food tops.
Microwaves are not capable of doing so.
When it comes to foods like bread and pizza, these roles are crucial. Microwaves can make the bread hard and not enjoyable, so with this one, continue with the toaster oven. You can chuck pizza in a microwave, but if you are not patient, it can also become difficult, while a toaster oven can keep your pizza cheesy and your crust bubbly.
Everything becomes food-specific when it comes to cooking. In both toaster ovens and microwaves, you can make potatoes and frozen meals just fine.
A toaster oven is a better option, nevertheless, when it comes to something cheesy or warming meals.
You have the luxury of temperatures and the location of racks for a toaster oven that will support you in cooking and reheating. You have a few temperature preferences for microwaves (mainly low or high heat options), but the chance of dehydrating the meal is also very high regardless of how they cook food.
Microwave vs Toaster Oven: In terms of Consumption of Energy
In contrast to traditional ovens, both toaster ovens and microwaves are more effective in power consumption on the overall scale. The variation between a toaster oven and a microwave in energy consumption is insignificant.
While a toaster oven has a higher rate of 1200-1800 Watts, a regular microwave uses 700-1300 Watts of electricity.
Go with models with more energy stars if you want to make an environmentally friendly decision for your kitchen appliance selection.
Microwave vs Toaster Oven: In Terms of Maintenance
It is much easier to clean microwaves between the two appliances. All the remote modules can be conveniently accessed, and the glass trays they come with are reusable and convenient to wash or clean.
There are trays and pans for the toaster ovens that require some time to clean. To clear any food products that are trapped on them, the heating elements will need to be washed down regularly. When washing the heating elements, always put on gloves.
Toaster ovens, which would need more in-depth washing, often get grime deposits now and then. That being said, when it comes to the problem of washing, microwaves get a competitive edge since it takes a much shorter time to wash or clean them.
Microwave vs Toaster Oven: In Terms of Health
Microwaves have constantly been in the public eye since their discovery as to whether their electric waves are a health issue. No compelling evidence that they affect your health in some manner has been shown by repeated studies.
Another common issue is if the nutrients in your diet are lost. No proof of this has been identified by most scholars, and the idea has been deemed a misconception. It needs no fat or water for its food-heating technique, making it an even healthier option for those who choose to lower their cholesterol intake.
Toaster ovens do not cause any health problems.
However, because it heats all the elements, you should be vigilant when handling food around it.
Keep in mind to disconnect it during cleaning, and while washing the heating elements, wear gloves.
Can a Toaster oven be Used Like a Microwave?
Like I mentioned earlier, both a toaster oven and a microwave are different. No matter which one you like better, both are valuable appliances to buy. It boils down to which one you use for your food requirements.
Regardless, you will know which one should be used if you keep the recommendations mentioned throughout the blog article in mind.
The best ways to use a toaster oven like you would use a microwave would be for heating leftovers on a ceramic plate, warming leftover pizza, crisping bacon as well as baking potatoes. I will list the foods that are most suitable for each appliance in the next section. Keep reading to find out more!
While you can use a toaster oven as a microwave for some types of food, note that clean-up is one of the toughest things about conventional toaster ovens. And because we put our food in the toaster oven, it doesn't seem right to use harmful chemical cleaners.
Foods That Yield a Tasty Result in a Toaster Oven
In most households, space is at a premium, particularly in the kitchen.
Therefore, you have to pick one product over another often.
For those days where you don't want to heat your full-size oven, one of those alternatives could be to get a toaster oven or microwave oven. I have both a toaster oven and a microwave. I have tried and tested the foods listed below, which come out well when you use a toaster oven.
Toast
Warmed bread
Browned pastries
Frozen foods (Takes longer)
Crispy bacon
Low-fat turkey or chicken
Crisp, browned, or baked potatoes
Pizza
Stew
Small quantities of food
Leftovers
Foods That Yield a Tasty Result in a Microwave
In a microwave, most foods with high water content, fat content, or trapped liquid will also cook well. Every device has its restrictions. Foods that are poor in water content, such as slices of bread and low-fat foods, do not cook or heat well in a microwave and, when cooked, can be stiff and chewy. Contrarily, for thawing food or making popcorn, a toaster oven is not suitable. Here are some foods that taste yummy while using a microwave:
Cheesy foods
Frozen foods
Popcorn in a microwavable bag
Baked potatoes
Reheating stews and soups
Any quantity of food
Leftovers
Most Recommended Toaster Ovens
If you don't have a toaster oven, use my guide to purchase one without any hassle through Amazon.
If you're trying to save a little room in your kitchen, a decent starting point is to pick between a microwave and a toaster oven.
But there are so many different models of toaster ovens and products to choose from. It may seem like a struggle to pick the correct product.
To further narrow down the quest, here are a few of my top picks.
Cuisinart TOA-60 Convection Toaster Oven Airfryer
The Cuisinart TOA-60 Convection Toaster Oven Airfryer has seven functions in one:
Air fry
Convection Bake
Convection broil
Bake
Broil
Warm
Toast
Features
1800-Watts
Non-stick interior including oven light.
Dimensions (L x W x H): 15. 50 x 16. 00 x 14. 00 inches
Capacity: toast six slices of bread, air fry 3lbs of chicken wings, Bake a 12-inch pizza or roast a 4-pound chicken
Adjustable thermostat with 60-minute timer/auto-shutoff
Toast shade selector-timer.
UC Cubic Feet: 3.249 lb
Includes oven rack, baking pan, and air fryer rack or basket.
Mc cubic feet: 3. 390
Pros
This Cuisinart TOA-60 Convection Toaster Oven Airfryer is a great full-size toaster oven with a built-in air fryer.
Multifunctional toaster
Handles a huge range of cooking tasks
Cons
The knob on the Cuisinart TOA-60 Convection Toaster Oven Airfryer might stop working and needs repair.
Check the product out on Amazon here:
https://www.amazon.com/gp/product/B01K0W8LTE/
COSORI CO130-AO 12-in-1 Air Fryer Toaster Oven Combo Convection Roaster with Rotisserie & Dehydrator
The COSORI CO130-AO has the following twelve functions in one:
Pizza
Roast
Air fry
Toast
Bagel
Bake
Broil
Cookies
Rotisserie
Dehydrate
Ferment
Keep Warm
Features
Large Capacity
Easily fit six slices of toast, a 13-inch pizza, or an entire chicken in the 32 qt / 30 L oven.
Thoughtful Design
Recipes
Accessories
Pros
Enjoy air-fried meals with up to eighty-five percent less fat than traditionally fried foods.
Enjoy simple cooking with the crisp LED screen
Convenient dial controls
Interior light
Check out the included recipe book
Crumb tray, fry basket, food tray, wire rack, rotisserie fork set, and rotisserie handle for more cooking options.
Cons
Check the product out on Amazon here:
https://www.amazon.com/gp/product/B07W67NQMN/
In essence, I provided you with all the requisite information to make an intelligent choice on whether or not you want to replace your microwave with a toaster oven. Toaster ovens are flexible and provide more cooking options, while microwaves are fast and save you time. One of the notable features of the toaster ovens on the marketplace is that a small or medium-sized one can be purchased. The smaller toaster ovens are a great choice if you don't have a lot of room.
It all boils down to the question, "Will a microwave be replaced by a toaster oven?"
I would say that the choice lies solely with you and your preferred option.
I hope you found this article useful. If you liked this blog post on toaster ovens and microwaves let me know in the comments section below!