Your kitchen countertop is one of the most heavily used surfaces in your home. From meal preparation and cooking to casual dining and entertaining, your countertop is constantly exposed to spills, scratches, and stains. To ensure that your countertop looks great and performs well for years to come, it's important to follow proper care and maintenance procedures. Read on to find out how to keep your countertop looking good for years to come.
Granite Countertops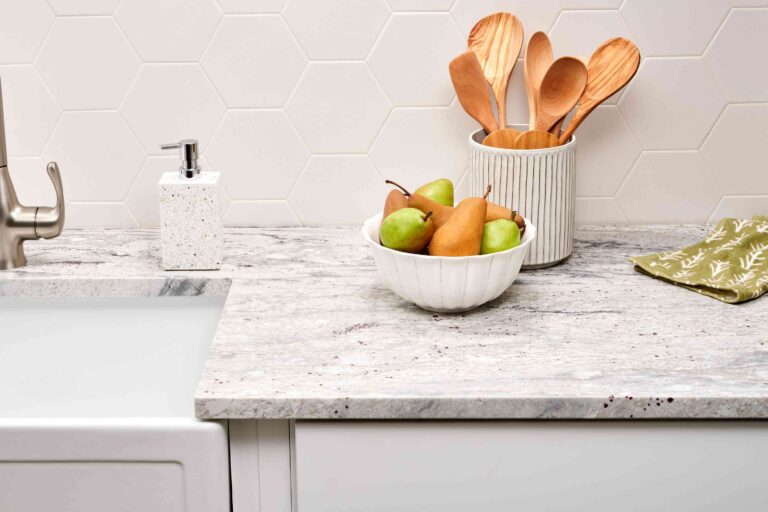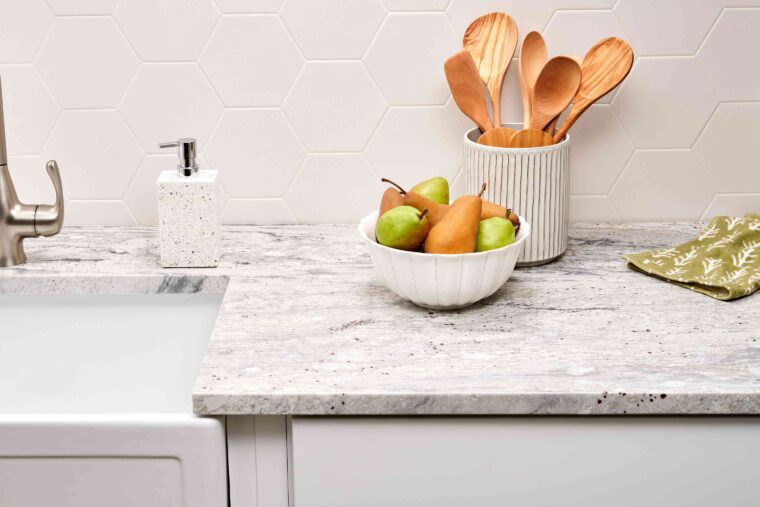 Granite is a hugely popular choice for kitchen countertops because it looks beautiful, lasts a long time, and doesn't get damaged or stained easily. However, granite countertops do need some care and upkeep to keep them looking their best, despite how durable and high quality they are. Here are some ways to keep your granite kitchen countertop looking its best:
Clean it regularly by using a soft cloth or slightly damp sponge and a mild detergent solution to wipe down your granite surface and get rid of any spills or stains. Don't use harsh cleaners on marble because they can scratch the surface.
Don't use acidic or rough materials on your granite countertop. In other words, don't put citrus fruits, vinegar, or other acidic substances directly on your granite tabletop, as these can etch into the surface. Also, don't use rough tools to clean, like steel wool or scrubbing pads, because they can scratch the surface.
Make sure you seal your granite. Since granite is porous, it can soak up liquids and stains if it isn't sealed properly. Every one to three years have a professional seal your granite countertop to protect it from spills and stains.
Quartz Countertops
Quartz can be a great choice when it comes to your kitchen countertop, and you can see some examples of this style at Legacy Countertops. It's very durable, it's low maintenance (particularly when compared to some other options on this list), and there are many colors and patterns to choose from, meaning it will work in any kitchen. Even better, quartz countertops are non-porous, so they are resistant not only to stains, but to bacteria too. Here are some ways to take care of your quartz countertops:
Clean the quartz countertops regularly to keep them looking their best. To do this, wipe down your quartz countertop with a damp, soft cloth or a sponge, and make sure you use a mild detergent. Check that you're not using anything that is too abrasive.
Always avoid extreme heat because although quartz is heat-resistant, too much high heat over too long a time can cause cracks and even discoloration. Make sure you use pot holders or placemats, and don't put hot pans directly onto the countertop.
Quartz is very scratch-resistant, but it can still be scratched, so always use a cutting board and don't chop any food directly on your countertop.
Marble Countertops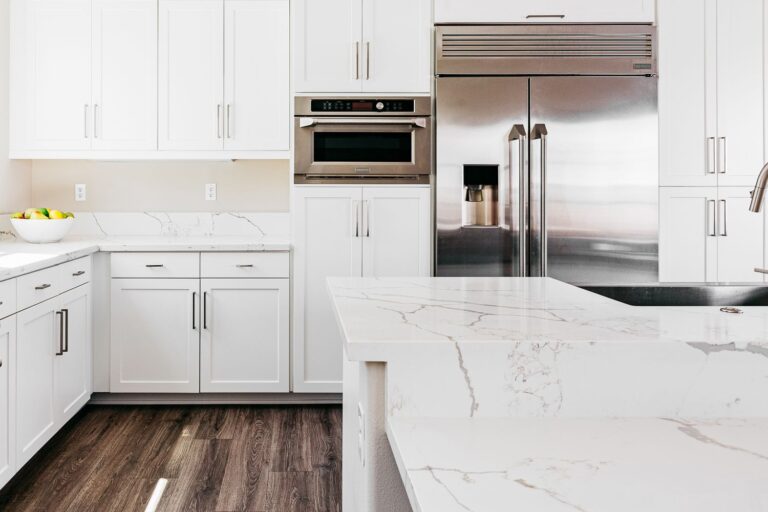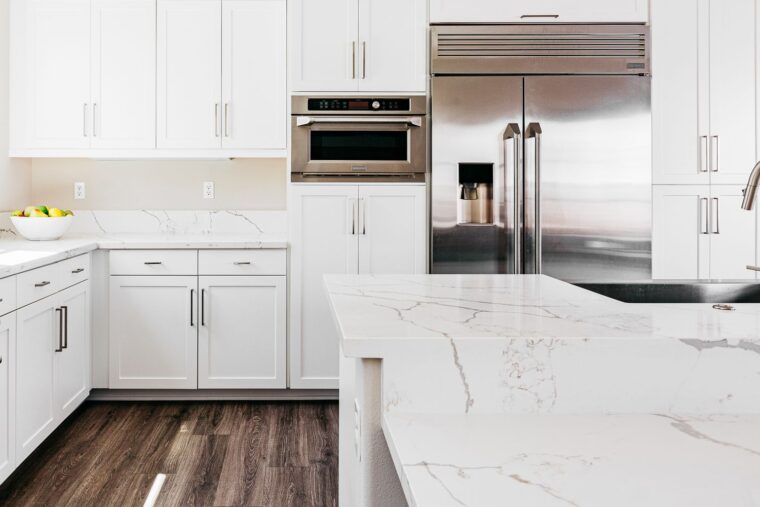 Marble is a classic choice that always looks beautiful and sophisticated when it comes to your kitchen countertops. That's down to the fact that it has a unique beauty – every piece of marble will be different from the next because it's an entirely natural material. However, as lovely as it is, it is a soft and porous material, so it can easily be damaged. Read on for some tips for caring for it:
Clean any spills immediately so that the liquid doesn't penetrate the surface of the marble countertop and cause issues with hygiene and the overall look of your kitchen. To clean, use the same kind of soft cloth or sponge and mild detergent mentioned above. Make sure you rinse the marble thoroughly with water when you have finished wiping it with detergent.
Don't use anything acidic or abrasive on your marble countertop. This would include citrus fruits and vinegar, for example. Also, don't use any harsh cleaning materials like steel wool. All of these can cause damage and scratches to the surface.
You'll also need to make sure you seal your marble countertop. You can do this yourself or have a professional do it, but either way, it must be done annually to ensure your marble countertop doesn't become too porous.
Butcher Block Countertops
Butcher block countertops might sound strange, but they're simply wooden countertops, and they are also a popular choice. They look warm, they're versatile, and they can be highly durable if they are taken care of properly. With that in mind, here are some ways to do it:
As with all the countertops mentioned, you'll need to clean your butcher block countertop regularly. Make sure you wipe up any spills immediately, as these can easily stain the wood, but it's equally important to clean on a regular basis, even if there aren't any obvious spills. The wood can collect germs very easily, so wiping down your surfaces on a daily basis at least is crucial.
You'll also need to oil your butcher block to keep it from drying out and cracking. You'll have to use food-grade mineral oil because this will give the best look, and it will be safe when you're preparing food on or around a surface you have treated.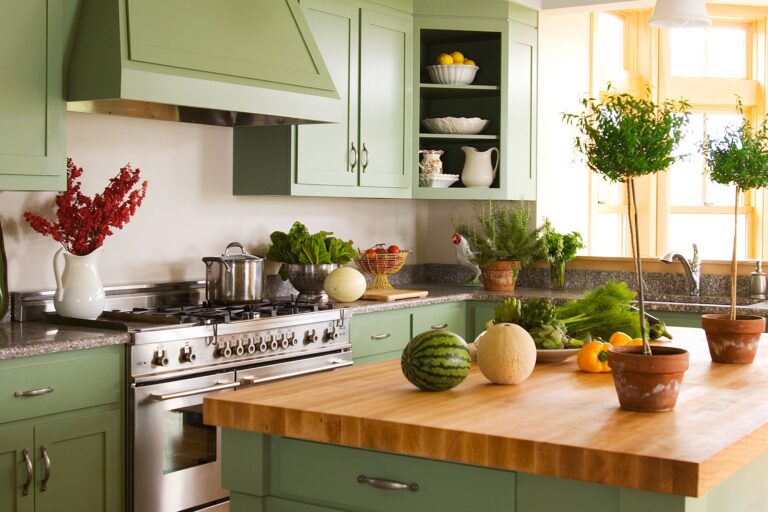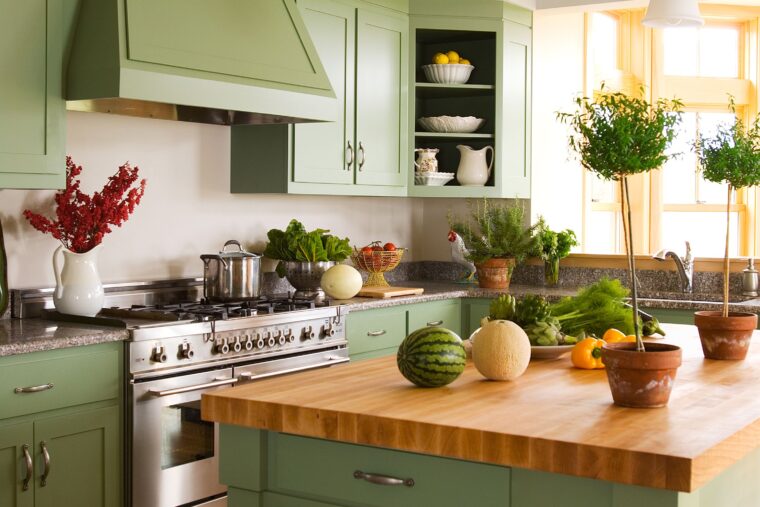 Laminate Countertops
Laminate countertops are a budget-friendly and easy-to-maintain choice for kitchen countertops. They are typically made from a particleboard core with a thin layer of laminate on top. While laminate countertops are resistant to scratches and stains, they require some level of care to keep them looking their best. Here are some tips for caring for your laminate countertop:
As with every type of countertop we've discussed, it's vital you clean your laminate countertop on a regular basis. Never use abrasive cleaners or materials if you want your countertop to look good for longer.
Laminate countertops are absolutely not heat resistant, so you must never put anything hot directly onto them. Invest in trivets and pot holders so that you don't accidentally place anything hot onto the laminate – this would make it bubble and crack, and at the very least, it would discolor the surface.
Laminate is cost-effective, but that also means that it is less durable than some of its more expensive counterparts. Therefore you must always protect it when you're working, and never cut anything directly on the surface as this will leave marks and cause damage.