In general, people are always looking to buy different artwork pieces for filling out their living room, bedroom, or hallway. In that way, whoever enters the home will be impressed by this eye-catching displayed art. However, it is very interesting that no one considers that it could be very attractive to hang some art in the kitchen as well. Basically, a kitchen is a place where all of us are spending a lot of time every day. Therefore, why do not we improve its interior design and give it some sense of attractive art?
No matter what is your style, budget, or even setup of the kitchen, there is always some art piece that you can consider and find the one that best suits you. We wanted to help you a little by preparing a guide full of different art kitchen ideas. Therefore, next time you enter your kitchen you will find it much more enjoyable and nicer. Remember one fact – even small details matter. In other words, you do not have to put a lot of effort in order to create some stunning design for a particular room. You just need to focus on details and make the most out of it. Now, let's see some trendy ideas that will make your kitchen stand out.
You can Have Lots of Fun with Photography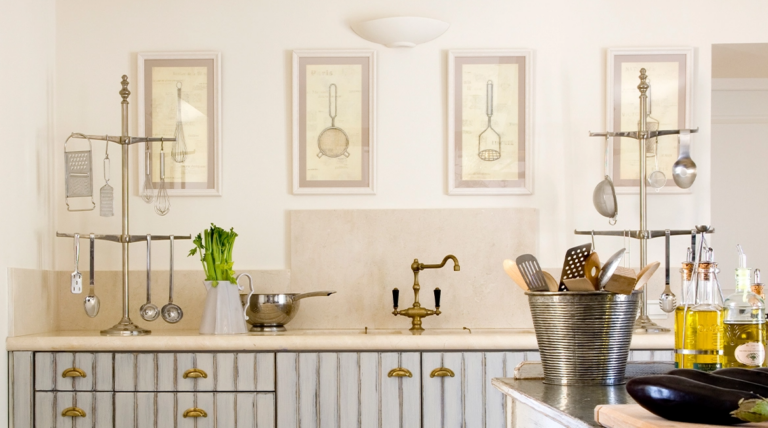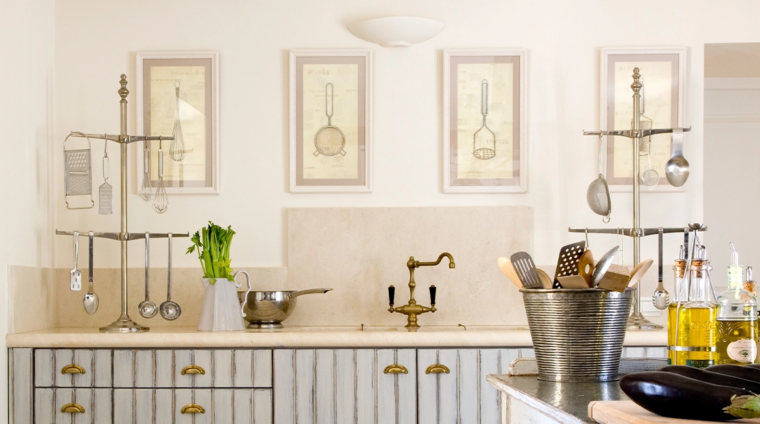 Black and white types of photography are maybe not the right choice of design style that you should decide. However, this is a very popular trend nowadays. Particularly some oversized pictures can look incredibly attractive. Whatever the color and the design of your kitchen is, the white and black art can bring some sense of elegance to the kitchen.
If this style is not the first one that you would consider when it comes to art for the kitchen, you can consider something else that we will mention below. If you are photography itself, you can even create your own unique shots. There are so many things you can create such as a portrait, some landscape, or anything else that you love and want to see every time you enter the kitchen.
DIY Art
Consider customizing your paint with some DIY art ideas. There is one very attractive trend now that you can think about and it refers to creating your own special masterpiece. This is a very fun activity. After a couple of hours that you will be spending in a relaxing environment and painting, you will get a final original photo.
Not only that you will awaken your creative side, but you will have in the kitchen artwork that you created on your own. Paint by numbers is both for adults and kids and this activity really provides therapeutic effects. If you are interested to find more about this, you can check CustomPaintByNumber
It Is Very Stylish to Have a Kitchen Focal Point
You can fulfill the space above your sink or any other free space in the kitchen that is located between some kitchen cabinets with attractive artwork pieces. If you place different pictures all around your kitchen with some glamorous golden frames, you will really make your kitchen look unique and luxurious.
This idea is specifically good for the ones that do not have a window in the kitchen. Make your own vivid kitchen scenario and be bold to try different things. There are different options for the art pieces that you can take into consideration. For instance, if you love flowers, you can put different floral pictures around your kitchen. That also counts for nature, or something else.
Choose Something Small But Mighty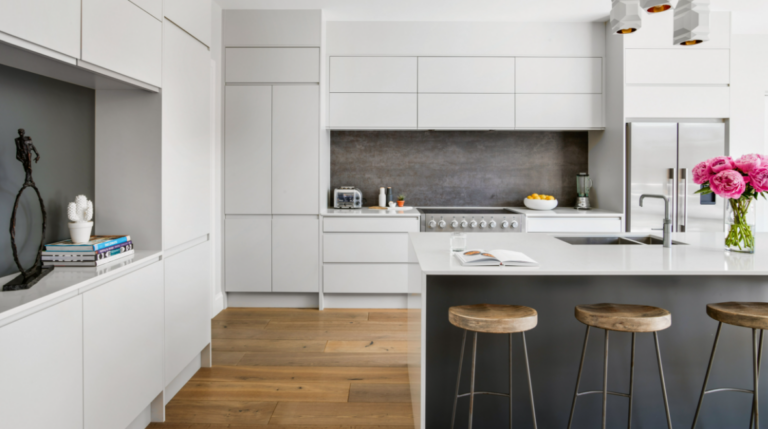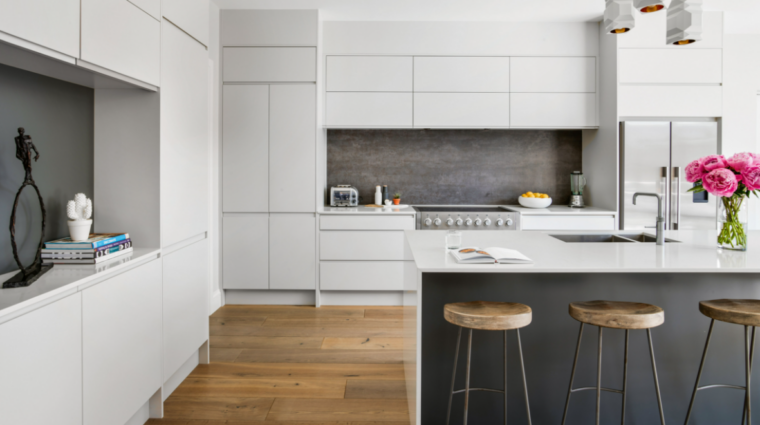 If you are a type of person that does not like too many details or big things that are drawing too much attention, you can decorate your kitchen in a simpler way that includes smaller art details. This option is also open to people that have a strict budget but they still want to make some changes in their kitchen area. You can consider some printouts as artwork that you are going to display. Even some small pieces of art can look very nice and add refreshment to your kitchen.
Additionally, you can also select a motivational quote that you can display as well. In that way, every time someone from your family enters the kitchen in the morning can be motivated to smile and be optimistic about the day that is waiting for him. That quote can be such a simple yet effective one. For instance, you can just display a print of the quote that says: "Make a coffee and use this day to the fullest!"
Make a Fridge Gallery
Some people really do not have very much space on their walls, so they think that there is no chance that they can add some attractive artwork and improve the design of their kitchen. We have good news for you since instead of wall space, you can be free use the space on your refrigerator.
There are so many different option ideas that you can consider for this. You can display printed photos of your family or pictures from your vacations and travels. Additionally, you can play with this and be very creative by changing these pictures from time to time. As a final outcome, you will actually have a fridge full of your memories. This will put a smile on your face every time you enter the kitchen.
You can try Abstract Approach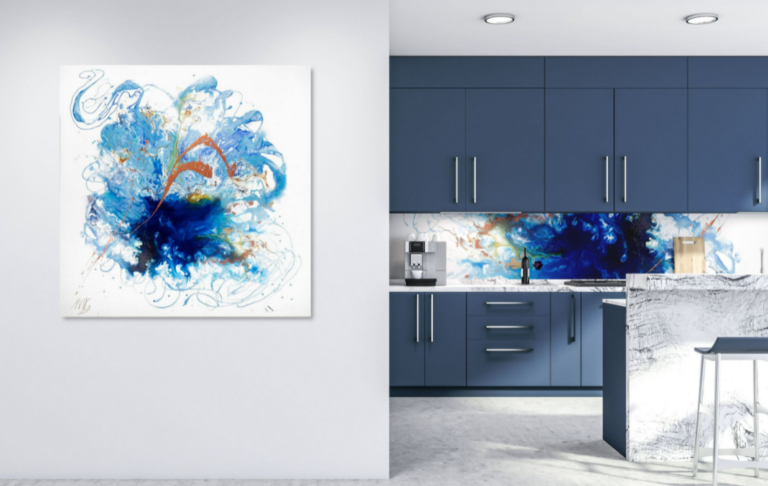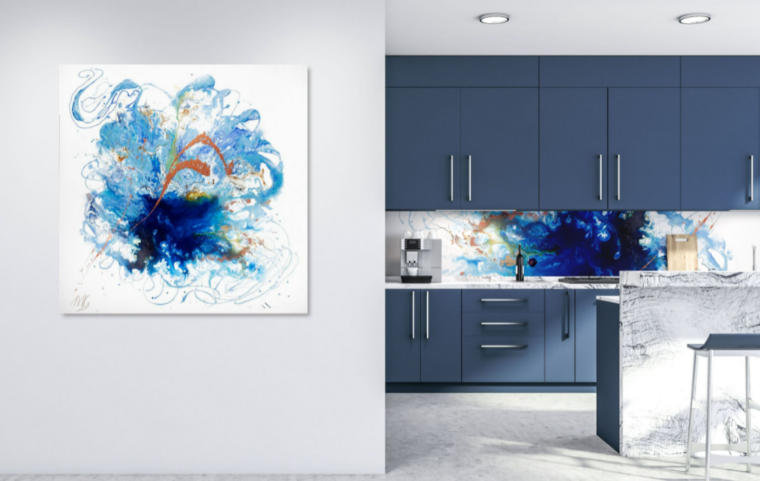 Do not be afraid to go abstract and to try different unique artistic things. You can consider framing your kitchen with a wide range of different abstract prints and get a very bright design of our kitchen. A charming setup can also be achieved with rotating art. Additionally, you can consider some decorative art components and make your kitchen gorgeous. A perfect fining touch will be if you color different kitchen plates and other elements.
Create a Peaceful Scene in Your Kitchen
There is also one very beautiful idea that refers to creating a peaceful beachy scene in your kitchen. You can place different tropical pictures, pictures of the sea and the waves and some other exotic ones. There is no better way to make your dinner and watch such an incredible breathtaking scene of a beach getaway.