In today's fast-paced world, stress has become a common companion in our lives. We often find ourselves overwhelmed with work, family responsibilities, and the constant buzz of technology. However, one effective way to combat stress is through our choice of food. What we eat can significantly impact our mood and stress levels.
It's not just about flavors and textures; the ingredients we choose can play a pivotal role in how we feel. Among these recipes, delta-9 CBD is gaining recognition for its potential to enhance relaxation and emotional balance, helping alleviate stress. This article explores three easy recipes that not only taste delicious but also have stress-reducing properties:
1. Blueberry and Banana Smoothie: A Stress-Busting Breakfast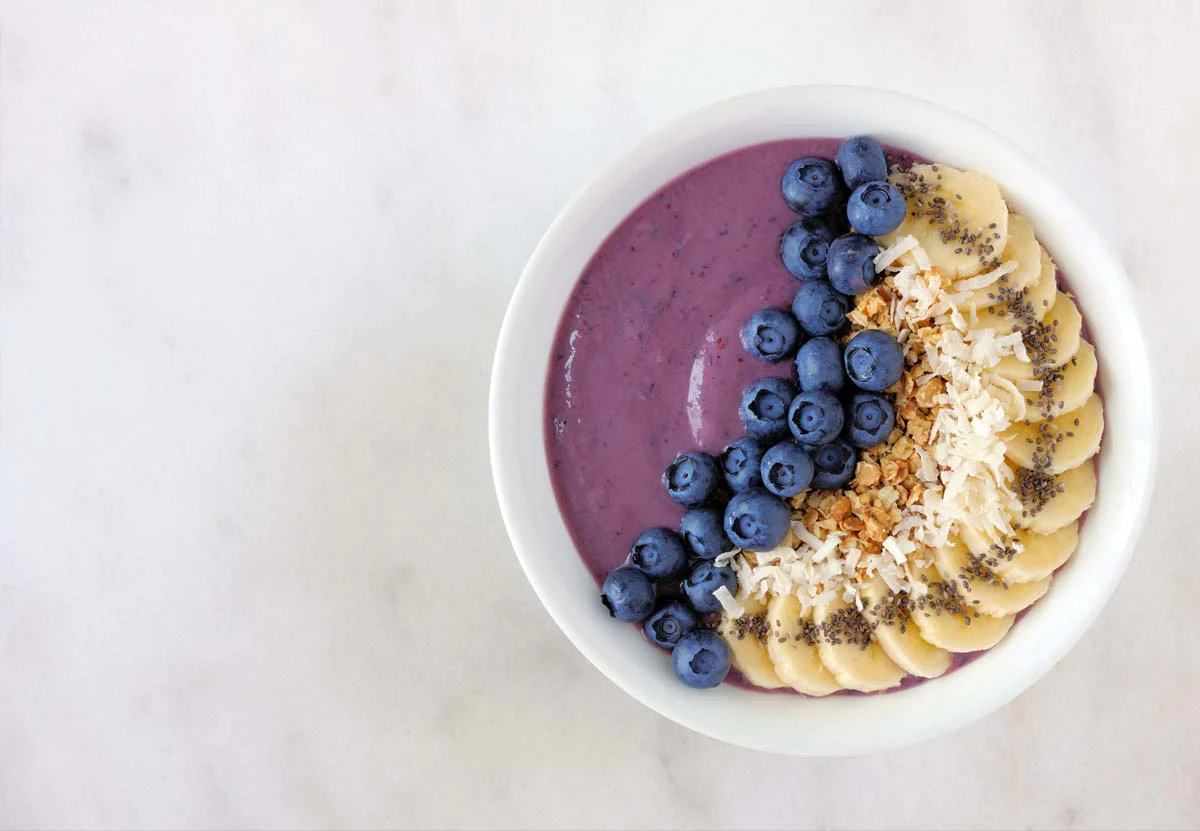 Starting your day with a stress-reducing breakfast can set the tone for a more relaxed and focused day. A Blueberry and Banana Smoothie is a fantastic choice. It's packed with antioxidants, vitamins, and minerals that help your body manage stress more effectively.
Ingredients:
1 ripe banana
1/2 cup fresh or frozen blueberries
1/2 cup low-fat yogurt or almond milk
1 tablespoon honey (optional)
1/4 cup rolled oats
1/2 teaspoon cinnamon
Ice cubes (optional)
Instructions:
Place the banana, blueberries, yogurt or almond milk, honey (if using), rolled oats, and cinnamon in a blender.
Blend until smooth. If the mixture is too thick, add a few ice cubes and blend again.
Pour the smoothie into a glass and enjoy your stress-busting breakfast.
Bananas are rich in potassium, which helps regulate blood pressure and keeps your heart rate steady, reducing the physical effects of stress. Blueberries are packed with antioxidants, which help combat the free radicals generated during stress. Oats are a great source of complex carbohydrates that can stabilize your blood sugar levels, preventing mood swings.
2. Avocado and Quinoa Salad: A Stress-Relieving Lunch
A light and nutritious lunch can do wonders for reducing stress levels. Avocado and Quinoa Salad is a perfect choice as it's not only delicious but also filled with nutrients that support mental well-being.
Ingredients:
1 cup cooked quinoa
1 ripe avocado, diced
1 cup cherry tomato, halved
1/2 cucumber, diced
1/4 cup red onion, finely chopped
1/4 cup garden-fresh cilantro, chopped
2 tablespoons olive oil
Juice of 1 lime
Pepper and salt to taste
Instructions:
In a large bowl, combine the cooked quinoa, diced avocado, red onion, cherry tomatoes, cucumber, and cilantro.
In a small bowl, mix and whisk together the lime juice, olive oil, salt, and pepper.
Drizzle the dressing over the salad and toss to combine.
Serve and enjoy this refreshing, stress-relieving lunch.
Rich in healthy fats, B vitamins and folate, avocado helps reduce stress and anxiety. Quinoa is a great source of complex carbohydrates, which can increase serotonin levels in the brain, promoting a sense of well-being. This salad is also loaded with vitamins and antioxidants that support overall mental health.
3. Herbal Chamomile Tea: A Relaxing Nightcap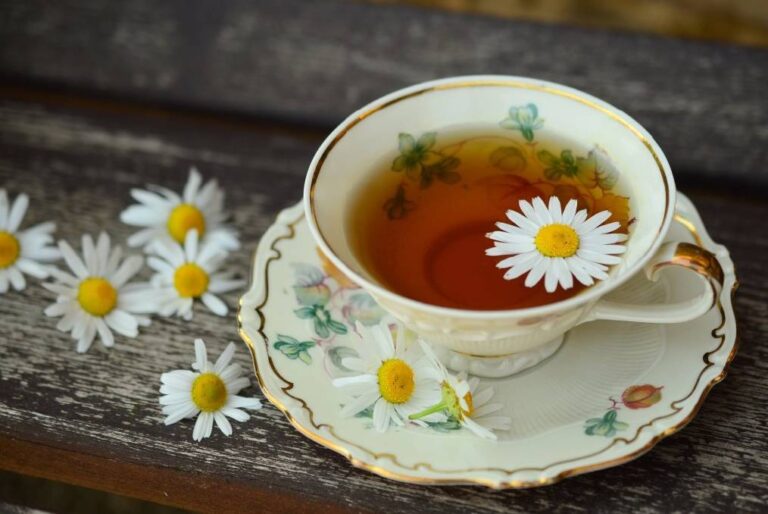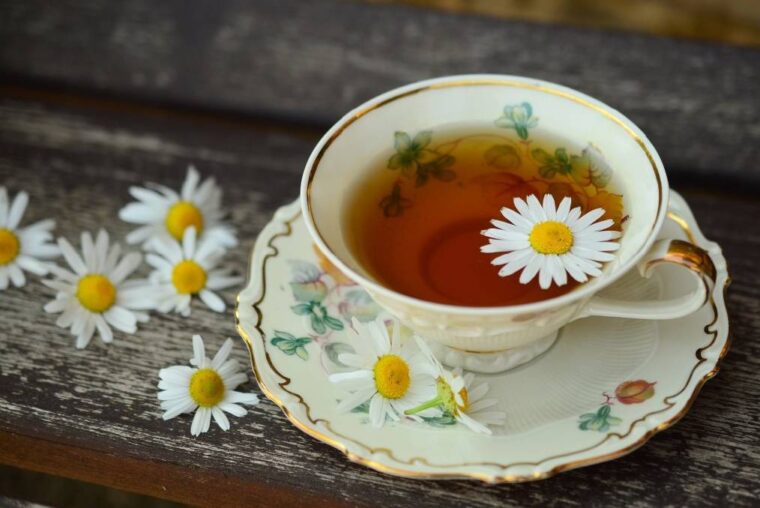 After a long day, it's essential to wind down and relax before bed. Herbal chamomile tea is a time-tested remedy for stress relief. Chamomile contains apigenin, an antioxidant that binds to specific receptors in the brain, reducing anxiety and promoting better sleep.
Ingredients:
1 chamomile tea bag
1 cup boiling water
 Honey or lemon (optional)
Instructions:
Place the chamomile tea bag in a cup.
Pour boiling water over the tea bag.
Let it steep for five to seven minutes.
Remove the tea bag, add honey or lemon if desired, and sip slowly.
As a mild sedative, Chamomile tea can help relax and prepare your mind and body for a restful night's sleep, making it a perfect addition to your bedtime routine.
4. Sautéed Garlic Shrimp with Spinach: Stress-Reducing Seafood Dinner
When it comes to dinner, seafood can be a great stress-reliever. Omega-3 fatty acids, commonly found in fish and shrimp, have been shown to reduce anxiety and depression. A Sautéed Garlic Shrimp with Spinach dish is not only easy to prepare but also incredibly delicious.
Ingredients:
1 pound large shrimp, peeled and deveined
2 garlic cloves, minced
2 tablespoons olive oil
4 cups fresh spinach
1/4 teaspoon chili pepper flakes (adjust to taste)
Pepper and salt and to taste
Juice of half a lemon
Fresh parsley for garnish
Instructions:
In a large frying pan, heat the olive oil over medium heat.
Add the garlic paste and Chili pepper flakes. Sauté for about one to two minutes until fragrant.
Add the shrimp and cook for two to three minutes on either side until they turn opaque and pink.
Stir in the fresh spinach and cook for an additional two minutes, or until the spinach wilts.
Squeeze the lemon juice over the dish, season with salt and pepper, and garnish with fresh parsley.
The omega-3 fatty acids in shrimp help reduce cortisol, a hormone associated with stress. Garlic contains allicin, which has been linked to reducing both blood pressure and cortisol levels. Spinach is a rich source of magnesium, which is known to regulate cortisol levels and promote a sense of relaxation.
5. Dark Chocolate and Almond Trail Mix: Stress-Relieving Snack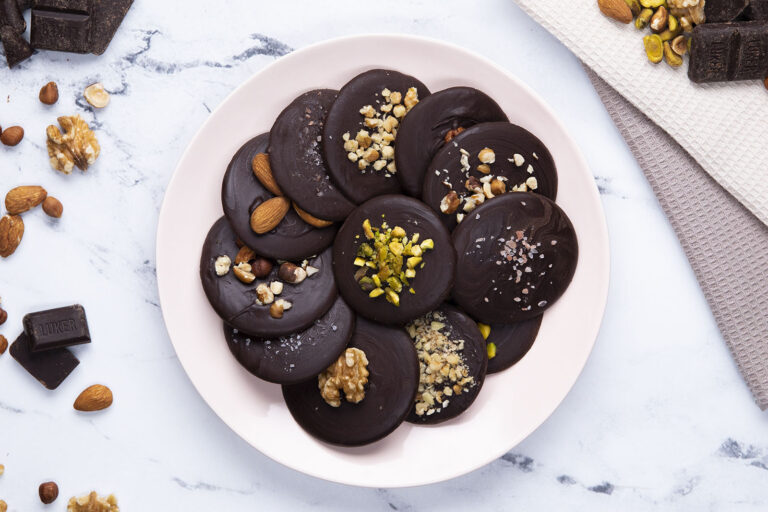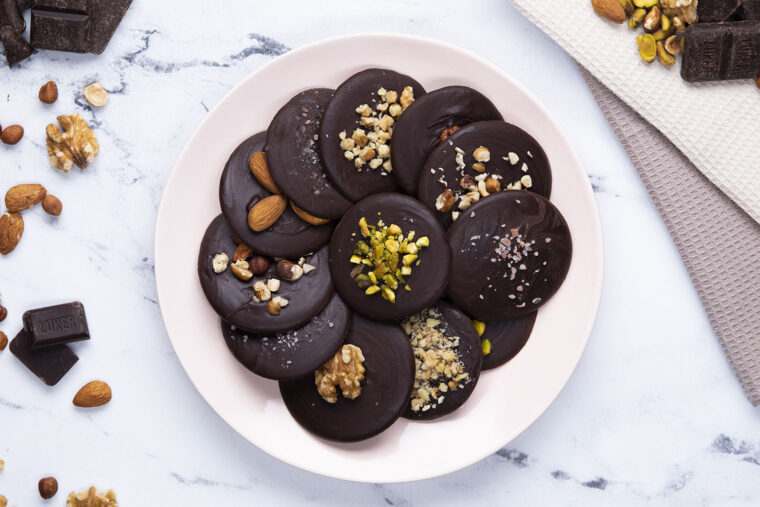 Snacking can be a source of comfort, but it's essential to choose the right options to manage stress effectively. Dark Chocolate and Almond Trail Mix is a tasty and stress-busting snack that satisfies your cravings while providing a healthy dose of stress-relieving nutrients.
Ingredients:
1/2 cup dark chocolate chips (70 percent cocoa or higher)
1/2 cup unsalted almonds
1/2 cup dried cherries or cranberries
1/4 cup pumpkin seeds
1/4 cup sunflower seeds
Instructions:
In a mixing bowl, combine dark chocolate chips, almonds, dried cherries or cranberries, pumpkin seeds, and sunflower seeds.
Gently toss the ingredients until they are evenly distributed.
Portion the mix into small snack bags for easy, stress-relieving treats.
Dark chocolate contains compounds that can help reduce stress hormones in the body, thanks to its high cocoa content. Almonds are packed with vitamin E, which can boost the immune system and reduce oxidative stress. The dried cherries or cranberries add a sweet and tangy flavor while providing antioxidants, vitamins, and minerals that can help combat stress.
Endnote
Reducing stress doesn't have to be complicated, and it can often start with the food you eat. These easy recipes offer a delicious way to find that much-needed tranquility. From a cup of soothing chamomile tea to a hearty serving of calming avocado salad, these dishes provide comfort and relaxation for the mind and body.